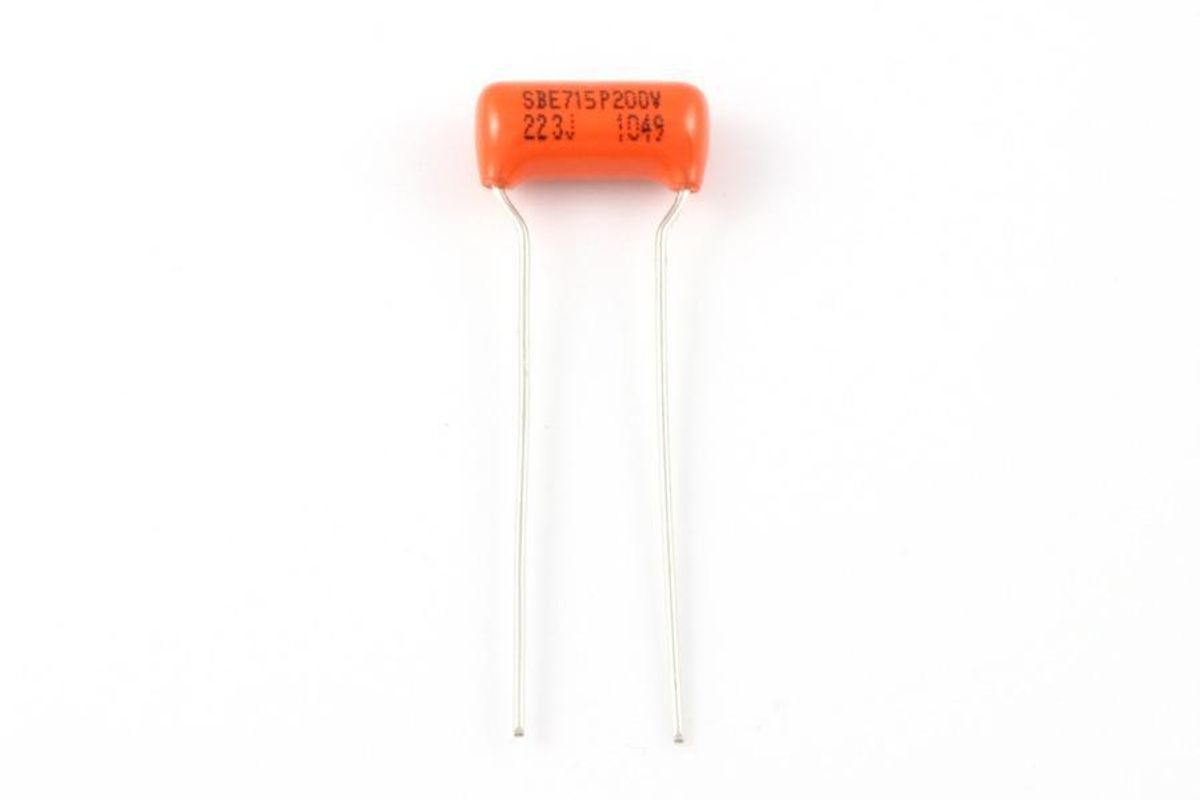 Breaking the myths of tone capacitors and helping you find the best one for your tone.
As you know, we love to discuss the smallest details about our guitars, and the tone caps inside of them are no exception. Finding the right tone cap can be a very time-intensive and expensive project and, as always, the internet is full of urban legends – including magical, para-psychological "facts" about them. Believe me, there is nothing mystical inside of capacitors. Without drifting into any voodoo fields, it's time to uncover some of the mystery that surrounds these little rascals. Over the next two months I will show you how find your tone cap – without wasting a lot of time and money!

---
In a nutshell, a capacitor is an electrical/electronic device that can store energy in the electric field between a pair of conductors (called "plates"). The process of storing energy in the capacitor is known as charging, and involves electrical charges of equal magnitude but opposite polarity building up on each side.
Capacitors are often used in electrical and electronic circuits as energy-storage devices. They can also be used to differentiate between high-frequency and low-frequency signals. This property makes them useful in electronic filters, and that´s exactly what we use them for inside our guitars. Basically, our passive tone control can be used to dampen the high frequencies. When you close the tone pot, it rolls off the treble response, giving a more mellow tone. Adjusting this control affects the sound very noticeably, but it still is quite recognizable as the same guitar.
A basic rule for tone caps is that the bigger the cap, the darker the tone. Depending on the cap's value (capacitance), the effect can reach from "slightly warmer" to a "woman tone" all the way to "completely dark and clinically dead." Remember, the tone cap is always part of the guitar circuit and it even influences the tone when the tone pot is fully opened.
I often receive e-mails and calls from guitarists who don't use the tone control at all, mostly complaining about tones that are darke and lifeless, hotspots when closing the tone pot, and a basically useless taper of the tone control. I'm sure you've experienced the last problem; when closing your tone control, all changes occur between 10 and 8, and from 8 all the way to 0 there is no audible change of your tone. Don't worry, this can be solved. I hope that I can encourage you to give your tone control a second chance. It is really unbelievable how many tone colors can be easily dialed in with a proper tone control.
There are two basic parameters that we will talk about: the value (capacitance) and voltage rating of the cap, plus the type of cap itself. Both parameters will influence the tone a lot; this month, we will start with the value and voltage rating of the cap. Capacitance is a measure of the amount of electric charge stored (or separated) for a given electric potential. The voltage rating describes the maximum working voltage of a cap (potential, measured in volts).
Voltage Rating
One of my all-time favorite urban legends has to do with voltage ratings. You can read about voltage ratings of 400 volts – and higher! – for tone caps, and how this influences the tone. Do you ever talk about 400 volts coming out of your guitar? Of course not. Then how exactly does it influence tone?
As a basic rule you can say that every cap with a voltage rating of 0.5 volts or higher will work inside a passive electric guitar, with higher voltage ratings resulting in larger caps. The reason for the high-voltage tone caps that you find in guitars is easy to explain. A lot of popular caps, like the Sprague "Orange Drops," are for tube amps with inside voltage of 600V or higher. Nevertheless, the caps sound great inside a guitar, but an Orange Drop cap with a 10V rating would also sound great. A cap with a higher voltage rating does not sound different from the same cap with a lower voltage rating.
I've spent a lot of time with A/B comparisons, blind tests and measurements and I never could ear any difference. I'm not Eric Johnson, and I use my eyes instead of my ears to verify if the grass in my garden is growing, but you can try these tests yourself. Orange Drop caps are great for this experiment because they are available in voltage ratings from 100 to 680 volts.
Value (Capacitance)
Now that those rumors are debunked, let's focus on the more important parameter – the value of the cap. Remember our basic rule to help understand this parameter: the higher the capacitance, the darker the tone.
In the "golden days" of electrical guitars, Fender and Gibson used tone caps with a very high capacitance (0.1uf/0.05uF and 0.047uF/0.022uF, depending upon the time period). The 0.022uF value is still the standard today. If you need very dark and bassy tones, this value may work for you. For most of us, however, this value is much too large and the effect is more or less useless, resulting in the aforementioned problem of the effect only taking place between 10 and 8. The solution to the problem is simply a tone cap with a much smaller value. This little change will enhance the usability of your tone control dramatically, giving you a good evenness among the complete taper of the tone control without any hotspots, and every movement of the pot will result in a change of tone.
The value of your tone cap is always a matter of individual choice and needs, because everyone has a different ideal tone and everyone uses the tone control differently. Personally I use very small tone caps of 3300pF up to 6800pF, depending on the guitar and how bright it sounds. With these mall values I´m able to dial in a lot of tonal shades and colors all over the tone pot, and with every small movement the tone gets a little bit warmer and sweeter - not dull and dark.
Finding the Perfect Value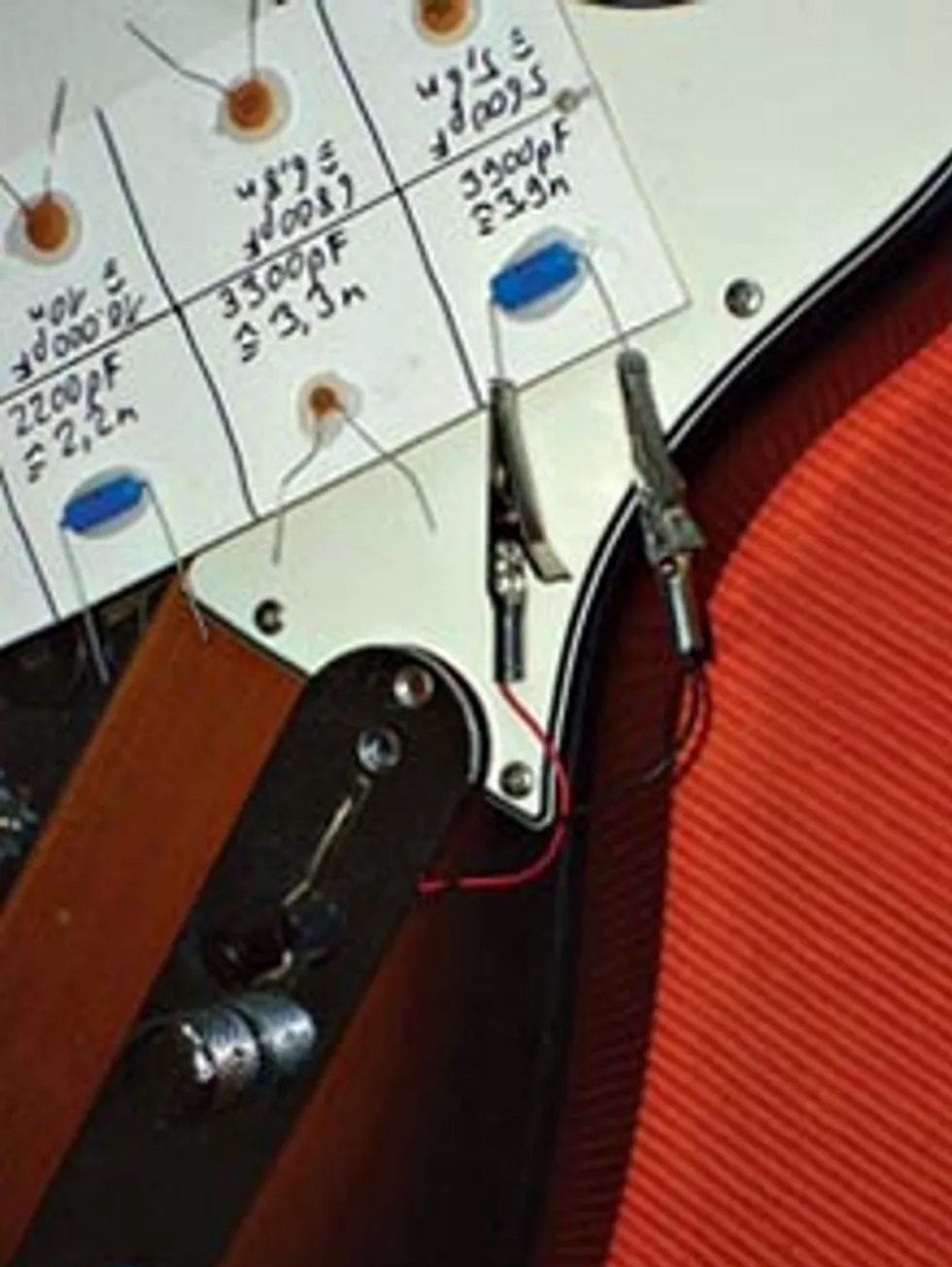 To find the perfect value for you, I suggest getting a piece of cardboard, two 10" pieces of wire, two solderable alligator clips and some cheap standard ceramic caps. The cheapest caps from a local electronic store are good enough for this, and the voltage rating is completely unimportant. Get values from 1200pF to .1uF, plus every value in between you would like to try. One piece of each value is enough. Glue the caps side by side on a piece of cardboard, with the legs reaching over the edges. Don't forget to note the value of each cap on the cardboard! Then, solder the alligator clips to the wires (one clip per wire, soldered to one end of the wire).
Now open your guitar and desolder and remove the existing tone cap. Solder the end of the wires opposite to the alligator clips to the points where the original tone cap was connected and close your guitar leaving the wires hanging out. Now you can change the different caps within seconds by simply connecting with the alligator clips. Play your guitar and use the tone control to see which value works best.
Hopefully you will be able to determine through this method what your favorite cap value is. My tip is to try 2200pF, 3300pF, 4700pF and 6800pF and listen to how they interact with the tone and taper of the pot. Chances are good that you will like them!
This is a very important step in converting your tone control to a useable and helpful tool in the future. Next month we will talk about the different cap types, and how to figure out which one is for you.
See you next month!
[Updated 11/23/21]
Rhett and Zach unpack the big news for secondhand guitar sellers and buyers: Sweetwater has launched their new Gear Exchange. How does it compare to Reverb, Craigslist, and Marketplace? To find out, Zach takes the site for a spin and buys a pedal. He calls the process both "very easy" and "normal." They discuss the pros and cons of the various used-gear outlets and share tips for not getting got when buying gear. Plus, Zach grew a mustache, Mythos Pedals is moving, and he talks about his forthcoming line of Strat pickups inspired by Hendrix's reverse-stagger setup.
Sweetwater vs. Reverb

To celebrate its 20th anniversary, Xotic Effects unveils an updated version of their classic boost pedal.
Xotic's RC Booster pedal is back to celebrate its 20th anniversary. The RC Booster's original design was a customer favorite due to its versatile clean boost, active treble, bass, gain and volume controls. This classic reissue will join their regular pedal lineup permanently.
Features
• Transparent boost pedal for electric guitar
• Up to 20dB of boost for adding volume or sending your amp into overdrive
• Treble and bass EQ controls with +/-15dB range for fine-tuning your sound
• True bypass switching removes the effect from your signal path when disengaged
• Powered via 9-volt battery or optional AC adapter (sold separately)
• 9-18 volts
The first 1000 pedals will contain a special limited edition packaging with special items and actual guitar picks from Andy Timmons, Paul Jackson Jr, Dean Brown, Kirk Fletcher, Allen Hinds, Chris Duarte, Scott Henderson, Oz Noy, Michael Thompson, Yuya Komoguchi, Toshi Yanagi.
RC Booster with limited edition packaging street price is $172.00. More info: xotic.us.
Expanding on the innovations of Cort's original 8-string multiscale, the KX508 Multi-Scale II features an updated okoume body and a specially designed Fishman Fluence Modern Humbucker.
The KX508 Multi-Scale II is the second iteration of the eight-string KX508, Cort's first multi-scale 8-string guitar introduced in 2020. Like its predecessor, the KX508 Multi-Scale II has a visually stunning poplar burl top in a Mariana Blue Burst finish. Beyond its visual appeal, the poplar burl is an ideal tonal complement to Cort's newly introduced okoume body. Okoume is known for its light weight and ability to improve tonal clarity. It has a tight low-end and highly articulate high-end, which matches the overall sonic characteristics of the KX508 Multi-Scale II. The multi-scale, measuring 26.5 to 28 inches, offers a punchy low end while maintaining a familiar feel and tension on the treble strings, which allows for speedy runs and string-bending. Players have unhindered access to the high frets thanks to the low-scooped heel.

The 5-piece maple and purple heart neck not only provides strength and stability, aided by a spoke nut hotrod truss rod, but a strong and focused sound. The Macassar ebony fingerboard (15.75-inch radius) offers smooth playability along the 24 frets with teardrop inlays. Macassar is an ideal tonewood for high-gain applications because of its ability to cut through a dense mix. At the top of the neck, the 2 7/32-inch nut width (56.5 mm) is surprisingly comfortable for an 8-string guitar and is even suitable for players with smaller hands. The individual hardtail bridge with string-thru-body design results in greatly improved sustain, superb string separation for enhanced articulation, and precise intonation. Deluxe locking machine heads offer reliable tuning as well as easier and quicker string changes.

The Cort Sessions | KX508 Multi Scale II Electric Guitar
MSRP $1699.99 USD

MAP $1199.99 USD
For more information, please visit cortguitars.com.
The Tour Collection is defined by a minimalistic, vintage-inspired aesthetic, top-of-the-line components, and a simplified electronics configuration featuring new, custom pickups by Supro.
Available in the collection is the 16-inch-wide double-cutaway DC, the 15-inch-wide single-cutaway SS, and a 14-inch-wide Mini DC. Each model comes in three finishes: Slate Blue, Solid Wine, and Solid Black.

Every detail of the Tour Collection was chosen to achieve retro minimalism. Small diamond fingerboard inlays match 1930s-style diamond f-holes, and an undersized Throwback Scroll-style headstock achieves excellent head-to-body balance. The collection also features satin nickel hardware and custom Vintage Deluxe Grover tuners with a 15:1 gear ratio. Each model also features a simplified two-knob electronics configuration with 50s-style wiring to retain top-end clarity upon rolling off the volume knob. The neck shape in the Tour Collection is similar to the slim C-shape found throughout the D'Angelico line, but with more thickness in the shoulder to allow for snug hand fit as well as extra sustain. Medium Jumbo fret wire and a 12-inch fingerboard radius allow for quick navigation of the fingerboard while also prioritizing comfort for both rhythm and lead playing.
In 2020, Supro and D'Angelico became part of the same family of brands under Bond Audio. At that time, EVP of Product Ryan Kershaw and CTO Dave Koltai began designing custom pickups under the Supro name for the Tour Collection project.
"Supro Bolt Bucker pickups were designed to offer the tone of the most sought-after vintage "PAF" pickups from the late 1950's. Scatter wound, just like the originals, Supro Bolt Buckers utilize 42-gauge enamel wire along with a mixture of Alnico II (neck) and Alnico V (bridge) magnets to provide the perfect balance of warmth and clarity with unrivaled articulation and note bloom." - Dave Koltai, Chief Technology Officer at Bond Audio.
Introducing the Excel Series Tour Collection | D'Angelico Guitars
All models are available for pre-order and will be in stock this holiday season. US MAP $1499. For more information, please visit dangelicoguitars.com.