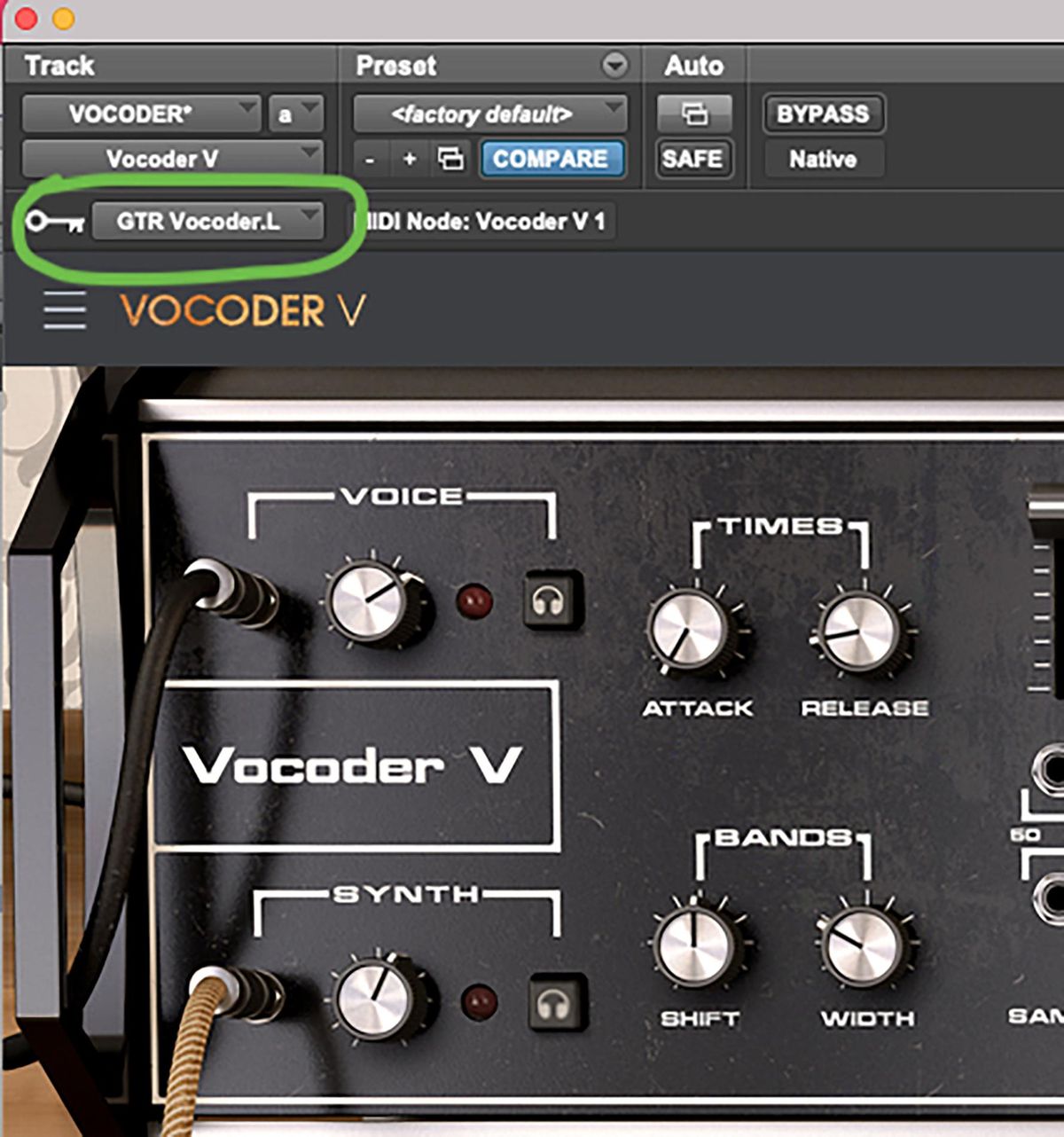 Your DAW and a simple plug-in can match your guitar lines in weird and colorful ways. Blast off, space cadets!
Hello everyone and welcome back to another Dojo. This time I'm going to do something a little unusual and give you some ideas on how to use a vocoder for creative harmonies on your guitar within the DAW of your choosing. Get your belts tightened; the Dojo is now open.
---
Think about this for a moment: The vocoder was developed in 1938 at Bell Labs by Homer Dudley as a way of synthesizing the human voice for conserving bandwidth in telephone communications. That's almost a century ago! Aside from synth pioneer Bob Moog's early versions, the vocoder didn't hit the musical mainstream until 1970 when Moog and Wendy Carlos Williams built a solid-state, 10-band version based on Dudley's designs. Put simply, the carrier signal came from one of Moog's modular synthesizers and the modulator came from the input of a microphone presumably with someone on the other end speaking profound words.
Soon afterwards, the vocoder was featured on early groundbreaking recordings: Isao Tomita's Electric Samurai (1972), the Alan Parsons Project's "The Raven" from Tales of Mystery and Imagination (1976), and ELO "Mr. Blue Sky" from Out of the Blue (1977), to name a few. Since then, it has been used in TV (my favorite was the voice of the Cylons in Battlestar Galactica), and on more records by diverse artists including Stevie Wonder, Red Hot Chili Peppers, Michael Jackson, Daft Punk, and Coldplay.
It's a way to add another voice to the solo that might be so left-of-center that it's exactly the kind of crazy texture that you've been searching for.
Most of the time, a vocoder is used to synthesize vocal parts and create everything from monophonic (single voice) to polyphonic (many voices) textures. A typical way to do this would be to speak (or sing) into a microphone and hold some keys down on a vocoder and, voilà, you have a chord of your words.
Now, here is where things get a bit more interesting. Obviously, the guitar is a chordal instrument. However, when we play a melody, or shred some single-note solos, we can essentially think of it as a "voice," but without formants: consonants, vowels, diphthongs, and other articulations that basically shape the way we speak and help create everything from languages to dialects.
For our purposes, we're going to use a pre-recorded guitar melody (or solo) and route the output of that track into a vocoder and then use a MIDI keyboard to add a note-for-note harmonized piano recreation. It's a way to add another voice to the solo that might be so left-of-center that it's exactly the kind of crazy texture that you've been searching for.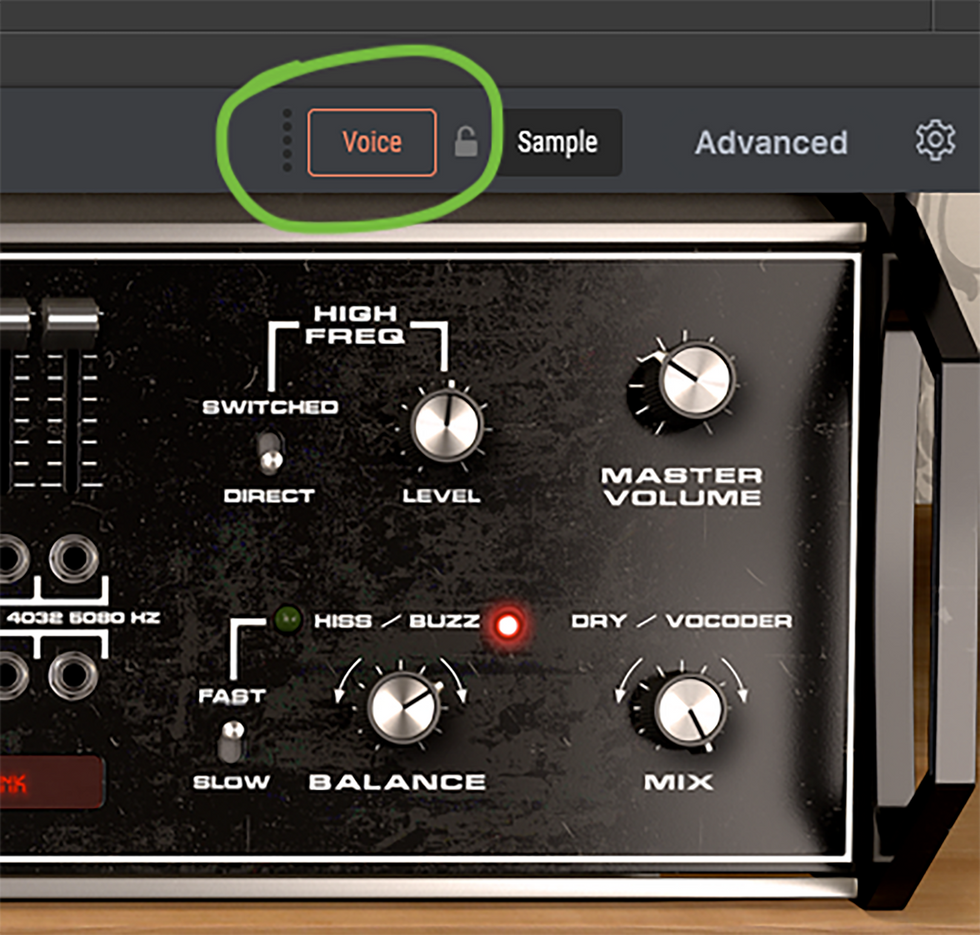 Fig. 2
I did this most recently on a record I produced where, during my pedal-steel solo, I wanted to double my single notes using a vocoder plug-in (Arturia's Vocoder V, $199 street). This vocoder combines both carrier and modulator, and greatly expands what a traditional vocoder can do. For example, you can load in your own samples, or take the output of one of your tracks in your session and use it as a keyed input to add some vocoder magic. That's what I'm going to show you how to do.
The astute might ask this question: "Why don't you just use any synth (analog or plug-in) and play along with your guitar parts?" Two good reasons. One, using this technique, the rhythm will be exact, so every start and stop of the track will be preserved no matter what key(s) you're playing on the keyboard. Two, it will sound like a vocoder trying to double your part and not another synth. Vocoders have a specific sound especially perfect for multi-part designs.
Try this: Find a guitar track in your session that has some tasty single-note licks. Next, route the output of the track to an aux bus. Name the bus GTR Vocoder (or something you'll remember). Create a new stereo instrument track and instantiate the vocoder you want to use. For this example, I'm using the Vocoder V by Arturia. On the vocoder, change the key input to GTR Vocoder (or whatever you named your aux bus [Fig. 1] and make sure the input is set to Voice [Fig.2]. Now, you've essentially tricked your vocoder into thinking that there is a microphone input, but it's really your guitar track! Have fun and be sure to play with the parameters of the vocoder to really mangle your sound and get into uncharted territories. As usual, I recommend coming by my website to see and hear this technique in action. Namaste.
Rhett and Zach unpack the big news for secondhand guitar sellers and buyers: Sweetwater has launched their new Gear Exchange. How does it compare to Reverb, Craigslist, and Marketplace? To find out, Zach takes the site for a spin and buys a pedal. He calls the process both "very easy" and "normal." They discuss the pros and cons of the various used-gear outlets and share tips for not getting got when buying gear. Plus, Zach grew a mustache, Mythos Pedals is moving, and he talks about his forthcoming line of Strat pickups inspired by Hendrix's reverse-stagger setup.
Sweetwater vs. Reverb

The Tour Collection is defined by a minimalistic, vintage-inspired aesthetic, top-of-the-line components, and a simplified electronics configuration featuring new, custom pickups by Supro.
Available in the collection is the 16-inch-wide double-cutaway DC, the 15-inch-wide single-cutaway SS, and a 14-inch-wide Mini DC. Each model comes in three finishes: Slate Blue, Solid Wine, and Solid Black.

Every detail of the Tour Collection was chosen to achieve retro minimalism. Small diamond fingerboard inlays match 1930s-style diamond f-holes, and an undersized Throwback Scroll-style headstock achieves excellent head-to-body balance. The collection also features satin nickel hardware and custom Vintage Deluxe Grover tuners with a 15:1 gear ratio. Each model also features a simplified two-knob electronics configuration with 50s-style wiring to retain top-end clarity upon rolling off the volume knob. The neck shape in the Tour Collection is similar to the slim C-shape found throughout the D'Angelico line, but with more thickness in the shoulder to allow for snug hand fit as well as extra sustain. Medium Jumbo fret wire and a 12-inch fingerboard radius allow for quick navigation of the fingerboard while also prioritizing comfort for both rhythm and lead playing.
In 2020, Supro and D'Angelico became part of the same family of brands under Bond Audio. At that time, EVP of Product Ryan Kershaw and CTO Dave Koltai began designing custom pickups under the Supro name for the Tour Collection project.
"Supro Bolt Bucker pickups were designed to offer the tone of the most sought-after vintage "PAF" pickups from the late 1950's. Scatter wound, just like the originals, Supro Bolt Buckers utilize 42-gauge enamel wire along with a mixture of Alnico II (neck) and Alnico V (bridge) magnets to provide the perfect balance of warmth and clarity with unrivaled articulation and note bloom." - Dave Koltai, Chief Technology Officer at Bond Audio.
Introducing the Excel Series Tour Collection | D'Angelico Guitars
All models are available for pre-order and will be in stock this holiday season. US MAP $1499. For more information, please visit dangelicoguitars.com.
The Cream Amp is a handmade low-gain overdrive pedal based on the Electra Distortion circuit.
The Cream Amp was designed to deliver full dynamics amp-like dirt to your clean and crunch amp or to another pedal in the chain without altering your tone too much. To add some grit at low volume or to make your amp sound more full, use the Drive control to set the gain and the Level control to match with your amp.
​Two knobs to control Volume and Drive
Shielded inputs/outputs to avoid RF
Filtered and protected 9VDC input
Daisy-chain friendly
Current draw: 7.5mA
The Cream Amp pedal is hand-made in Barcelona with carefully selected components and has a price of 100.00€. The pedals are available and can be purchased directly from the Ananasheadonline store.
For more information, please visit ananashead.com.
The Red Sea was born out of the vision to provide complex signal routing options available to the live/performing musician, that up until now, are only found in a studio mixing environment.
​Introducing the Red Sea, an all-analog signal routing matrix, designed for countless stereo and mono signal path routing options. The Red Sea was born out of the vision to provide complex signal routing options available to the live/performing musician, that up until now, are only found in a studio mixing environment. The Red Sea has accomplished this in a compact, easy-to-use, and cost-effective solution.
Wet | Dry | Wet
The Red Sea gives you the ability to run a FULL Stereo wet dry wet rig using only 2 amps or just 2 signals to the FOH, while also giving you complete control over your Wet & Dry mix! Use the Blend knob to control the overall mix between stereo wet effects and mono dry/drive signals.
Stereo Dual Amps
Run dual amp modelers if full stereo w/ stereo effects. Gone are the traditional ways of one amp in the Left channel and another in the Right channel. Now use the Red Sea to seamlessly blend between two separate amps in true stereo. Think of this as a 2-channel amp where you can blend anywhere between both amps.
Stereo Parallel FX
Red Sea has two independent stereo FX loops. Use each FX loop to run stereo delay's and reverb's in parallel, where each effect does not interact with each other. Huge soundscapes can be achieved with washy reverbs and articulate delay repeats while being able to blend between each FX loops mix level.
The Red Sea can also do the following routing options:
Wet | Dry utilizing a single amp
Clean Wet | Dry | Wet (drives DO NOT run into wet effects)
Wet | Dry | Wet with dual delays (one in the L channel & other in R channel)
Parallel Dual Amps (run dual amp modelers in FULL stereo)
Convert a tube amp's serial FX Loop to a parallel FX Loop
Stereo and Mono analog dry through (avoid latency in digital pedals)