Sharing the Stage with Brian Wooten
Rich talks with Trace Adkins guitarist Brian Wooten
I recently had the pleasure to sit down and talk to both of Trace Adkins' great guitar players, Mark Gillespie and Brian Wooten. The interviews went so well that we decided to split them up, and Gillespie's appeared in last month's issue. This month, as promised, I bring you the other half of this dynamic country music duo, and what makes him tick.

Hey Brian, I really dig your tone and style with Trace. What guitars are you playing with him?

I start the show with a PRS McCarty. It's a quilt top with a solid rosewood neck, and it's tuned to drop-D tuning. The first two songs are pretty rocking and it sounds great on those. The rest of the show I use a Greenwich Village Custom Guitars Tele that is a copy of a '63 Inca Silver Tele. It has a Voodoo T60 in the bridge position, which is a pretty aggressive sounding Tele pickup. I put an inexpensive Fatboy in the neck position because it's brighter than a typical Tele neck pickup. This is my main guitar. It just feels like an old pair of shoes. It can rock out quite well and cleans up very nicely, too.

What pedals are you currently using?

I hit a buffer at the front of the pedalboard into a Paul Cochrane Timmy [distortion], which is always on. Then it goes into an MI Audio Tube Zone for high-gain stuff. After that, I've got my custom-made Cochrane compressor, which is a tweaked version of an old Dan Armstrong Orange Squeezer. After the gain stuff, I have my Ernie Ball volume pedal and then all the usual stuff: a Boss tremolo and delay and an Arion SCH-1 chorus. Although I do use the volume control on my guitar a lot.

What amps are you playing through right now?

I've been using a Divided by 13 FTR 37 for about seven years now. It sounds like a very big [Fender] Deluxe, but with more bottom end. I use the clean channel exclusively and rely on my Tube Zone for the gain stuff. This amp works perfectly for the Trace gig. I can cover all the clean country stuff, as well as the heavier rock stuff. I think it balances well with Mark's Pro Reverb. My cabinet is a late '60s Marshall 4x12 loaded with Celestion Blackbacks. I brought out an Ark Aviator amp for a while, and it sounded awesome. I did some sound clips for them that are posted on their website. I love the way that amp records.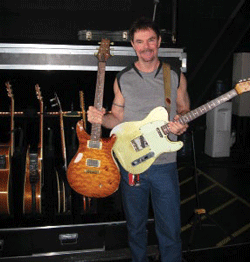 Brian Wooten
How do you and Mark decide who's going to cover which parts live?
We arm wrestle! I usually lose, so I have to play the parts that Mark doesn't want to [laughs]. Actually, I'm naturally drawn to the more "rock" sounding parts, and since Mark can play rings around me in the country style, I always defer to him on those parts. We usually take turns on who will take the solo.
Who are your influences?
This is going to give my age away, but growing up I really liked all the guitar players in Moby Grape. Then there was this local Texas guy named Todd Potter, and of course Jimi Hendrix, Eric Clapton and Jeff Beck. Later on there was Stevie Ray Vaughan,
Eric Johnson
and Trevor Rabin. After moving to Nashville I got into Dann Huff and Brent Mason, too.
What other bands have you played with?
In Austin, Texas, I was in a band called Too Smooth, which was an all original rock band. We opened for every major rock act that came through town, and had a huge local following. We try to have reunion gigs every year or so back in Austin. After moving to Nashville, I've played with The Imperials, White Heart, Paul Brandt and Chris Cagle before Trace.
How long have you now been with Trace?
I'm the new guy! I've been here a short four years.
The first song I can remember learning on guitar was probably the "The Original Peter Gunn Theme" by Henri Mancini. It was so easy, but sounded so cool! What was the first song you remember playing?

Probably "Louie Louie." It was only three chords!
How old were you?
Twelve or 13 years old, I think.
Do you own any rare or vintage guitars?
Oh, if I only had half of what I used to own [laughs]. The only vintage instrument I have now is a Gretsch Tennessean Chet Atkins model. I just love the way it tracks. The only other piece of vintage gear I own is my old Marshall cab. I used to have a '59
Les Paul
flametop, a '65 Strat, a '59 4x10 Bassman, a '69 Plexi and a '60s AC30. Who knew?
Do you ever find the time to do any projects outside of the Trace gig?
I'm trying to get back into songwriting more. I recently got a Pro Tools rig on my laptop so I can record guitars at home. I've been playing acoustic for a new artist by the name of Stevie Walker, too.
Thanks Brian for sharing with us. It's been awesome having you out on tour with us. Good luck!
Thanks Rich!
---
Rich Eckhardt
Rich Eckhardt is one of the most sought-after guitarists in Nashville. His ability to cover multiple styles has put him on stage with singers ranging from Steven Tyler of Aerosmith to Shania Twain. Rich is currently playing lead guitar with Toby Keith. His latest CD, Cottage City Firehouse is available online at
CDbaby.com
or at
richeckhardt.com
.