We polled our readers to find the coolest guitar shops in the US, and here are the first half of the results, in no particular order.
"We asked PG readers what is the coolest guitar shop they've been to in the US. And while long-gone favorites like Manny's Music (New York) and Black Market Music (San Francisco) came up again and again, there were even more current shops topping readers' favorites list. We compiled the 20 most mentioned stores and quickly realized there were too many great photos we'd have to cut in order to get them all in one gallery. So here's the first installment in no particular order. If you're wondering where your favorite is, it may be coming next time, or we might not be aware of it, so feel free to leave your faves in the comments section."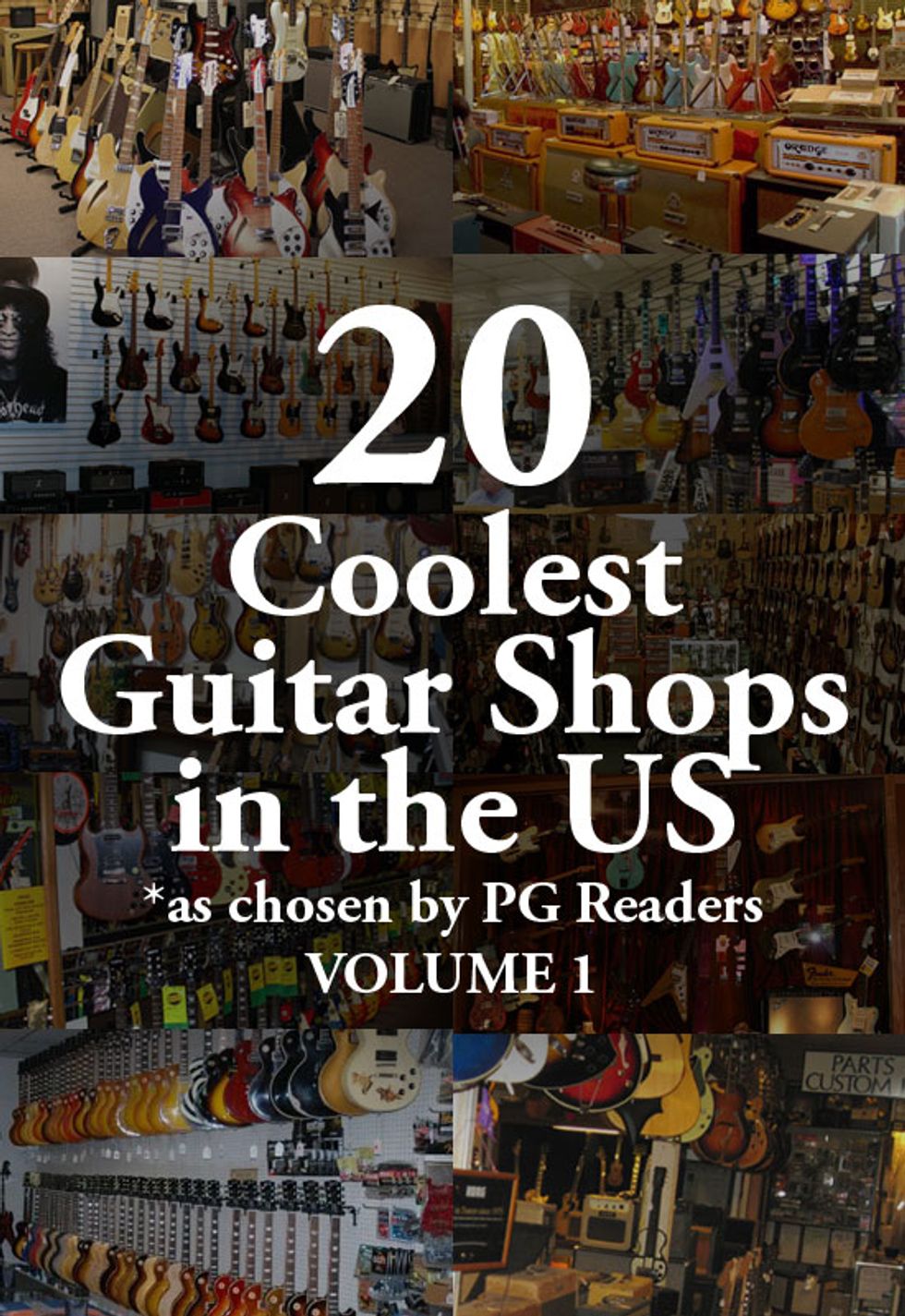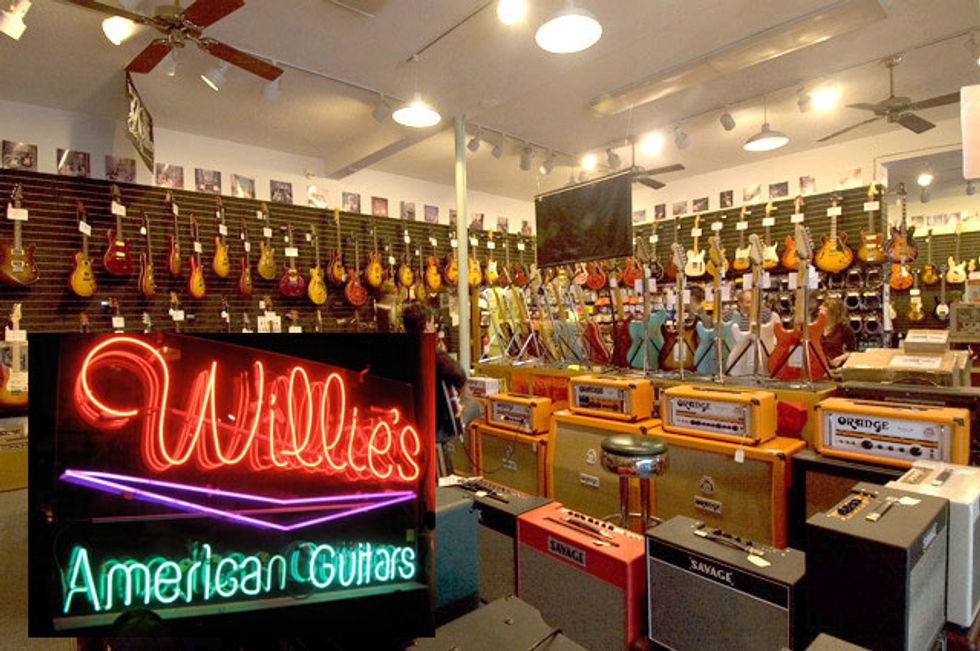 "By their own words, Willie's American Guitars says that, ""Cool used guitars is almost all we do."" However, in addition to vintage and high-end used instruments, Willie's stocks new gear from Fender, Gibson, Martin, PRS, Rickenbackers, and a slew of boutique amps and effects."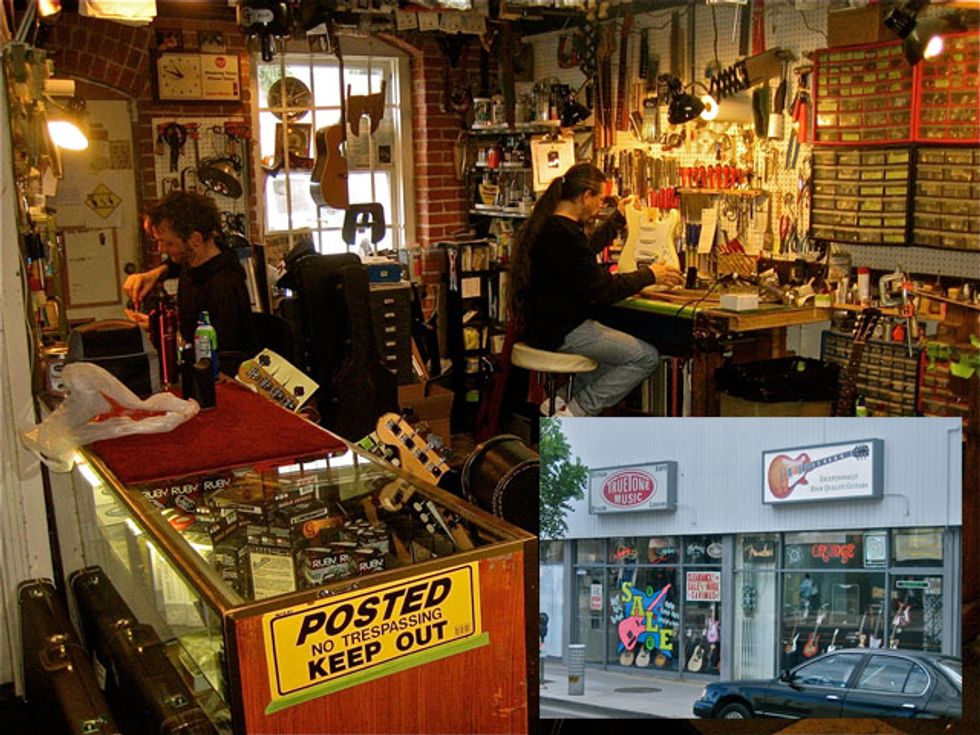 "Like many of the stores in our list, in addition to stocking a multitude of guitars, amps, and effects, TrueTone can service them as well."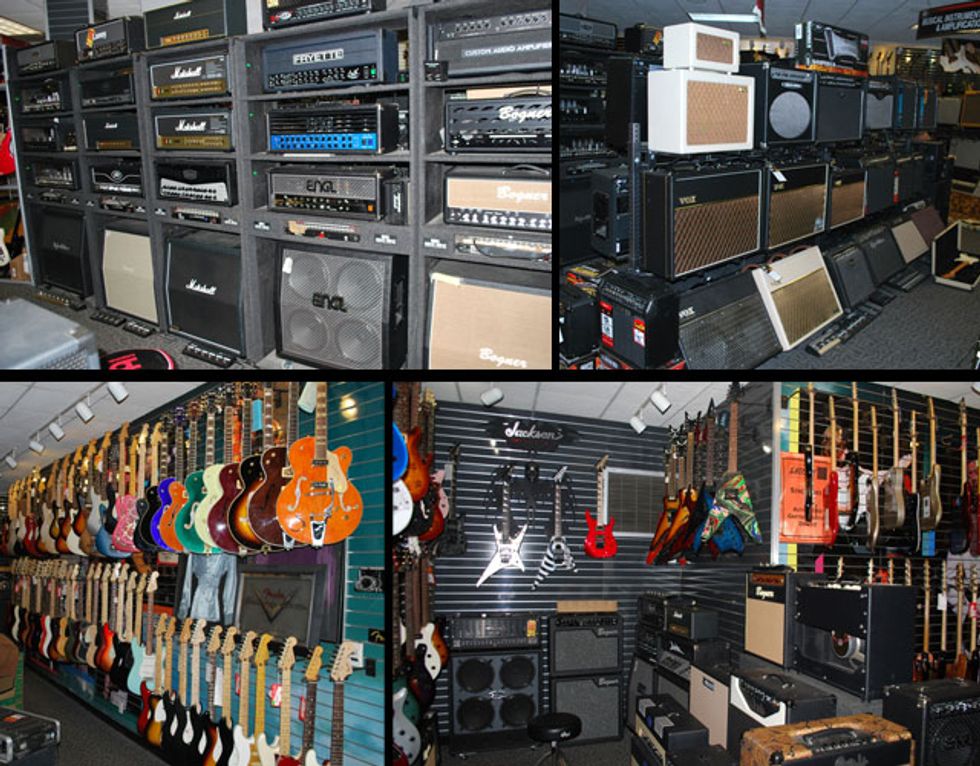 "Pictured is the store's range of amp heads (upper left), combos (upper right), Fender and Gretsch Custom Shop instruments (lower left) and the higher gain fare (lower right)."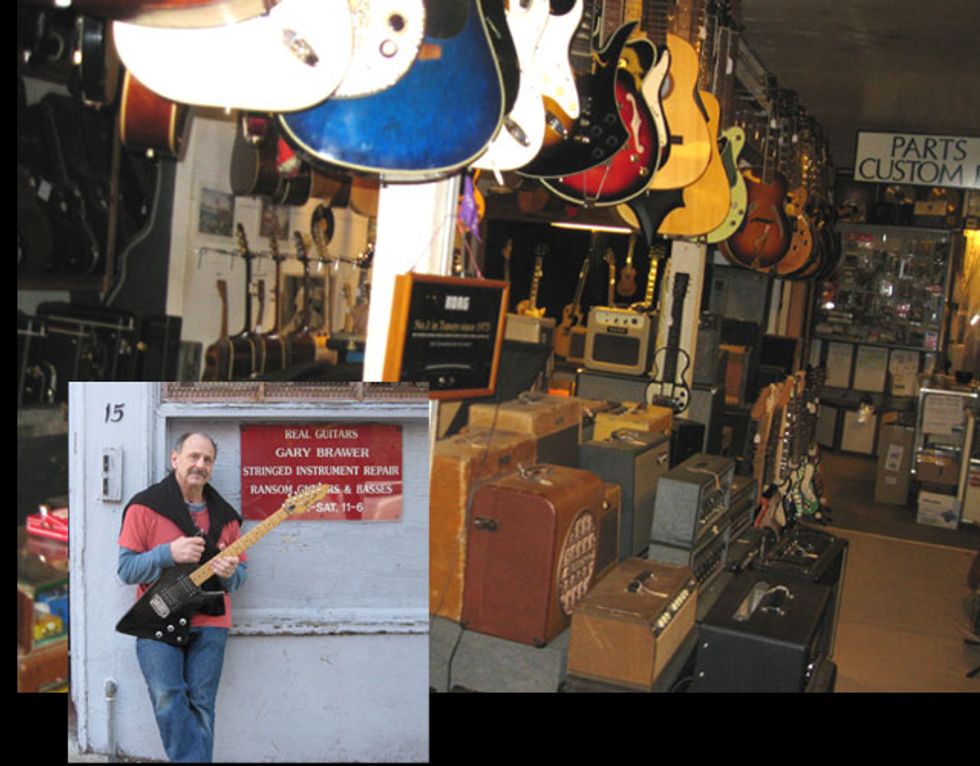 "San Francisco's oldest vintage guitar store, Real Guitars, has a reputation for being hard to find, but just call them and they'll guide you there! Pictured is the owner of Real Guitars, Chris Cobb, with a Peavey Razer. In addition to a great vintage selection, Real Guitars is home to noted repairman Gary Brawer's shop."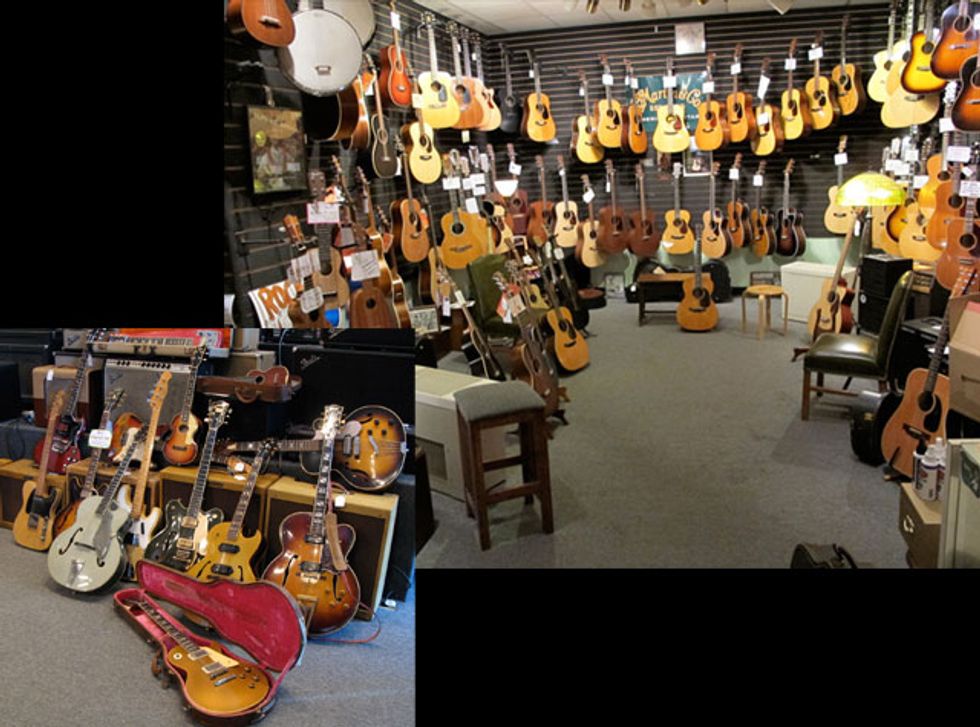 "As with the rest of the store, Willie's American Guitars' acoustic selection boasts vintage beauties and newer high-end instruments. Inset are some of the treasures found at Willie's, including a 1954 Gibson Les Paul Goldtop (refin)."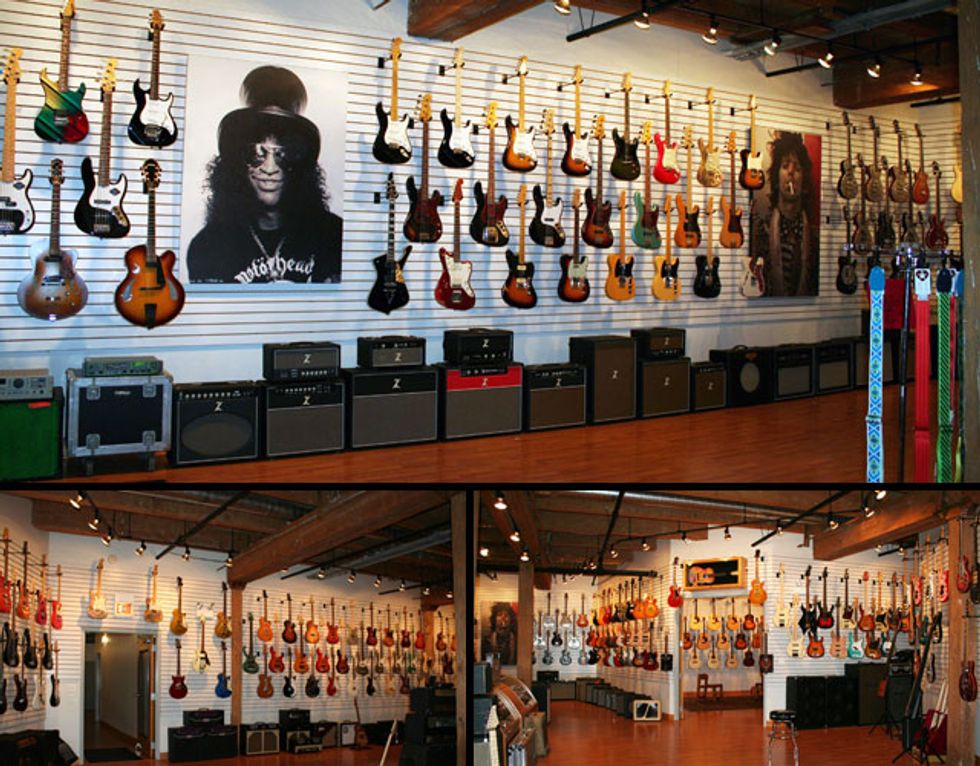 "Make'n Music has been a boutique dealer since 1973. Their open-style showroom is home to many high-end and boutique guitar, amp, and pedal brands, while soundproof demo rooms are available for testing gear."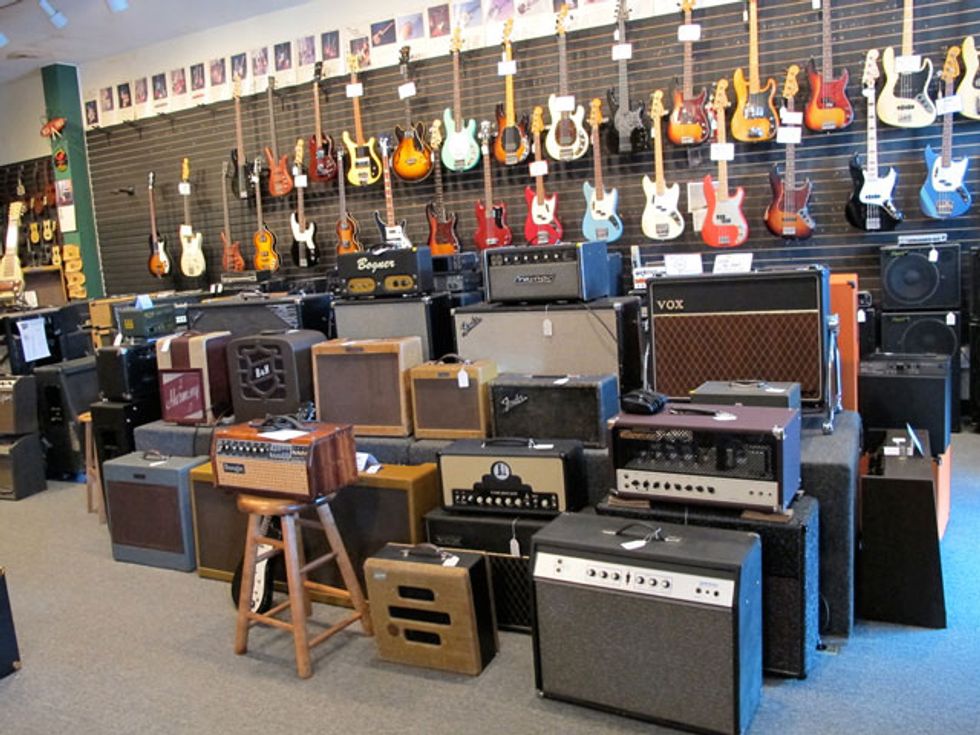 "Vintage and boutique coexist in Willie's amp selection, along with a variety of vintage and new basses."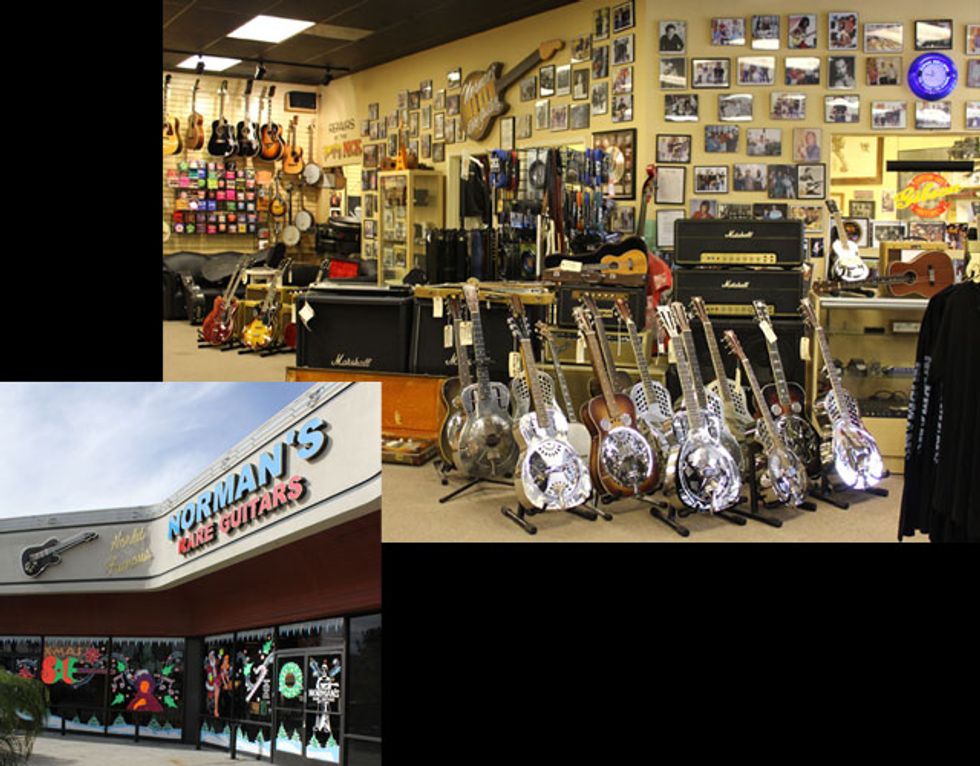 "Norman's Rare Guitars was opened in 1975, and has since grown to fame through a laundry list of famous patrons and t-shirt appearances in movies like ""Spinal Tap."" True to its name, Norman's stocks rare vintage instruments as well as new and used ones. "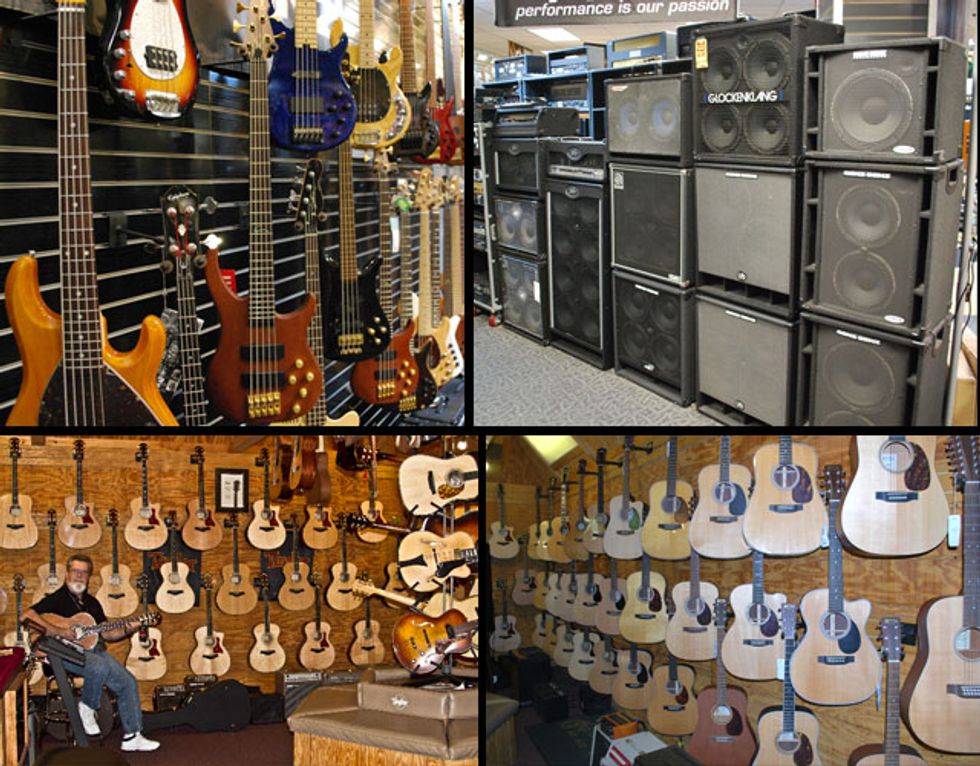 The store also stocks an impressive range of bass gear (top) and Taylor (lower left) and Martin (lower right) acoustics.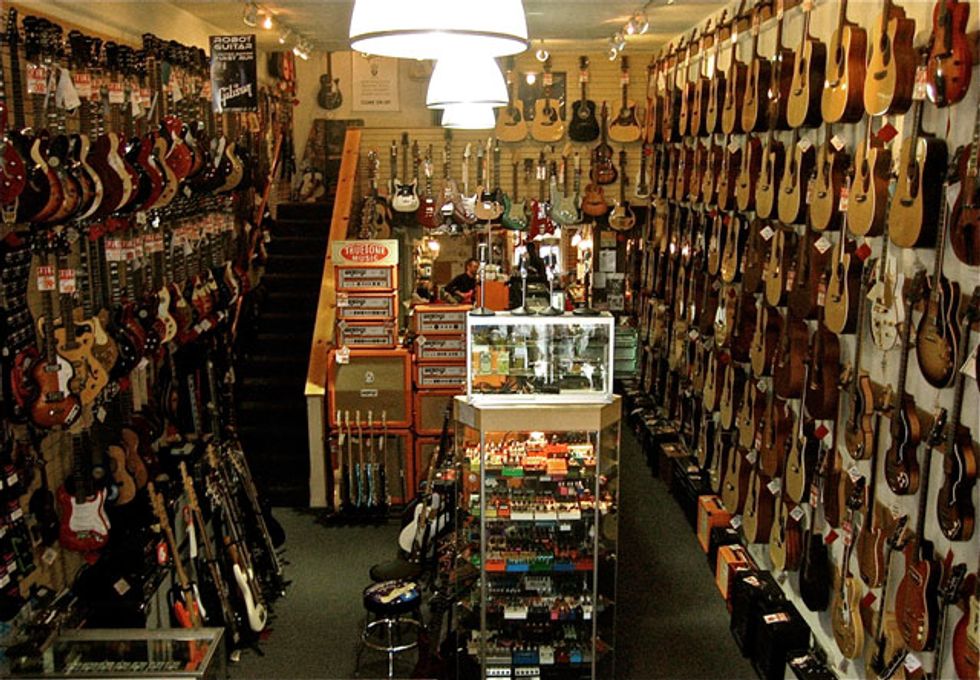 "A popular choice among the stars, TrueTone Music opened in 1996. The store stocks a wide range of big name and boutique guitars, amps, and effects. Guitar brands range from Airline to Daisy Rock to Italia to Music Man, Rickenbacker, James Trussart, and of course, Fender and Gibson. Their effects selection features all the boutique goodness a player can handle, ranging from Analog Man to Empress, Keeley, Red Witch, HomeBrew, and many more, with bigger names like MXR, Dunlop, Boss, and Electro-Harmonix represented as well."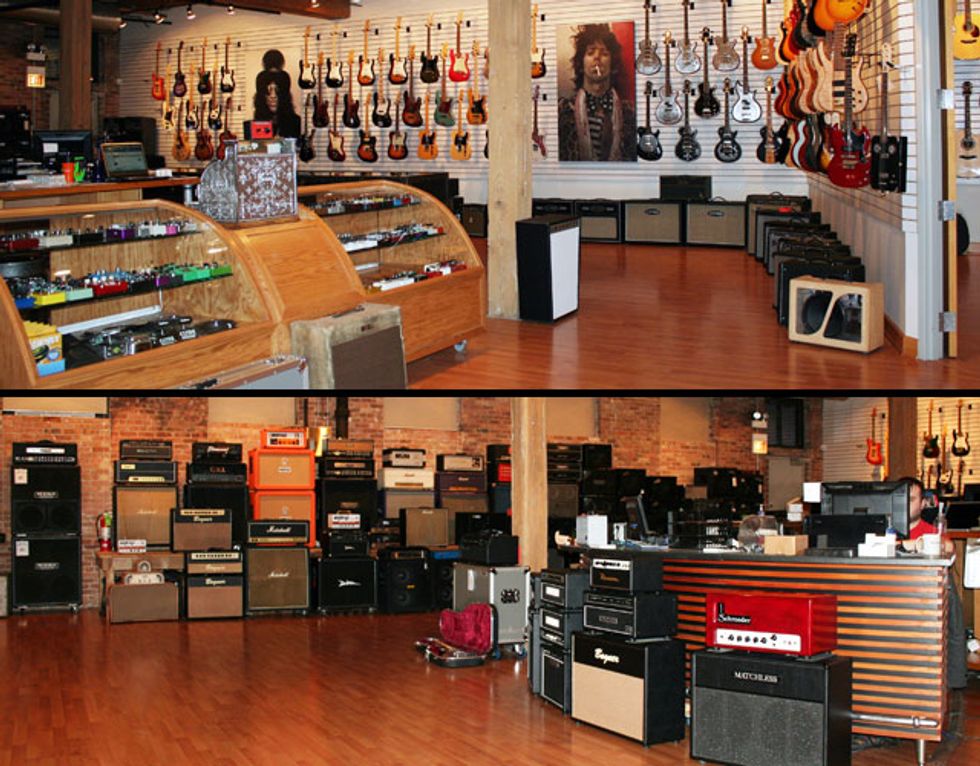 "Make'n Music's boutique amp selection includes a who's who of boutique builders: 65Amps, 3 Monkeys, Carol-Ann, Bogner, Diezel, Friedman, Dr. Z, Mad Professor, Louis Electric, Suhr, Victoria, and more. Their effects selection (encased in the glass counter) is equally high-end."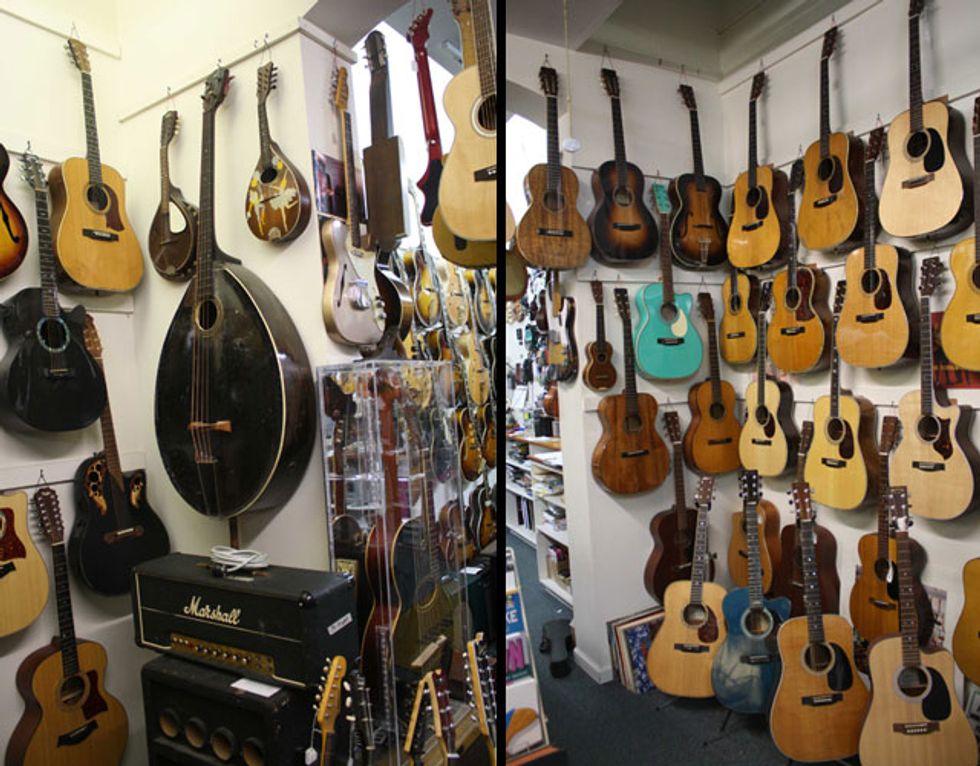 "In addition to those rarities, Lark Street specializes in acoustic instruments, and says they are about 50/50 split between electric and acoustic. They carry classic and new luthiers ranging from Martin and Collings to Mark Campellone and Brad Nickerson. "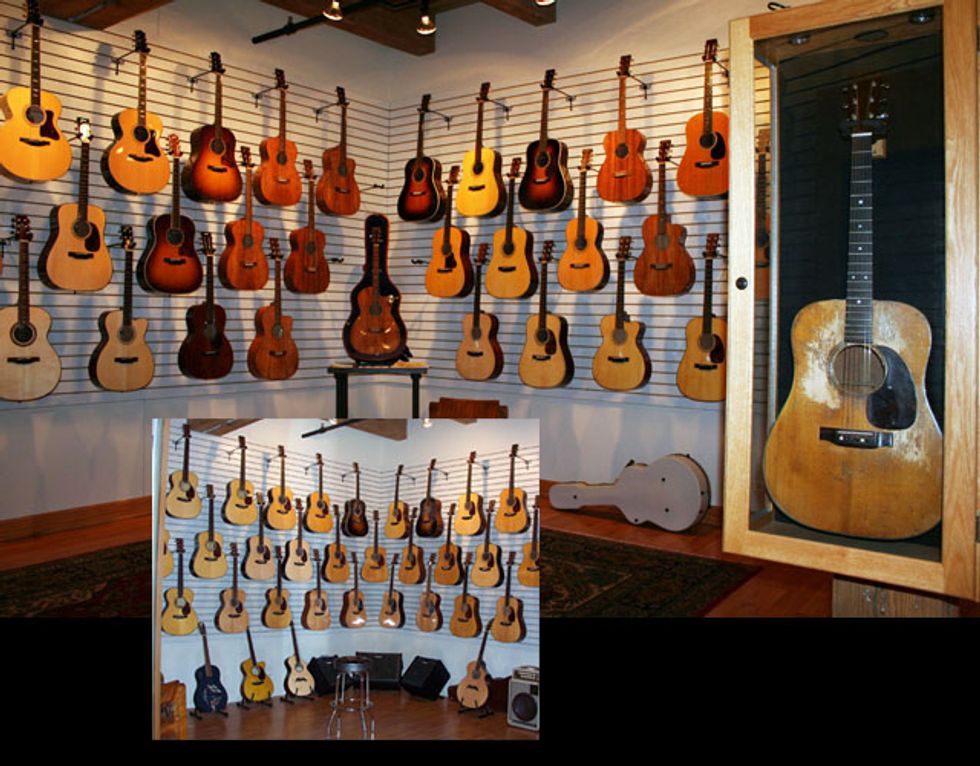 Make'n Music's acoustic rooms are stocked with boutique offerings as well.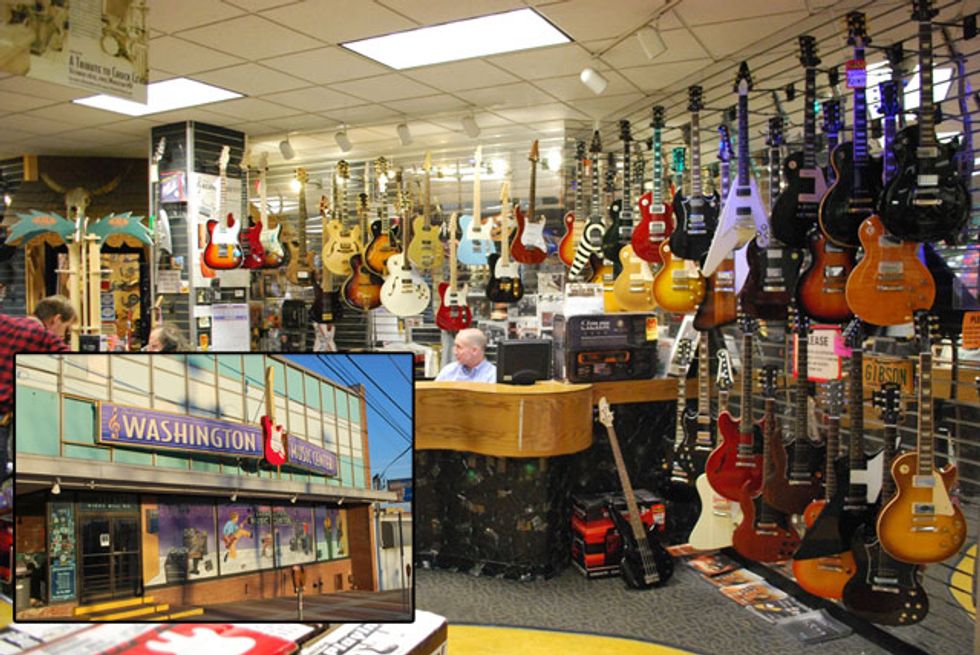 "Chuck Levin's Washington Music Center is one of the stores on our list that also does big business online. It was founded in 1960, and has grown to include three buildings and four warehouses of stock. In addition to guitar and bass gear, Chuck Levin's stocks drums, keyboards, pro audio, DJ, and band and orchestra instruments and gear."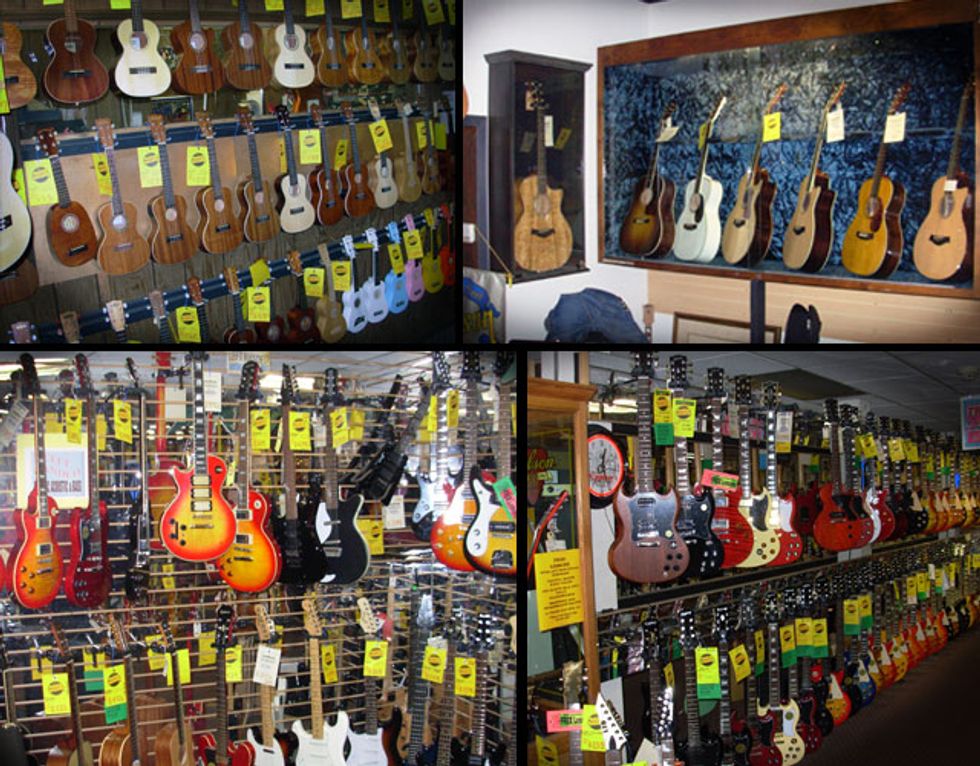 "Guitar Showcase's offerings run the gamut from a wide selection of ukes (upper left), to high-end acoustics (upper right), to a range of lefty guitars (lower left) and Gibsons (lower right). "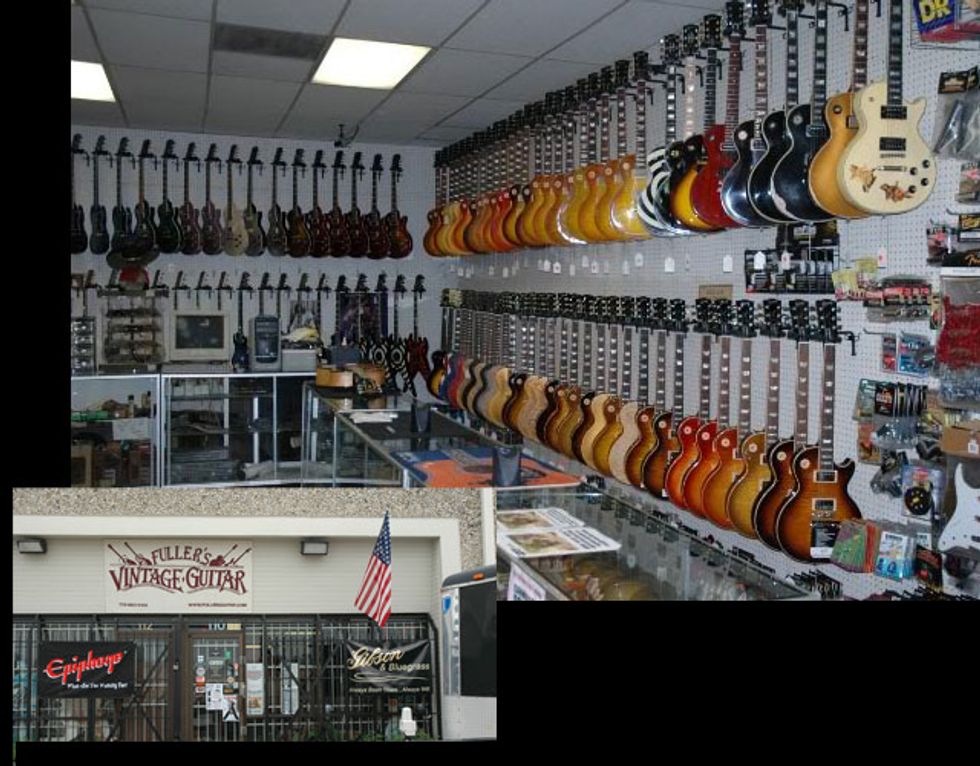 "Fuller's Vintage Guitar in Houston is known as Texas' largest guitar dealer. As seen as soon as you walk in, Fuller's stocks a wide range of Gibson, Gibson Custom Shop, and Epiphone instruments. They specialize in hard-to-get and limited-run Gisbon Custom Shop and Gibson Acoustic instruments."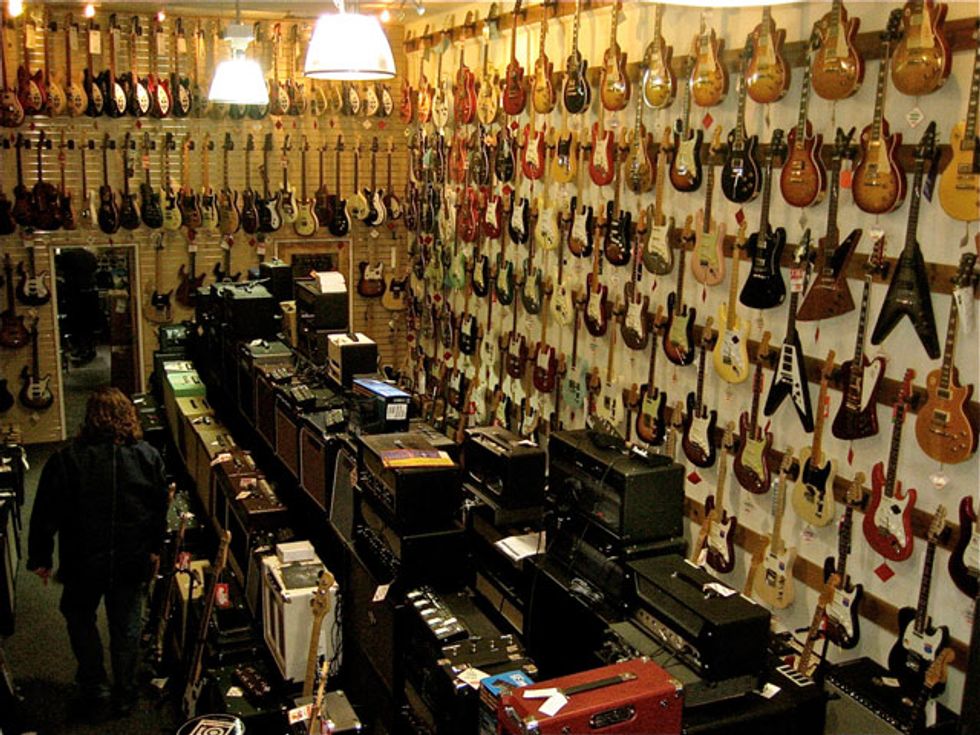 "TrueTone's amp selection includes Bad Cat, Divided by 13, Dr. Z, Hiwatt, Kustom, Orange, Rivera, 65Amps, and more."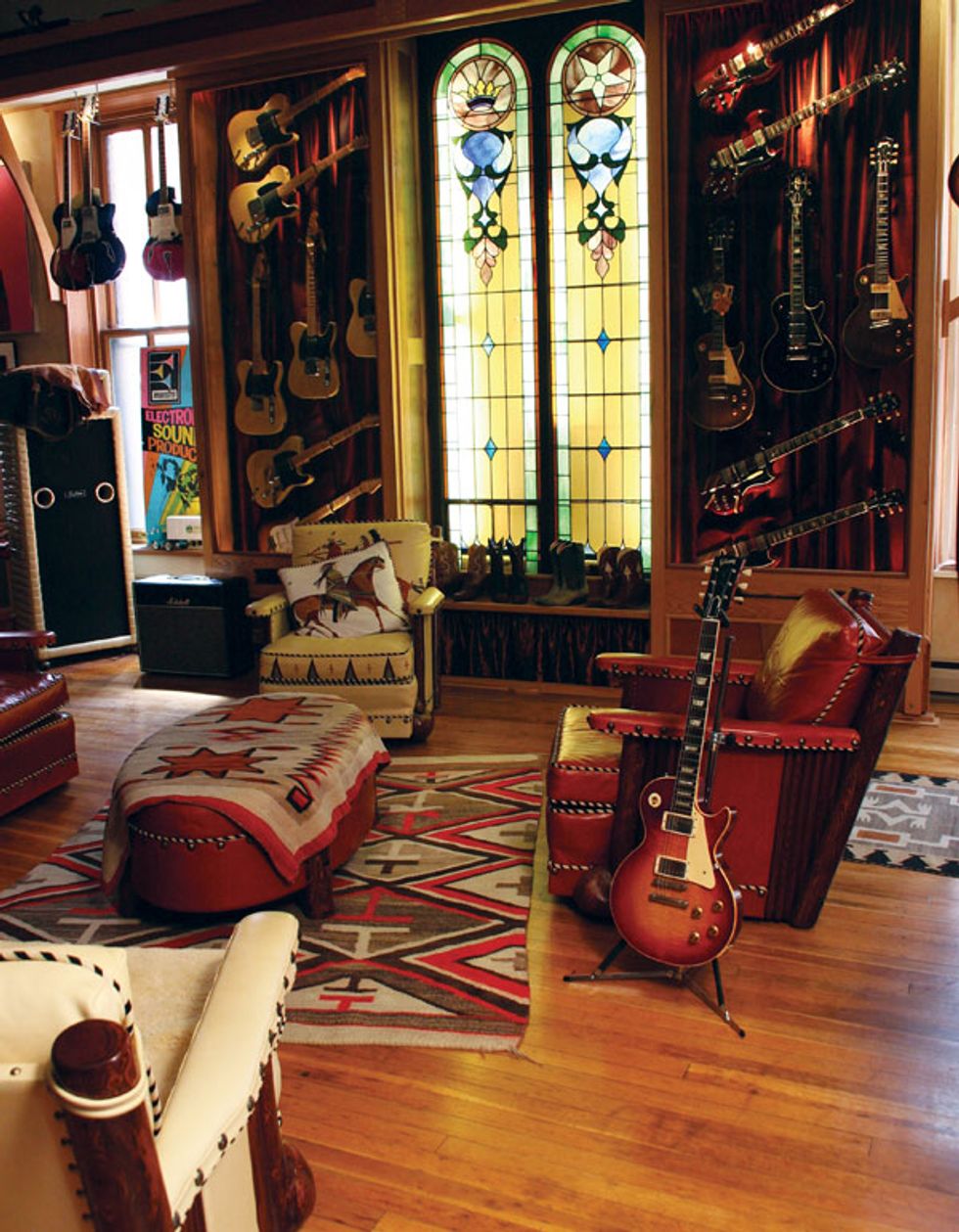 "Rumble Seat Music is unique in that it stocks both high-end and vintage guitars and premium Native American art and products as well as vintage western wear. The store specializes in vintage holy grail-era guitars, and currently stocks two '59 Bursts."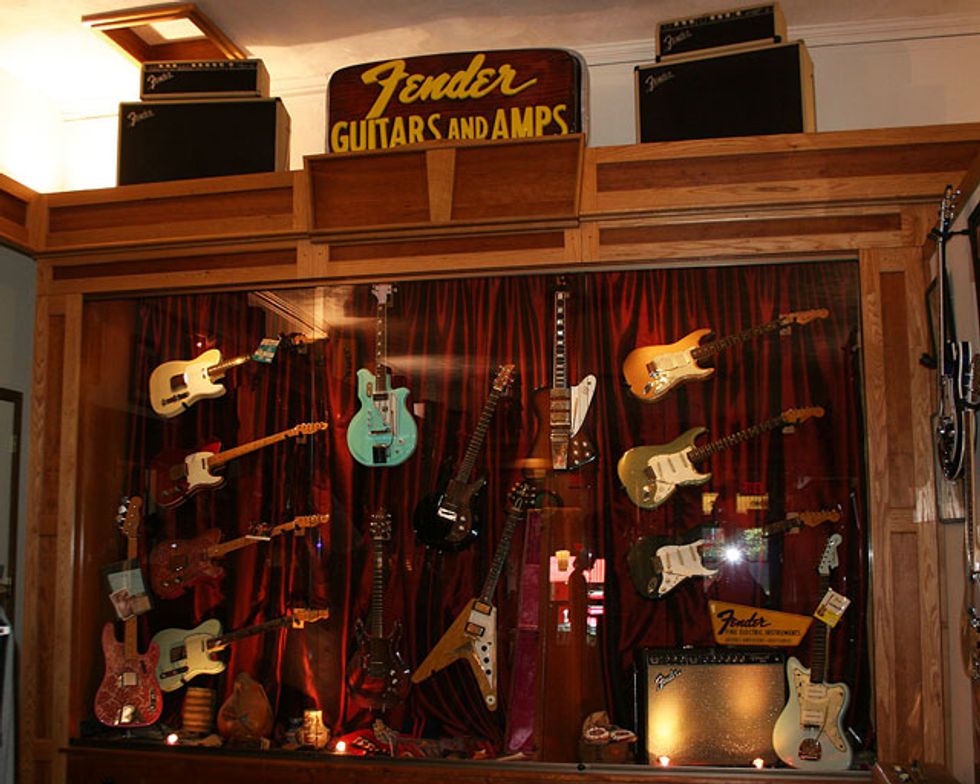 "Rumble Seat also has vintage rarities on the Fender side of things, including a 1951 ""Blackguard"" Tele, and a matched pair of 1968 Fender Paisley Telecaster and Telecaster Bass guitars (pictured in the case). "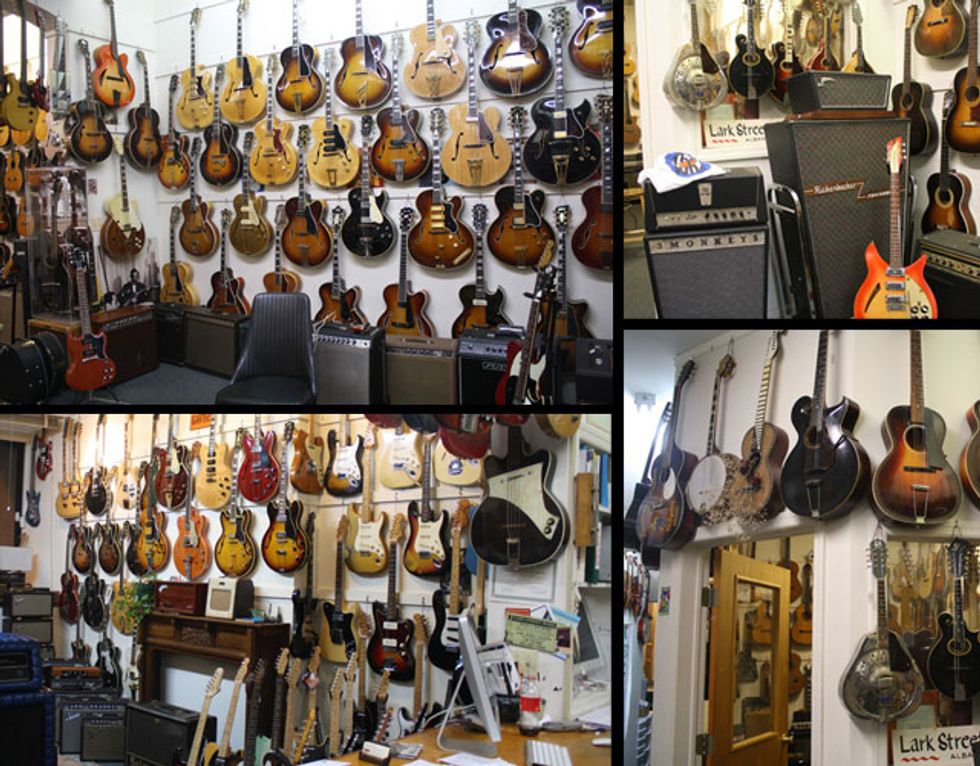 "Lark Street successfully blends vintage, new, and boutique stock. In addition to their vintage amps, Lark Street carries newer boutique companies like Tone King and 3 Monkeys, as well as boutique pedal lines from Fulltone and Z.Vex."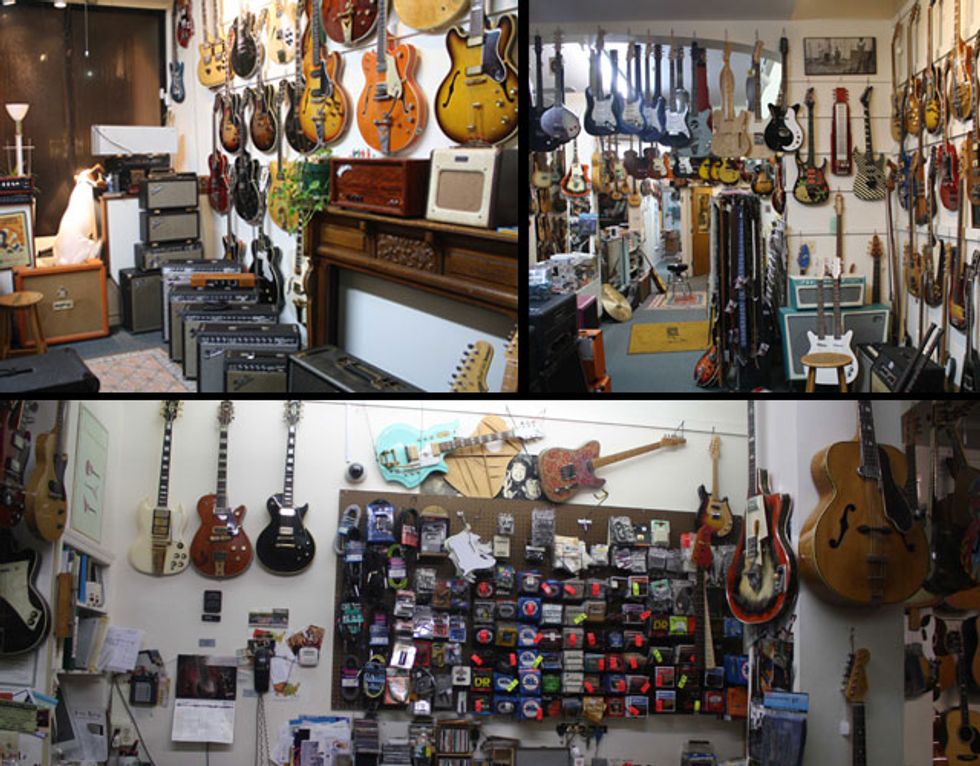 "Lark Street Music opened in Albany, New York, in 1981, and moved into New Jersey (a five-minute drive from the George Washington Bridge) in 1999. The store stocks a wide variety of rare, vintage, and new guitars and mandolins. Pictured are main areas of the store you would see when walking in, with some super rarities. Can you spot the vintage Italian Wadre guitar and the Trainwreck?"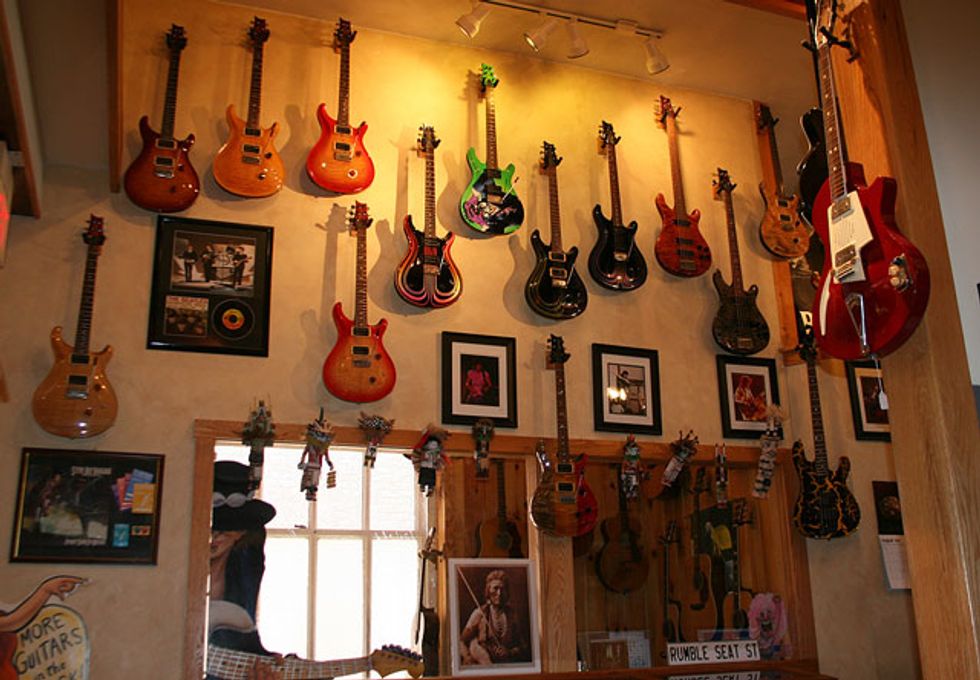 "Rumble Seat also has newer instruments from PRS, Gibson, and Fender, as well as other modern brands like Nash Guitars."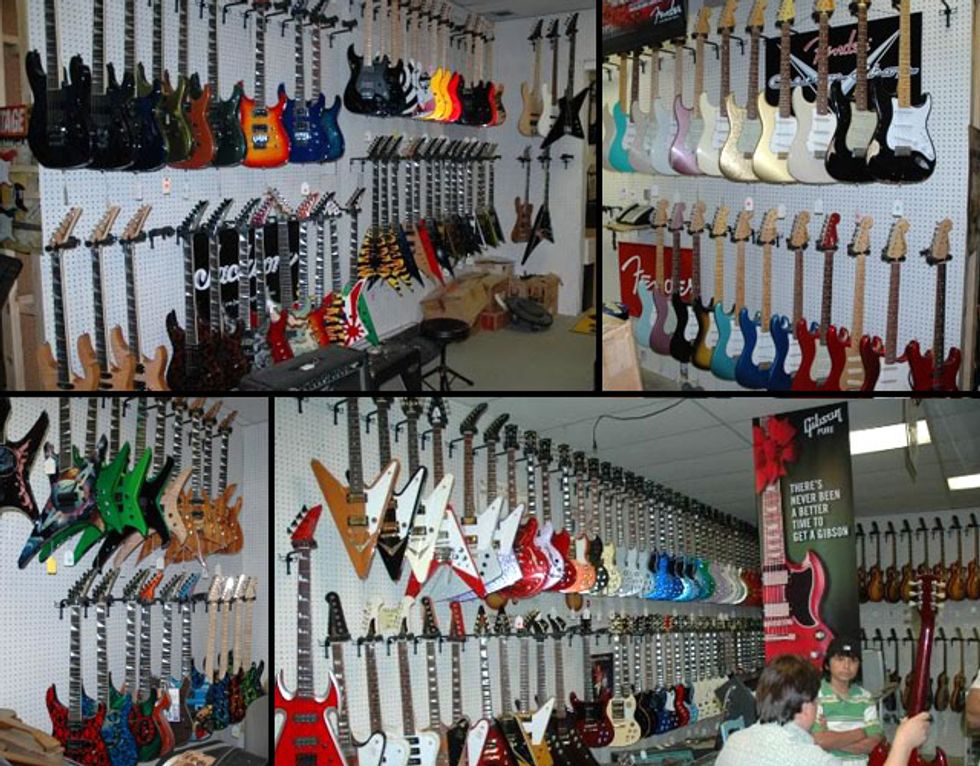 "Of course, Gibson isn't all they stock. Fuller's also stocks a full line of Fender instruments, including Custom Shop, and many other brands."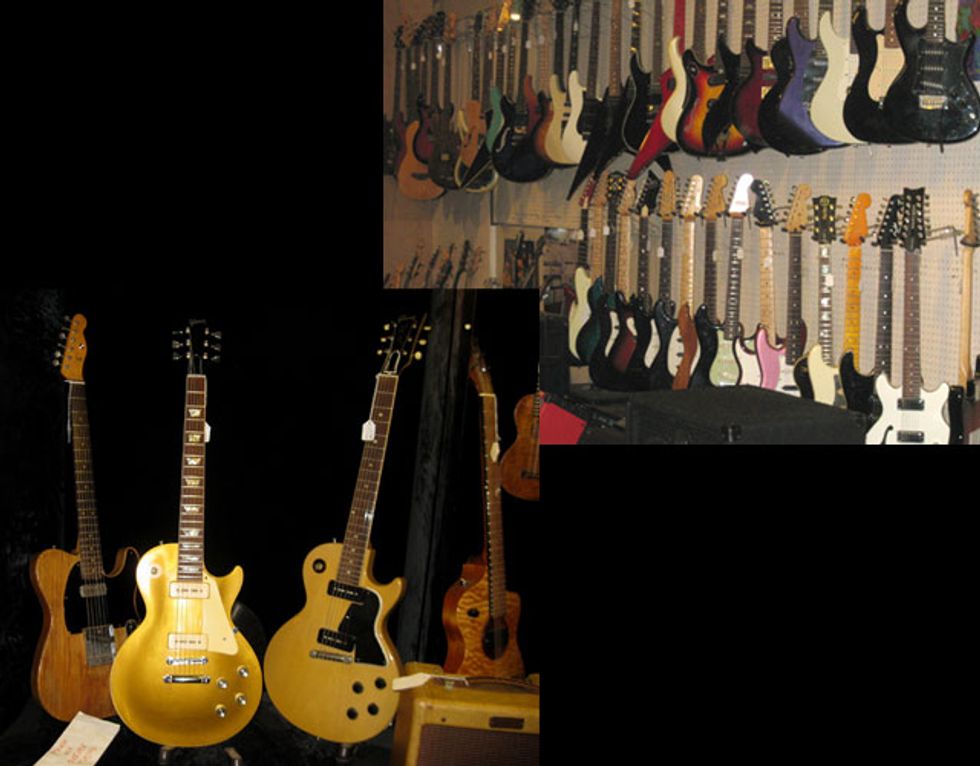 "Real guitars takes pride in their relaxed vibe but their selection is what you might call ""serious."" Pictured are a 1962 Fender Telecaster, a 1968 Gibson Les Paul Goldtop, a 1956 Les Paul Special, a recent Turner Guitar, and a 1955 Fender Tweed Champ amp."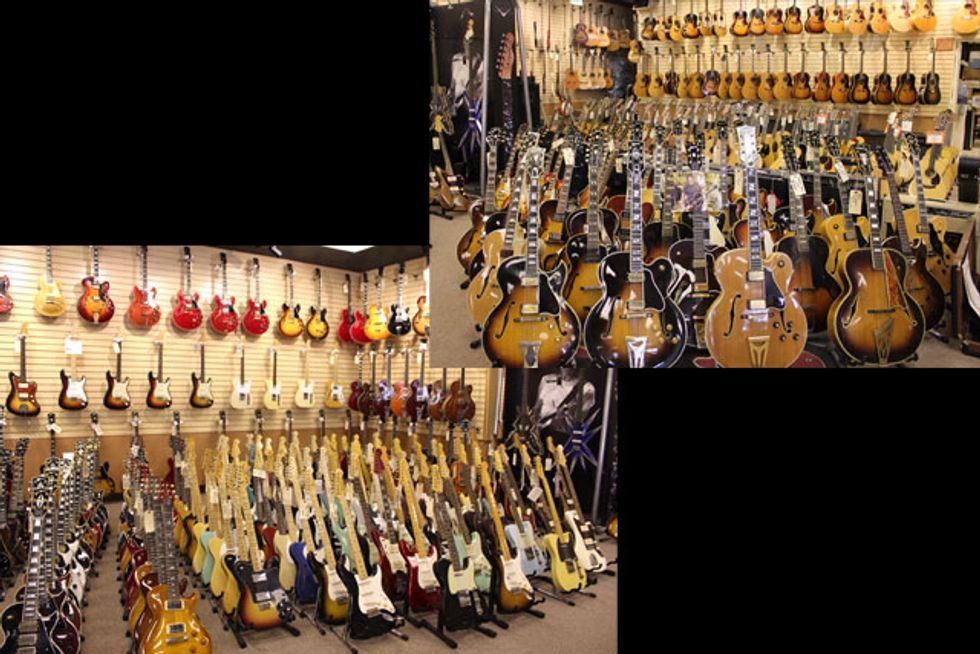 "Norman's stock of instruments is massive, stocking new instruments from Fender, Gibson, Martin, Rickenbacker, PRS, Danelectro, Guild, Gretsch, D'Angelico, Nash, Don Musser, Ernie Ball Music Man, Yamaha, and more."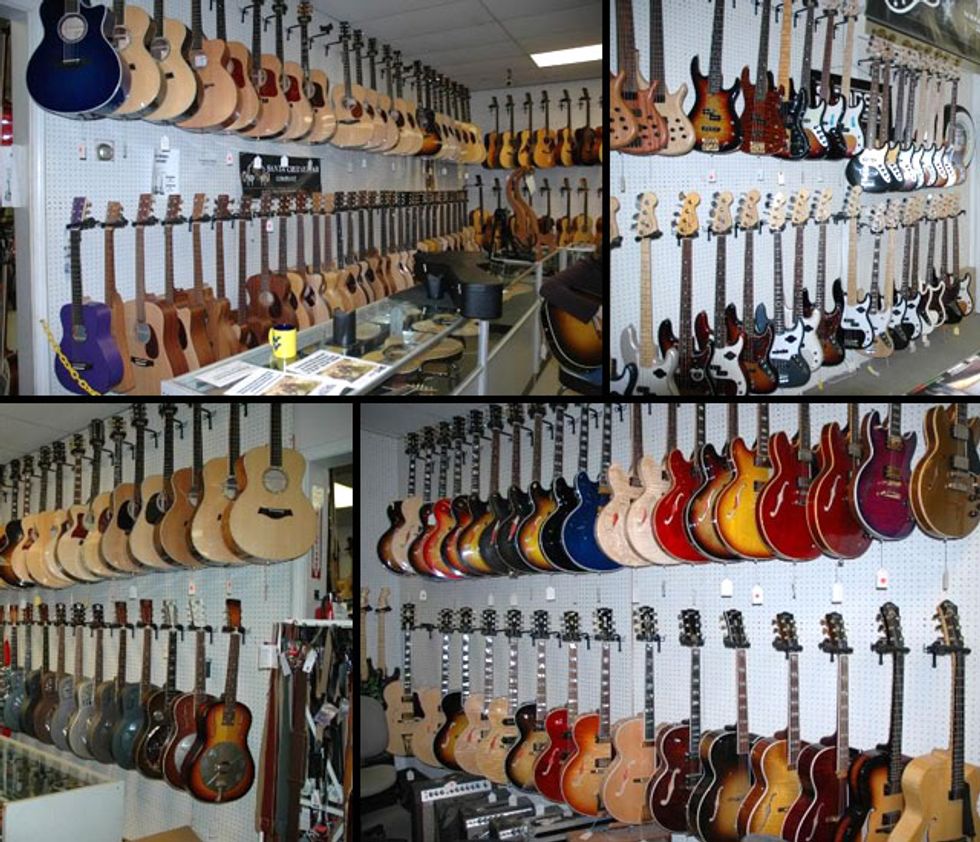 "In addition, Fuller's acoustic lineup is broad, ranging from big names like Gibson and Guild to more boutique offerings like Gallagher and Santa Cruz. Fuller's vintage offerings are smaller, but not lacking quality: the store currently has a near-all-original 1958 Fender Stratocaster in stock."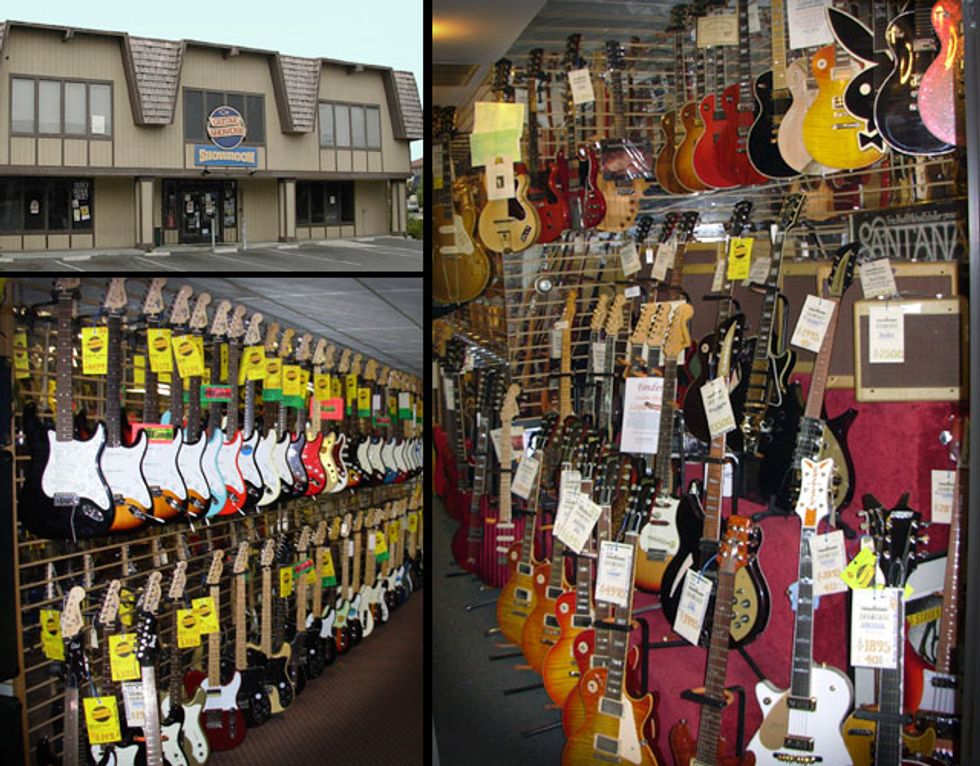 "Guitar Showcase was founded in 1965, making it one of the oldest guitar shops on our list. They stock both new guitars (lower left) and vintage instruments (right), as well as drums and keyboard gear."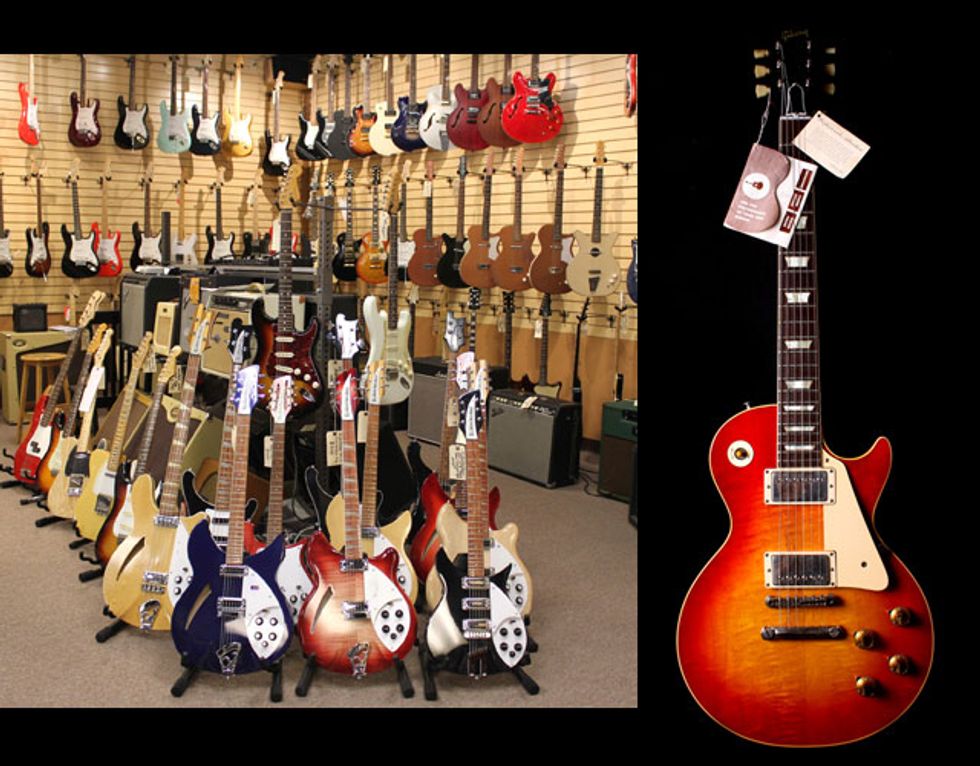 "Norman's Rickenback stock includes both new and vintage beauties. The store's ""Rare Guitars"" moniker is perhaps best encapsulated by this 1960 Gibson Les Paul Sunburst."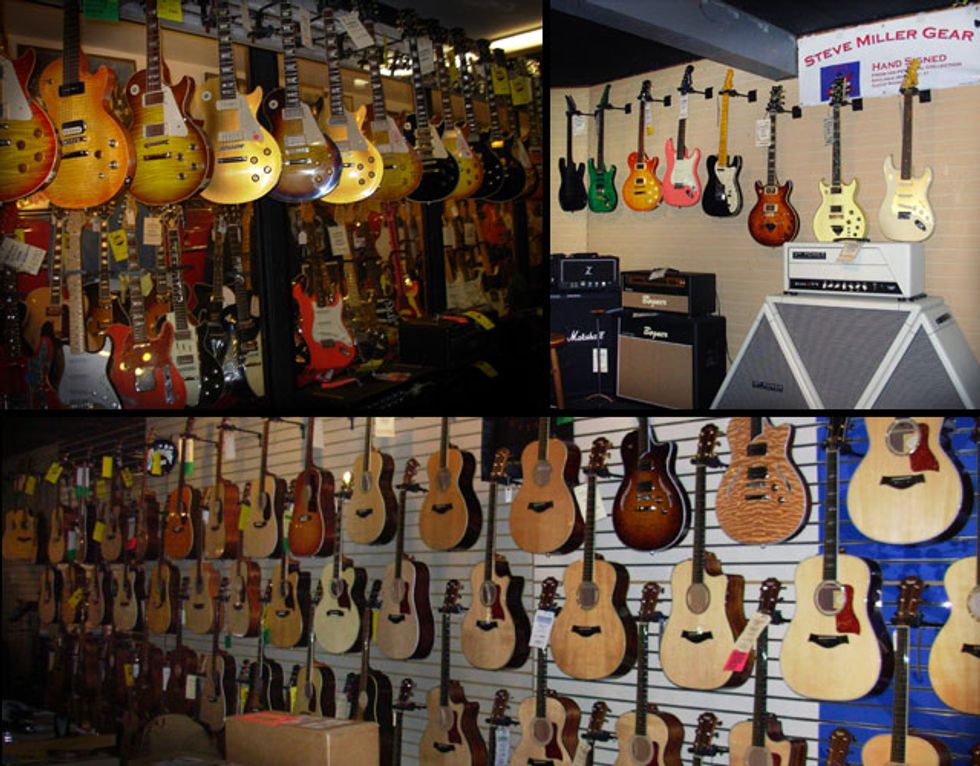 "With the range of instruments, as well as an instrument rental facility called the Showcase Swap Shop, and the stores vintage collection named the Vintage Vault, Guitar Showcase has grown to be the largest independent music complex in Northern California. In addition to their Gibson Custom Shop (upper left) and acoustic (bottom) offerings, Guitar Showcase has a number of Steve Miller-owned instruments for sale (upper right)."