Gator Cases Announces Updated 4G Series, Journeyman Series, and ProGo Gig Bags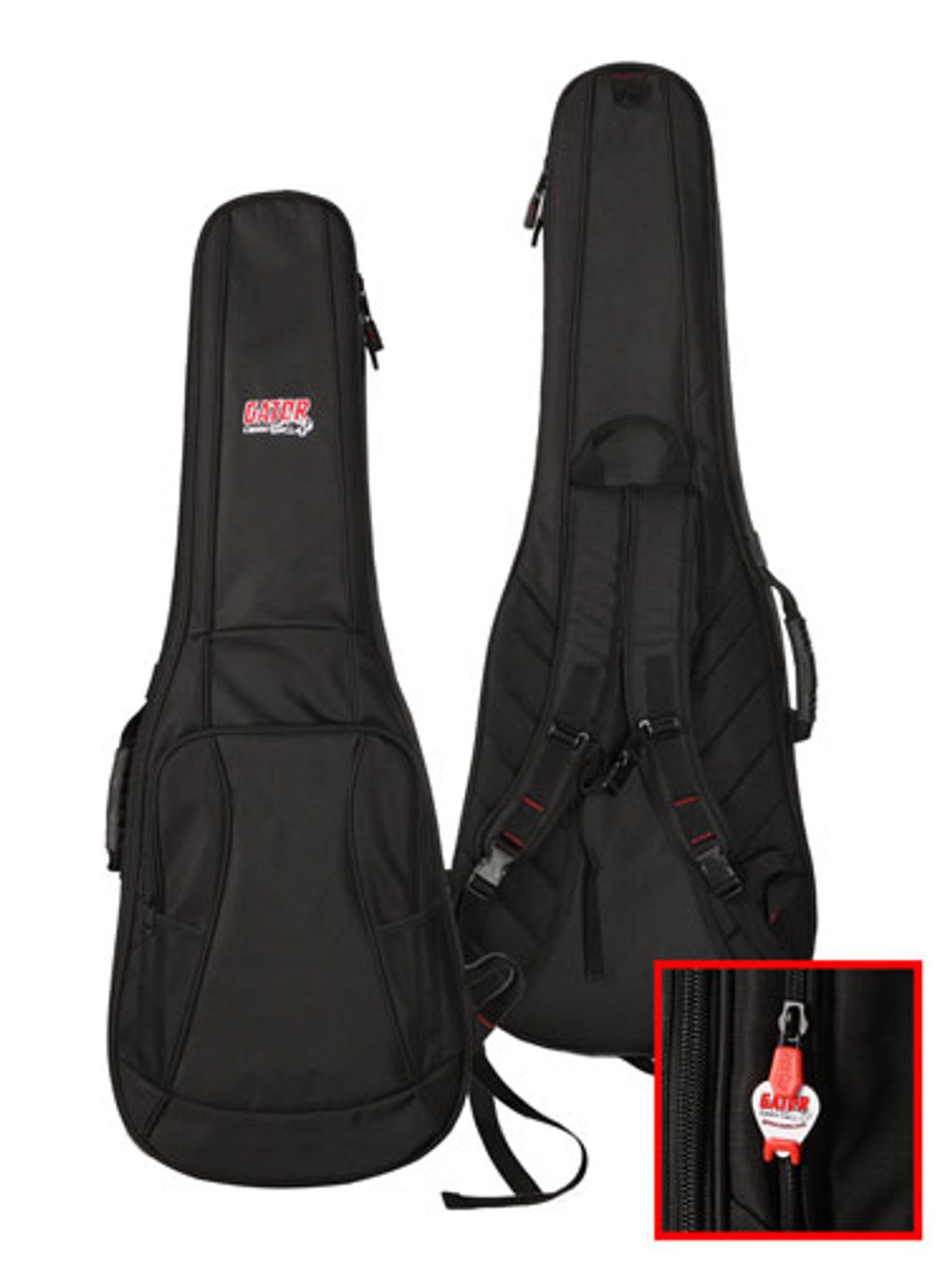 The Les Paul & 335 cases join the Journeyman series which includes nine additional models.
Lutz, FL (January 22, 2014) -- Gator Cases popular line of lightweight Slinger guitar gig bags has been updated and replaced with the new 4G series gig bags. The 4G series takes the similar lightweight padded design and adds a stealth look with a dual textured black exterior, multiple storage compartments and the unique patent pending 'pick clip'.
Gator's 4G gig bags features thick interior padding and tough nylon exterior. An extralarge front pocket provides ample storage for related accessories such as straps, cables, sheet music, strings, even tablet devices. The 4G series also features the unique patentpending 'Pick Clip' zipper pull. The 'Pick Clip' holds an 'emergency' back up guitar pick and doubles as the zipper pull for the front pocket. A reinforced headstock and bridge section prevents wear to the interior. Lastly, the bag features Gator's adjustable backpack style shoulder straps with contoured back padding for comfort and ease of use.
The flexible design allows the 4G bags to fit a wide variety of guitars. Individual models are available to fit Electrics (GB-4G-ELEC), Bass Guitar (GB-4G-BASS), and Dreadnaught (GB- 4G-ACOUSTIC). Double models will also be available to hold (2) Electrics (GB-4G-ELECX2) and (2) Bass guitars (GB-4G-BASSX2). The new 4G series gig bags will be available in early 2014 from your authorized Gator Cases dealer.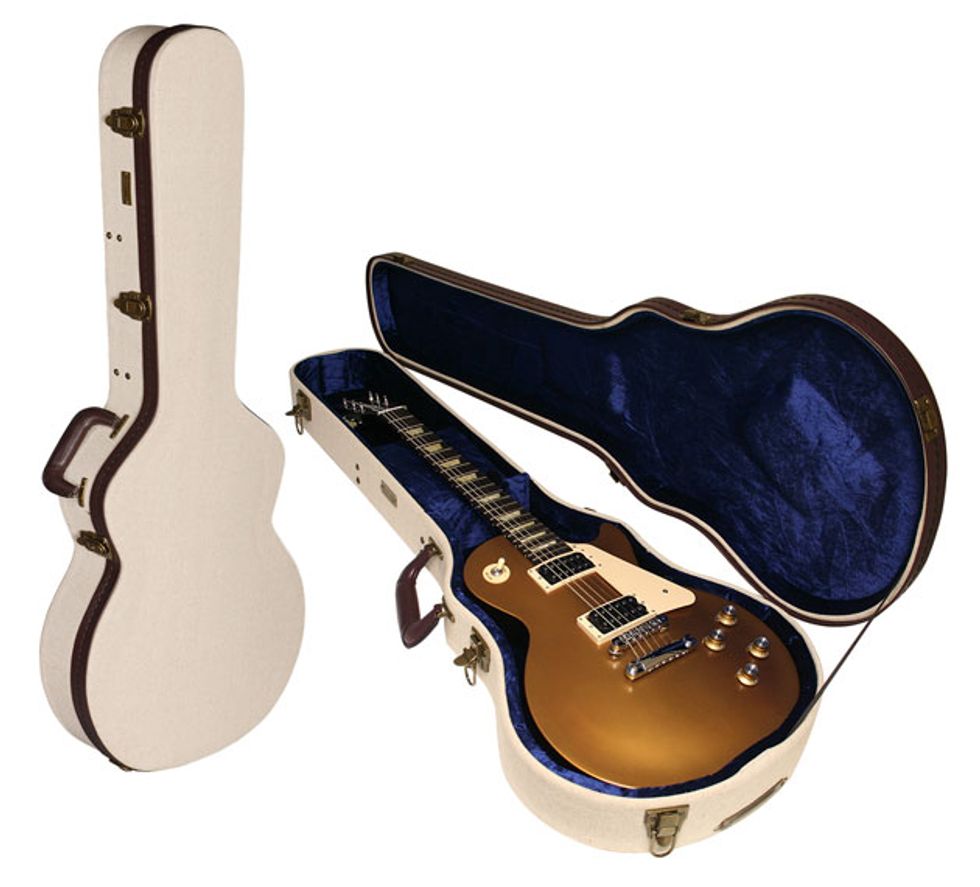 Gator Journeyman Series
Classic styling and traditional craftsmanship come together to create the elegant new Journeyman series from Gator Cases. Inspired by bluegrass and folk music, these stylish cases are available for a variety of guitar styles. Newly added models include custom fit interiors for both Gibson Les Paul and 335 guitars.
Moving away from the traditional black exterior, the Journeyman series provides a fresh look with its pebble weaved burlap wrapping and espresso brown trim. Antique brass hardware give each Journeyman case a classic look. A beautiful royal blue crushed velvet lines the interior and provides a soft cushioning for your instrument.
An internal accessory storage compartment is perfect for straps, strings, capo, and related accessories. Each Journeyman case is constructed of thick plywood. The Les Paul & 335 cases join the Journeyman series which includes (9) additional models for standard electrics, dreadnaught acoustic, resonators, banjos, bass guitars, mandolins, and Soprano, Concert and Tenor style Ukuleles. This exciting new case line is available immediately from authorized Gator Case Dealers.

Gator ProGo Series
Gator Cases new line of ProGo deluxe guitar gig bags provide professional level protection for players on the go. This sleek and stylish gig bag is built tough to keep your instrument safe during even the harshest conditions. With numerous storage compartments and carry options, the ProGo bag from Gator is the perfect companion for the traveling musician.
Gator's ProGo deluxe guitar gig bag features an extremely durable nylon exterior and ultra-thick padded sidewalls. On the interior, your instrument is cushioned in a luxurious, thick, white micro-fleece lining. An adjustable foam cradle secures the neck and provides superior protection for the guitar. Additionally, a specially designed foam block sits at the bottom of the guitar to absorb any shock or impact incurred. The ProGo bag includes numerous storage options, with an extra-large front pocket perfect for cables, sheet music, strings, and more. A large pocket for tablet devices is also included and features soft micro-fleece lining. Front and side carry handles as well as the multi-adjustable, removable, padded backpack straps provide various carry options. Lastly, a slight change in weather is nothing to fear as a protective rain cover is stored in the rear compartment and wraps around the exterior.
The deluxe ProGo series gig bags are available for Electric guitars (G-PG ELECTRIC), Bass Guitars (G-PG BASS), Dreadnaught Acoustics (G-PG ACOUSTIC), as well as double models to hold (2) Electrics (G-PG ELEC 2X) and (2) Bass guitars (G-PG BASS 2X). The new ProGo series will be available in early 2014 from your authorized Gator Cases dealer.
For more information:
Gator Cases