Acoustic Gear Finds June 2021
Don't miss the latest and greatest gear finds for your acoustic!
---
Cole Clark Guitars
The Cole Clark CCFL2ECRDBL Acoustic-Electric Guitar is designed for the guitarist who demands the highest standards in an instrument. The 2 Series FL Dreadnought guitar is the go-to choice for every player looking to have ultimate control of both the acoustic and plugged-in performance environments, with Cole Clark's signature 3-way pickup system and beautiful, sustainably-sourced, natural Redwood and Blackwood timbers.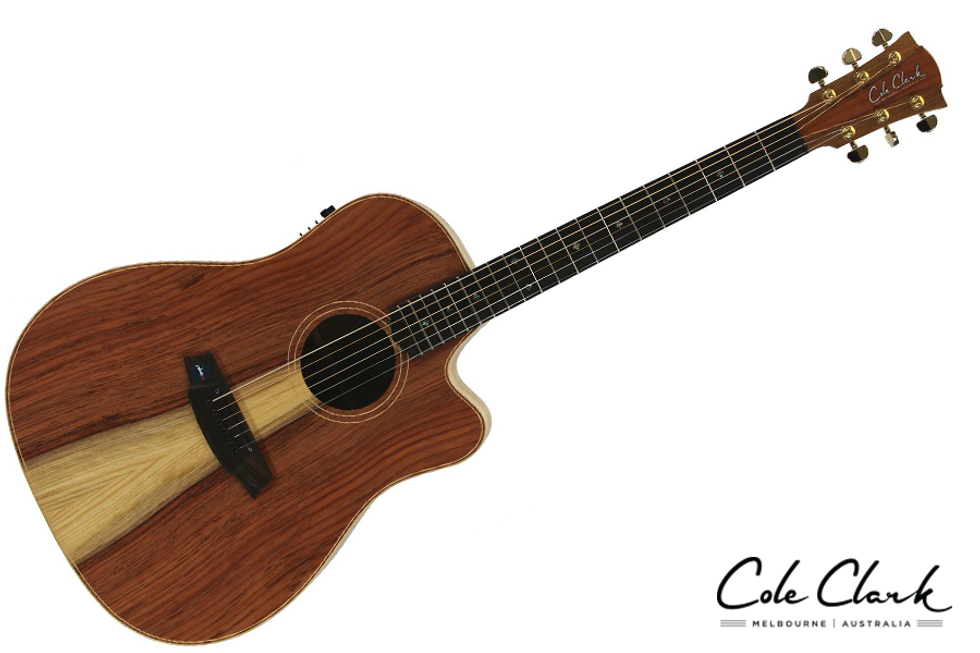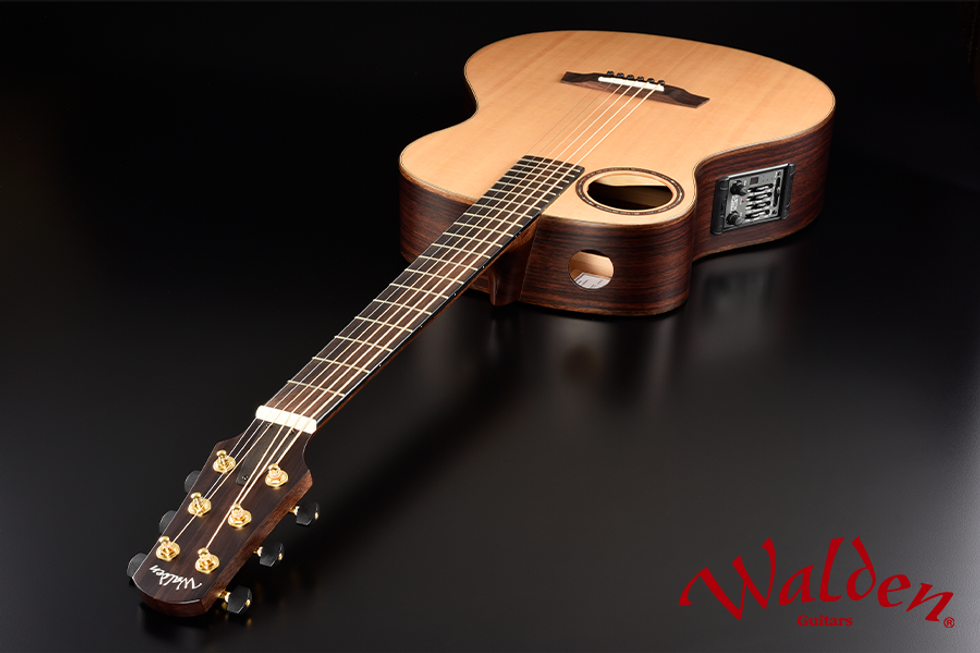 "I love this thing, I can't put it down. It's kind of like having a piano in your lap, you got all the low end for bass lines, and you got chords that you can strum on top, even alternating simple bass lines. There's all kinds of fun you can have with this thing!" ~ Sean Harkness, NYC

Typically tuned to B, the Baritone provides a clear low end response perfect for soloists, singer-songwriters, percussive finger-style players, or guitarists who crave a walking bass line while comping chords.

With its offset soundhole, side-port, and solid Sitka spruce top with innovative low-mass bracing, the Walden B1E sounds sonically excellent while incorporating the more comfortable Grand Auditorium body shape. A graphite reinforced Mahogany neck contribute to stability and its 27″ scale length and 1-13/16″ nut width contribute to the B1E Baritone's transparent playability.

Click here to watch videos
Click here for more information
Click here to follow Walden Guitars on Instagram
Walden Guitars
PRS
The PRS SE P20E is a parlor-sized acoustic with a big voice. Features include all-mahogany construction and PRS hybrid "X"/Classical bracing, which allows the top to freely vibrate, the SE P20E projects with even, bold tone. Its smaller size makes playing for hours fun and comfortable and allows for more convenient transport.
Plug in the Fishman GT1 pickup system, and it delivers dynamic, organic tone. This electronics system features an undersaddle pickup and soundhole mounted preamp with easy-to-access volume and tone controls, which essentially transforms what some may consider a "couch guitar" into a workhorse stage instrument.
Available in three satin finishes with herringbone rosettes and accents. Other high-quality features include a solid mahogany top, ebony fretboard and bridge, and bone nut and saddle. Gig bag included.
Click here to learn more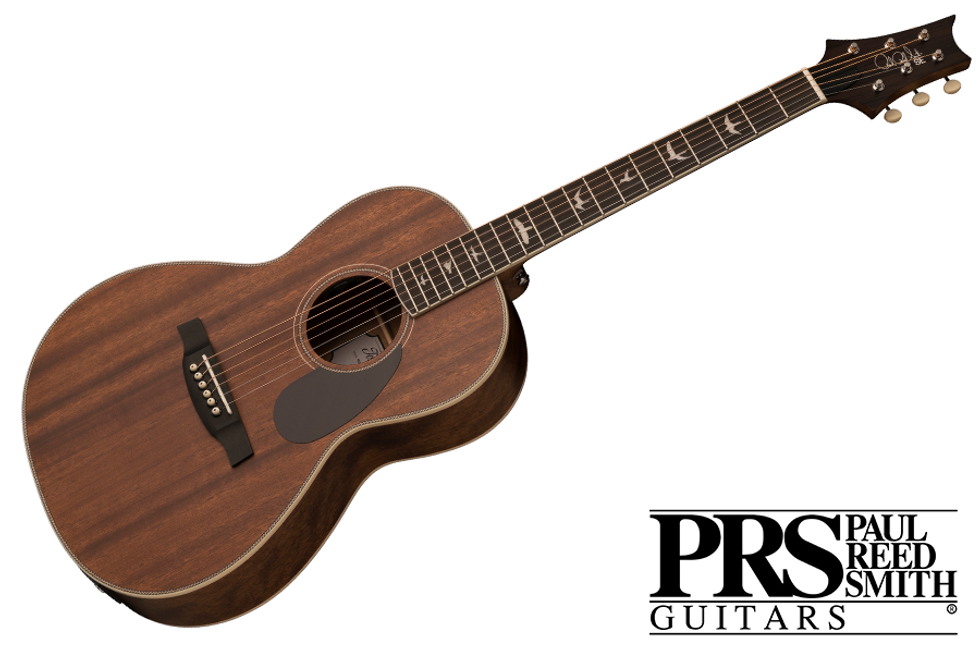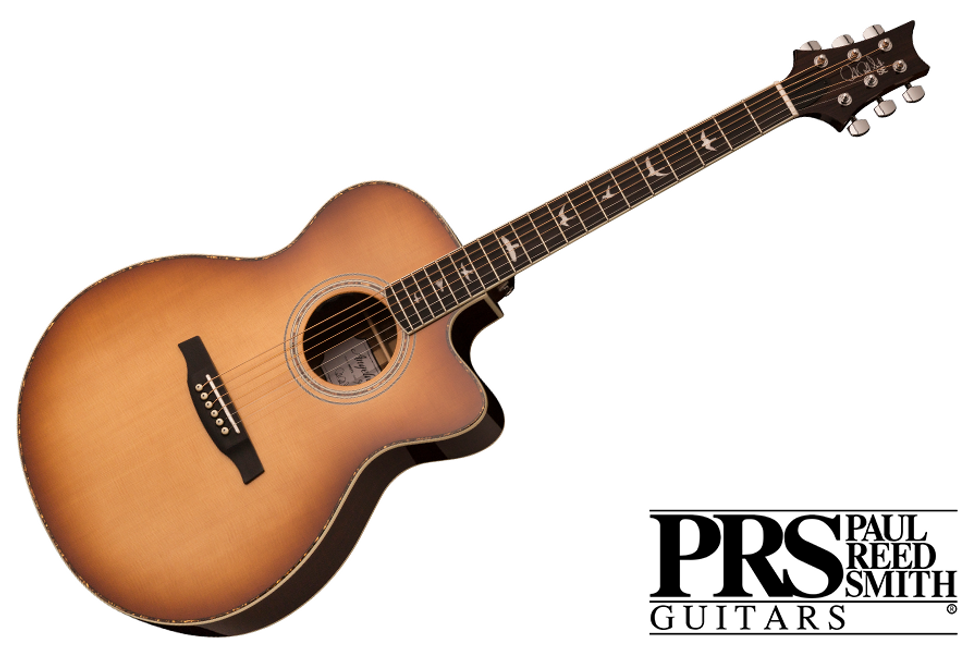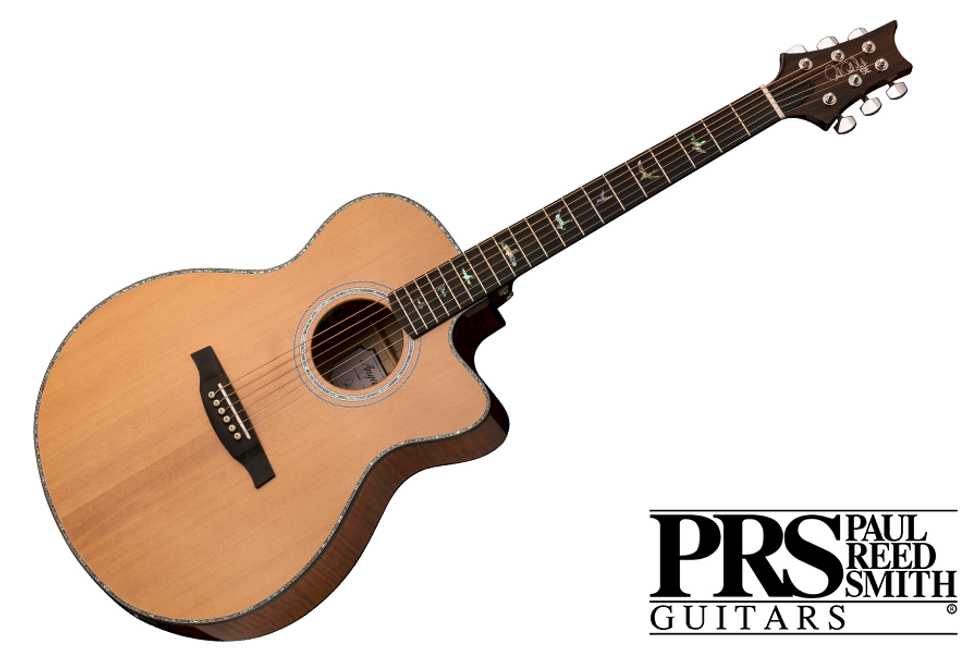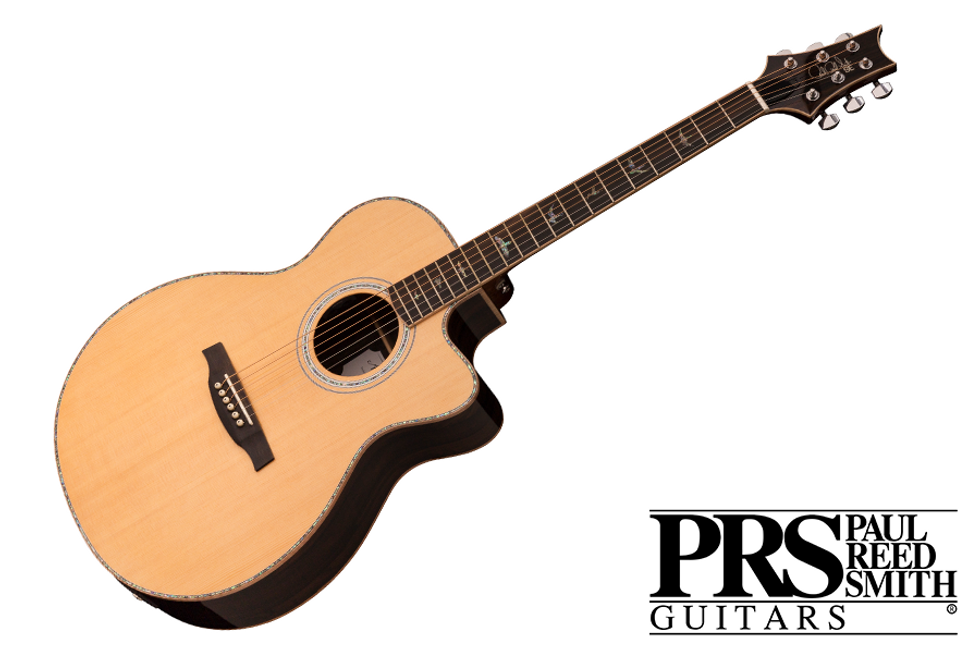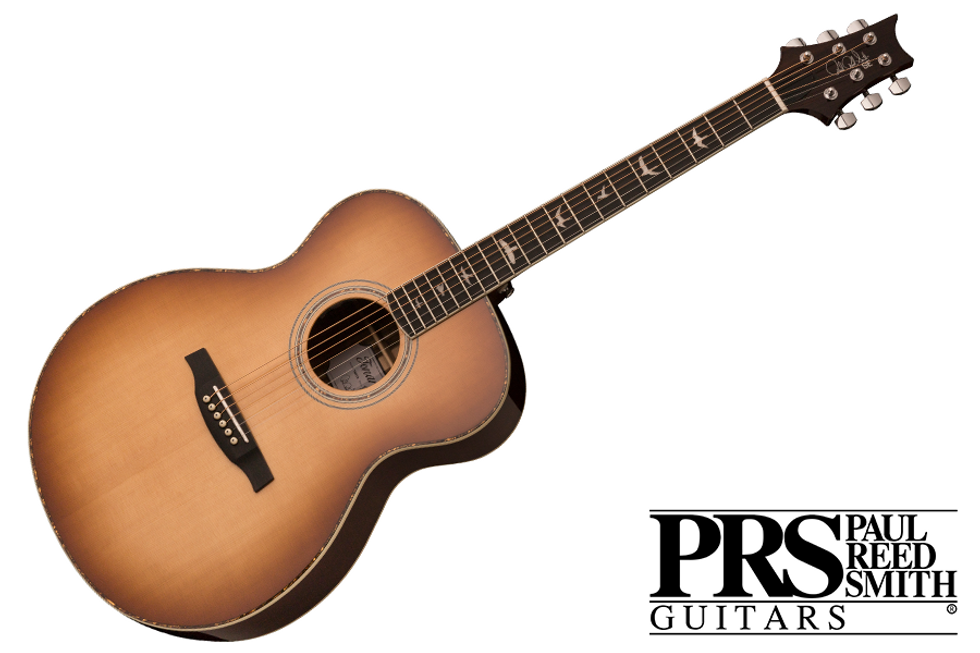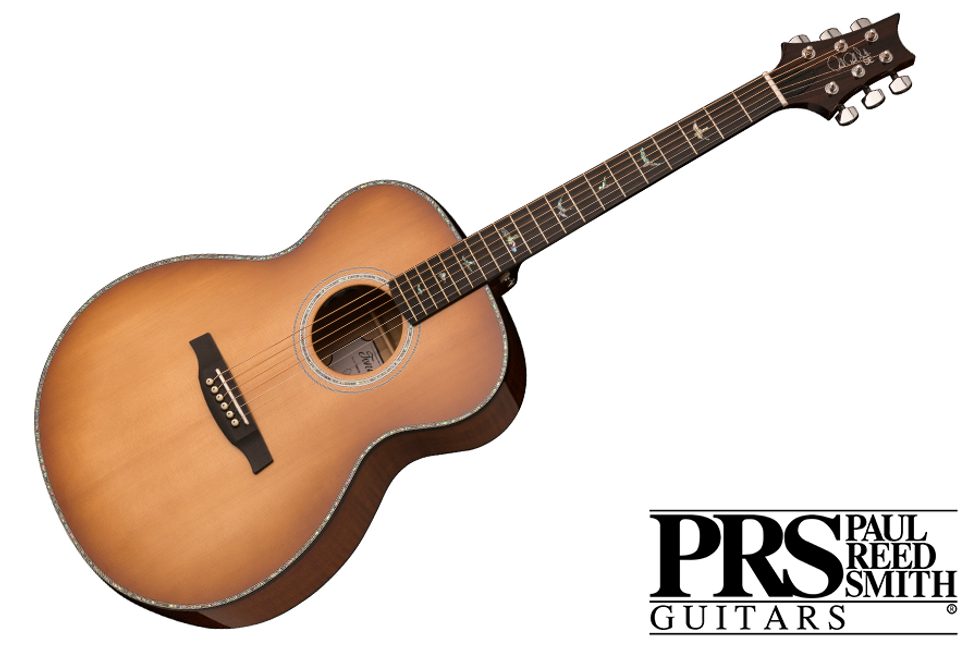 Tanglewood
Inspired by the guitars made in the 1930s, the Tanglewood Blackbird series evoke traditional values, yet offer the benefits a guitar manufactured in the modern era. These guitars feature hand-selected tone woods and a unique bracing pattern. The Blackbird Orchestra electro-acoustic guitar is carefully braced to environments, with Cole Clark's signature 3-way pickup system and beautiful, sustainably-sourced, natural Redwood and Blackwood timbers.
Click here to learn more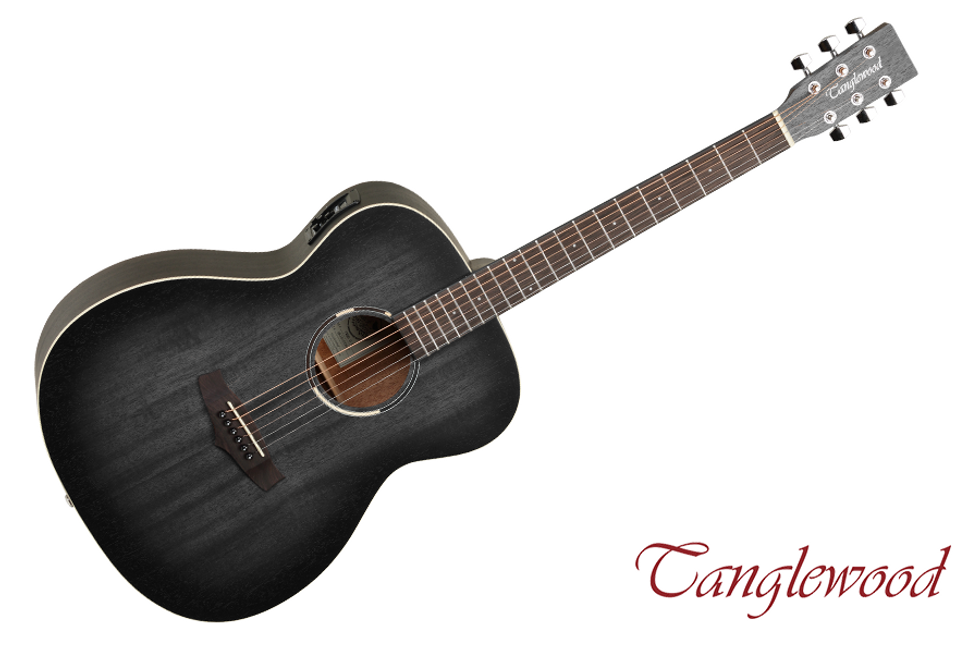 Taylor Guitars
Taylor's popular, compact GS Mini has brought countless hours of guitar-playing joy to musicians of all stripes, and the GS Mini-e Koa Plus takes the fun to a new level with elevated aesthetic details. Back and sides of layered Hawaiian koa pair with a solid koa top for a punchy, bold sound with surprising power and volume for a small-bodied guitar with a scale length of 23-½ inches, while the 1-11/16-inch nut width makes forming chords a breeze. A dusky edgeburst accentuates koa's natural grain and luster around the top, back and sides, while other notable features include nickel tuners, a three-ring rosette, and a genuine West African ebony fretboard. It includes onboard ES2 electronics and Taylor's new AeroCase®, a soft yet sturdy case with all the protection of a hardshell case at one-third the weight.
Click here to learn more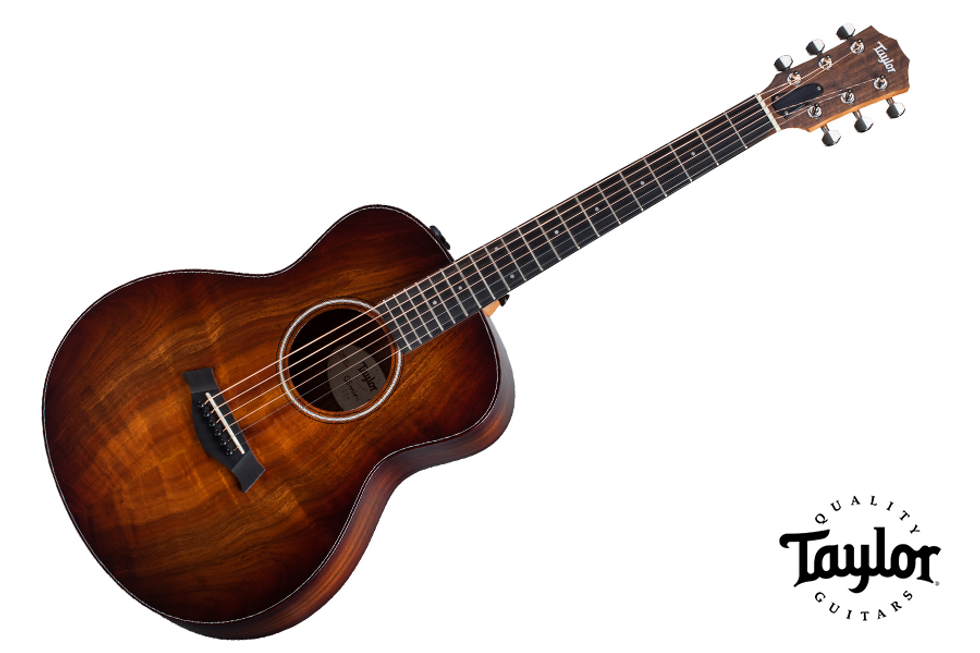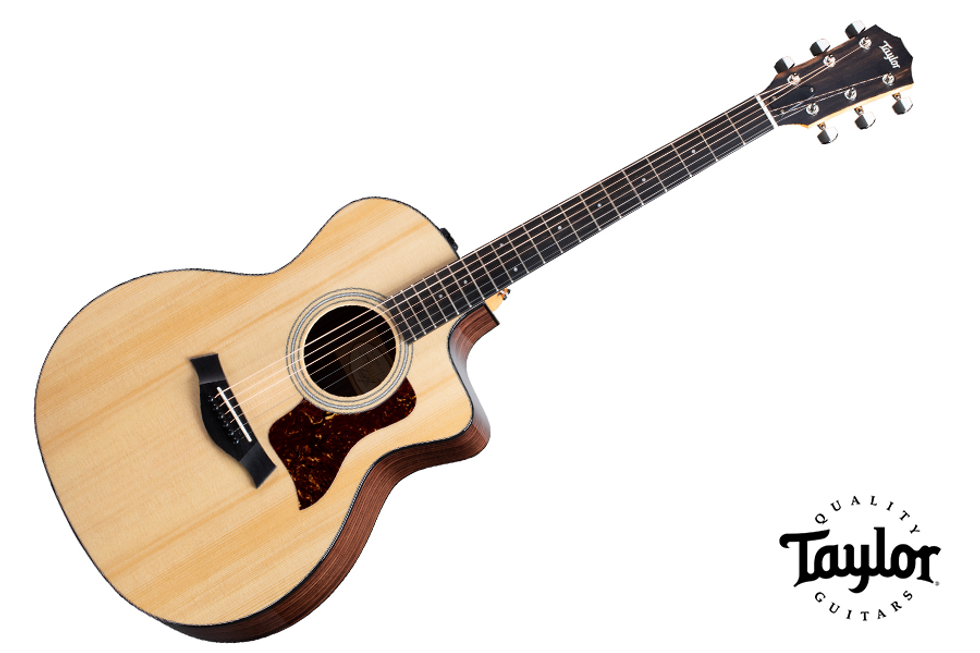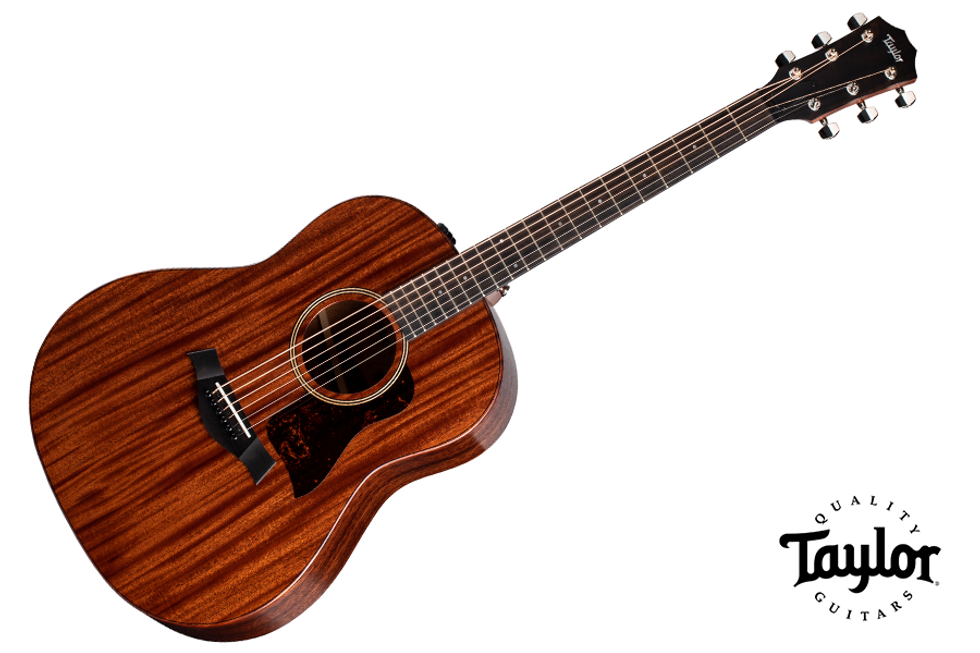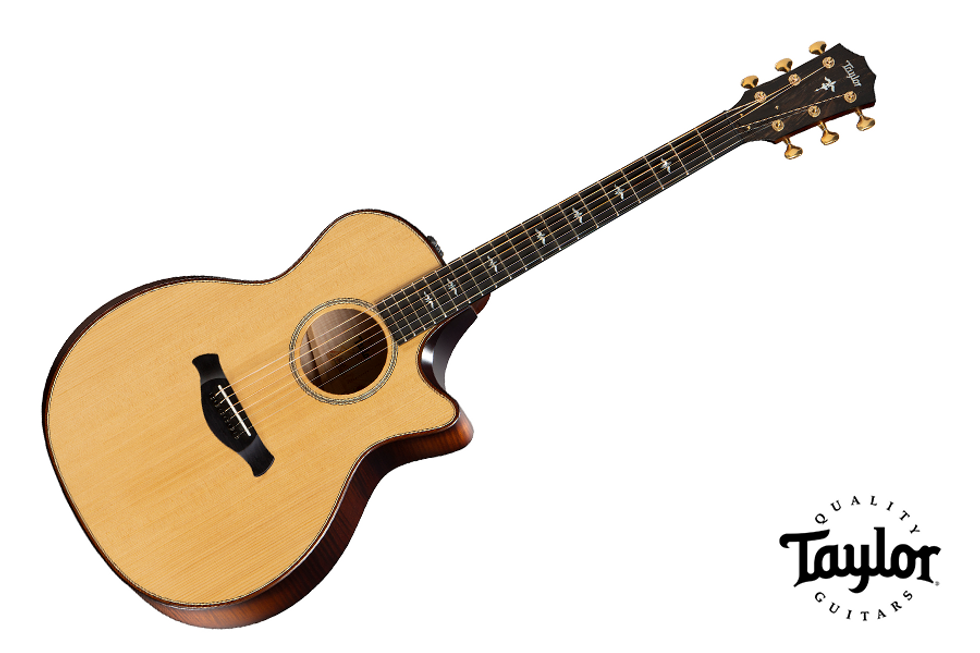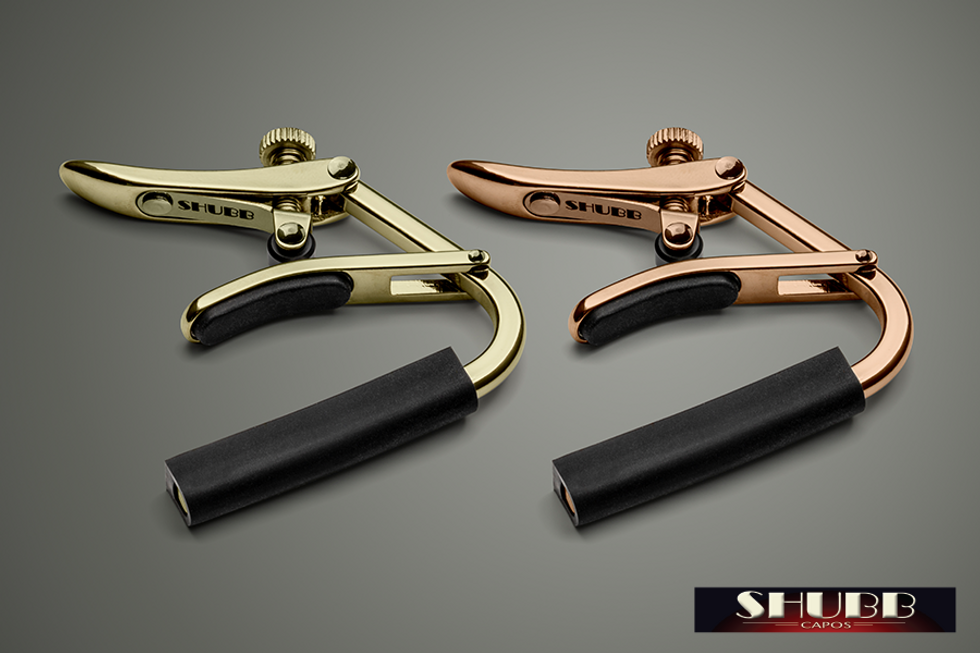 Adding to the company's line of premium capos, Shubb has introduced the new Capo Royale Series, featuring durable gold finishes that deliver long-lasting beauty.

Available in two lustrous finishes – Gold and Rose Gold – the Capo Royale Series brings a distinctive visual flair to Shubb's famed capo design, revered since 1980 for its ability to provide flawlessly clean fretting while keeping the instrument in tune.

For many years Shubb has received requests for a gold plated Shubb Capo. While gold is undeniably beautiful, it is not at all durable; it will wear off far too easily and quickly. It is also famously expensive. Now, Shubb has developed a high-tech technique for creating a gold-toned titanium finish. It possesses all the beauty of real gold, but is as durable as any metal finish in the world.

Click here to watch videos
Click here to learn more
Click here to follow Shubb on Facebook
Shubb Capos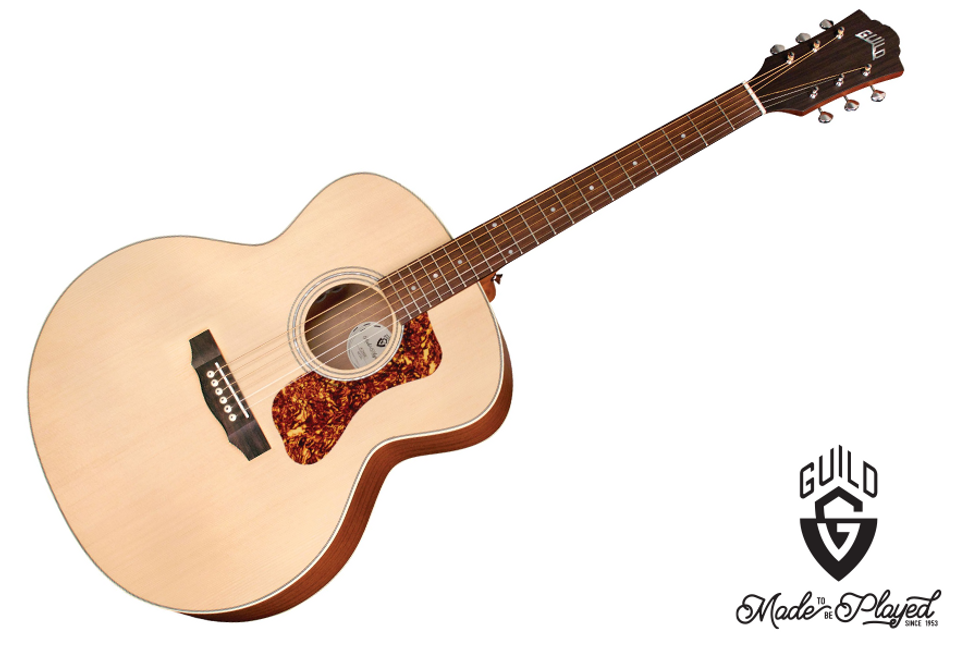 Guild's most affordable jumbo yet! The F-240E is a tone cannon at a player's price. Built with a solid spruce top, mahogany sides, and an arched mahogany back, the full-bodied and powerful voice of this Guild Jumbo provides guitarists with historically-Guild acoustic tone and voicing. Guild's signature arched back design allows for enhanced volume and projection, long sustain, and a lush, full sound. The F-240E features Guild's Fishman-designed AP-1 electronics, a pau ferro fingerboard and bridge, bone nut and saddle, mother-of-pearl rosette, period-correct tortoiseshell pickguard, and a satin polyurethane finish.

Click here to see videos
Click here to learn more
Click here to follow Guild Guitars on Instagram
Guild Guitars
Blackstar Amplification
The Blackstar ACOUSTIC:CORE 30 was designed to give singer/songwriters the ability to get a professional sound without any sound engineering expertise, then share it via live streaming or recording, or live performance. All in a compact easily portable combo with the option of battery power. This take-anywhere acoustic amp is designed for the way you play today: streaming, recording, practice or live.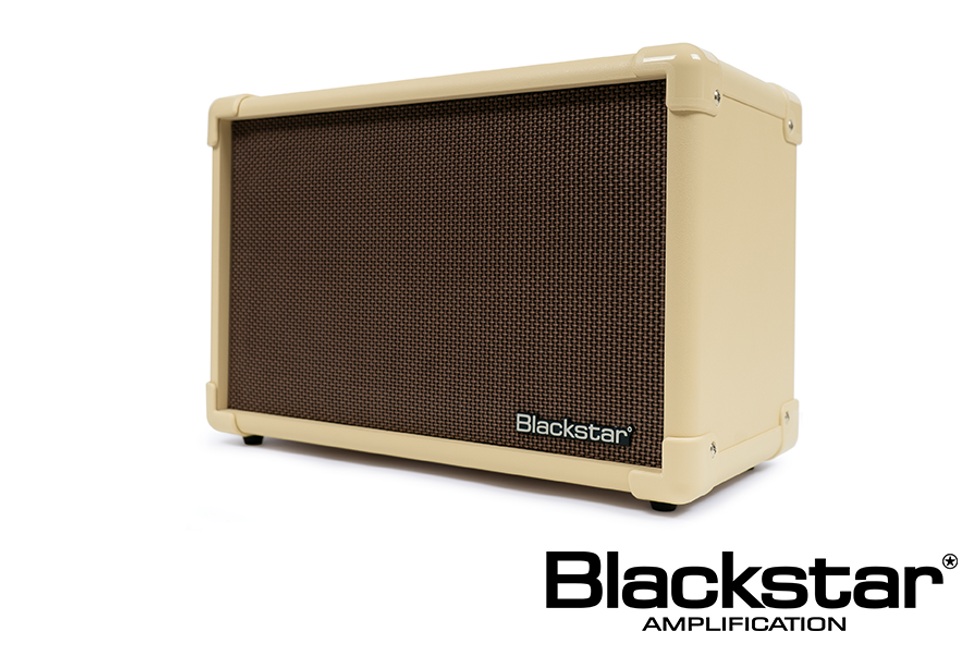 Santa Cruz Guitar Company
Santa Cruz Guitar Company has made it even easier to order the custom acoustic you've always wanted. They invite you to email them directly at scgc@santacruzguitar.com to be walked through the design process, where they will take the time needed to answer all your questions about models, tonewoods, structural options and aesthetics to ensure you will receive the heirloom acoustic that is right for you.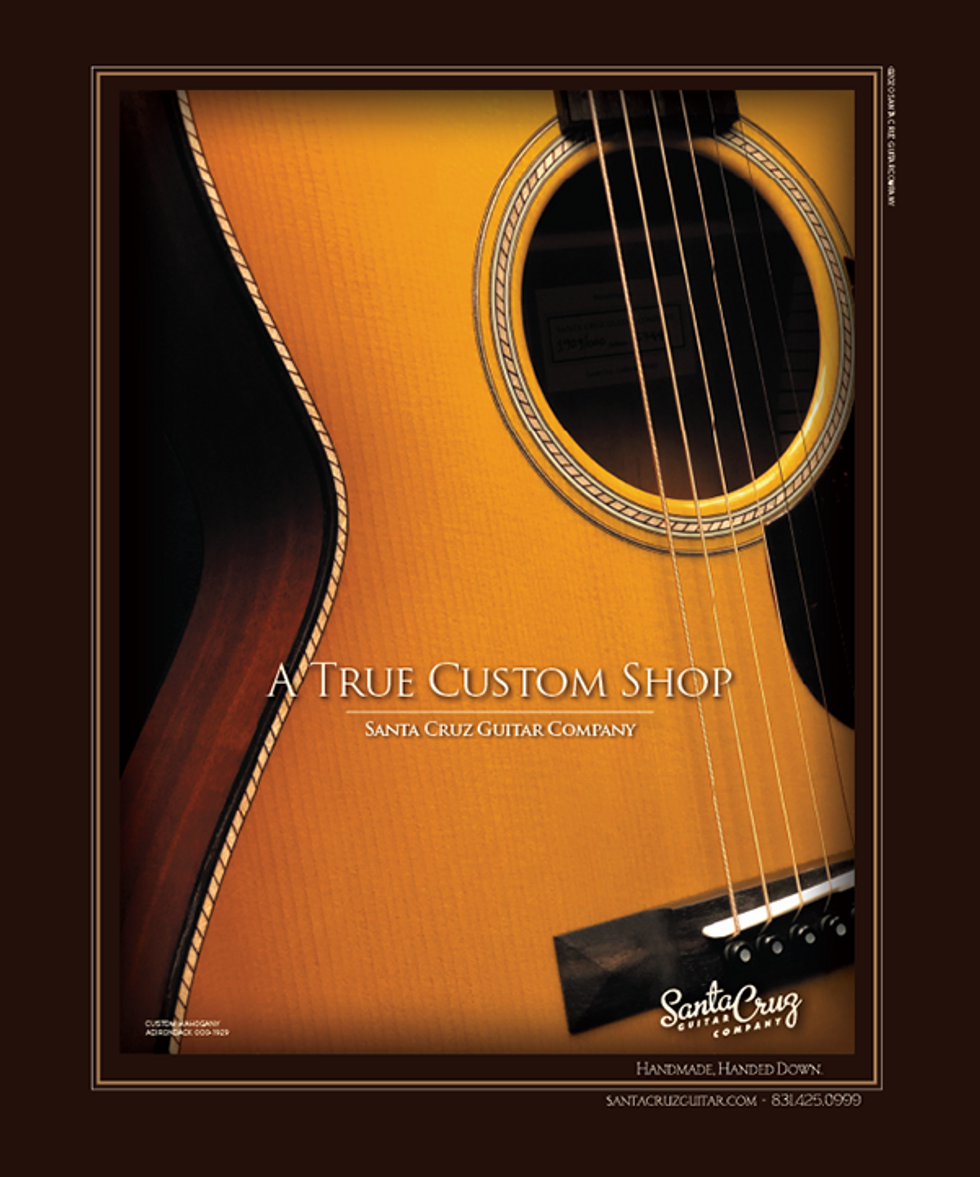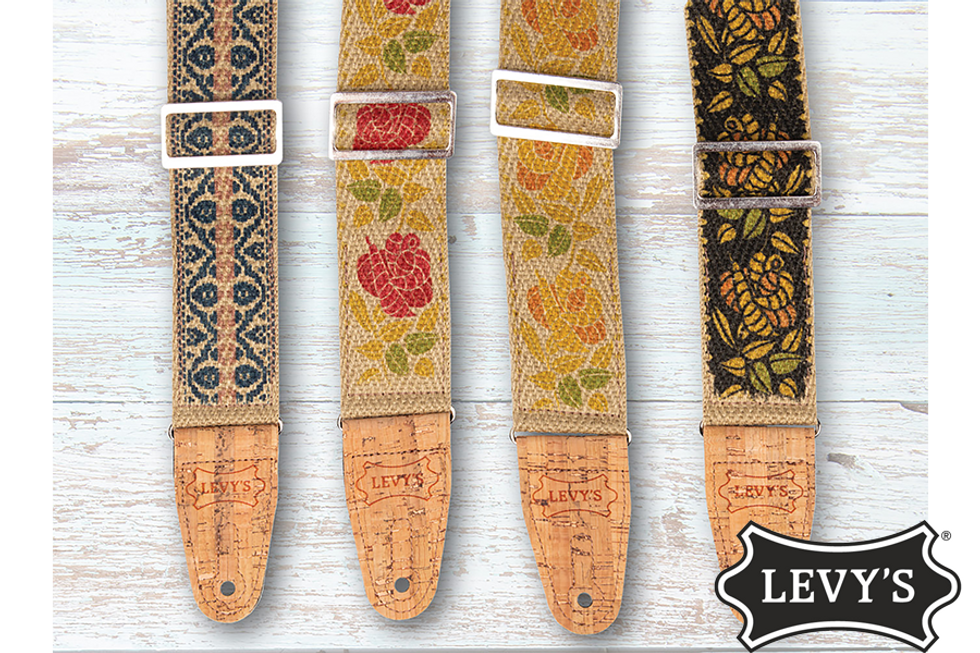 The New MH8P Series Vegan Hemp Series guitar straps by Levy's come in four new beautiful motifs and measure 2"/51mm in width. These organic straps are cruelty-free using sustainable materials and extend from 37"/940mm to 62"/1572mm via silver-colored tri-glide sliding adjustment. Natural hemp webbing and durable 2-ply cork ends safely support your instrument, along with pinhole stitching on both ends to prevent stretching. To address the issue of pick dropping encountered by almost every gigging guitarist, the MH8P Series comes equipped with a convenient 2.5"/64mm inside pocket to provide quick access to extra picks. Hand-crafted in Novia Scotia.

Click here to learn more
Click here to follow Levy's Leathers on Instagram
Levy's Leathers
LR Baggs
The product of nearly 3 years of intensive research and collaboration with a team of PhDs, LR Baggs is thrilled to introduce Voiceprint DI, the next breakthrough chapter in acoustic amplification. Voiceprint DI measures the acoustic response of your guitar by leveraging the processing power of your iPhone® to accurately capture your guitar's one-of-a-kind voice. A Voiceprint is created, transforming your pickup into the most authentic sound we have engineered in our 40+ years.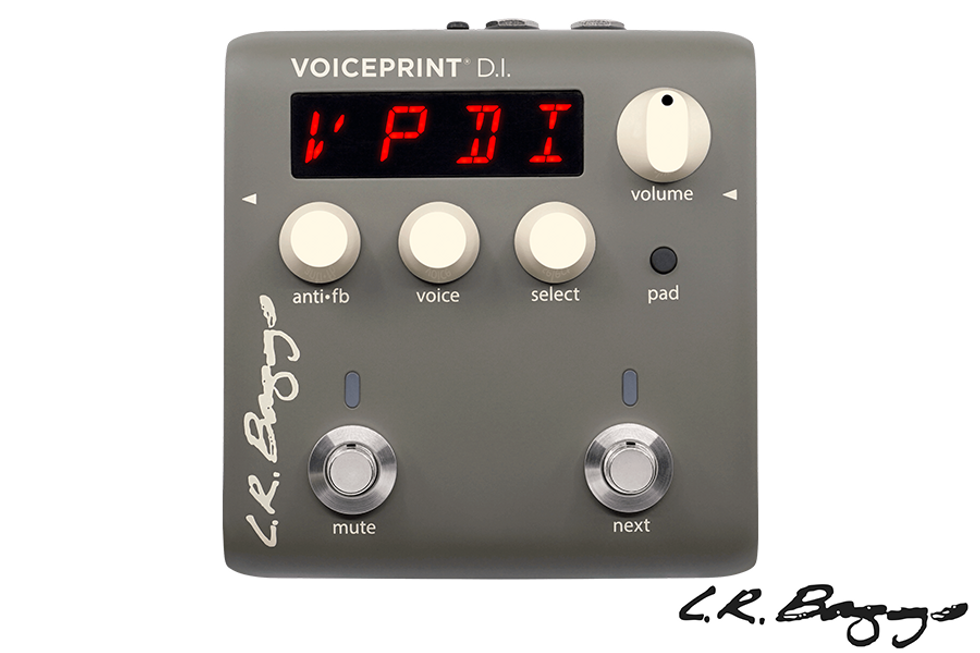 Henriksen Amplifiers
Raise your hand if you only own one guitar… that's what we thought. But do you need a different amplifier for each one? The Bud from Henriksen is no ordinary amplifier; it sounds just as amazing with your acoustic guitars as it does with your electric guitars, regardless of style. The Bud is just 13 lbs and 9"x9"x9" but packs 120 watts of power and a pro-grade feature set that you can truly gig with, record, teach, or just practice.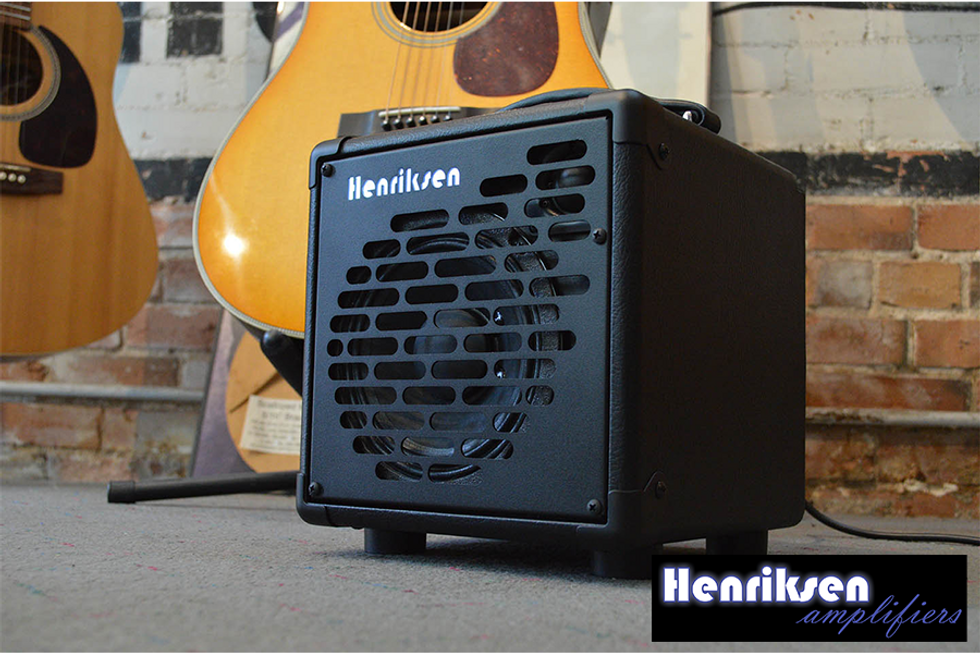 Breedlove Guitars
Powerful and responsive like a dreadnought, tonally the acoustic electric Breedlove Jeff Bridges' Signature Model emphasizes the unique qualities of myrtlewood, with a deep rosewood-like bass, the fundamental clarity of mahogany and the enchanting shimmer of koa. The Breedlove Jeff Bridges signature "All in this Together" project benefits Amazon Conservation Team, which works in partnership with indigenous colleagues to protect rainforests.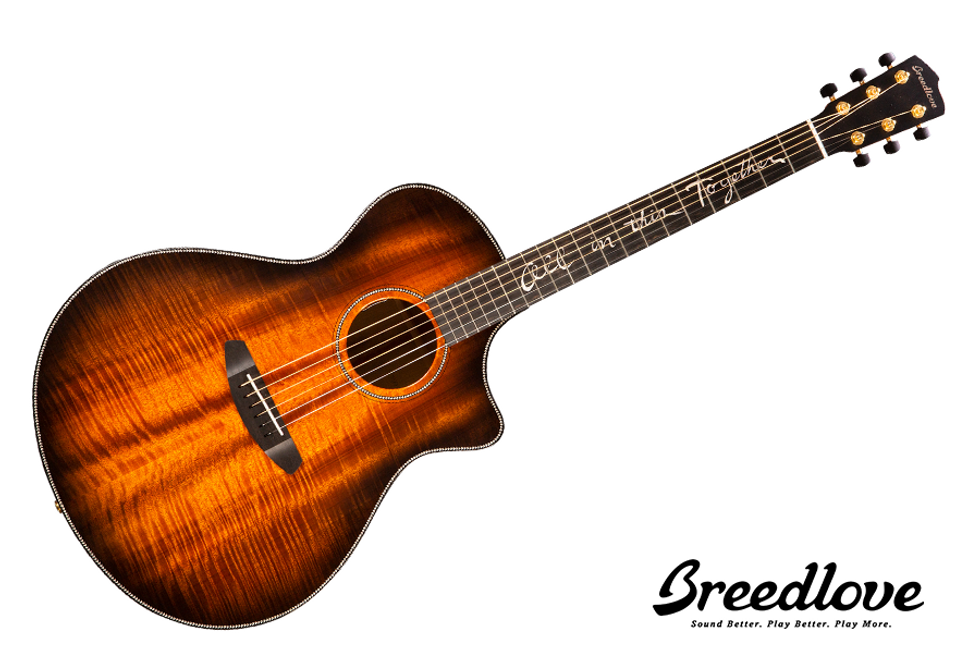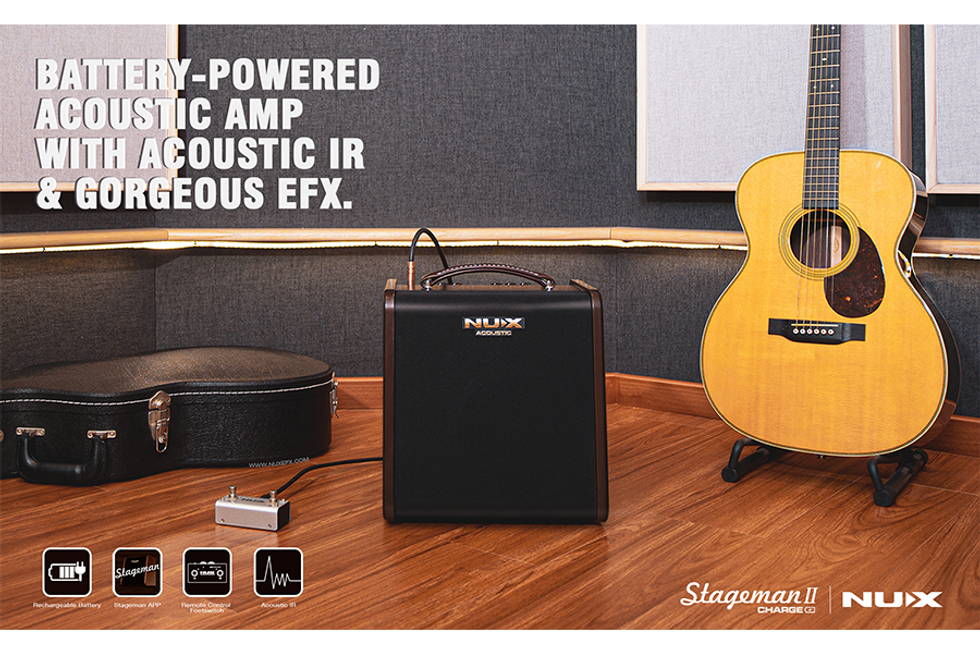 NUX Stageman II Battery-Powered Acoustic Guitar Amplifier features a pure analog preamp with NUX's iconic Core-Image post-effects. It has specific EQ scenes for finger-style as well as strum-style in channel 1, and you can engage built-in Acoustic IRs with a dedicated mobile APP. Acoustic IR is the new trend to make your acoustic sound as natural as micing. Stageman II keeps Drum & Loop, you can control by the original NUX NMP-2 foot-controller. And the built-in rechargeable battery can let you busk on the street for 4 hours.

Highlights:
- 80-watt rich warm sound acoustic amp with 6.5" premium speaker and 1" tweeter
- Rechargeable battery for 4.5 hours outdoor performing
- Built-in Acoustic Impulse Response
- 2 independent channels with routing adjustable post-effects
- Mobile APP for editing and control
- Drum & Loop (60s phrase loop)
- Bluetooth Audio Stream
Click here to learn more
Click here for audio clips
Click here for video
Click here to follow NUX on Instagram
NUX
Einstürzende Neubauten guitarist Jochen Arbeit joins us in dreaming up one question to ask one musician. Plus, musical obsessions!
Q: If you could ask one question to any musician, who would it be and what would you ask them?
Jochen Arbeit
A: As this is an imaginary question, I think it's okay to ask a dead person, not expecting an answer. I once saw a documentary about Leonard Cohen. In this, they showed bits from a tour in the '70s, probably in the U.S. He explained that the whole band or most of it were on LSD the whole tour. I found this quite astonishing because my one experience with the substance onstage was rather disturbing and not very satisfactory while playing. The coordination of my hands was very difficult for me then.
So, I would ask him: How did you do the playing in all the shows? How did you get your songs done? Why did you do it at all? And did you do it again later? I know these were different and crazy times but still I wonder about this.

Jochen Arbeit's Current Obsession:
My musical obsession since last winter is an instrument I built here at my home. In the pandemic I had to get rid of my then roommate because it just didn't feel safe anymore at home with another person. I then had a spare metal-bed frame, and I came up with the idea of putting piano and cembalo strings on the frame to use it as an instrument. For this I got a device from the instrument maker Yuri Landman, with which I could then let the strings run over a pickup to put it straight into an amplifier.
The result was amazing, and on top of it, I could use the bed frame as a percussion instrument also, to be played by two players. So far, I have six different strings on it, different strength of wires and tunings, and I will soon add two more strings. This is an ongoing project which will keep me busy over the next winter and I'll use the recordings for my next album. The instrument is called "Das Bett," or, the bed.
Patrick Carroll — Reader of the Month
A: I'd ask Chris Martin if he ever thinks about pitch or technique. Or maybe how he learned to trust what he has.
Patrick Carroll's Current Obsession:
Music remains what makes me feel the most alive. I've gone through over 20 different jobs in the last 10 years, lost people I've loved, said goodbye to others who moved to different cities or started families. And despite all that, music is the one solace that never let me down. It always manages to put things in perspective and remind me that I'm breathing. We're all breathing. The artists and bands that move me tend to be the ones that make something sturdy and true. Honest and vulnerable. And each time they write, record, or play something new, it's a chance to be in the present with something exciting that reminds me I'm not alone. You could argue that music is just organized sound. I would say it's the sound of emotion.
Low - Words (Official Video)
RIP Mimi Parker. If you haven't already, please check out Low from Duluth, Minnesota, where I live. They stopped me in my tracks. I hope they do the same for you.
Ted Drozdowski — Editorial Director
A: I'd ask David Gilmour what inspired his chord sequence and soloing for "Comfortably Numb," and why did he keep it off his debut solo album, since he demo'd it for 1978's David Gilmour.
David Gilmour - Comfortably Numb (Live At Pompeii)
It's hard to imagine sitting on that astonishing tune for more than a year.
Ted Drozdowski's Current Obsession:
Matt Rogers' book Goodnight Boogie: A Tale of Guns, Wolves & the Blues of Hound Dog Taylor, 'cause I dig the Dog! Plus, prepping my mini-pedalboard for some small-room-but-awesome gigs on the docket.
Tessa Jeffers — Managing Editor
A: I would love to ask Patti Smith so many things. If I only got one moment with her, I guess it'd be: What is your idea of happiness?
Tessa Jeffers' Current Obsession:
I'm completely captivated by the Belgian musician Stromae. His music is new to me—he just returned to making albums after a nine-year break. I'm incredibly happy he did, because his art is deep, beyond songs.
Stromae - L'enfer (Official Music Video)
Current obsession: He's a consummate storyteller who reminds me of Bowie in some ways, not in sound but in sharing emotions fearlessly. The genuine article.
Need to mix it up? Here are 10 options that can go from twang to growl to … gristle.
One of the most effective—and least invasive—ways to mod a guitar is to swap out the pickups. Wanna experiment with a 'bucker in the bridge? Leave the router at home. We've rounded up 10 options that range from affordable and effective to boutique and beyond.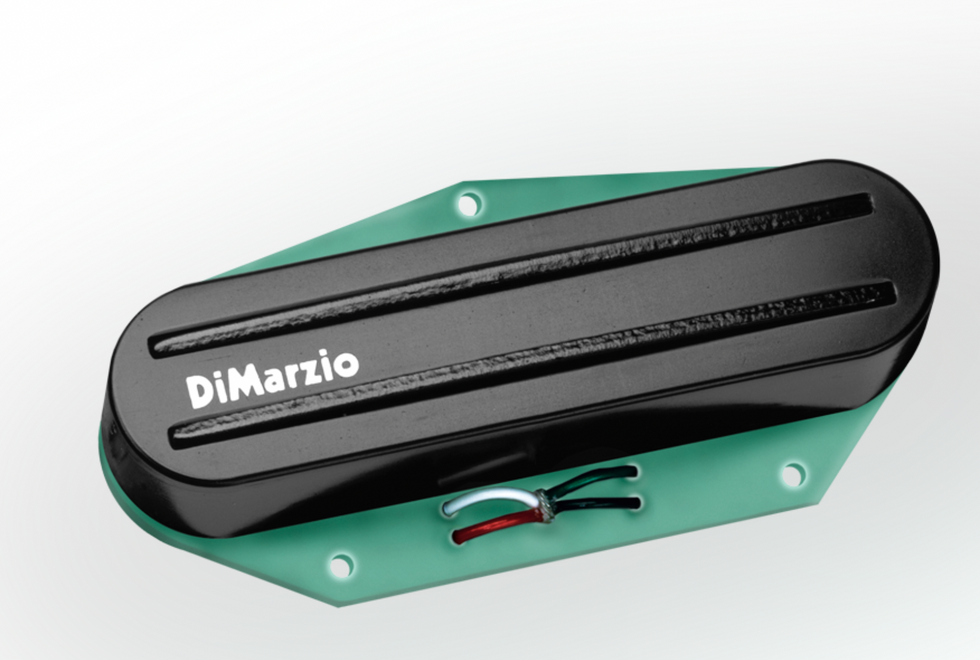 This single-coil-sized version of the company's legendary Super Distortion is aimed at T-style players who want the thick sound of a 'bucker in the bridge. It has a pronounced low-mid response with a roll-off on the high end.
$99 street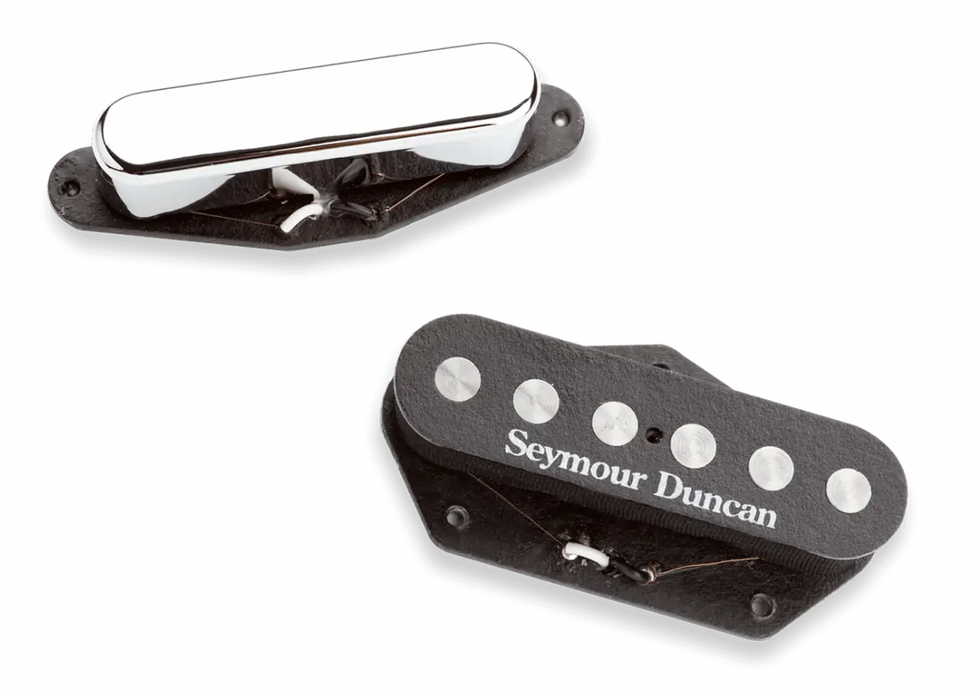 Centered around a set of alnico 5 magnets, this high-output single-coil crosses into P-90 territory. You can also get a tapped neck variation that allows for both vintage- and high-output sounds within a single set.
$89 street
Introduced in 2016, this T-style pickup features the guts of the company's T-Armond pickup, but with a little more juice. Like many of the pickups on this list, it's a straight drop-in replacement for standard-sized pickups.
$120 street
With less than 10 components in a single pickup, Mojotone made these designs very simple. They use their "Quiet Coil" technology to get rid of the hum without batteries or stacked coils. The pickups are also scatterwound for more sensitivity and clarity.
$98 street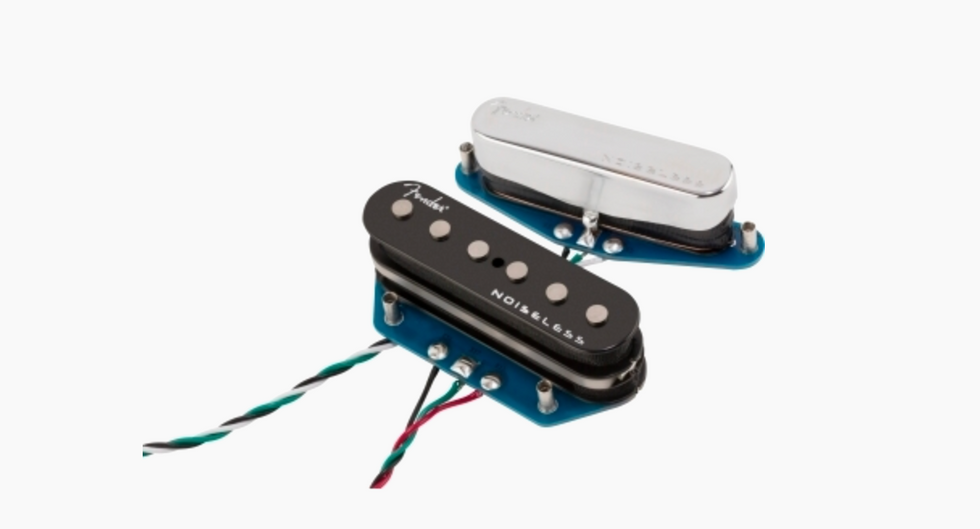 These stacked-coil setups aim to capture the classic sound and sparkle of vintage Tele pickups. They use alnico 5 magnets, Polysol-coated wire, and flat, non-beveled pole pieces. The neck pickup measure about 11k resistance and the bridge comes in around 10k.
$199/set street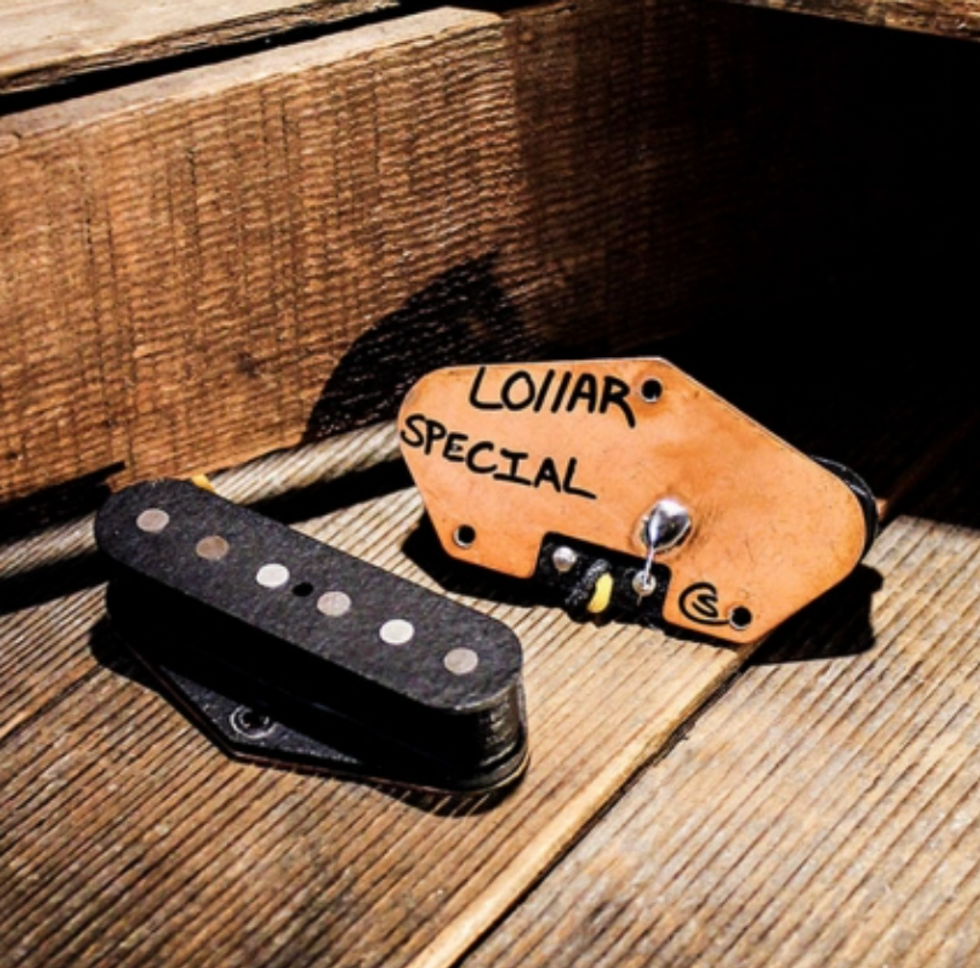 Jason Lollar is a bona fide pickup genius, and his take on the classic '50s Tele sound is represented here with a pronounced mid and bass response along with a smoother top end. Described as slightly hotter than a vintage Broadcaster pickup, the bridge comes in at 8.0k.
$125 street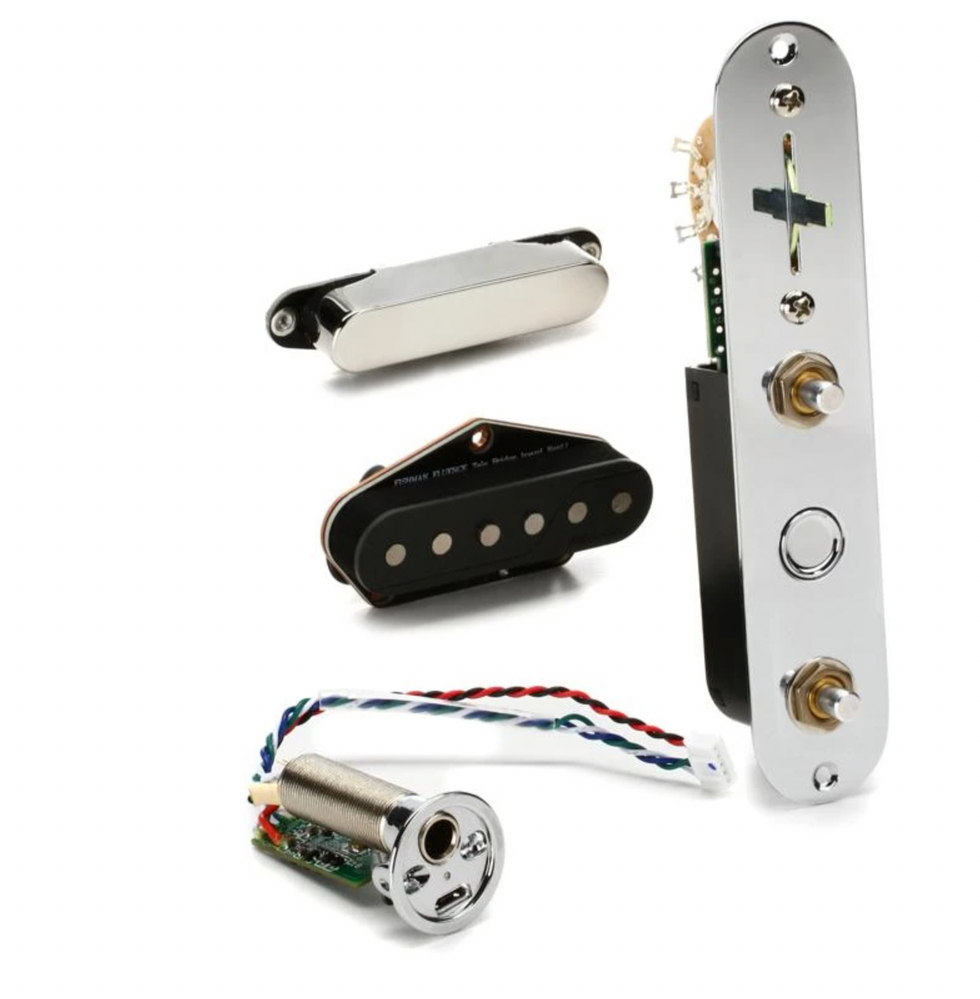 Wisconsin's most gristly guitarist teamed up with Fishman to create an entire T-style setup based on their Fluence technology. Each set includes both pickups, a control plate, and an output-jack cup with a USB charging input. With the push of a button, you can easily go between "blackguard" and "whiteguard" tones.
$359/set street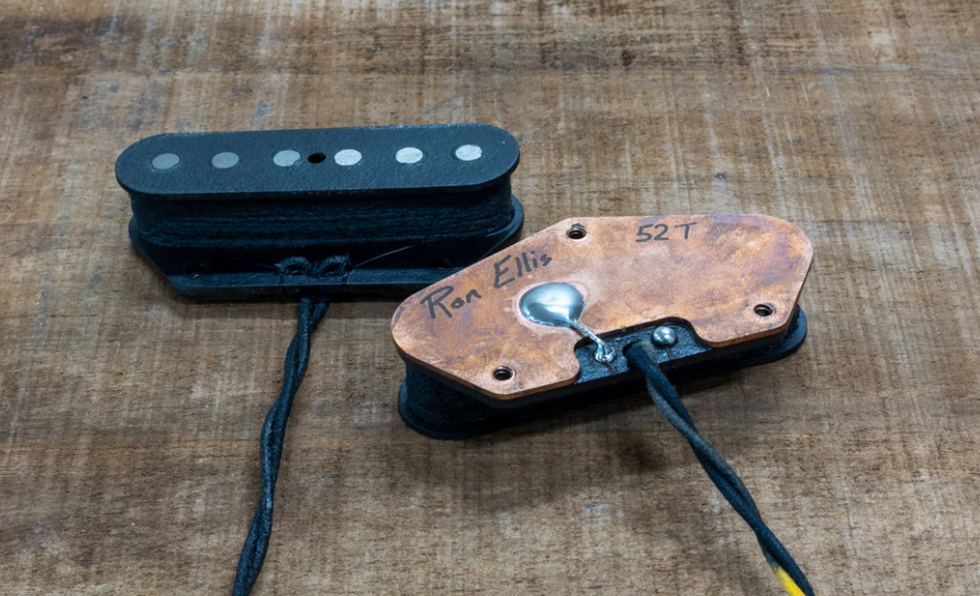 Ellis might be one of the most in-demand pickup designers around today—and the going rate for his offerings bear that out. This particular flavor goes after the "blackguard" tones of classic Tele pickers such as Vince Gill and Brent Mason.
$375 street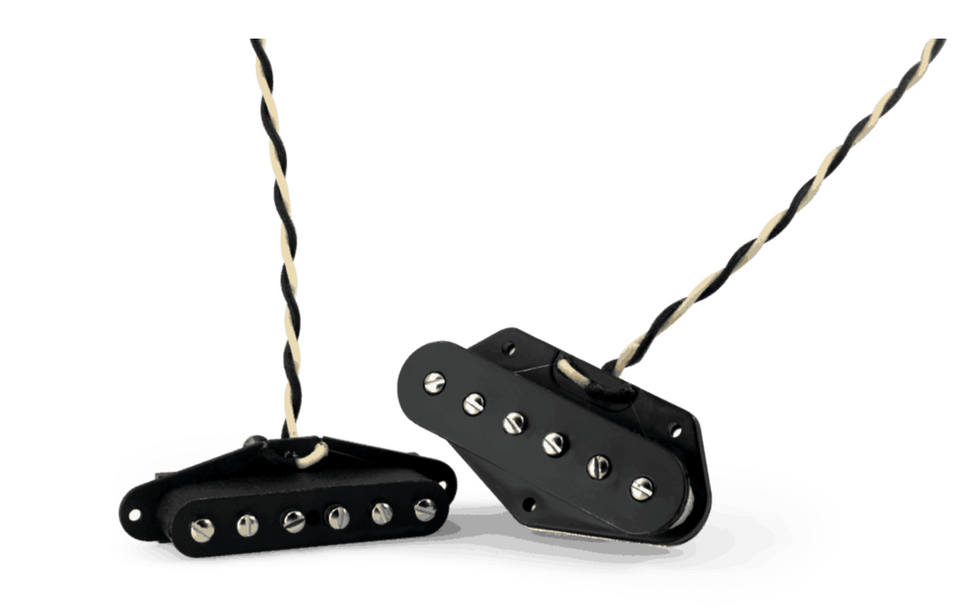 Described as a cross between a T-style pickup and a P-90, this design houses a ceramic magnet and adjustable steel pole pieces. Sonically, it has a mid-forward tone that offers a faster breakup when playing with distortion.
$115 street
Hate the hum? These active pickups aim to balance the punch and clarity of vintage Tele pickups with the modern convenience of quiet. It uses alnico magnets and a custom winding to increase bandwith and fullness of tone.
$89 street
Photo by Ana Massard
She's climbed the mountain of shred, toured with Alice Cooper and Demi Lovato, topped a half-dozen charts with her solo debut, and earned a Super Bowl ring. Now, the Ibanez-toting barnstormer's poised for her next victory.
Defining "Hurricane" Nita Strauss is difficult. She's one of the most visible players out there, yet she's still underappreciated by the mainstream. As a solo artist, Strauss is the premier torchbearer for '80s-informed shred metal, but her music sounds modern, and her "day job" is as a first-call session and touring guitarist for the biggest names in pop and classic rock—from Demi Lovato to Alice Cooper. She also regularly tops lists of the best female guitarists, but the truth is she's simply one of the finest contemporary guitarists—period.
Embracing every opportunity and refusing to be pigeonholed, Strauss is proud of her music, regardless of style or who she makes it with. She also flies the flag for female rock 'n' rollers while calling out any limitations that might put her in a box.
"A really nice illustration is when Yvette Young and I had signature guitars come out the same year," Strauss says. "I played her guitar, and she played mine, for about 15 seconds, and we handed them back. We were like, 'We hate it.' [Laughs.] Her style is so vastly different from mine that her guitar was so uncomfortable for me to play. We're just so different. That [diversity] is what makes it great."

It's not that Strauss rejects labels. It's just that if she had her way, the rest of the world would drop the preconceived notions that come with them. Case in point, Strauss is the first woman to have her own signature Ibanez guitar, called the JIVA. She's incredibly proud of the honor. But it didn't happen because she's a woman—obviously. It happened because she's so damn good.
"I was always on that relentless pursuit for shred," the L.A. native says. "My family didn't have a lot of money, growing up, so I couldn't afford lessons or anything like that. I just absorbed whatever I could from listening to albums and watching instructional DVDs. But when I saw Steve Vai in Crossroads, that was my aha moment of, like, 'That's what I want to do.'"
"The first album was almost like a temper tantrum."
Strauss' style is still informed by the players on those DVDs. While a lot of modern rock and metal embraces 7- and 8-string guitars, jerking prog rhythms, and harmonic dissonance, she leans toward Malmsteen, Petrucci, Friedman, and Vai. "I think the reason why a band like Animals as Leaders was so groundbreaking is because they said, 'This is who we are, and this is what we write.' If I chased that [prog-metal] trend, I wouldn't be authentic. And I think you have to be authentic as a songwriter."
Which brings us to Strauss' first solo album. Controlled Chaos, released in 2018, clearly demonstrates her authenticity, which resonates with fans. The album was fueled by a Kickstarter campaign that aimed to raise $20,000 but reached an impressive $165,755. A full-on shred record, it brings to mind classics like Cacophony's Speed Metal Symphony, Jason Becker's Perpetual Burn, and Joe Satriani's Surfing with the Alien. She puts on a clinic in high-octane electric guitar heroics from beginning to end. And the rock world noticed. Controlled Chaos landed in the Top 10 of Billboard's new artist, indie label, hard music, rock, and internet charts, and hit No. 20 in top albums. The second single, "Mariana Trench," was chosen by the World Wrestling Federation as the theme for its NXT TakeOver: War Game 2018 livestream. Not bad for her first adventure into solo guitar music—one she never wanted to undertake in the first place.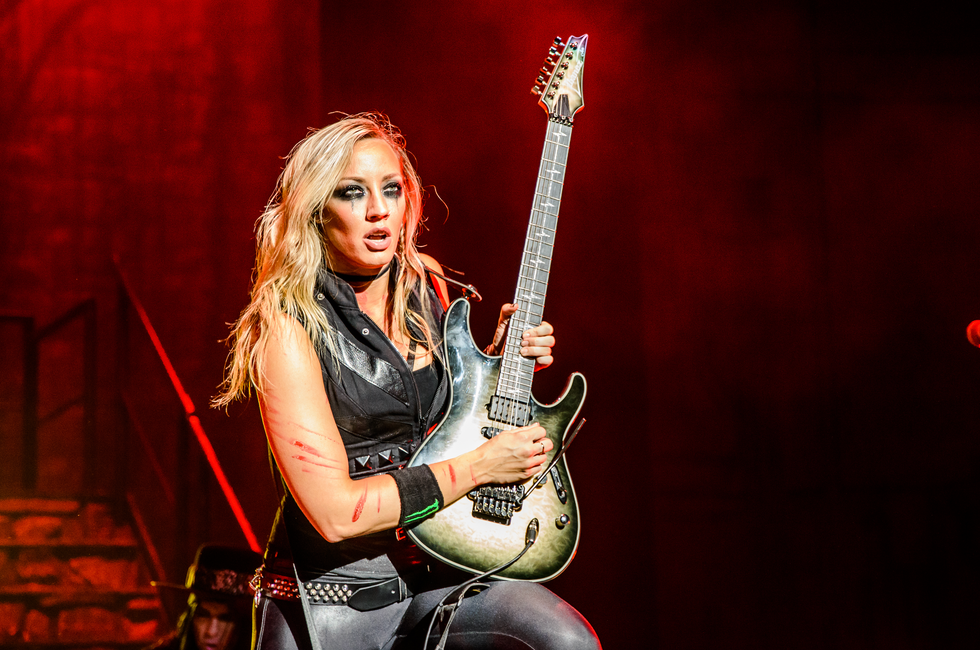 Nita Strauss has toured with Alice Cooper since 2014, but her first high-profile gig was with the Iron Maidens, a festival-level-touring Iron Maiden tribute band that she joined in 2010.
Photo by Annie Atlasman
But Jack Butler changed all that. "It was actually my hero, Steve Vai, that pushed me off the edge and into the deep end of the pool," Strauss says. "He asked me to contribute a song to a compilation album [2017's She Rocks, Vol. 1], and I agreed without having a song to contribute. I mean, I'm not going to say no! [Laughs.] I sat down at my kitchen table the next day, and I wrote 'Pandemonium,' which was my first solo single."
The song was a hit, with well over a million views on YouTube. Diving in headfirst, Strauss then knew exactly what a Nita Strauss solo album should sound like, and no one was going to get in her way. "The first album was almost like a temper tantrum," she laughs. "I had so much to say, and I didn't let anybody into my creative process. I produced it, and I recorded everything. Then, when it came out and was super well-received, that made me realize, 'Yes, I can do this.'"

"I was always on that relentless pursuit for shred."
It wasn't long before Strauss was planning her next record, due in early 2023. And this album will be different. She determined it would still feature plenty of technical playing and demonstrate her songwriting and production skills, but she'd supercharge it with some of the most well-known vocalists in the heavy-rock game.
So far, three singles have been released as teasers. In October 2021, Strauss turned loose "Dead Inside." Her guitars sound heavier, the song structure is catchier, and the intense playing is pushed over the top by the signature rasp of Disturbed's David Draiman. The tune made Strauss the first solo female artist to top the Active Rock radio chart and has more than 10 million streams on Spotify. Her instrumental banger "Summer Storm" was released in August 2022, followed by the even wilder aggro-shred diamond "The Wolf You Feed," featuring singer Alissa White-Gluz of Arch Enemy. In its first day on YouTube in October, "The Wolf You Feed" garnered 670,000 views and, as of this writing, has surpassed 2 million views.
Nita Strauss' Gear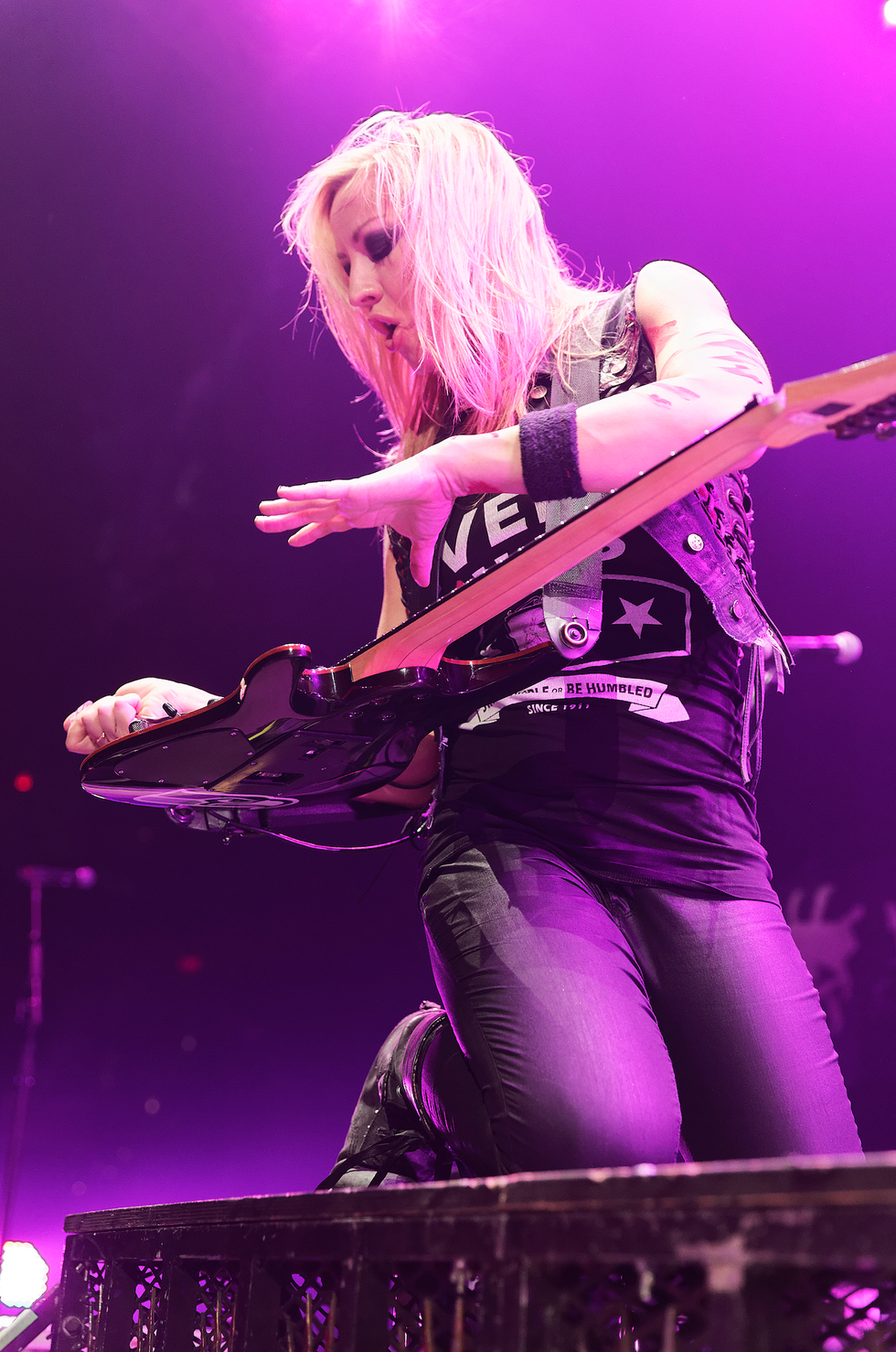 How sturdy are Strauss' workhorse Ibanez signature model JIVA guitars? Tough enough for whammy-bar levitation with feedback every night onstage.
Photo by Ken Settle
Guitars
Ibanez Signature JIVAX2
Ibanez Signature JIVA10
Custom Ibanez Signature JIVAJR
Amps & Effects
Boss GT-100 Effects Processor
Kemper Profiler
Strings & Picks
D'Addario NYXLs (.010–.046)
Grover Allman .65 mm
But Strauss admitted that writing for vocalists isn't as easy as her instrumental work. Making things even more challenging was that she had no idea who would end up singing on the new tracks. She was, as she puts it, "writing for a style of vocalist. It was a huge challenge for me. I had to take into account a singer's vocal range, style, lyrical content, and what rhymes with what. But there was only one song, I think, where it was actually that singer [I imagined] that ended up on the track. For most songs that I would write, I'd go, 'I'd like someone like this singer or that singer.'"
If you're wondering who the other vocalists on her upcoming album are, you're not alone. So far, Strauss has played the details extremely close to the vest. What she will discuss is the gear she used throughout.
Rig Rundown - Nita Strauss
"Live, for my solo band, I use a BOSS GT-1000 pedalboard," she says. "But for my session work, it's my Kempers, and the majority of the record is the same tones you hear onstage with the Kemper. Funny enough, it's modeled from my previous processor, which is a Rocktron Prophesy. It's not modeled from any amp in particular. It's just pinched, pulled, massaged, and tweaked to be my own tone. When I switched over to Kemper, I couldn't find anything I liked as much, so I hooked up the modeling software and modeled my processor. And it's my signature Ibanez JIVAs across the board—all the gigs, all the time."
Although she's currently on tour with Demi Lovato, Strauss still considers herself part of Alice Cooper's band. She joined the troupe of the veteran rocker, who gave her the nickname Hurricane Nita, in 2014.
Photo by Annie Atlasman
With the new record being done for quite some time and two successful singles already released, you might wonder, "Where's the album?" Strauss says she is so busy with other projects that it'll have to wait a while more. On top of her hectic solo career, she remains an active member of the Alice Cooper band, a spot she's held since Orianthi's departure in 2014. Sonically, she's the perfect fit, and her stunning performances led Cooper to give her the nickname "Hurricane." While Orianthi brought her fabulous blues/classic rock approach, Strauss' style sounds custom-built for Cooper's '80s, '90s, and current catalog. She's such a fixture of the band that fans were stunned when she recently stepped out of Cooper's tour to hit the road with pop mega-star Demi Lovato. (Meanwhile, guitarist Kane Roberts has returned to Cooper's band.) Those fans, of course, quickly took to social media to voice their opinions.
How could a shred-metal hero go pop? "Easy," says Strauss. "Demi is an absolute powerhouse of a vocalist and a performer. And I'm not gate-keeping rock like a lot of these people are. Demi had it made. She had everything she ever wanted as a pop star. She had no reason to go back to her original love of rock and heavy music unless she really wanted to. And, honestly, it's a rock show, and a rock show is a rock show. I'm using my same guitars, my same rig.
"Demi is an absolute powerhouse of a vocalist and a performer. And I'm not gate-keeping rock like a lot of these people are."
"When I got this opportunity, I went to Alice and talked to him face-to-face. I said, 'I have this opportunity and I'd really like to do it, but it would conflict with our fall tour. What do you think?' He said, 'Go, I'm so excited for you. Take a break and if you want to come back, come back.' And that was it. There was no I quit, I'm out, I'm finished. In my mind, I'm not any more or less a part of the band than I ever was."

Lovato is touring with an all-female band that also includes bass player Leanne Bowes, keyboardist Danielle McGinley, and drummer Brittany Bowman. Strauss sees it as an opportunity to bring great rock to a new audience. "There are so many people to inspire at any show," Strauss says. "Maybe one person every single night will look at Britt, or look at me, or Leanne, or Demi and go, 'I want to do that! I went to a Demi Lovato show, and now I want to get a guitar for Christmas instead of a video game console.' That's what it's all about."
How Nita Strauss Gets Huge Tones with No Amp
Strauss knows what she's talking about. She remembers when she was the one watching her guitar heroes rocking millions of fans. "Jennifer Batten was a big one! Seeing a girl standing up there with the big boys, in the big gig, playing the Super Bowl, playing the biggest stage in the world, that was a big inspiration for me. She's the best!" (Batten played with Michael Jackson as part of 1993's Super Bowl XXVII halftime show.)
Fascinatingly, as the Los Angeles Rams' official in-house guitarist—not the most common position in a football franchise—Strauss also regularly displays her prowess in the NFL. And she has a Super Bowl ring to prove it. But how does she balance a solo career, playing with classic rock royalty, sharing the stage with the biggest names in pop, and still be there for every snap of the football?
"It's definitely been challenging trying to keep everything straight in my head," she admits. "But I love playing guitar as much as anyone going home from their jobs and picking up their guitars and playing. It is exhausting, but it doesn't feel like work."
Nita Strauss performs "The Show Must Go On": The 2019 She Rocks Awards