Looking for this year's hottest guitar gifts? Look no further than the 2021 Holiday Gift Guide!
---
You could WIN a D Jr-10E Bass from Martin in this exclusive giveaway! Enter here before June 20, 2023 for your chance.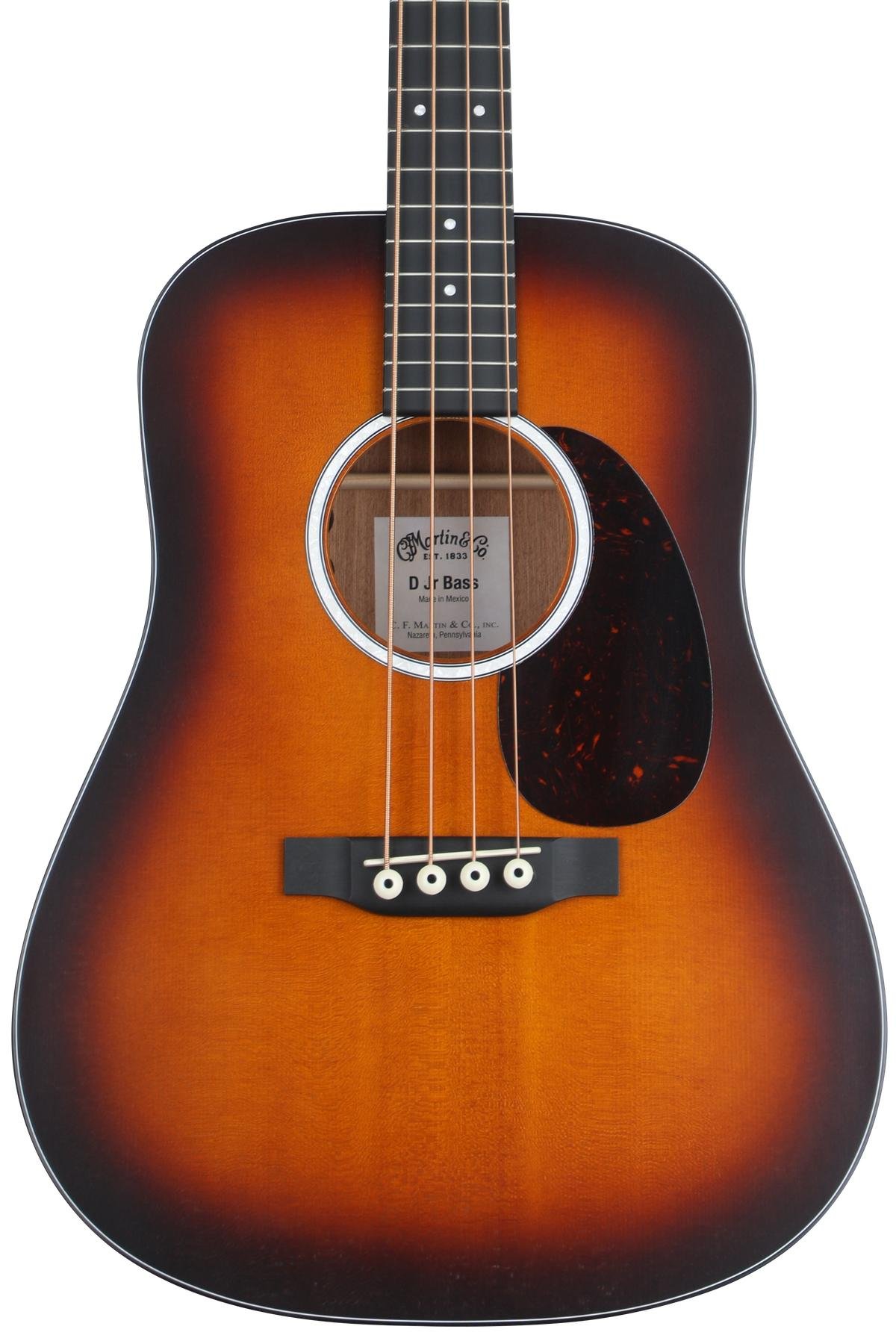 Martin Junior Series instruments are slightly smaller than our full-sized instruments, but you won't have to sacrifice tone or volume, and you'll enjoy plenty of comfort and portability. This Martin DJr-10E acoustic-electric bass is ideal if you love to write and practice on an unplugged bass but also need the option to plug it in to record or play live with your band. It includes a spruce top with a gorgeous burst finish and sapele back and sides to deliver thumping Martin bass tones, whether you are unplugged or using the built-in Fishman electronics. It also includes a fast, comfortable neck so you can keep the rhythm section tight. The D Jr-10E Bass Burst is strung with Martin short scale bass strings and are made specifically for this instrument
Martin
Photo by Madison Thorn
If you were interested in playing guitar in the 1930s and 1940s, you were probably a fan of singing cowboys. The old Western teleplays on the radio were vehicles for marketing all kinds of products, like toys, costumes, and, of course, guitars!
Today, we're familiar with the names Gene Autry and Roy Rogers, but back then, any cowboy fan would have also known Carson Robison. Robison was born in 1890 to a champion-fiddler father and a dance-caller mother. In the 1920s, he was one of the first cowboy singers to become a radio performer, famous for his virtuosic whistling ability. He wrote over 300 songs in his career, including his 1948 hit, "Life Gets Tee-Jus, Don't It," featured in episode 123 of the original Muppet Show, which is how I first heard of him.
The Montgomery Ward catalog offered Carson Robison-model guitars from 1930 through 1941. The 6-string changed a little every couple of years, ultimately ending up with eight different variations. The subject of this month's column is the rare eighth variation, also called Model 964, made only for a short time in the fall of 1941 by the Kay Musical Instrument Company. According to the original catalog, it has a "Selected Spruce Top" and mahogany back and sides, and the top is solid wood as far as we can tell. The back and sides, however, are made of a few disparate pieces. The body on this guitar was shrunk from the previous grand auditorium size (41 1/4 x 16 1/4) to a smaller grand concert size (39 1/2 x 14), and it has a distinctive oval-shaped soundhole. Like the other Carson Robison guitars, it has his signature painted on the body, below the bridge.
Also known as Model 964, this version of the Carson Robison is the eighth variation on the original.
Photo by Madison Thorn
This particular example has had a number of repairs over the years. The tuners are newer, and it's had a bone saddle installed. Its amber sunburst finish has some overspray, likely covering a past repair. It's also had a refret and a neck reset, and it's playing better than ever. The neck has a chunky V-shape, which is typical for these early-20th century guitars that were made before truss rods. It's got a bunch of dings, finish-checking, and evidence of past repairs, which I think adds character. I like to imagine this guitar had a dynamic early life, being played and loved by some rowdy siblings.
While researching this model, we at Fanny's House of Music in Nashville came across a clipping of the 1941 Montgomery Ward catalog this guitar was listed in and found something curious cut off on the left side of the page. Featured right next to the Carson Robison guitar was a 6-string bearing the name of Louise Massey. Could it be that not all singing cowboys were boys? I found myself in the throes of a deep Google search when our old friend Frank Hall came to the rescue.
"I like to imagine this guitar had a dynamic early life, being played and loved by some rowdy siblings."
Frank Hall was a fixture here in Nashville. He was a member of the Serendipity Singers, a folk group that performed at Woodstock. He was also a lifelong guitar collector and one of the world's preeminent "catalog guitar" experts. He came into Fanny's often to tell us stories about these old guitars, and when we were lucky, he'd play us a song. Frank passed away in early 2021, but he left us with a wealth of knowledge, and importantly, for our purposes today, a tome called Cowboy Guitars by Steve Evans and Ron Middlebrook.
Time and wear have given this guitar a character as craggy as the old West.
Photo by Madison Thorn
The owners of Fanny's, Pamela Cole and Leigh Maples, plopped it open on our front desk to page 106, where I read the history of Louise Massey and the Kay-made Montgomery Ward guitar that bears her name. Louise was known for her hit song "My Adobe Hacienda," a beautiful tune calling back to the real heroes of cowboy culture, Mexican vaqueros. Her signature guitar was only made for a few short months in the fall of 1941, at the same time as our Carson Robison. As far as we know, it is the only cowboy guitar to feature a woman artist. Not even the Queen of the West, Dale Evans, had that honor!
This wonderful Kay acoustic took us on quite a journey. We love the stories in these old guitars, and we especially love seeing them write new stories with new owners. Sometimes all it takes is a neck set, and a little flattop like this one is all ready to inspire a new generation. Now, if you'll excuse me, I must go scour eBay for a Louise Massey guitar.
Loaded with an industry-leading 21 drivers per side and boasting a frequency range of 5Hz-40kHz, UE PREMIER are UE Pro's most powerful, nuanced and versatile in-ear monitors to date.
Whether performing live on stage, recording in the studio, or listening to music with professional sound quality, UE PREMIER sets a new gold standard for exceptional sound quality.

"Building upon the success of the groundbreaking UE LIVE, we wanted to push ourselves to the limit of what was previously thought possible," said Philippe Depallens, VP & General Manager, Ultimate Ears Pro. "Our team of experts embarked on a mission to take our technology further than ever before. UE PREMIER represents the pinnacle of UE Pro innovation, with immersive studio-quality sound that brings even the most intricate details into focus."
Each of UE PREMIER's 21 drivers was chosen in the pursuit of audio excellence. Working in tandem with a five-way passive crossover, each driver was carefully selected and individually tuned to efficiently and accurately reproduce different frequency bands across the audio spectrum.
To extend the frequency range down to 5hZ and ensure a low-end listeners can feel without compromising on size, UE PREMIER starts with two dual sub-low drivers in parallel with four dual mid-low drivers. A quad-mid driver provides unmatched nuance, clarity and adaptability no matter the instrument, genre or listening environment. UE Pro's proprietary True Tone driver and Knowles' proprietary Quad Super Tweeter extends the frequency range up to 40,000 kHz, delivering the richness and warmth from upper-register harmonics.
UE PREMIER is available now at pro.ultimateears.com in the USA and internationally through Ultimate Ears Pro's dealer distribution network for $2,999. Orders will ship on May 15, 2023.
For more information, please visit custom.ultimateears.com.