Ernie Ball Music Man Kaizen Review
An evolutionary guitar, built in cooperation with a revolutionary player.
An almost perfectly executed modern instrument. Super smooth playability. Versatile pickups.
5
5
4.5
4.5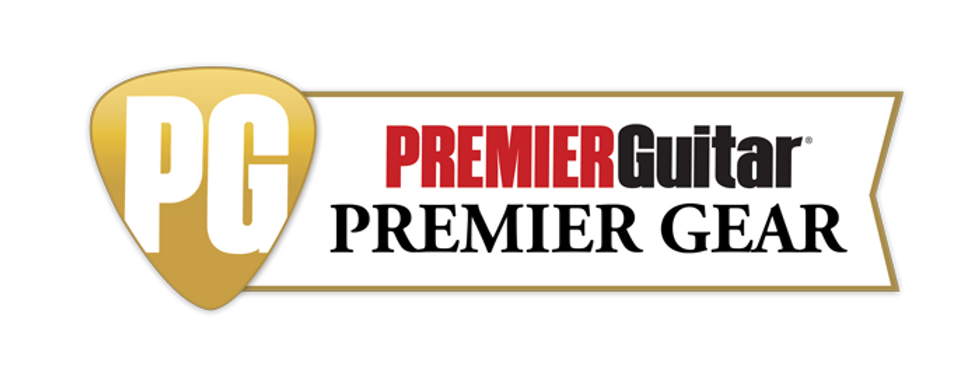 Ernie Ball Music Man's instruments have a way of attracting virtuosos. Annie Clark, John Petrucci, Steve Morse, and even Eddie Van Halen lent their names to models that became instrumental in their creative process, and big parts of their musical and visual identity, too. Over the course of the pandemic, fellow virtuoso Tosin Abasi had time to try a few EBMM guitars, including a Goldie (St. Vincent signature model) and Valentine (James Valentine signature model). He came away impressed.
---
While Abasi has his own line of boutique guitars called Abasi Concepts, he knows resources from a big, established company can bring a lot of cool ideas to life. Abasi also likes the company's bold embrace of unusual body shapes. Abasi and EBMM started talking, and, by NAMM 2022, Abasi and EBMM's collaboration, the Kaizen, was real. The Kaizen is a unique 7-string with a load of evolutionary player-oriented features and a high but justifiable price tag. A 6-string version is in the works for those that prefer a more traditional instrument. But little about the Kaizen, in any form, feels traditional.
 Forward-Thinking Features
The Kaizen's very 21st century profile is a progressive move in design terms. This ain't your uncle's Tele. Our test model is finished in Apollo black, decked out in all black hardware, and looks quite like something out of The Matrix. As wild as it looks, the guitar's body shape is just the first in a long list of modern elements.
The Kaizen's roasted flame maple neck is a marvel. It has a multi-scale setup—25.65" on the high E string to 25.5" on the low B string. On the bottom side, the longer scale length gives you a tighter feel and better tuning stability (even if you drop the low B further in pitch), and on the top end, the shorter scale length gives you a slinky feel for shredding and bending. The Kaizen's ebony fretboard is fitted with 24 medium-jumbo stainless-steel frets in a fanned configuration.
Eschewing conventional tuners, the Kaizen features Steinberger gearless locking tuners (similar to those on the discontinued Steinberger GS) with a 40:1 ratio that facilitate smooth, super-accurate tuning. Aesthetically, it's very hip and the low profile of the tuners add to the guitar's almost aerodynamic appearance.
Optimized for Speed
Ernie Ball Music Man makes some of the best production guitars around. And I've seen quality in EBMM instruments that rivals many custom builds. The Kaizen is no exception, and it arrived perfectly set up in its fitted G&G hardshell case.
"Contours are everywhere (even the back plate is shaped), and the guitar is almost entirely without flat surfaces."
Tosin Abasi's virtuosic style of music will challenge any guitarist, no matter how technically adept. Executing almost any of Abasi's ideas puts playability at a premium, and the Kaizen is really built to feel like a natural, seamless extension of the player. The body is ultra-ergonomic. Contours are everywhere (even the back plate is shaped), and the guitar is almost entirely without flat surfaces. The neck's thin profile and satin finish makes it feel extra fast, and the sculpted heel makes for unobstructed access all the way up to the 24th fret. The fretboard is slightly thicker on the treble side than the bass side, and its "infinity" radius enables you to see the entire fretboard with ease.
Kaizen's vibrato system is excellent, too. The whammy bar is set from the factory to only go down in pitch. Using it vigorously, I was impressed that the guitar stayed perfectly in tune, even without a double-locking nut system. The guitar has a compensated nut, and the strings go straight through the tuners without a break angle, which improves tuning stability.
Modern Meaty Sounds
The Kaizen's pickup configuration consists of a heat-treated Ernie Ball Music Man bridge pickup and a mini humbucker in the neck. While high gain is part of the mission, the pickups are also clear and present. And though they are passive, they sound awake and powerful, like active pickups do. The 3-way pickup selector switch offers bridge humbucker, bridge and the neck's outer coil combined, and both coils from the mini humbucker in the neck.
In high-gain situations (I used a Mesa/Boogie Tremoverb combo, Mark IV head, Bogner Ecstasy Mini Red, and Line 6 M9 Stompbox Modeler as amp and pedal pairings), the bridge pickup offers abundant sustain. Notes blossom into feedback beautifully and djent-style rhythmic figures cut through with razor-sharp accuracy.
"This ain't your uncle's Tele."
The combined pickup setting is excellent for clean, percussive, slap-and-pop figures, like those that R&B bass players use, as well as the thumping moves you hear from Abasi. In this setting, pick attack feels immediate, and the guitar really cuts, even at lower volumes. It's also an ideal setup for funk-type rhythm figures. The middle pickup setting is articulate in dirty settings, too, and fast, alternate-picking licks pop like a machine gun.
The neck mini humbucker, meanwhile, is versatile and responsive. It delivers creamy classic blues sounds in dirty amp and pedal settings, especially when you roll guitar tone and volume back a touch. Open up the guitar's tone and volume and the Kaizen is a heavy rock monster. As big and explosive and Kaizen can sound, in cleaner settings it's very rich. The guitar's pots also give you room to shape a great range of cleaner tones. With the tone knob almost all the way off, it still sounded clear through the mellowness, and there was almost none of the blanket-over-speaker, mushy tonality you hear from most guitars when the tone control is down. Pretty impressive.
The Verdict
The Kaizen is an exquisite instrument. There is little question about the music the guitar is intended for. It's a shred machine, first and foremost, made for modern, heavy styles. But it's easy to imagine how it would excel in other contexts because of the wide variety of sounds available. It would make a very interesting progressive jazz instrument for sure.
While the roughly $4k price tag will be a barrier for many, it's not obscene for what you get. If you're a forward-thinking guitarist, particularly one that feels like you've squeezed all the tricks you can from your old instrument, the Kaizen has the potential to unlock a lot of new ones.
Ernie Ball Music Man Kaizen Demo | First Look
Ernie Ball Music Man