Affordable modulated analog delay in miniature.
An excellent sounding and affordable passport to the universe of modulated analog delay that also respects tradition.
Micro size is a blessing and, for some, perhaps a small curse.
5
4.5
3.5
5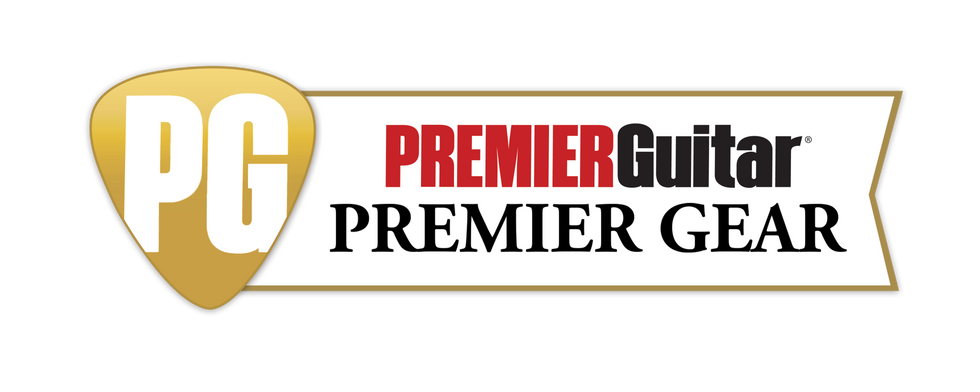 Despite the spacey name, the Constellator isn't the most out-of-this-world contraption made by Pigtronix. For that prize, I would submit the Mothership 2 Analog Synthesizer, which is raving madness in a box. Madness is relative though, and the Constellator is possessed with a more warm-hearted insanity. And while this analog delay does playfully cross the line into modulation in two ways, it has more of a star- (or maybe shoe-) gazing vibe that's warm and old-school in tone, but looks beyond the orbit of conventional delay.
---
Little Dreamer
Modulated delay isn't new, of course, but it's harder to find in a stompbox this compact and affordable. The Constellator is tucked into a small, solid metal box that measures 1 1/2" x 1 3/4" x 3 3/4" and offers a maximum delay time of 600 ms. It's got your basic 1/4" in-and-out-mono jack set and requires a 9V DC barrel-type power supply. Needless to say, there is zero space for a battery option. There are four dials atop the Constellator: time, mix, mod, and repeats. The additional control is a push button just below those dials marked "feel"—a subtly vibey little function we'll get to in a bit.
When I investigate a new analog delay, I always pull out one of my favorite dinosaurs for comparison: the Analog Delay MXR made between 1976 and 1984. The MXR's characterful nature is, in part, ascribed to the use of MN3005 bucket brigade delay chips, the same chip at the heart of this Pigtronix stomp. The Constellator's time, mix, and repeat dials correspond with the big green MXR's delay, mix, and regen. And tonally, the little Pigtronix compares extremely well, providing the same warmth and richness as the MXR. With the repeats cranked, the Constellator also produces the familiar oscillating feedback trails that I love and prize for their Forbidden Planet quality.
All Mod, No Cons
Per usual, I plugged guitars with single-coil, humbucking, and gold-foil pickups into the Constellator, and used my Carr Vincent amp with the EQ straight up. I was extremely impressed with this little device's big embrace.
The controls had more range than my beloved MXR and performed flawlessly in traditional applications. The Constellator handles slapback duties like a champ. With more modulation, the repeats took on a sweet vibrating sound— imagine Scotty Moore's Echosonic with a slight hangover, and you'll get the idea. Spacier emissions were equally pleasing, and with time, mix, repeat, and mod controls at 3, 3, noon, and noon respectively, the Pigtronix moved into Magnatone turf and got dizzier as the mod dial went up. But I really enjoyed the more extreme settings, where notes seemed to warp and degrade as they hung and faded in the air. Punching in the feel button made this sound even weirder. The feel function is essentially a chorus, but it really accents the colors and degradation in the repeat trails, sounding, at times, like analog tape that has been stretched. Even so, clarity and definition remain in every picked or echoed note. This truly is a lovely sounding pedal.
There are a few snakes in the garden. The dials are quite tiny, and close enough to each other that I can just slip my thumb between them, which means adjustments on the fly require focus. There are grooves in the sides of each dial to make gripping them easier, but those of us with big paws may still be slightly challenged to make precise adjustments. Also, the feel button is so close to the mod and repeat dials that I accidentally popped it on with my big-ass thumb several times while making adjustments.
The Verdict
The Pigtronix Constellator is a mighty mite of an analog delay, with warm sounds that equal much pricier pedals. And the mod and feel controls take tones into infinity and beyond. But while its small size is an asset for the pedalboard space-challenged, that's also a slight issue for those of us who buy our gloves at Thornton Melon's Tall & Fat Stores. If that issue isn't a problem for you, the Constellator could become a valued tool for drawing your own map of the sonic stars.
Looking for more great gear for the guitar player in your life (yourself included!)? Check out this year's Holiday Gear Finds!
Created in collaboration with legendary guitarist George Lynch of Dokken and Lynch Mob fame, the Mr.Scary Mod adds an adjustable tube gain stage and an onboard Deep control, which together are designed to enable an amp to have increased sustain while still retaining note definition and dynamics.
LegendaryTones, LLC today announced production availability of its new Mr. Scary Mod, a 100% pure tube module designed to instantly and easily expand the capabilities of many classic amplifiers with additional gain and tone shaping. Created in collaboration with legendary guitarist George Lynch of Dokken and Lynch Mob fame, the Mr.Scary Mod adds an adjustable tube gain stage and an onboard Deep control, which together are designed to enable an amp to have increased sustain while still retaining note definition and dynamics.
Originally released as the Lynch Mod in February 2021, the updated Mr. Scary Mod features the same core circuit as the Lynch Mod but is now equipped with a revised tube mix combo per George's preference as well as a facelift in a newly redesigned electro-galvanized steel enclosure. As with the Lynch Mod, each run will be limited and the first run in Pumpkin Orange with Black hardware is limited to just 150 pieces worldwide.
​The Mr. Scary Mod adds an adjustable tube gain stage on top of the cathode follower position, keeping note definition and articulation while further increasing sustain. Each Mr. Scary mod is meticulously built by hand in the USA, one at a time, and tuned using high-grade components. Equipped with a single ECC81 (12AT7) in the first position and ECC83 (12AX7) in the second, the Mr. Scary Mod can clean up beautifully when rolling down your guitar's volume, and still adds scorching gain when you roll it back up. This is a gain stage that's been tuned and approved by the ears of the maestro George Lynch himself.
"The Mr. Scary Mod excels with dynamics and is incredibly touch-responsive, allowing me to shift from playing clear, lightly compressed cleans to full-out aggressive sustain and distortion –and control it all simply by varying my guitar's volume control and picking," said GeorgeLynch. "In many ways, it's an old-school approach, but it's also so much more natural and expressive in addition to being musically fulfilling when you can play both the guitar and amp dynamically together this way."
The Mr. Scary Mod installs in minutes, is safe and effective to use, and requires no special tools or re-biasing of the amplifier. Simply insert the module into the cathode follower preamp position of compatible amplifiers (includes Marshall 2203/2204/1959/1987 circuits) and

immediately get the benefit of enjoying a hot-rodded amp that delivers all the pure harmonic character that comes with an added pure tube gain stage. The handmade in the USA Mr. Scary Mod is now available to order for $319.
For more information, please visit legendarytones.com.
October Audio has miniaturized their NVMBR Gain pedal to create two mini versions of this beautifully organic-sounding circuit – including an always-on gain device.
The NVMBR Gain is a nonlinear amp that transitions gracefully from clean boost to overdriven tones. Volume increases from just over unity to about 10db before soft-clipping drive appears for another 5db of boost. Its extraordinary ease of use is matched by outstanding versatility: you can use it as a clean boost, push a stubborn amp into overdrive or create a just-breaking-up sound at any amp volume.

October Audio's new family of mini NVMBR Gain pedals includes a switchable version that allows you to bypass the effect: one option features brand logo pedal graphics, while the other sports a fun "Witch Finger" graphic with a Davies knob as the"fingernail".
The second version in the new lineup is an always-on device featuring the Witch Finger graphic and Davies knob, with the same NVMBR Gain circuit that lies at the core of the switchable version.
Features:
Knob controls gain and clipping simultaneously
Stunning silver hammertone finish
Switchable versions are true-bypass, available with classic or witch finger graphics
Authentic Davies knobs, including the "fingernail"
9V center negative power supply required
Dimensions: 3.63 x 1.50 x 1.88 in​
Witch Finger (always on NVMBR Gain) demo
​All October Audio pedals are assembled in Richmond, VA, and available for purchase directly through the online shop. Street price is $109 for NVMBR Gain footswitch versions and $89 for the always-on device.
For more information, please visit octoberaudio.com.