Hughes & Kettner Launches the Era 2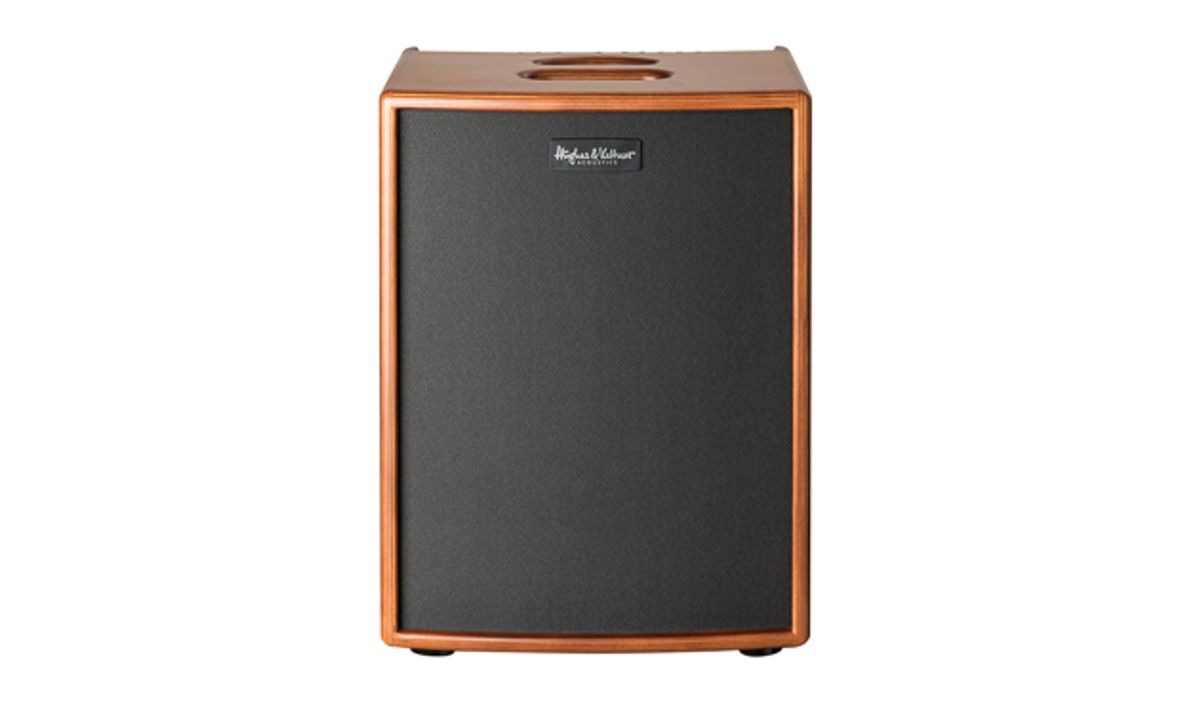 The 400-watt combo packs in two 8" speakers and a single 1" tweeter.
St. Wendel, Germany (January 22, 2018) -- Hughes & Kettner has unveiled era 2, the second model in its era series of premium acoustic instrument amplifiers built at the firm's headquarters in Sankt Wendel, Germany.
era 2 – just like era 1, the range's first amp, which was released in summer 2017 – was designed and engineered in cooperation with renowned acoustic amplifier designer Michael Eisenmann. Identical to era 1 in terms of feature set, era 2 is physically larger and packs even more power (400 watts, compared to 250) and low-end, thanks to its two 8" speakers and single 1" dome tweeter. This makes it especially suited to percussive playing styles, use with external music devices and drum machines, or for instruments with lower frequency ranges like double basses and bass guitars.
Available in wood and black model finishes, era 2 offers players richly detailed note definition and a wonderfully responsive, dynamic playing feel. The amp features four channels: Channels 1 and 2 are identical and are equally well suited for either two instruments, one instrument and one voice, or two voices. Channel 3 serves as an input for external audio sources (e.g. smartphones, MP3 players, etc.) and Channel 4 is a superb bus for line-level devices, such as mixers and drum machines.
A powerful EQ section and a comprehensive array of built-in effects allow performers to shape the tone of their instrument(s) and vocals. There are 16 FX in total (including various reverbs, delays, chorus and flanger, and combinations of the various types) and many can be adjusted, customized and saved as presets at will.
On the rear panel, era 2 features outputs suitable for any conceivable professional purpose, including a DI output, a stereo Line Out, and an S/PDIF-Toslink optical out for recording purposes.
Nicolas Hassel, Hughes & Kettner's Product Manager, said: "Put simply, era 2 offers musicians the most natural sound performance and the highest build quality possible in an acoustic amplifier. The combination of Michael Eisenmann and the Hughes & Kettner team's industry-leading vision and engineering skill has resulted in another acoustic amp that is perfect for the player who is serious about achieving their instrument's unique tone at any volume level. And for performers who need just that little bit of extra oomph or low-end, it's the start of another new tonal era!"
era 2 is premiering at the Winter NAMM Show 2018. Experience it in person at the Hughes & Kettner/Yorkville stand, located at Booth #18020 on Level 2, and visit the Hughes & Kettner website for more information.
Hughes & Kettner era 2 technical specifications:
400 watts
Channels 1 and 2 each equipped with:
High-resolution Mic and Instrument input (combination XLR/6.5 mm (¼") jack with switchable phantom power)
10 dB / Shape / Mute buttons
Gain knob
3-band EQ with two modes (e.g. for steel-string and nylon-string guitars)
Channel-centric FX engine with 16 programs (reverb, chorus, flanger, etc.) and adjustable effect parameters
Channel 3 / Aux In: 3.5 mm adjustable stereo input
Channel 4 / FX Return: 6.3 mm adjustable stereo input
Master: Volume and Notch Filter for suppressing resonance
FX Loop: 6.3 mm (¼") FX Send jack
DI Out (switchable to pre/post EQ section)
Stereo Line Out (adjustable)
Footswitch, Tuner, Headphones ports
Optical Recording Out: S/PDIF-Toslink
Speakers: 2 x 8" and 1"
Power amp: 400-watt class D
35 mm pole mount
Tilt stand (35°) included
Padded protective cover included
Dimensions (W x H x D): 350 x 475 x 290 mm
Weight 14.1 kg / 31.1 lbs. (wood), 14.45 kg / 31.8 lbs. (black)
Recommended accessory: Hughes & Kettner FS-2 Footswitch
For more information:
Hughes & Kettner