NAMM 2016: Editors' Picks – Day 2
Take a look at the PG editors' top picks from Day 2 of NAMM.
PG editors pick their top gear from the first day of NAMM. See everything from day 2 in our photo gallery.
MXR Reverb
Jim Dunlop Guitar Products MXR came to ‪NAMM‬ with the brand-new Reverb pedal in tow. It delivers six distinct reverb styles from plate to spring to mod, all from a standard-sized MXR box with a simple 3-knob setup and a hi-fi analog dry path. Other features of the Reverb include a 100 percent wet mode, stereo input and output capability, and true relay or trails bypass.
Cole Clark CCFL2EC-RDBL-AE
Cole Clark Guitars brought along a gorgeous new addition to their Fat Lady series with the CCFL2EC-RDBL-AE. This dread is built from 100 percent sustainable timber: Queensland maple for the neck, Australian blackwood for the back and sides, and Australian redwood for the top. Cole Clark's 3-way pickup system comes standard.
Yamaha Revstar
Yamaha Guitars debuted their first new solidbody design in 10 years with the Revstar series of guitars at ‪NAMM‬. Inspired by vintage cafe-racer motorcycles and Japanese craft, the new Revstar models boast distinctive colors and a variety of handwound pickup options. Each model features a deep belly cut, hidden forearm contour, and a newly designed neck joint for playing comfort. And the available hardware appointments from unique pickup covers to raw-copper pickguards to custom floating aluminum tailpieces make these new instruments true head turners.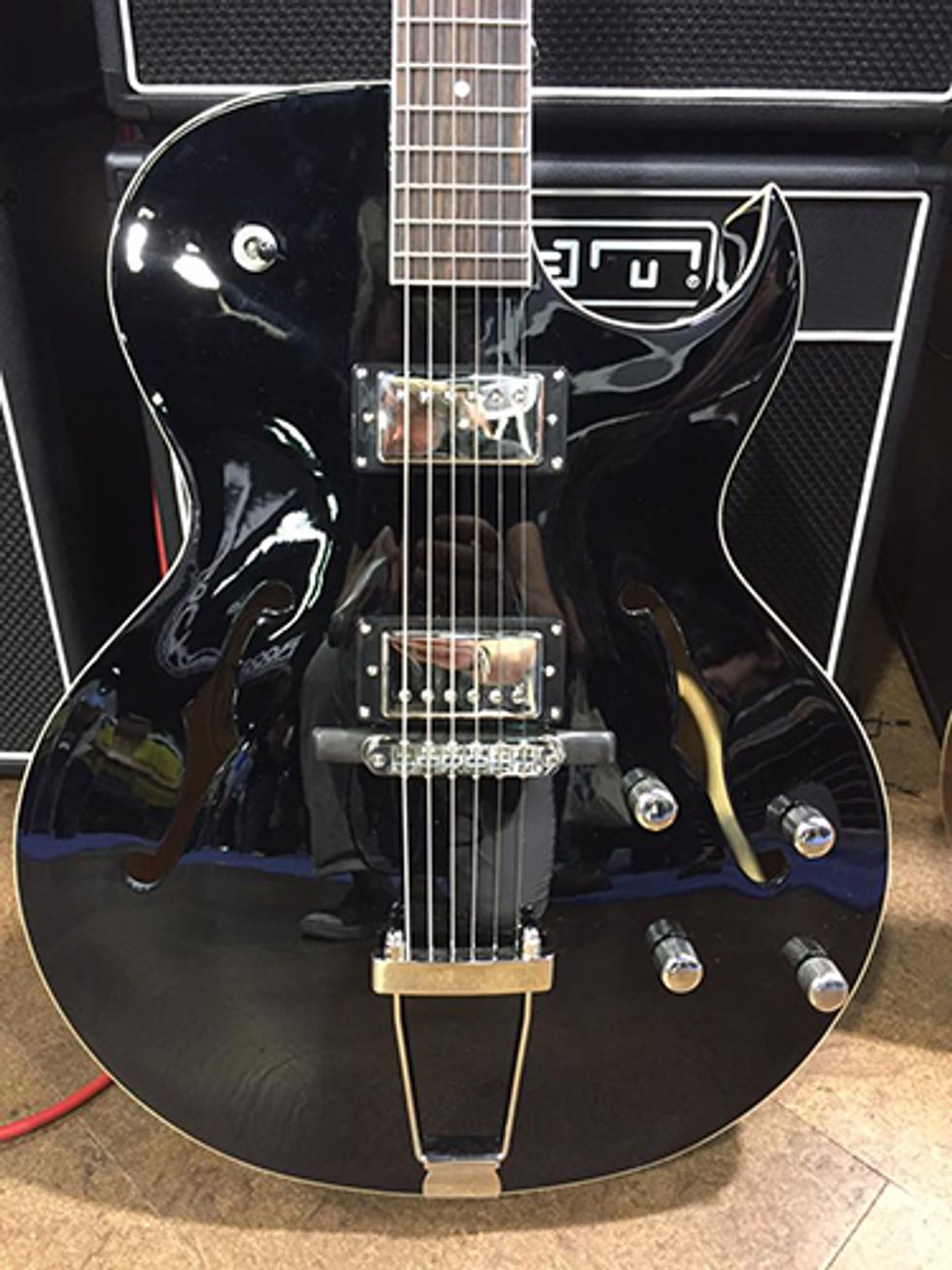 The Loar LH-1280-CBK
Oh my. The Loar was in town with this black beauty LH-1280-CBK archtop. It's a fully hollow axe that boasts maple for the top, back, and sides, and is outfitted with Seymour Duncan Seth Lovers and CTS pots for classic PAF sound delivery.
Guild S-200
Guild Guitars will officially resurrect the S-200 "T-bird" this year. Though then-Guild subsidiary DeArmond did a version back in the '90s, this prototype is the first Guild-branded version of the solidbody since the '60s and comes complete with slider switches and Hagstrom-style trem just like the original. Looks like a very nice MAP too--right around $799.
Stone Deaf SD 50
Manchester's Stone Deaf Effects have been impressing us for years with their stomp boxes (and they brought a few new ones to NAMM.) But their line of new amps, which includes the SD50, are super intriguing and sound really cool. The digitally controlled 6L6-powered unit enables programming of up to 32 control presets. Look for it in May at a street price around $1,750.
Walrus Julia and Contraband
Walrus Audio 's prodigious output continues to impress. These two new pedals, the Julia chorus/vibrato is fat, lush, and warblingly rich--better still it's got a chorus/vibe blend control that helps you dial in very specific modulation shades. It'll be about 200 bucks. The Contraband is as simple as they come...a one-knob silicon fuzz and a fat/thin switch that transforms the fuzz from merely searing to face ripping. Nice work as always Walrus!
Mojo Hand FX M3 Wonder Filter
Mojo Hand FX, which is now run by Cusack Music's John Cusack, brought the M3 Wonder Filter to NAMM. It's a pretty great-sounding take on the Mu-Tron that packs a lot of versatility into a much smaller enclosure.
WMD ProtoStar, Geiger Counter Pro, and Goldilocks Planet
WMD brought three super-cool new stomps to ‪NAMM‬. The ProtoStar (top left) combines powerful filter sounds (four modes) with modular-synth-like 9mm-jack routing options that exponentially expand the possibilities. The Geiger Counter Pro fuzz (top right) features 16 footswitchable presets, assignable CV inputs, MIDI control, and a randomizer—and, despite appearances, we're assured it's simpler to operate than previous Geigers. Meanwhile, the Goldilocks Planet is a straightforward distortion with three diode-clipping modes.