Offbeat, On-Target Gadgets
12 brilliant guitar and bass accessories that stand apart from the pack—and often save the day.
The guitar world is chock-full of gizmos, doodads, and whatchamacallits that solve myriad problems. Some are bogus—or at least seem that way to experienced players. I mean, do you really need finger weights, pick hats, $1,000 cables, pick punchers, or guitar string bracelets? How about $5 picks or $40 slides?
Maybe.
But even if you're skeptical, there's no shortage of serious products that make life easier. Tools exist to tighten an impossible output jack from the inside, extend a guitar cable up to 300 feet without signal loss, restring a Bigsby sans frustration, and even to remember your settings without marking up vintage pedals.
But what you don't know, you don't know.
You don't need to send your guitar to the shop to remove knobs, tighten loose hardware, or even to do a complete setup (assuming you know what you're doing).
Believe it or not, a small army of techs, geeks, tinkerers, and tone fiends have spent years researching, developing, testing, and perfecting new devices, fixes, and workarounds to solve common problems that hamper performance and cause frustration. They've invested thousands, turned their basements into laboratories, skipped meals, slept on the floor, and drank enough coffee to give an elephant a buzz. And in some cases, these gear pioneers have stumbled upon genius.
In this roundup, we highlight a handful of these ingenious-yet-little-known innovations. Many of these products will make you say, "Duh, I should've thought of that." They will save you headaches, time, money, and help you focus on the important stuff—like guitar playing.

Pedal-Setting Savers
Pedal Labels offer a simple, cheap way to mark settings on your stompboxes without ruining them with gooey adhesives or scribbling on their faces. They come in sheets of pre-printed stickers featuring large white circles and a sticky back: mark your settings and stick them to your pedals.
That's it.
The stickers come in standard configurations—like the most popular Boss, MXR, and Ibanez models—as well as individual knobs to match to whatever one-of-a-kind boutique devices you use.
$7.95 street (six 9"x4" sheets of assorted configurations) or $2.95 (for two)
pedallabels.com
---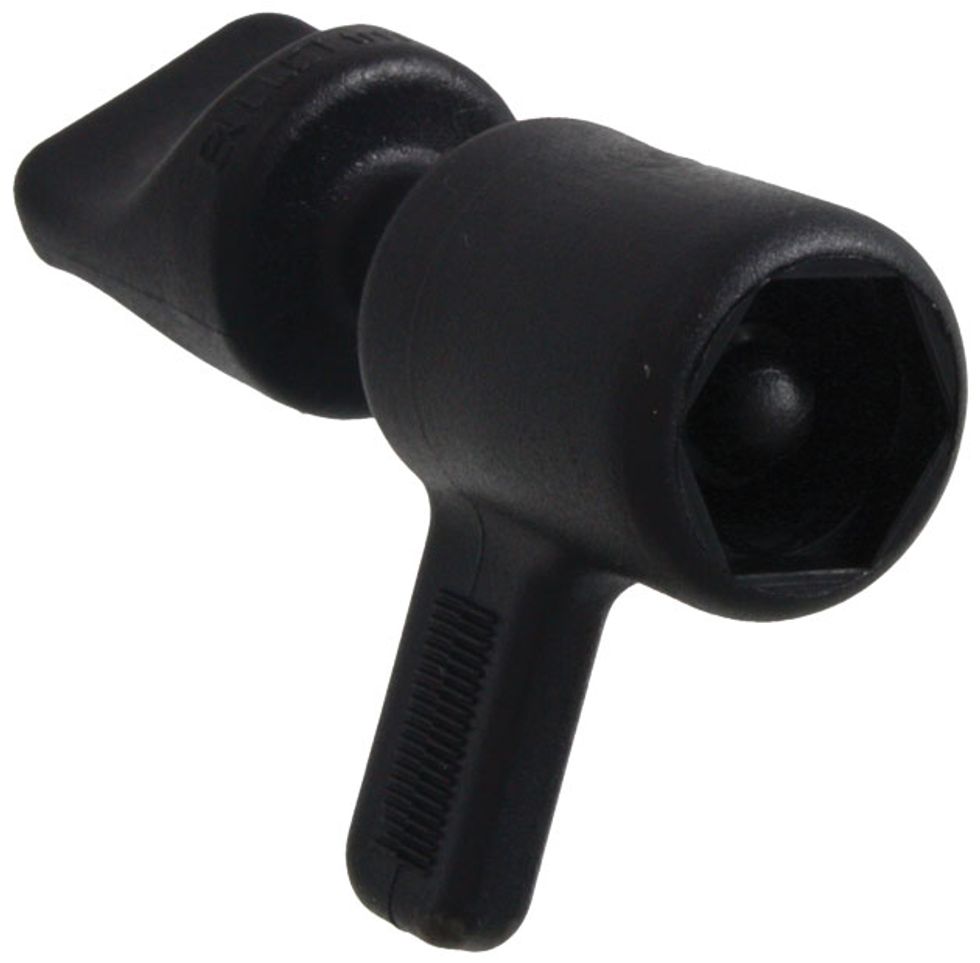 Guitar Output Tightener
Few things are more frustrating than a loose output jack that you can't retighten. Worse, the loose piece inside the electronics cavity spins around as you attempt to fix it—and that yanks loose solder joints and wires. It's a simple problem that shouldn't require taking your guitar apart or a trip to the shop, but sometimes you have no choice.
Enter the Bullet Guitar Jack Tightener. It grabs the jack from the inside and enables you to tighten or loosen it without having to use other tools or remove the jack plate. It fits U.S.-sized half-inch nuts for quarter-inch jacks, is an all-in-one contraption, and is made from a hard plastic (as opposed to metal, like most tools) that won't ruin your finish.
$15 street
allparts.com
---
Bigsby Re-Stringing Buddy
If you own a Bigsby, you probably hate restringing it. Making a kink in the ball end, putting it under the roller, and connecting it to the string peg while somehow keeping it tight and from popping out … yikes. The Vibramate String Spoiler is a godsend. It's a bracket that slips over the string pins on the Bigsby's central roller. You install the first string and, once that's set, you just drop the other five in place and you're done. This handy contraption is made of high-grade stainless steel, fits all Bigsby models, and is available in silver, black, or gold.
$35 street in silver (additional $20 for black or gold)
vibramate.com
Secure Straps
Lock-It Straps are a strap-lock system that doesn't require mods, new endpins, or anything. The locking leather strap ends fit over your guitar's existing endpins. They don't use metal parts, don't rattle, fit most guitars, and—at least according to the manufacturer—always work.
$20 street
lockitstraps.com
---
Floating Bridge Stabilizers
For some guitarists, the frustration of using a floating bridge is that when you bend strings—even when not using the whammy—the other strings go out of tune. Super-Vee has a product, the Mag-Lok, that holds your bridge in place, but disengages when you grab the whammy. It enables you to have the best of both worlds: a standard bridge when you need one and a whammy when you don't.
The Mag-Lok uses two super-strong, rare earth magnets that keep the tremolo from moving when you bend the strings in normal playing. When you grab the whammy, you pull the magnets apart and allow the tremolo to work as normal. When you let go, the magnets are drawn back together and hold the bridge in place. Installation is simple and requires just one screw in the tremolo cavity to hold the unit in place.
$59.95 street
super-vee.com
---
General Maintenance
You don't need to send your guitar to the shop to remove knobs, tighten loose hardware, or even to do a complete setup (assuming you know what you're doing). Great tools abound. For less than 9 bucks you can get the P-51 Knob Puller. It's a plastic gizmo that won't ruin your finish and gently slides underneath most standard guitar knobs. You use it to pull the knob up instead of using a screwdriver to try and pry the knob off.
For $11, you can get the ESP Multi Spanner. It's a small, metal, double-mouthed wrench that is toothed on one end to tighten and on the other to loosen hardware, jacks, and knob bushings. It is versatile and can work with nuts as small as 0.075 inches.
You can also get a basic setup kit. It comes with a String Action Gauge for—you guessed it—adjusting your action. It also includes an 18" precision straightedge and nine understring radius gauges. These tools are laser cut from stainless steel and the straightedge is machined for accuracy of ±0.0015 inches per foot.
P-51 Knob Puller, $8.50 street; ESP Multi Spanner, $11 street; Basic Setup Kit, $98 street
stewmac.com
---
Guitar Cable Extender
Sometimes you need to be far away from your amp. It might be in the studio: You want to sit in the control room and you want your amp far away in an isolation booth. Or maybe it's on a huge stage and you want your rig far away so your insane volumes won't ruin the gig for the rest of the band. But you're afraid of signal loss, noise, and interference.
The Radial SGI Studio Guitar Interface system might be your solution. It isn't cheap, but you get two boxes—a transmitter and receiver—and they drive your unbalanced guitar signal via a balanced 300-foot microphone cable, which connects to the boxes with standard 3-pin XLR plugs. The transmitter is active and uses a 15V DC power supply, but the receiver is passive. The SGI has a drag control, which, according to the owner's manual, has a "unique load correction circuit [that] allows you to apply a resistive-capacitive load on your pickup to counteract any effect of the buffering circuit or cable. It is designed specifically for passive guitar pickups that are most sensitive to the input impedance of an amplifier." It's built like a tank, with a 14-gauge steel chassis and outer shell, and comes in bright yellow so you can find the other end when it's 300 feet away. It has a frequency response of 20 Hz–18 kHz (-2 dB), a signal-to-noise ratio of 102 dB (0 dBu input), and a dynamic range of 112 dB. Your guitar and amp connect to the boxes on either end via standard guitar cables and your tone comes out the other end buffered and noise free.
$259.99 street
radialeng.com
---
Voltage Reduction
Vintage tube amps were designed and built at a time when the voltage from the wall was lower than it is today. Wall voltage also varies depending on where you live, the time of day, and other factors. Higher—and inconsistent—voltage means your expensive vintage amp doesn't work or sound the way it was designed.
The AmpRx BrownBox is a unit that serves as a buffer between the wall and your amp. It has a custom-wound 5-amp transformer, which supplies a maximum of 540 continuous watts at 120V AC. In bypass mode, nothing happens; your amp is fed the regular wall current. But when you lower the current to period-correct voltage—the BrownBox has a knob which allows you to lower the calibrated wall voltage by 3, 4, 6, or 10 percent—your amp's circuits are optimized to work as designed. Theoretically, their true harmonic character is heard and your tone is vintage and righteous.
Voltage reduction isn't cheap and not something you should do without consulting a competent technician, but if you're investing in vintage gear, common sense says, "Do your homework. Make sure your amp works as designed."
$349 street
amprx.net
Tube Tester
The Orange DIVO VT1000 Valve Tester (or tube tester in the Colonies) is a simple device that does two things. It tests your tubes and tells you if they're good, fair, or dead. And if a tube is good, it assigns the tube a score so you can match it with other tubes for optimum performance. It tests almost every type of power tube and pre-amp tube.
Specifically, the VT1000 tests the tube's heater filament to see if the circuit is short, open, and for tolerance; the heater cathode insulation for leakage or a short; looks for heater current abnormalities; tests the amplification factor and voltage and power gain; tests the inter electrode for leakage or a short circuit; and tests emissions and gas ionization. It tests for a small army of other details as well.
Do you need this? If you blow through lots of tubes, own lots of amps, or like to experiment and geek out with tones—this may be a product for you.
$499 street
orangeamps.com
---
Modless Whammy
Les Pauls and Teles are great if you don't want the hassles or headaches of whammy-equipped floating bridges. But what if you
want
a whammy on your
Les Paul
or Tele? Is there a way to install a pro-level tremolo unit on your guitar without routing a huge cavity, drilling new holes, or destroying your guitar?
The Stetsbar is a top-mounted whammy bar that fits into your guitar's existing holes and doesn't necessitate routing or mods. It is top-loading; comes as a one-piece, self-contained unit including bridge, saddles, and string anchors; has a bridge plate that slides on smooth linear bearings; and has adjustment screws to set for different string gauges.
The Stetsbar is a fully functioning whammy—you can pull up, push the strings slack—and it's supposed to stay in tune no matter how much you manhandle it. Even if you break a string. It comes in gold, chrome, black, and other colors to match your instrument's hardware. Different models are available to replace Gibson-style stop tailpieces, Tele-style bridges, Strat-style bridges, and more.
$200—$300 street
stetsbar.com
---
Cable Tester
Cables go bad—and when they do, you're stuck. Many cable testers exist, but none of them were made with guitarists in mind.
The Cusack Music Cable Tester is a new stompbox-sized solution that specifically tests guitar cables. It detects bad cables—as you'd expect—but it also detects when the ohm level is too high (i.e., when it exceeds one ohm), which is a problem particularly for solderless cables. Insert both ends of a standard quarter-inch cable into the inputs on the face of the device. Push the plug in until it clicks once, and that tests the cable's tip. Two clicks tests the ring, and three the sleeve. The unit also has a large red knob so you can calibrate it, and a toggle to switch between calibration and use.
$79 direct
cusackmusic.com
---
Solderless Cable Kit
DisasterPlugs is a solderless cable system designed to connect pedals on an ultra-tight, super-snug pedalboard. The plugs are compact and can be configured as either straight or right-angle plugs. The low-capacitance cable measures only 4 millimeters in diameter and uses 24 AWG oxygen-free copper wire. You cut the cable to length, insert into the DisasterPlugs opening, and tighten the ground screw with the screwdriver that's included with the kit. Boom. DisasterPlugs is perfect for tight fits, cramped spaces, and awkward angles.
$79.99 street (kit makes up to six connectors)
disasterareaamps.com