We Take the 10-Year Challenge!
Sophie Gault (Sophie & the Broken Things) joins Premier Guitareditors and our reader of the month to discuss favorite albums—then and now—as well as new musical obsessions!
---
#10YearChallenge: What was your favorite album 10 years ago? What's your favorite album today?
Sophie Gault - Sophie & the Broken Things
A: Ten years ago, I was just discovering '90s alt-country and I was listening to Strangers Almanac by Whiskeytown a lot.
Whiskeytown - Houses On the Hill - Austin City Limits 1998
I had joined this band called the Spectacular Average Boys, where I sang harmonies and played rhythm guitar. We used to cover "Houses on the Hill," which I still think is one of my favorite songs ever written. Whiskeytown was a coed band, and I identified with that as the only girl in a band full of guys.
Amythyst Kiah // Wild Turkey
I recently discovered Amythyst Kiah's album Wary + Strange, and I love it. She's such a badass guitar player and singer. I'm always checking out different artists' guitar styles and it's refreshing to see people, especially women, digging in and playing with guts.
Sophie Gault's Current Obsession: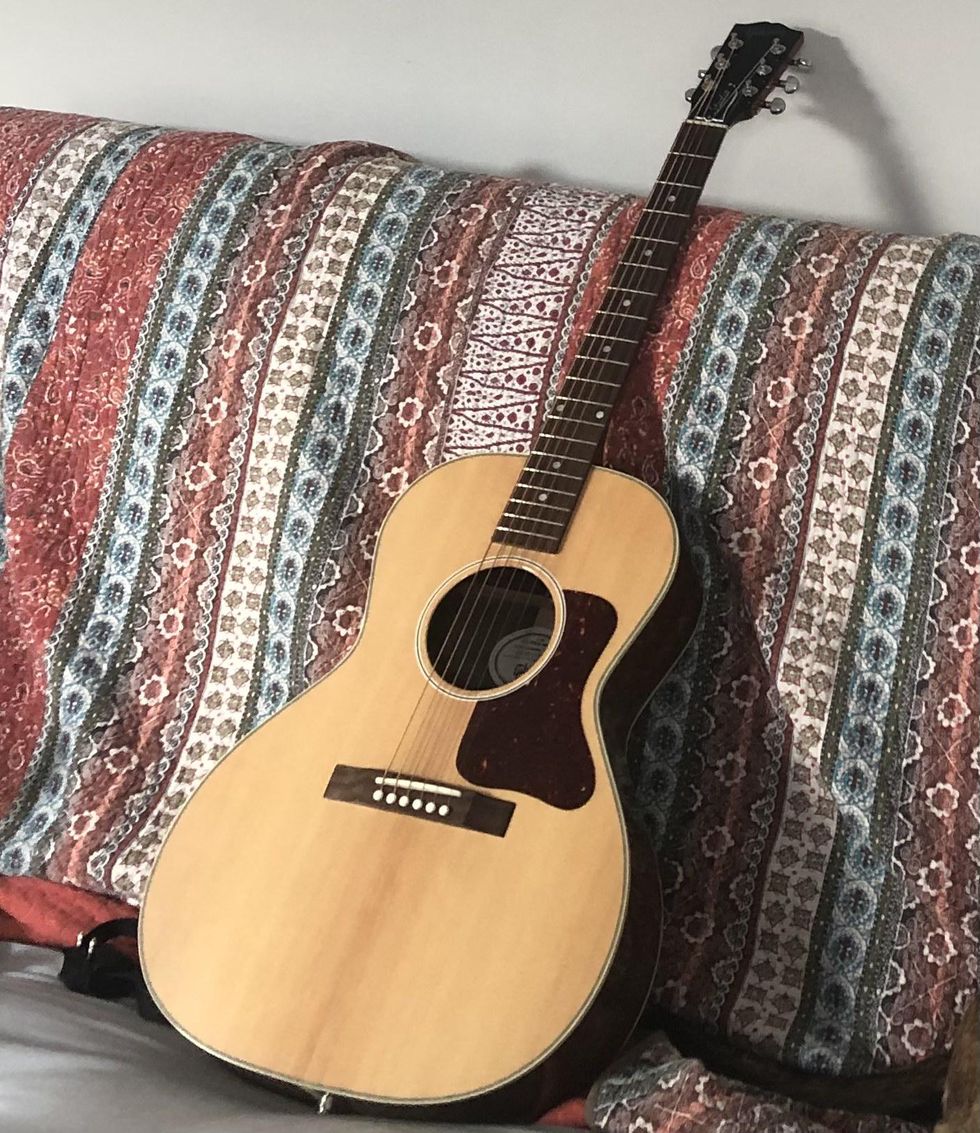 I love my new Gibson L-00 Studio. It's adorable and fun to play with a great snappy and crisp tone. I've also been exploring healthy non-music-related routines lately. I'm obsessed with swimming. I like to go swim 20 laps at the YMCA and then read a chapter of a book in the sauna—right now it's The Master and Margarita by Mikhail Bulgakov. This routine helps calm my nerves and keep me focused so I can enjoy my L-00 with a clear head.
Nedim Kirlic - Reader of the Month
A: I was really into Rush in 2012, and I really liked what turned out to be their last album, Clockwork Angels.
Rush - Clockwork Angels Tour DVD - Clockwork Angels
I can't say for sure that it was my favorite album at the time, but I listened to it a lot.
Shiner - Schadenfreude (2020) [Full Album]
Today, I would say that my favorite album is Schadenfreude by Shiner.
Nedim Kirlic's Current Obsession:
I've been obsessed by Kansas City bands of the 1990s and 2000s, such as Season to Risk, Molly McGuire, Shiner, and The Life and Times. Allen Epley, the frontman of both Shiner and TLAT, taught me how to play a handful of Shiner songs on guitar, and that's very much helped my creativity with my own music.
And that leads me into my other obsession. I moved away from digital modelers and built my first pedalboard as a 40-year-old. I just wanted fewer options, while still maintaining some versatility, because I needed to focus more on playing guitar instead of incessantly tweaking my tone. So, I spent a lot of money on pedals and a few guitars in 2021, and now I have a rig that I'm very happy with and that enables me to make the music that I really enjoy!
Ted Drozdowski - Senior Editor
A: Early each year, I'm a hangover listener. So, in 2012 it was Lulu by Metallica and Lou Reed, and now it's the Black Keys Delta Kream.
Lou Reed & Metallica - Lulu`
The Black Keys - Delta Kream (Full Album) 2021
Ted Drozdowski's Current Obsession:
A while back I was invited onstage by legendary New England blues guitarist Neal Vitullo. Playing with Neal was a joy—gracious and brilliant. That memory reminds me daily of the many world-class musicians, like Neal, who've spent their careers as regional heroes instead of in the international spotlight. So, I've been obsessed with buying music and merch, and contributing to support local heroes everywhere. They've been there for us. Now, we need to be there for them.
Tessa Jeffers - Managing Editor
A: In 2012, my fave was probably Jack White's Blunderbuss. I listened to Mark Lanegan's Blues Funeral quite a lot, too, particularly "Harborview Hospital." I'm forever listening to Mr. White, and he's got two new records coming!
Mark Lanegan Band - Ode to Sad Disco
Jack White "Blunderbuss"
But right now, I'm loving on The Dream by Alt-J and Mitski's Laurel Hell.
alt-J - Hard Drive Gold (Official Video)
Mitski - Love Me More (Official Video)
Tessa Jeffers' Current Obsession:
Making and swapping playlists with a dear friend who lives in Spain. It's inspiring both on the sending and receiving end, and it helps us stay connected over distance. Sharing is caring! My most thrilling artist discovery of late is Tobe Nwigwe, a Houston rapper who's expanding the conversation in all the ways—conceptually, lyrically, sonically, and even visually with his original videos.