Tone Tips: Make Your Creative Space Rock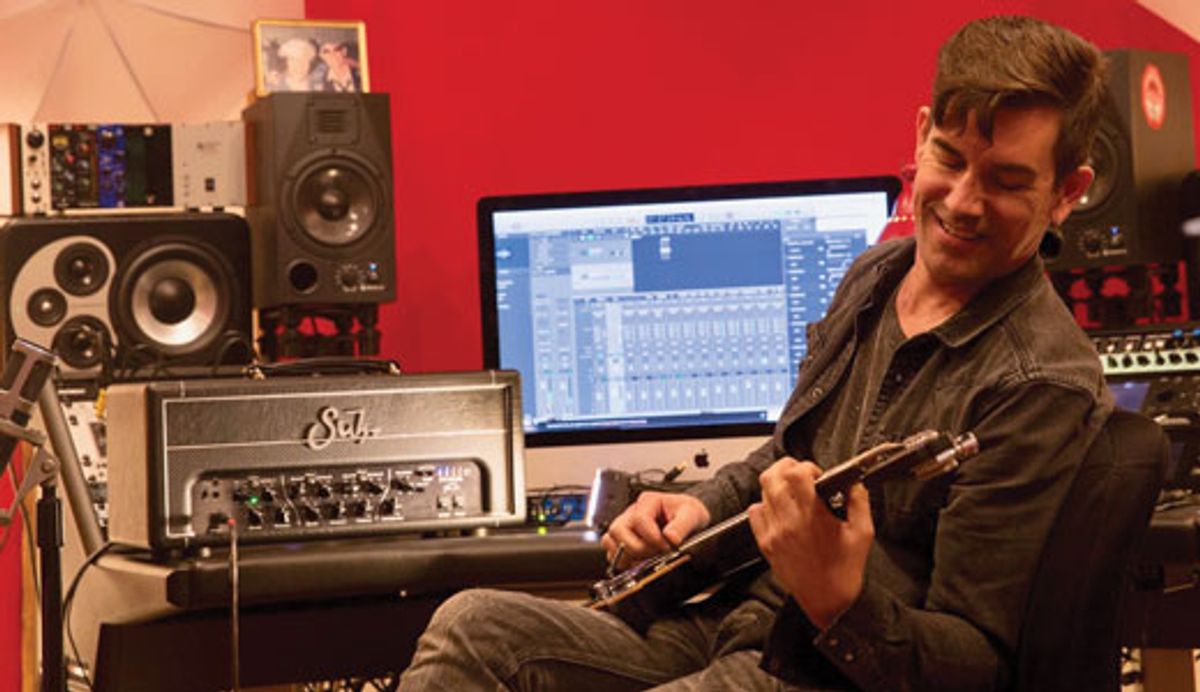 Our columnist, shown having fun jamming and writing in his studio, has streamlined his space to be comfortable, efficient, and conducive to creativity.
Easy steps and tips to help open your creative floodgate in a home-studio setting—and keep it open.
Greetings, readers! As many of you know, I have a YouTube channel where the content mainly consists of demos of pedals and other guitar-related equipment. I've developed a style for these videos, with each including an original song that shows off the tones a piece of gear is capable of producing. This means I'm usually writing, recording, and mixing at least a few tracks each week. I'm often asked about my writing and production process—with questions regarding guitar tones, drums and drum programming, and mixing. Most often, however, people have questions about creativity and avoiding writer's block. To me, it all comes down to efficiency.
---
You need a zone to get in the zone. I lived in a small house in the '90s that I shared with a friend and his girlfriend. We had a full-blown project-recording studio in the living room with a drum kit, a piano, and guitar amps. We had a nice Soundcraft mixer, two Tascam DA-88 digital recorders, a rack of Neve mic pres, and a vintage U47 tube mic. But the reality is that I got very little done in that studio space. It was really only set up for live tracking.
When I'd sit down to write, I didn't know where to start. I couldn't play drums, so I'd have to rely on drummer pals to come over and lay down grooves, which was loud and impractical. The studio dominated the small house, so if I was trying to be creative with other people at home, they could hear everything I was doing. That made me feel self-conscious and I realized I'd probably get more done if I had a simple 4-track recorder and a drum machine in my bedroom. That way I could close the door and have some privacy!
The most important takeaway from this experience is that it's far more important for me to have a space in which I feel comfortable practicing, writing, or recording, as opposed to a studio full of gear where I feel self-conscious and intimidated.
The gear you choose isn't important. The workflow is. Legendary studio guitarist Tim Pierce was a big inspiration for me when setting up my own recording space. He has a ton of gear, but his workflow is incredibly streamlined. His guitar cabs are always miked, isolated, and ready to track. All his amps are on a switcher so he can quickly try different tones and select whatever cabinet he prefers.
It's always more fun and inspiring to play and write riffs and songs if there are some drums to jam to.
The exact configuration and gear isn't important. What's vital is the fact that he can dial in tones fast, so when he hears an idea in his head, he can be laying it down seconds later. Because he's so comfortable making music in his space, I'd argue that producers would be hard-pressed to get superior results at major full-blown studios with Tim. I can't stress enough that the actual tools aren't the key. It's the organization and efficiency that is paramount. Tim would be just as effective with nothing more than a laptop, headphones, and some plug-ins or digital modelers.
Templates are your friend. With the advent of digital modelers, guitar amp plug-ins, and tools like load boxes and speaker simulators, anyone with a laptop can play and record with world-class tones virtually anywhere. All DAWs and recording interface software will allow you to make what's called a template. Templates are like musical blank canvases that can be personalized. All the routing of inputs, outputs, and plug-in effects and instruments can be stored, so when you sit down to play and create, your virtual studio becomes like a second instrument. You can make different templates for practice, recording, etc., and you can configure them however you like to suit your creative workflow.
What's also become paramount for me is the ability to pull up inspiring drum sounds and parts quickly. It's always more fun and inspiring to play and write riffs and songs if there are some drums to jam to. I personally use Superior Drummer 3, EZdrummer 2, and Steven Slate Drums to get some happening grooves going quickly and easily.
Likewise, great guitar and bass tones can also be had quickly and efficiently in my studio. I'm always patched into a tuner via an A/B box, and, like Tim, I've incorporated an amp switcher into my studio (an Ampete 88S) so I can quickly switch between up to eight heads and a variety of cabinet options. I tend to use plug-ins and modelers for bass (either UA Ampeg plug-ins, or my Axe-Fx III or Line 6 Helix modelers), and I'll sometimes use amp plug-ins for guitar as well.
The biggest key is streamlining from point A (the ideas in your head) to point B (a finished song, riff, or idea). This is how my creative output can stay steady. I've made it easy to practice, record, and be creative. It's never been simpler and it's possible on just about any budget, so imagine your dream creative space and set out to create it. Until next month, I wish you great tone!