Vintage Vault: Late-'70s Mesa/Boogie Mark I and Mark II Combos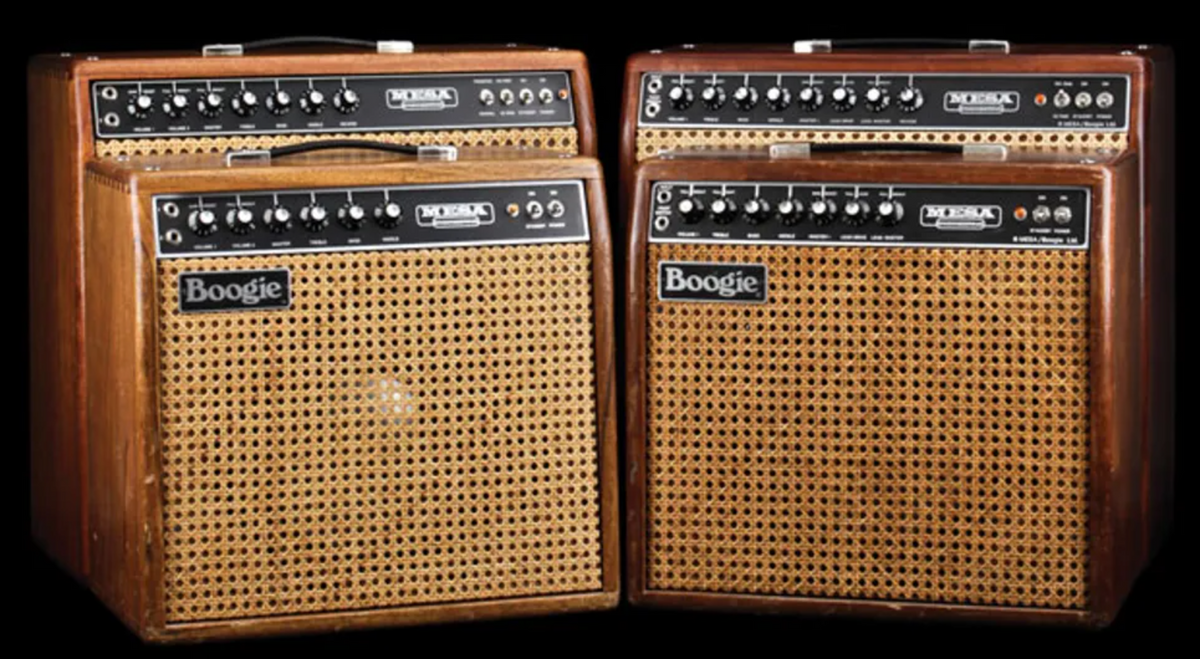 Travel back in time to celebrate the birth of high-gain guitar amplification.
Randall Smith became fascinated with electronics at an early age. Then as a teenager, he was captivated by cars and would repair them for his friends. By 1966 he was playing drums in a rock 'n' roll band, putting his technical skills to use by repairing band members' amps. This led to his opening Prune Music in Berkeley, California, with his bandmate David Kessner.
---
While Smith did repairs in the back, Kessner manned the counter. Eventually many popular West Coast bands, including the Grateful Dead and Jefferson Airplane, had their amps serviced at Prune Music.
While most companies gave the Stones amps for free, Smith charged the band for his handmade Boogies.
Around 1969 the roadies for Country Joe & The Fish decided to play a prank on lead guitarist Barry "The Fish" Melton. They had Smith modify Melton's 12-watt Fender Princeton to "do something really wild." Smith installed the classic Fender Bassman circuit and squeezed in a 12" JBL speaker, and the result was a 60-watt amp shoehorned into the small Princeton box. After trying Smith's creation, Carlos Santana declared, "This little amp really boogies." Thus the amp's name became "Boogie."
By the early '70s, Smith had started his own company, Mesa Engineering. Using more gain stages and a master volume control, he came up with a "cascading preamp" concept that could generate sustaining overdrive at any volume level. Santana received one of these amps (eventually known as a Mark I) and used it both onstage and on the epic Abraxas album.
Right at home: A 1995 PRS Santana Prototype rests against the vintage Boogies.
Hearing Santana's sound, other top guitarists wanted Boogies too. Because Smith personally assembled and inspected every amp, the wait time in the late '70s could be up to seven months. Keith Richards contacted Smith in 1977 and eventually purchased several Boogies over the years. (While most companies gave the Stones amps for free, Smith charged the band for his handmade Boogies due to the small size of his company at the time.) Boogies can be first heard with the Stones on side three of Love You Live taped at Toronto's storied El Mocambo Tavern. Boogies remained the Stones' go-to amps through 1993.
The four Mesa/Boogie amps pictured this month date to about 1978. The two on the left are Mark I models, while the two on the right are early Mark IIs. Featuring a hardwood cabinet and wicker grille, each amp has Mesa's classic '70s look. The price for each of these amps was about $1,200. Their current value is $1,500.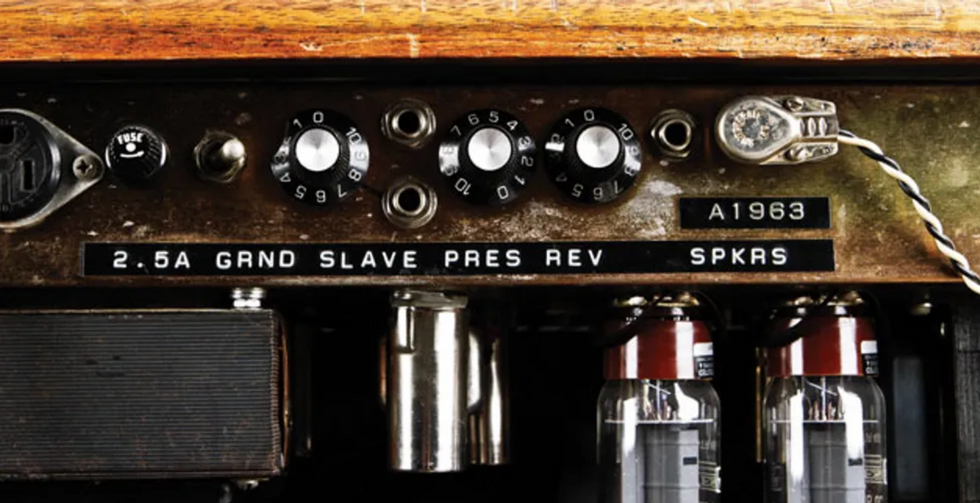 Early Boogies sported funky-cool Dymo labels. Now that's boutique!
Because Santana played such a pivotal role in early Mesa/Boogie history, we posed a 1995 PRS Santana Prototype (from the first Limited Run) next to the amps. The current value for this guitar is $7,500.
Sources for this article include Amps! The Other Half of Rock 'n' Roll by Ritchie Fliegler, Rolling Stones Gear: All the Stones' Instruments from Stage to Studio by Andy Babiuk and Greg Prevost, and an interview with Randall Smith by Trent Salter archived on Mesa/Boogie's website.
[Updated 10/12/21]