Semie Moseley's Custom Bird's-Eye Beauty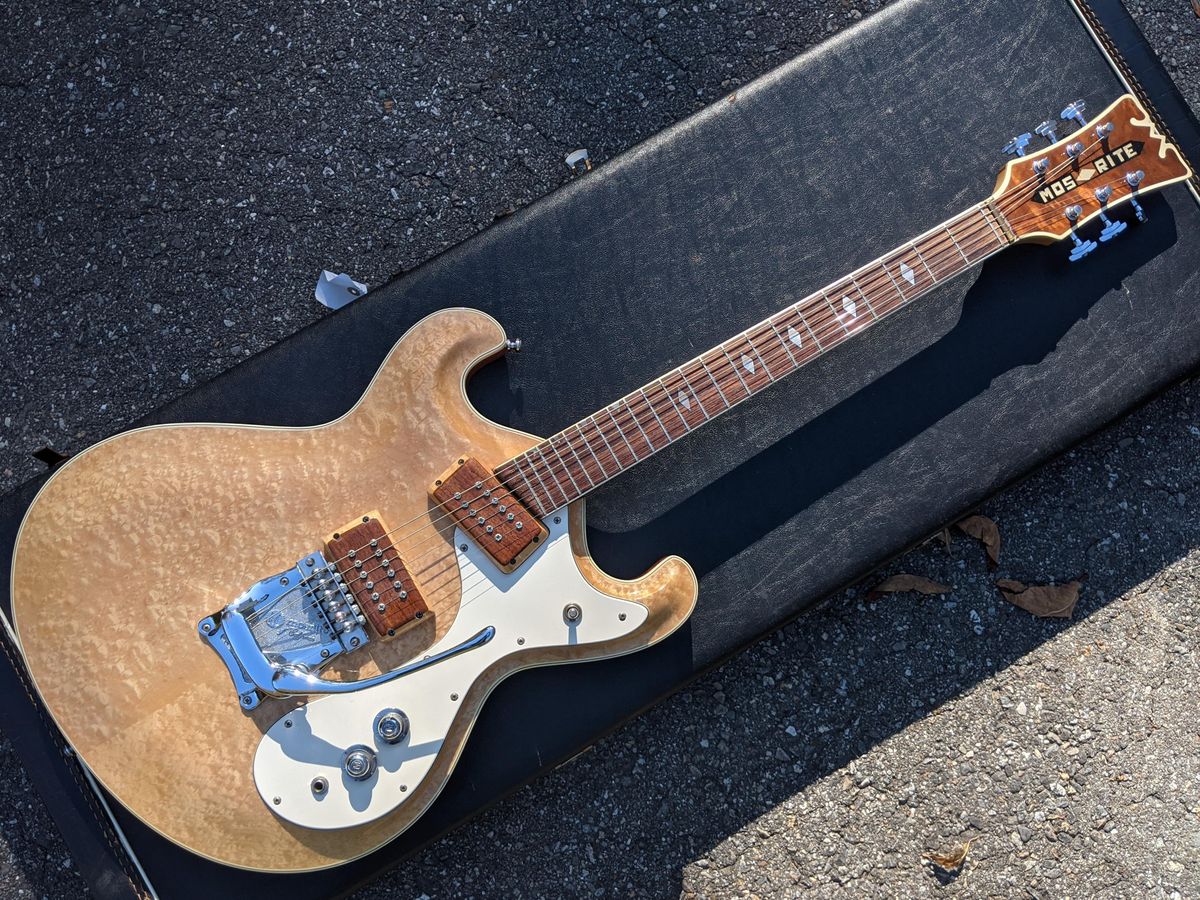 Patterned on Mosrite's Joe Maphis model, this luxurious guitar is truly one of a kind.
Before the Mosrite brand was born, its founder, Semie Moseley, was just an independent luthier trying to make a splash. In the same way Paul Reed Smith pitched his pre-factory builds to Carlos Santana and Heart's Nancy Wilson, Moseley found his first golden ticket in a Southern Californian picker by the name of Joe Maphis.
Back in the mid-1950s, Moseley got fired from Rickenbacker after making a guitar of his own. Soon after, he built a three-necked amalgamation that contained a standard guitar, an octave guitar (one octave higher), and a mandolin—all in a single solidbody electric. The goal was to attract attention, and attract attention it did.
Joe Maphis was a flashy country player who led the Town Hall Party radio show, which was beamed all over Southern California and into Northern Mexico. Maphis requested a double-neck version (without the mandolin), and from then on Moseley was a known entity, crafting about one custom instrument a month for years.
This close-up brings the brass nut, elegant binding, Grover tuners, and sterling silver headstock inlay into focus.
Later, in 1960, Maphis got a proper Moseley-made signature model, with a body that looked like an upside-down Stratocaster. In the early '60s, the Ventures—the top-selling instrumental rock group who helped codify surf music—became Mosrite's distributor. They took a Maphis-style signature guitar as their own, and created a rush of capital and orders.
Johnny Ramone's 1965 Mosrite Ventures II model fetched nearly $1 million at auction in 2021.
Business went up, business went down. Mosrite's distributor agreements and parent companies came and went. As Moseley wrote to clients and inquirers in 1986: "Some day, in the near future, the Semie Moseley and Mosrite Guitar story will be in process. It will read like a fairytale—a drama—a love story; from rags to riches—to rags—to the fight back, from one major tragedy to another, from the very beginning through its evolution to the 1980s."
But by then, despite the vagaries of the musical instruments industry, Moseley was back doing what he had always done best: building incredible custom guitars. And that's where we pick up the story for this month's Vintage Vaultfind.
Walnut pickup rings machined to match the bird's-eye maple body surround these split-coil humbuckers.
After Maphis' death in 1986, Moseley created this one-of-a-kind beauty for a friend, Ross Coan Jr. While standard Joe Maphis models had spruce tops and single-coil pickups, this Maphis-style custom build has a bird's-eye maple top and unique split-coil humbuckers. But it retains the bound neck and beveled edges that Moseley must have learned first-hand from Rickenbacker's Roger Rossmeisl, along with the angled neck pickup, metal nut, dual-knob, and 3-way pickup-selector switch of Moseley's previous models. And the headstock and fretboard inlays are sterling silver.
Take a look at those pickup rings, too, which—unlike pickup rings on nearly any other custom guitar—are remarkably gorgeous and carved out of a wood that perfectly complements the maple top. Obviously, Moseley put a great deal of care and consideration into this build. He even stamped the name and date of birth of his friend at the very last fret and inscribed the back of the headstock: "Hand made for Ross Coan Jr. by Semie Moseley 1986."
It's impossible to put a price on what this guitar would've cost back then. Whether it was a gift or a commission, it was a labor of love—a late-career testament to Moseley's guitar-building prowess.
The back of this unique guitar is made of figured walnut.
George Gruhn writes that Moseley's pre-Ventures custom guitars are highly sought-after by collectors. Johnny Ramone's 1965 Mosrite Ventures II model fetched nearly $1 million at auction in 2021. But most production-era Mosrites—those that were notplayed by famous musicians—often sell on Reverb in the range of several thousand dollars.
Moseley signed and dated the headstock of this guitar built for his friend Ross Coan Jr.
This custom build from Moseley himself, who died just a few years later, in 1992, is currently listed for $12,500.
Sources include Reverb listings and pricing data, American Guitars: An Illustrated History by Tom Wheeler, and Gruhn's Guide to Vintage Guitars.