Trash or Treasure: A Look at the National Newport 50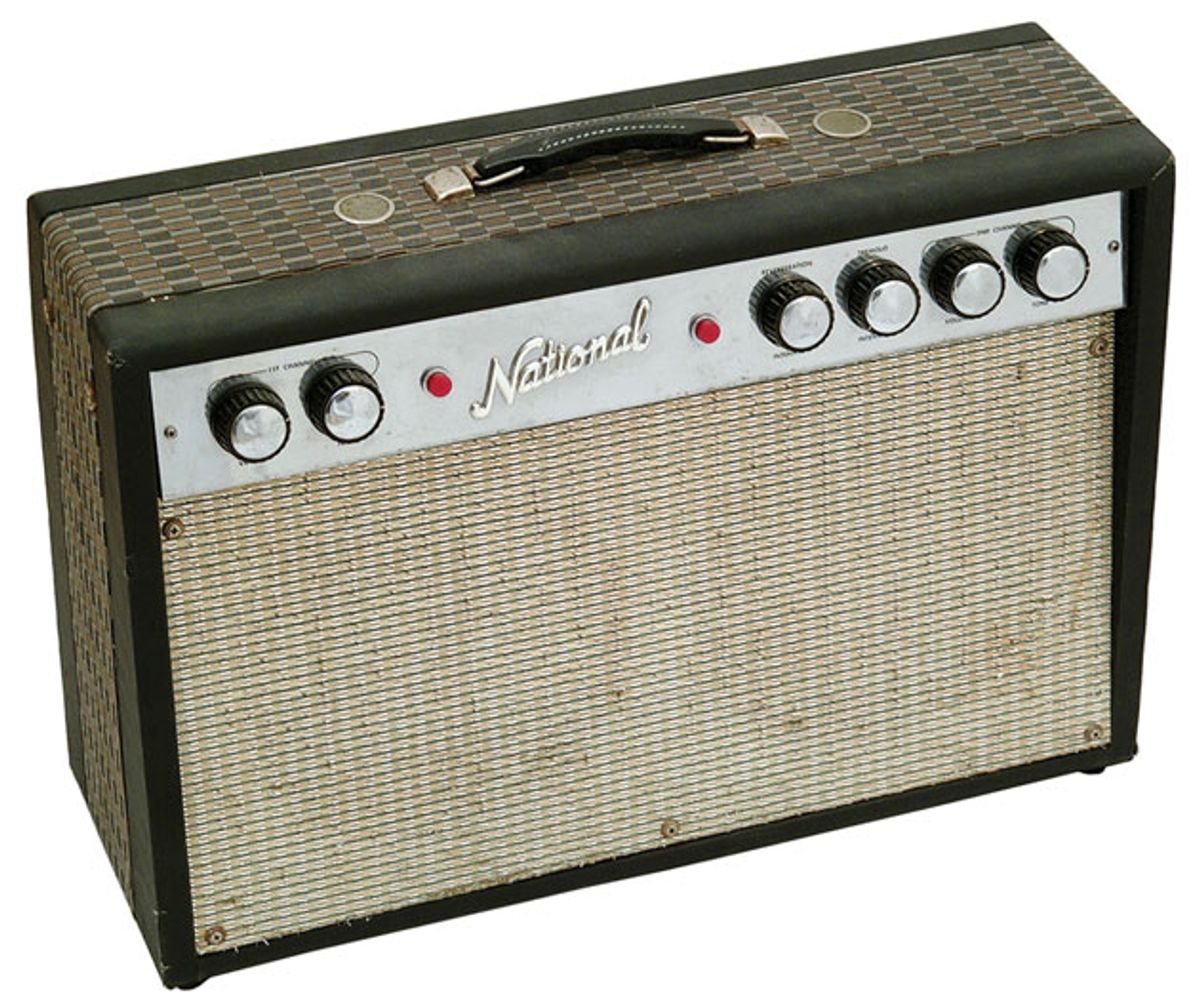 A reader scores a $50 treasure at a rummage sale.
Hey Zach,
I was checking out some rummage sales with my wife and happened upon this National guitar amplifier. I suspect the family who was holding the sale didn't know what they had as I picked it up for $50. It was an estate sale of various items, but this definitely stood out to me since I'm a recreational guitarist. Everything on the amp works, except that a few of the knobs make a scratching sound when turned back and forth. Can you affirm my suspicions that I found a deal?
Thanks,
Ned in Green Bay, Wisconsin
Hi Ned,
While I'm fairly confident you would get your $50 back (and then some) if you decided to sell this amp, let's take a look at it first. National amps came from the same National brand of Dobro resonators, but the amp you have is hardly designed to be used for bluegrass. It's a fitting brand name, however, since National's resonator guitars represent some of the first forms of amplification.
National ventured into guitar amplification—sans electronics—when guitarist George Beauchamp approached John and Rudy Dopyera (the founders of National) with an idea on how to increase the volume of guitars that were getting lost in the large orchestras of the late 1920s. He suggested putting an aluminum resonator in the guitar body to help "resonate" the sound, which is where the name came from.
Modern amplifiers powered by electricity began to appear in the 1930s, thereby almost rendering the resonator obsolete for its intended purpose only a few years after it was introduced. However, resonators found a niche with bluegrass players and continue to be popular today.
Modern amplifiers powered by electricity began to appear in the 1930s, thereby almost rendering the resonator obsolete for its intended purpose only a few years after it was introduced.

National followed suit and introduced an electric amplifier in the 1930s called the National Dobro. Ownership of National then changed many times in the 1930s and early 1940s before Victor Smith, Al Frost, and Louis Dopyera partnered and changed the name of the company to Valco in 1943. Valco produced National amps, but they also built amplifiers and instruments for other distributors/suppliers under different names including Supro, Oahu, Gretsch, and Airline. It's not uncommon to find the exact same amplifier produced under several different trademarks.
Your newly acquired Newport 50 is from National's line of amplifiers introduced in the early 1960s, around the same time they released their unique Res-O-Glas electric guitars (one of which is also called a Newport). These amps were very attractive and instantly recognizable with their random-colored stitching and black covering combination, and light brown/gray grille. They were offered in many power levels with varying features and price points, so there was a National amp for just about everyone.
The Newport 50 falls in the middle of National's lineup. Somewhat similar to the Fender Super in terms of power, speaker size, and features, the Newport 50 provided the intermediate guitarist with everything they should need in an amp. Specifications include 17 watts of power, dual 10" Jensen speakers, an 8-tube chassis with four 12AX7s and one 6973 for the preamp, two 6973s for the power amp, and a 5Y3 for the rectifier.

A visit to an amp tech for a re-tube and tune-up will have this classic back to like-new operation.
Other features include reverb and tremolo, and six knobs on the front panel consisting of individual volume and tone controls for each channel and controls to dial in reverb and tremolo intensity. There are four inputs (two per channel) located on the rear panel, along with a tremolo speed-control knob and inputs for the 2-button footswitch for the tremolo and reverb.
These amps were produced until about 1967 or 1968 when the entire line was replaced by a new and more powerful series. These new amps only lasted a year or two before Valco went out of business, and the National name ended up with Strum 'N Drum—an importer in Chicago without any manufacturing facilities. They offered one amp called the GA 950P, a solid-state model that effectively ended production of National amplifiers for good.
Being among the most recognizable and arguably the most popular National amplifiers, your amp represents one of the most valuable in terms of collectability. Currently, a National Newport 50 is worth between $800 and $1,000 in excellent condition. Since your amp likely sat for many years, it probably needs to be cleaned and tuned up. Potentiometer scratching is very common—especially in amps that have sat at length—and this can be remedied with some contact cleaner. If that doesn't work, the pots can simply be replaced. For a few hundred bucks, you could get this amp re-tubed and cleaned so it operates like new.
Based on current value, I'd estimate you stand to make at least a $500 profit on your $50 investment if you get it tuned up. This is indeed a treasure for you, although the people that held the rummage sale might disagree!