Victory Amplifiers Introduces the Silverback and Countess
The Silverback is descended from Victory's existing 50-watt The Earl model.
London, England (April 17, 2014) -- Developed with Dorje frontman Rob 'Chappers' Chapman, the Silverback is descended from Victory's existing 50-watt The Earl model, and has two footswitchable channels that cover high-headroom clean, classic crunch and crushing overdrive tones. It also has in-built spring reverb and a parallel effects loop with FX mix control.
The Silverback delivers the ultimate blend of sounds and features from Rob's favourite amplifiers to date. Rob has also come up with an ingenious removable magnetic 'Knobguard' that keeps settings safe when the amp is on stage, and also offers extra protection during transportation. There's also a flip-up top grille to enable quick access for valve changes. The amp comes as standard with EL34 power valves, that can be swapped for 6L6es with an associated bias range switch. The Silverback delivers all the power, reliability and tonal flexibility for heavy rock and metal players, not least Chappers himself!
Specs:
Format: Two-channel, all-valve 50-watt head with footswitchable gain boost in overdrive channel, and pull crunch in clean channel
Power: 50-watts in high-power mode, switchable down to 15 watts in low power
Valves: 4 x 12AX7, 1 x 12AT7, 2 x EL34 (switchable to 6L6)
Extra features: Pull crunch for clean channel, gain boost for overdrive channel, spring reverb, effects loop with wet/dry mix control, high/low power switch, selectable output bias for EL34 or 6L6 power valves, 'magnetic 'Knobguard', flip-up valve access grille, two carry handles
Size (mm): 567(w) x 250(h) x 260(d)
SRP pricing, April 2014: £1,899 (British pounds sterling) incl VAT / $2,899 (US dollars) / €1,899 (Euro)
Watch the company's video demo: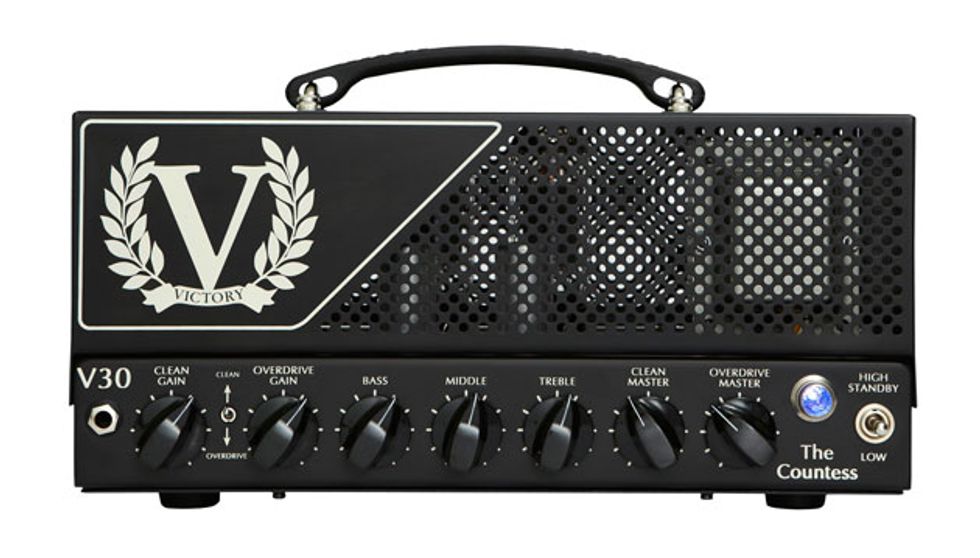 Victory V30 - The Countess
A huge range of clean, crunch and lead tones in a two-channel, all-valve design, developed with the help of Guthrie Govan as his 'flying amp'. The power section offers four configurations from 2 to 30 watts, giving you the ultimate package of portability and flexibility. The Victory V30 Countess is the little amp with a huge voice to cover all your playing needs.
Watch the company's video demo:

For more information:
Victory Amps