The ragged rockers still love their Teles and Fender combos, but they've added a rare Gibson and ... a bouzouki!
Deer Tick was started by self-taught multi-instrumentalist John McCauley as a solo songwriting endeavor in 2004. The band's instant, ear-perk appeal is McCauley's wiry, craggy voice narrating personal hardship and loss. When you hear Deer Tick albums, the honesty that pours out of the speakers punches your gut and tears your heart.
---
Originally touring with a revolving cast of supporting musicians, McCauley solidified his rhythm section with half-brothers Dennis Michael Ryan (drums) and Christopher Dale Ryan (bass) before finalizing things with Ian Patrick O'Neil on guitar in 2009. The band's staying power and relevance is rooted in their ability to cross-stitch ringing hi-fi Americana harmonies and lo-fi alt-country vibes with melancholic Nick Drake moods and trouncing honky-tonk rumblers with tattered rockers perfect for Iggy or Kurt. That amalgamation is both timeless and contemporary. (It's worth noting that McCauley—a self-proclaimed Nirvana nut—sang and played guitar alongside surviving members Dave Grohl, Krist Novoselic, and Pat Smear during Cal Jam 2018.)
Before Deer Tick's co-headlining show with Delta Spirit at Nashville's Brooklyn Bowl, McCauley (vocals/guitar) and Ian Patrick O'Neil (guitar/vocals) chatted with PG's Chris Kies. The conversation covered Teles (and why they're the duo's current favorites) and how Fender combos have always factored into the band's sonic scripts for stage and studio. Plus, both pickers provided a quick-and-dirty sampling of their stomp situations.
Brought to you by D'Addario XPND Pedalboard.
Stove-Top Tele
Deer Tick founder John McCauley picked up this 1978 Fender Telecaster Custom about 10 years ago at a small shop in Lawrence, Kansas. The pickups were original, but they were noisy boogers. Opting to solve the problem himself, McCauley fired up his stove and attempted wax-potting them. The cherished Wide Range neck pickup was a success. However, the stock bridge single-coil was a disaster. To salvage the guitar, he took it to Nashville's Corner Music and had a tech put in the closest option to the original. (McCauley notes in the Rundown he's unsure of the make or model.)
As for falling for a traditional instrument, here's what he had to say: "I sat in with the Quick & Easy Boys, from Portland, Oregon, when they were playing in Baltimore, and Jimmy [Russell] gave me his Telecaster. I was just able to do things differently and play better. I attribute that to the Tele neck."
McCauley plays D'Addario NYXL .010s on this and his other standard-tuned guitars.
Drake Droner
McCauley assembled this parts Jazzmaster with an Eastern hard-rock maple body and neck from Warmoth. He took on the venture in 2003, after attending a guitar-building class at Noll Guitars in Cranston, Rhode Island. The dense offset rides in an open Csus4 tuning (C-G-C-F-C-F) that McCauley copied from Nick Drake. The Black Dirt Sessions' "Mange" was the lone Deer Tick song he wrote in the tuning for the longest time, but "Sea of Clouds," and "Jumpstarting" have since joined the fold. The seafoam green machine rides with a custom set of D'Addarios (.010, .013, .024, .032, .046–.056.). The pickups (brand not known) are actually P-90s in Jazzmaster-style housings.
Less Paul, More Octaves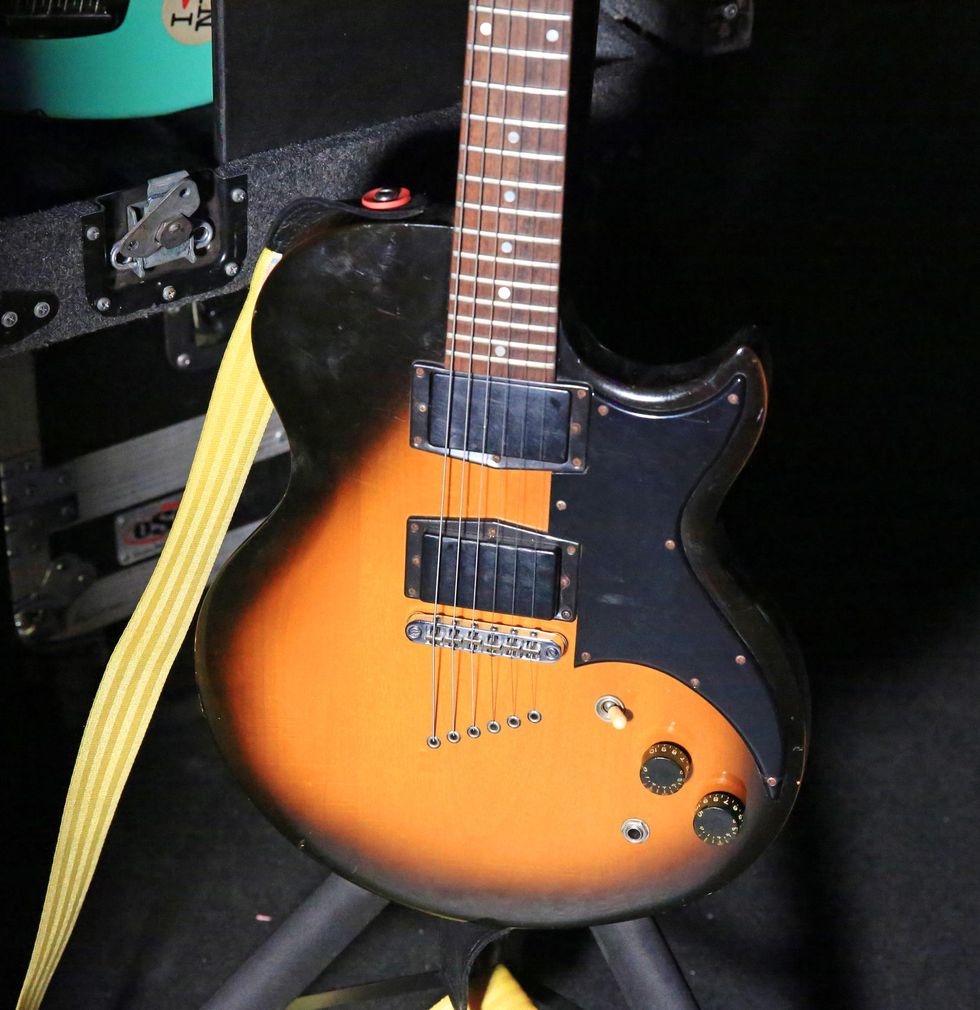 This 1970s Gibson L6-S is McCauley's back-up guitar for standard-tuned songs. He scored it in the early 2000s at a Guitar Center in North Attleborough, Massachusetts. He's enjoyed bonding with the unusual Les Paul relative, which happens to be Gibson's first singlecut offering with a full, two-octave 24-fret neck. Sometimes he'll drop the G-string to E for the song "Don't Hurt."
McMauley's Moonbird
McCauley had toured with an acoustic Gold Tone BZ-500 bouzouki, but had always wanted to electrify the Greek instrument. As luck would have it, he found this Luna Guitars Moonbird model and has since brought it on several Deer Tick runs.
Super for Stage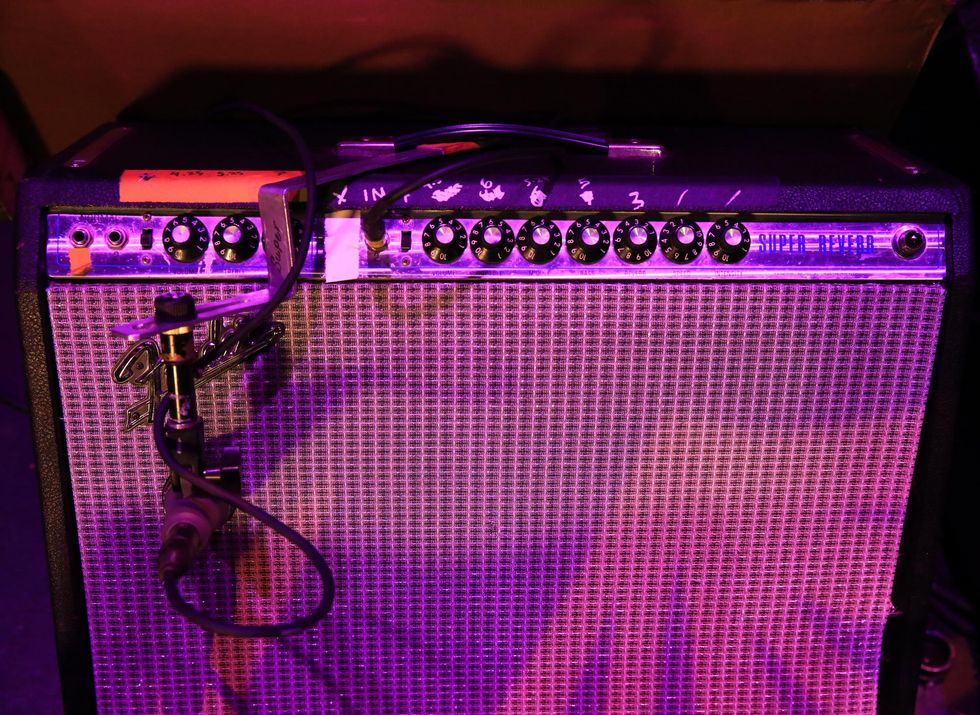 On recent Deer Tick albums and other projects, McCauley has preferred plugging into a 15W Fender Bassbreaker 1x12 combo that runs on EL84s. When it comes to performing, he opts for more power and punch by touring with this 1970s Fender Super Reverb 4x10.
McCauley's Minions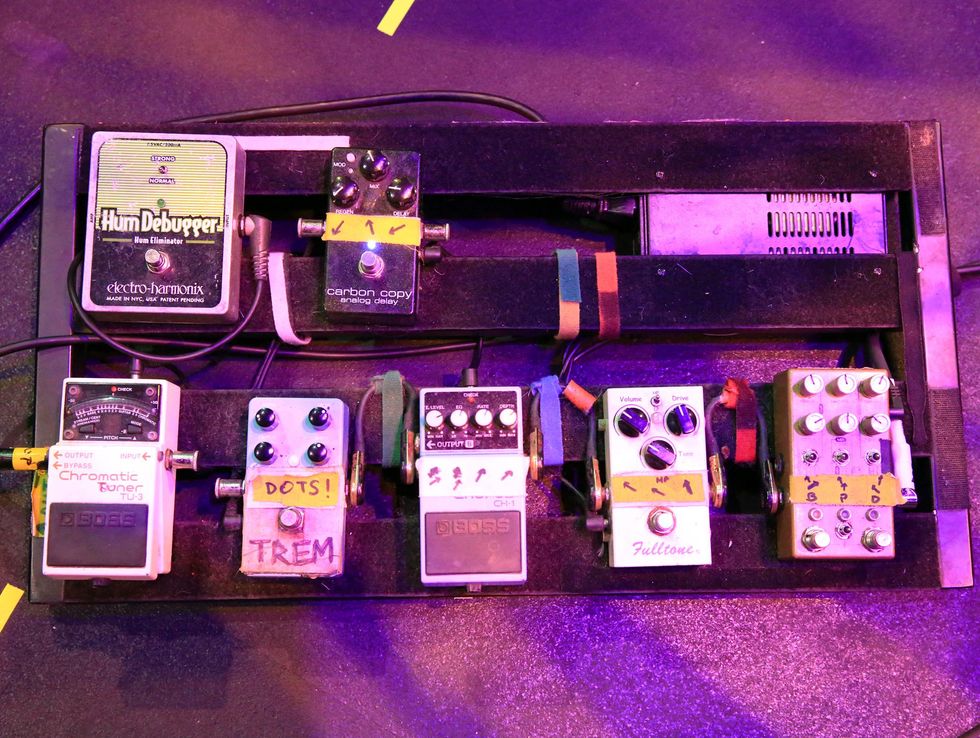 "I'm not much of a boutique pedal guy," admits McCauley. "But I have one nice pedal, and that's the Chase Bliss Brothers." He has one side of the complex gain-stage pedal set for boost and the other side for overdrive. He does usually have the boost section on to push the Super in a pleasing way. The Fulltone OCD is on hand for any solos. The self-proclaimed Nirvana fan never leaves home without the Boss CH-1 Super Chorus and gets slippery during "The Dream's in the Ditch." The Catalinbread Valcoder Tremolo is a favorite because he can control the input and output volumes, making sure it doesn't get lost in the mix. The MXR Carbon Copy is set for a slapback delay. McCauley mostly employs single-coil guitars and has the Electro-Harmonix Hum Debugger for noise issues. And to keep his guitars in check, he trusts a Boss TU-3 Chromatic Tuner.
Time for a Tele
"Pre-pandemic I was pretty much just playing '80s Fender Japanese Strats with handwound Custom Shop Josefina Campos Fat '50s Stratocaster single-coils," mentions Deer Tick guitarist Ian Patrick O'Neil. "I don't know what happened over that year and half, but when we got back together and going through our guitars in a storage unit, I just loved this Tele again." The reconnected friend is a Fender Vintera '50s Telecaster Modified that came stock with Custom Shop single-coils. Similar to his 6-string counterpart, O'Neil puts D'Addario NYXL .010s on all his standard-tuned guitars. And he gets busy with Dunlop Tortex Standard .73 mm picks.
A Sneaky Strat-y Tele
For any songs that require a capo (like "The Dream's in the Ditch" where O'Neil steps out on lead vocals), he'll put on this Fender American Professional II Telecaster that's been modded with fresh Lollar pickups—a Vintage T Bridge and a Royal T Neck. Its alnico-5 magnets and custom-nickel pickup cover aim to give a springy, 5th-position Strat sound.
Jazzmaster in D
Here's O'Neil's Fender Classic Player Jazzmaster Special that was simplified with the removal of its lead/rhythm circuits. The surgery was done by longtime guitar tech and pal Domenick Panzarella, based in Providence, Rhode Island. This one sees stage time when the band moves into drop-D territory for songs like "The Rock."
Stimulus Stock Up
O'Neil scooped this 1970s Guild D-40 Bluegrass Jubilee with his Covid-19 relief money distributed by the U.S. government during 2020. He bought it off a guy in a Planet Fitness parking lot.
Tweed Me
On previous Deer Tick tours, O'Neil was lugging around a silver-panel '70s Fender Twin Reverb that was altered to approach a more black-panel sound, with lower headroom and quicker breakup. But after seeing the world a few times, it became farty and muddy. Fender's Michael Schulz offered O'Neil a handwired Fender '57 Custom Twin-Amp and he hasn't looked back.
Ian's Instigators
O'Neil's board offers a similar recipe to McCauley's (MXR Carbon Copy and Fulltone OCD), but their ingredients do vary. The different spices include a Black Cat Mini Trem, Jam Pedals Rattler distortion (extreme solos), TC Electronic Hall of Fame reverb, and an MXR M234 Analog Chorus. An LR Baggs Para DI Acoustic Guitar Preamp/DI works with the Guild D-40, while a pair of Boss TU-3 Chromatic Tuners keep his electrics and acoustic in line.