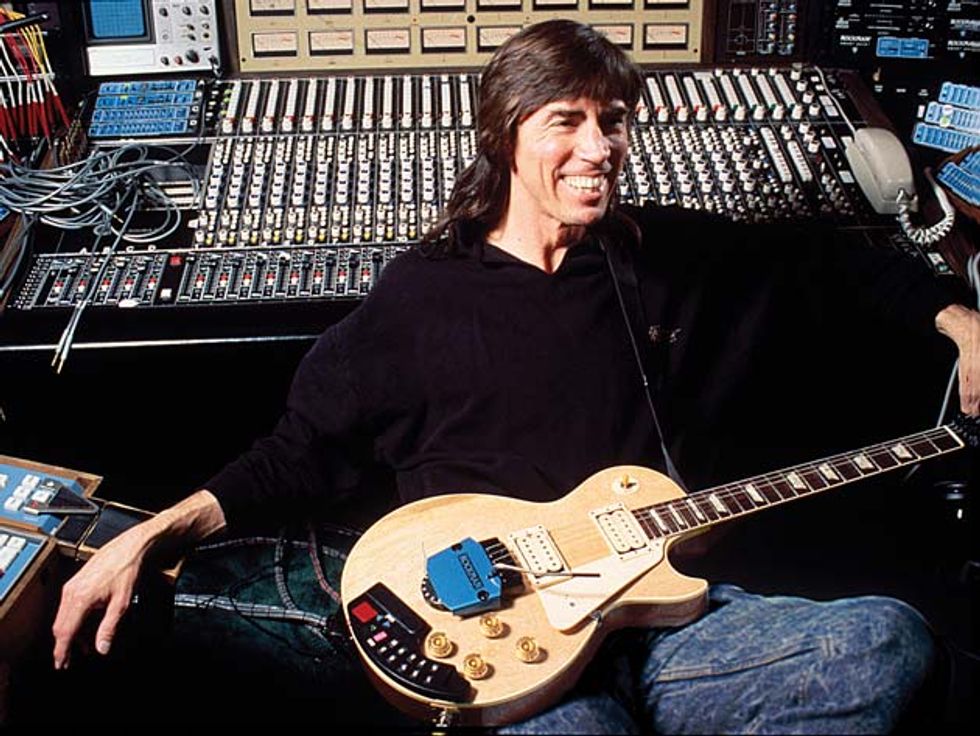 Tom Scholz attributes the 11-year wait for Boston's latest album, Life, Love & Hope, to his penchant for perfectionism and tinkering in the studio. "I'm surprised I got it done at all," he jokes. He's pictured here with his trademark '68 stripped goldtop Les Paul equipped with some kind of Rockman invention.
Prior to the late 1970s, guitar practice gear tended to produce small and inferior sounds. But then, the MIT graduate and Polaroid engineer Tom Scholz pioneered the Rockman—a pocket-sized headphone amp producing such robust analog effects as compression, distortion, cabinet simulation, chorus, and reverb. This development of course helped pave the way for digital plug-in-and-play hardware, software, and even free apps that today make it possible for a guitarist to instantly harness any sound imaginable—technology that, ironically, Scholz isn't particularly that fond of. "Don't get me started on the many shortcomings of digital sound," he says.
Scholz is perhaps best known as the pioneering member of the arena rock band Boston. The group's roots date back to the mid-'70s, when Scholz spent a fortune assembling a recording studio in the basement of his Watertown, Massachusetts, apartment, holing up there when he wasn't working at Polaroid. With the assistance of vocalist Brad Delp, Scholz painstakingly assembled the demos that in 1975 would land him a contract with Epic. These tapes would form the basis of the band's eponymous 1976 album, featuring Delp and Scholz along with guitarist Barry Goudreau, bassist Fran Sheehan, and drummer John "Sib" Hashian. It was one of the best-selling debuts in history, selling more than 17 million copies.
With such massive-sounding songs as "More Than a Feeling," "Peace of Mind," and "Foreplay/Longtime," Scholz built a template that would make Boston a staple of classic rock radio stations. He also arrived at a signature guitar style balancing searing harmonized lead lines with more introspective arpeggio work. But because of his tendency to record many variations of even the smallest details in a song, tirelessly experimenting until he found a magical combination of sounds, it was two years before Boston released its sophomore album, Don't Look Back (1978), and eight years between the subsequent albums Third Stage (1986), Walk On (1994), and Corporate America (2002).
"When people first heard 'Last Day of School," they thought I was playing Schubert, but I had to set them straight—'No, I'm playing Scholz!'"

Boston fans who've waited more than a decade for the group's latest release, Life, Love & Hope, will not be disappointed by the album's nostalgic sound, courtesy of Scholz's vintage gear, much of which has been in service since the debut album; by the posthumous presence of Brad Delp, who died in 2007; and by a handful of departures from the Boston template, such as female singers and flamenco-inspired acoustic work. "I don't think you can repeat the same thing over and over again and still consider it art," says Scholz. "You've got to step out and take some risks."
The new record seems to reference vintage Boston. Was this intentional?
Not exactly. I wasn't trying to recreate the good old days of early Boston releases, but I guess there's a bit of a throwback to the original recordings. Some artists cringe at their earliest efforts, but I'm not like that. I'm still very proud of the first Boston album, and I absolutely love "More Than a Feeling," so I'm always thrilled when my new work reminds me and others of previous things.
How would you say you've evolved as a musician since those days, both as a guitarist and composer?
I'm not sure whether I've evolved or devolved! [Laughs.] But what I'm doing now is probably different than what I was doing 30 years ago. I might not have made the most noticeable leaps and bounds as a musician, but I've tried an awful lot of different things and had an enormous amount of experiences as a human being, and these things have definitely manifested themselves in my music.
How so?
For instance, the song "Sail Away" is a reaction to the horror of how badly humans reacted following Hurricane Katrina—how horribly people were treated because of economic and racial reasons. It was a travesty, a sad and terrible commentary on human nature and on those who control our society. I was deeply affected, and it ended up being the subject matter for that song. Things both bad and good generally end up being the impetus for me to write or not write something.