Three Lilliputian Loopers Reviewed
The rise of the compact, entry-level looper is one of the most exciting pedal trends in recent memory. Increasingly plentiful in the last two years, these devices not only make looping more accessible from a budgetary standpoint, but they've demystified a tool and process that has probably looked a bit geeky to a lot of casual and traditional players.
The entry-level loopers showcased here are a little like economy cars. They're simple, they're cheap, and in many fundamental ways they're very similar. Still, each has its merits that will appeal to different kinds of players. These aren't the only compact loopers out there. Electro-Harmonix recently released the 360 Nano looper, and we've reviewed both of TC Electronic's excellent Ditto loopers. Here's what's most appealing about all these units: They don't require a 30-page manual. And despite their simplicity, they can deliver a wealth of real musical surprises.
Hotone Wally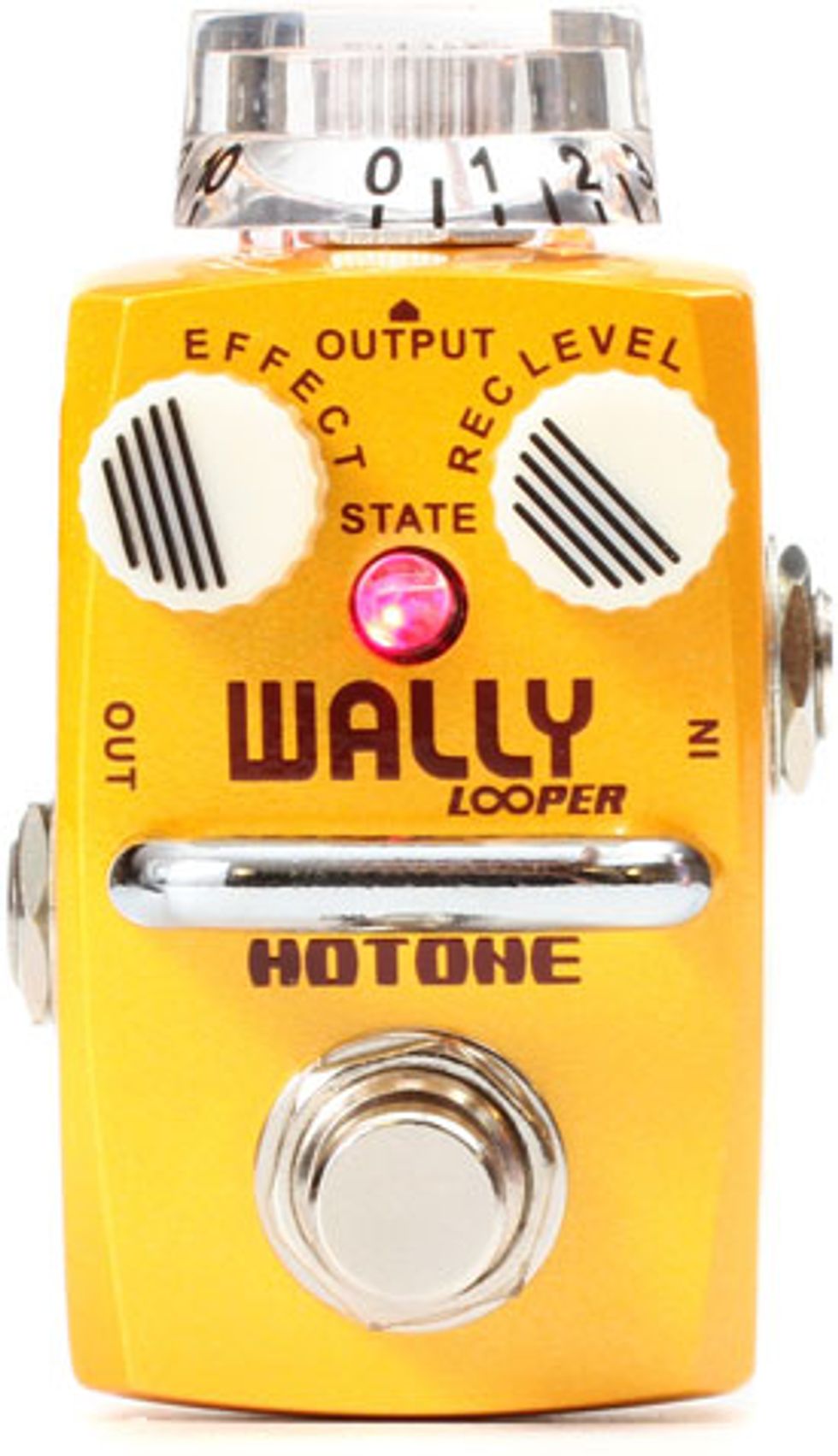 Throw any of Hotone's tiny stompboxes in a roundup and it will probably take the prize for cutest pedal in the mix. That's certainly the case with the Wally looper. You could easily mistake this little yellow dude for a Matchbox car and toss it into your kid's toy bin if you weren't careful. But you'd be quick to miss the simple functionality of the microscopic looper if you did. The Wally is a breeze to use, relying on conventional one-step-to-record, one-step-to-play, one-step-to-overdub, two-step-to-stop functionality. The only operating challenge intrinsic to the Hotone comes from the top-mount placement of the loop level control, which makes adjustments with your sneaker more difficult.
Switching is immediate and easy to time just right, and you can overdub limitlessly right up to the memory capacity (which tops out at about 15 minutes worth of captured sound). The record level function lets you track layers of varying volume when stacking loops, and if you're clever, this layering flexibility lets you really control the complexity of a loop composition. But the most interesting function on the Wally is the tempo control, which will slow and lower the pitch of your loop or speed it up and raise the pitch. While its practical applications may be limited, the tempo control lends a cool dose of freaky potential to a looper that's super-practical in terms of size and function, and uncommonly potent if you're an experimentalist on a budget. —Charles Saufley
Ratings
Pros:
Super small. Super simple. Built like a little rock.
Cons:
Might be so small you lose it in your gig bag. Hard to adjust looper level on the fly.
Street:
$89
Hotone Wally
hotoneaudio.com
Ease of Use:


Build/Design:


Value:


DigiTech JamMan Express XT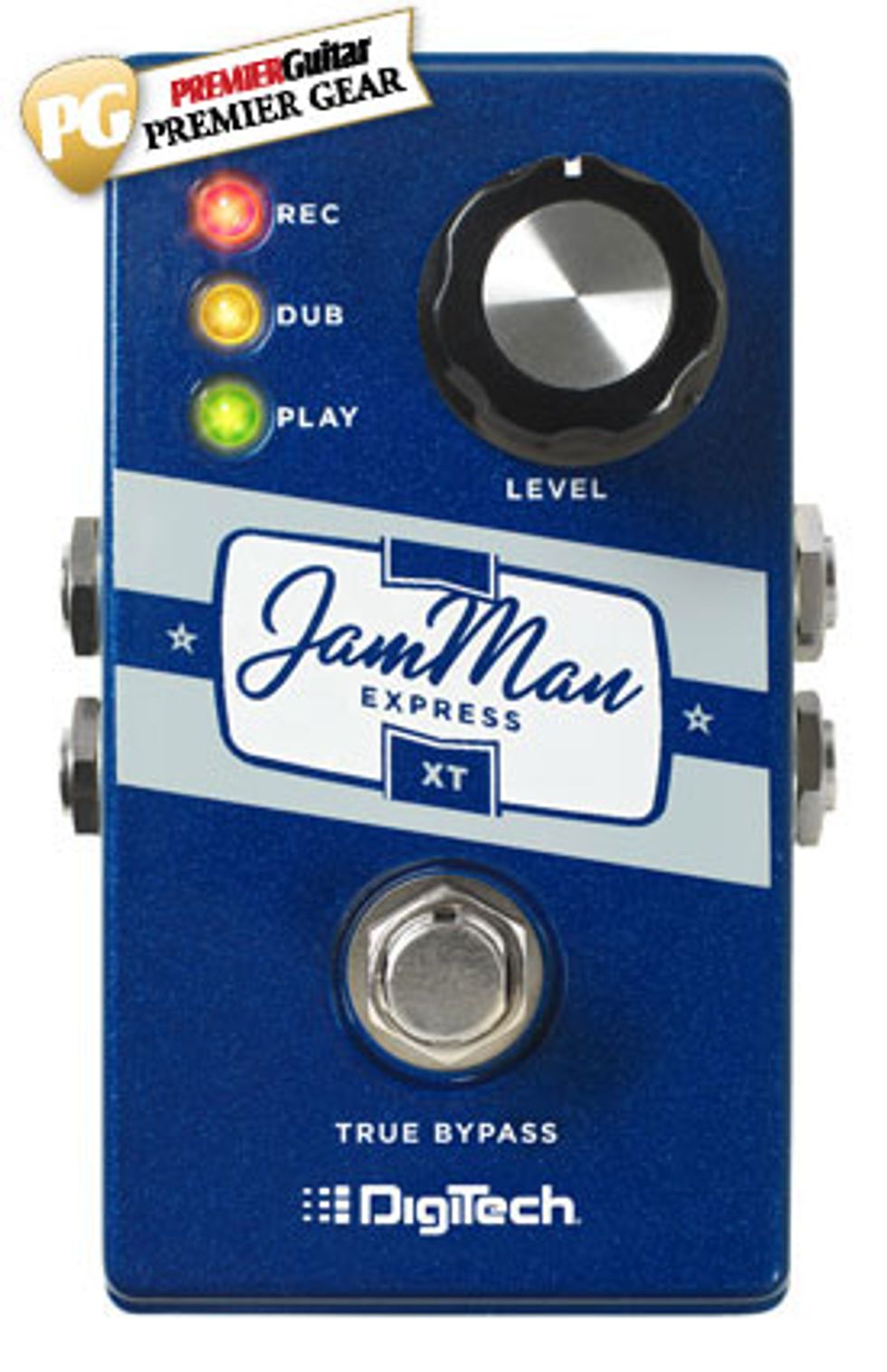 The name JamMan is synonymous with looping, so DigiTech's contribution to this compact category—the JamMan Express XT—is no real surprise. The original JamMan was a hit, in part, for the quality with which it recorded and played back loops. The Express XT makes no concessions on this front. It converts audio at 24 bit and samples at 44.1 kHz, which means that unless you have the ears of some hyper-auditory alien race, you won't be griping about fidelity. You won't complain about operating the Express XT either. Recording, overdubbing, stopping a loop, and clearing a loop are all controlled via the same one-tap, two-tap, and hold actions that have become a standard for simple loopers.
The Express XT is clearly designed with stage use in mind. The loop level knob is big enough to adjust with your foot and offset for easy access. The individual colored LEDs that indicate record, overdub, and play modes are bright and logically arrayed. Other features geared to more experienced loop aficionados include the JamSync function, which lets you sync loops of different lengths from two Express XTs or other JamMan loopers. The stereo I/Os help make the Express XT capable of huge soundscapes—especially when you add a second instrument and amplifier. —Charles Saufley
Ratings
Pros:
Stage- and performance-friendly controls and I/O features. High fidelity. Can run on 9V battery.
Cons:
Short battery life.
Street:
$99
DigiTech JamMan Express XT
digitech.com
Boss RC-1 Loop Station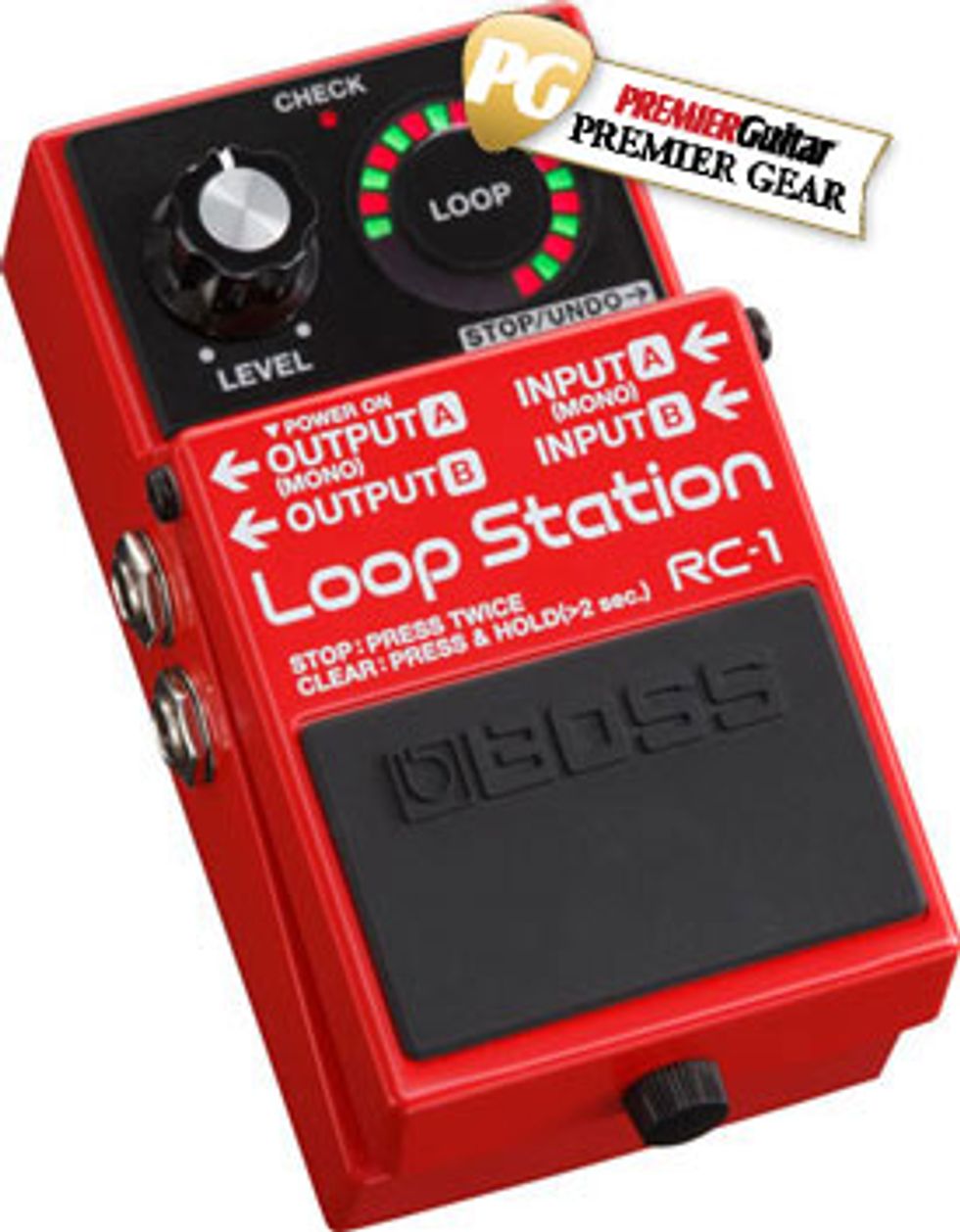 Like DigiTech, Boss is a venerable player in the looping universe. The original LoopStation is among the standard bearers in the category, and it has spawned smaller and simpler cousins of late. The newest and simplest and most affordable is the RC-1. Like most Boss pedals, it feels stout, sturdy, and destined to live on your pedalboard until it's a filthy beer-and-dust-encrusted vintage specimen. The RC-1 uses Boss' classic switching mechanism, which can feel just a hair less precise and immediate than other looper switches, though it almost never translates to an ill-timed loop maneuver. A lot of players love the touch of the Boss switch for looping, and it pays to try one out to see how it suits your own sense of touch.
Elsewhere the Boss is brimming with performance-oriented features. The loop level knob is offset so you can make quick adjustments with your foot. And the unique LED light wheel is a clever tool that's illuminating in two ways: Not only does it indicate mode, but it also offers a visual representation of loop length and start point. The latter function can be a valuable asset when stacking loops amid the cacophony of a band. —Charles Saufley
Ratings
Pros:
Sturdy enclosure. Practical and clever status/loop time light wheel.
Cons:
Some players might find the switching a bit vague.
Street:
$129
Boss RC-1 Loop Station
bossus.com