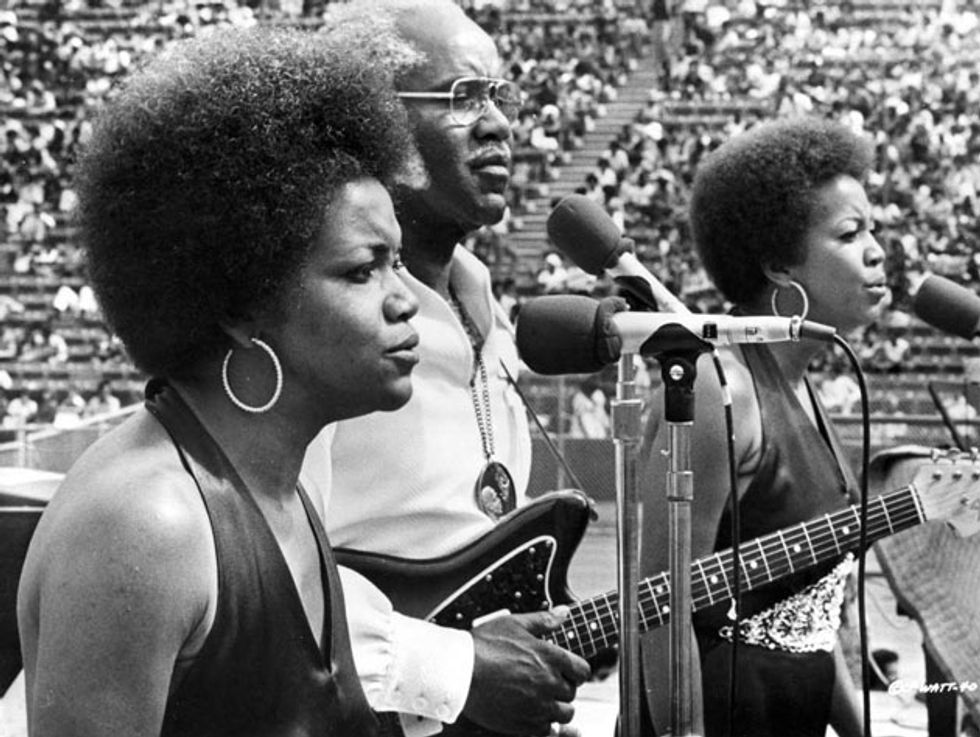 Pops Staples plays his Jazzmaster onstage with the Staple Singers circa July 1971.
Hallmarks of Style: Pops Staples' Guitar
Pops Staples' deceptively simple guitar style seamlessly combined strumming with bass lines and picked melody notes, all rendered with a vibe-heavy groove.
When bluesman Rick Holmstrom took the job as Mavis Staples' guitarist, he brought the spirit of Pops' without feeling the need to be a carbon copy. Mavis was onboard with that, deriving new inspiration from his personal approach. Nevertheless, Holmstrom has studied the gospel patriarch's style in great detail.
"Watch him on videos, where he's playing E7 in root or 'cowboy' position," says Holmstrom. "He may be tuned down to D and capoed up to Eb, depending on the time period, so I took one of my Teles and tuned it down a whole step—it gets the spookiness down there. Pops would take that first position E chord and pick out little melodies with his pinky on the high E and B strings He might also be doing a hammer-on on the D string from D to E,or from Ato B on the A string. Sometimes he would slide up to the root on the A string. He might have had an alternating thumb bass going on the low strings, but it was not strict like with country guitar.
"You can hear Charlie Patton, Son House, and Big Bill Broonzy in his playing. People have laughed at me when I say he reminds me a little bit of Scotty Moore, but he was not all blues. On 'Suzie Q,' James Burton plays that E7 chord with a little lick, and it sounds like something Pops would've done. Pops wasn't any kind of great technician, but he had this great vibe."
For Marty Stuart, seeing Pops Staples play in The Last Waltz was revelatory. "After that, I became enamored of the Vee-Jay recordings," he says. "I have always been a fan of a guitarist who can take two notes and wreck you."
"It's real heavy—one of the solid ones," says (Marty) Stuart. "I've tried to play country and rock on that guitar, and it won't come out. But as soon as I play gospel, it comes to life."
Stuart met Staples when working with the Staple Singers on the Rhythm Country and Blues record, and was quickly adopted by the family. When Pops died, Mavis and Yvonne gave the country star the rosewood Fender Telecaster Pops played in The Last Waltz. Stuart has compared it to being handed Excalibur.
"It's an instrument of light and truth," says Stuart. "When I put that guitar on, there is a responsibility that falls around my neck. I left it tuned down to Eb, the way Pops played it."
The guitar started off with standard Telecaster pickups but, according to Stuart's co-guitarist, Kenny Vaughan, was later modified with a Fender Wide Range Humbucker and 6-way brass saddles.
"It's real heavy—one of the solid ones," says Stuart. "I've tried to play country and rock on that guitar, and it won't come out. But as soon as I play gospel, it comes to life."
Stuart recalls one time when Pops visited Nashville. "Pops called and said, 'Marty, I need two things: a Fender '65 with a shake on it and a stretch-out car.' I said, 'No problem,' and then I called Mavis and asked, 'What is a Fender '65 with shake on it and a stretch-out car?' She said, 'Oh Marty, that's a Fender amp with tremolo and a limousine.' [Laughs.]"
Stuart beautifully summarizes the elusive magic of Pops' playing: "It's like trying to tell somebody about the Grand Canyon if they've never been there, or explain a dream you had last night. Sometimes when you can't analyze something, the best thing to do is to shut up and let it entertain and inspire you."