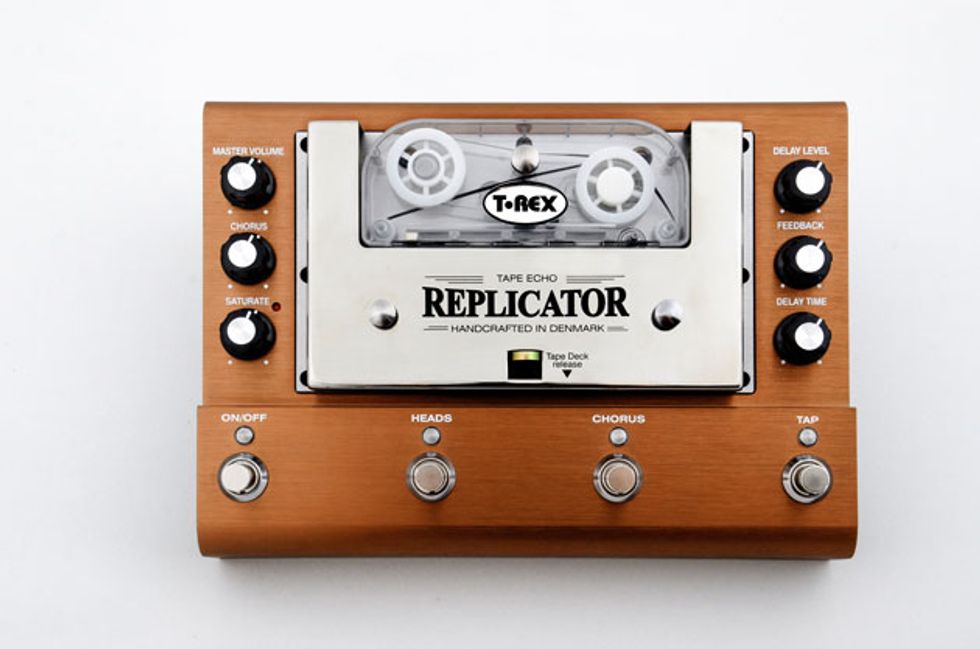 C
Vejle, Denmark (December 15, 2015) -- Danish pedal manufacturer T-Rex Effects is now shipping is much-anticipated Replicator analog tape echo pedal.
Initially unveiled as a prototype at the 2015 NAMM Show, the very first production units of the made-in-Denmark pedal rolled out to distributors and dealers last week.
With Replicator, the unmistakable and inimitable qualities of a pure analog tape echo are paired with modern features - some of which have not previously been available on a tape delay. Replicator is the first analog tape delay to feature a Tap Tempo footswitch, allowing users to easily adjust delay time on the fly.
Two playback heads mounted at different distances from the record head offer a wide range of delay time from 125ms to 1200ms, giving users everything from quick slap back to long, ethereal repeats. Head 1 is used for longer delay, while Head 2 handles shorter repeats. The heads can also be used in tandem for a unique rhythmic feel.
A Chorus control permits users to vary the tape speed in very small amounts to provide pitch modulation of the delays. Replicator also features adjustable Master Volume and Saturation controls, plus standard delay controls (Delay Level, Feedback, and Delay Time). A Kill Dry switch provides a one-touch elimination of the dry signal - a useful option when used in effect loops. Two expression pedal inputs allow the player the option of controlling Delay Time and/or Feedback via an expression pedal (not included).
Replicator uses a proprietary cassette developed by T-Rex which features durable 1/8" tape made in Germany by BASF. Replacing the cassette is easy, and replacement cassettes will be sold separately for (MSRP: $30.00).
USA Street Price: $899.00
Watch the company's video demo:

For more information:
T-Rex