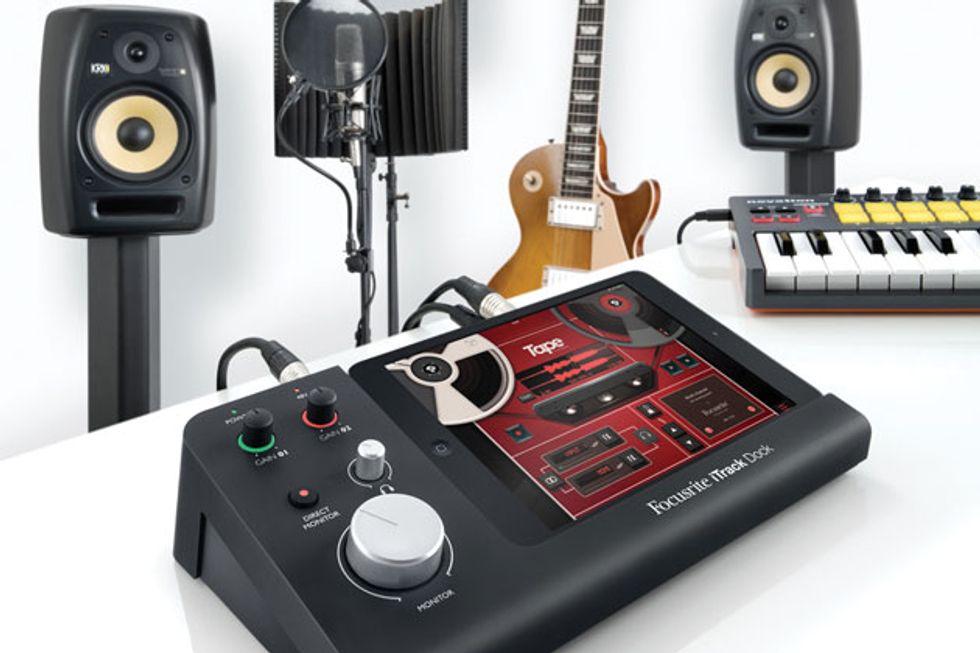 The Focusrite iTrack interface acts as an iPad dock and provides inputs, outputs, sophisticated monitoring capabilities,
and built-in DSP.
In the early 1970s, mobile recording studios were the size of trucks. Actually, they were trucks. The first famous example—the legendary Rolling Stones' Mobile Studio—sat atop the chassis of a British Motor Corporation Laird lorry.
Today, a mobile studio can be as small as a laptop, tablet, or smartphone. Throw in the growing power of compact stand-alone recorders, and you have an overwhelming number of potential tools for recording that can fit in a backpack—or back pocket. The combination of power and portability is redefining our very understanding of the concept of mobile recording.
"[A mobile device] is capable of recording everything from a songwriter's demo to a fully finished track, but in its own way and time," says Vincent Leonard, co-author with Thomas Rudolph of The iPad in the Music Studio: Connecting Your iPad to Mics, Mixers, Instruments, Computers, and More! and Musical iPad: Creating, Performing & Learning Music on Your iPad. "It can [also] function as an extension of a desktop system"—allowing you to work on projects remotely and finish them in your home studio.
"I would define [mobile recording] as recording music anywhere in the world outside of a commercial studio or your own home setup," says Rich Tozzoli, whose credits include production and engineering for artists like Al Di Meola, Ace Frehley, and David Bowie, as well as composing original music for Fox, the NFL, Pawn Stars, Duck Dynasty, and others. "For mobile situations, less complicated recording systems are better."
Recording time and ease of use are primary considerations, but flexible inputs and other extras are welcome additions.

Choosing a mobile recording device is about balancing factors like portability, simplicity, fidelity, and flexibility. The sweet spot is often less about the equipment than it is about your working method and the task at hand. Rather than make some blanket recommendations, let's look at things to consider for a number of common situations.
Capturing Ideas: Keep It Simple—and Light
The Muse can be a cruel mistress. She shows up unannounced—and she doesn't like to stick around. So while she's there, you'd better be ready to grab everything she's giving you. For mobile Muse patrol, you need a recorder that's easy to keep close at hand and that gets ready to track as quickly as possible.
A standalone recorder or a smartphone with a basic recording app can each work well here. Even a compact camera, like a GoPro, can serve you well. But no matter what hardware you're using, readiness is more important than any other feature. Your device needs to be charged and it needs to have enough available storage memory to capture the idea. Most important, you have to have the device with you. A small stand-alone recorder is great—if it's handy. But that's a big if. A smartphone, on the other hand, is likely to be within arm's reach most of the time. How else would you play Candy Crush Saga while you're on a conference call? So even if you do have a stand-alone recorder, it pays to set up your phone for recording as well.
How elaborate does that setup need to be? Again, readiness is your goal. You can plug in an external high-end mic for better sound. There are a growing number of options from leading manufacturers like Shure, Sennheiser, Audio-Technica, and others. But if it means shifting focus from the creative flow, don't bother. You don't need great sound to capture an idea.
That said, recording quality isn't completely unimportant. You don't want things to be so distorted or lo-fi that you can't hear that brilliant, complex chord you just played by accident. With a stand-alone recorder, this isn't much of an issue as long as you position the mic close enough to the source and adjust the input levels accordingly. If it has direct inputs and your guitar has a pickup, all the better.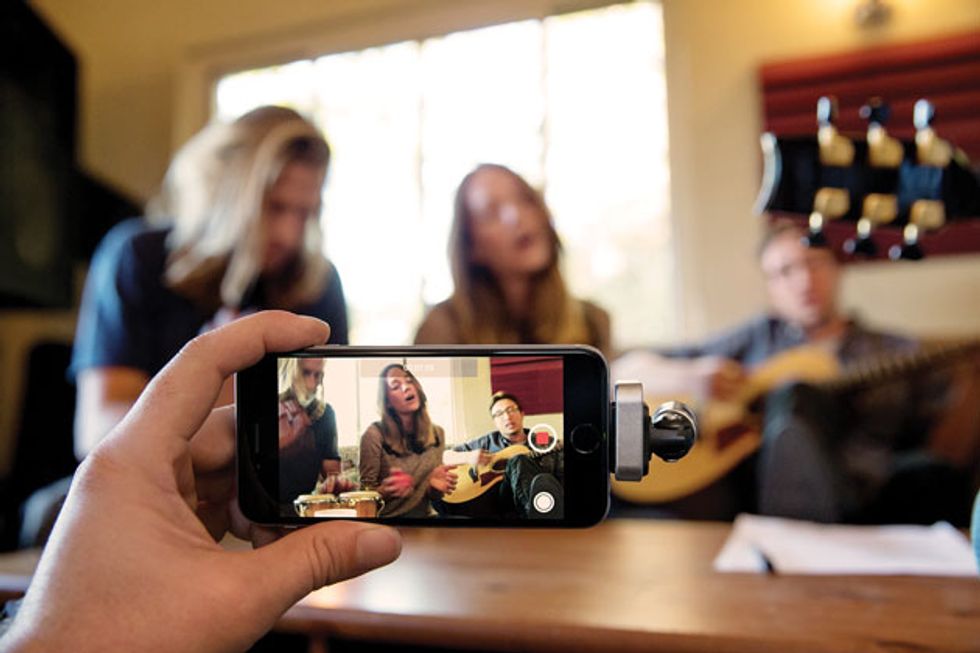 Using a Shure MOTIV MV88 stereo condenser mic and free MOTIV iOS app, you can add quality audio to iPhone videos of rehearsals and impromptu performances.
If you're using a phone, tablet, or computer, the device's internal mic may even be okay. Remember, you're looking for clean, not studio quality. The app you're using can make a difference, however. The audio apps that come with most phones are usually designed for voice. They tend to offer limited frequency response and store recordings in space-saving (but bad-sounding) low-resolution audio files.
You're actually better off using your phone's video camera to capture sound. The sound quality can be quite good, but because video is data intensive, the file will be huge. Use the camera for quick captures, not long sessions. I've run out of storage space in the middle of recording, didn't realize it, and lost some ideas as a result.
So it pays to invest in a basic audio-capture app designed for music. One of my favorites happens to be free. We wrote about Spire in "Recording Roundup 2016." What makes it especially good for mobile use is that itboots fast, records up to 4 tracks of high-resolution audio, and provides a number of file-sharing tools. Its DSP enhances the sound of the phone's built-in mic, and while it won't make the mic sound better than a quality external interface or microphone, it's quite an improvement over the unprocessed input.
If you're using a portable device, make it a point to copy the files from your device regularly and keep them organized. Not only will this make it easier to back things up, it frees memory on your recorder, which can become an issue more quickly than you might think—especially with tablets and smartphones that also store games, movies, books, and other apps.