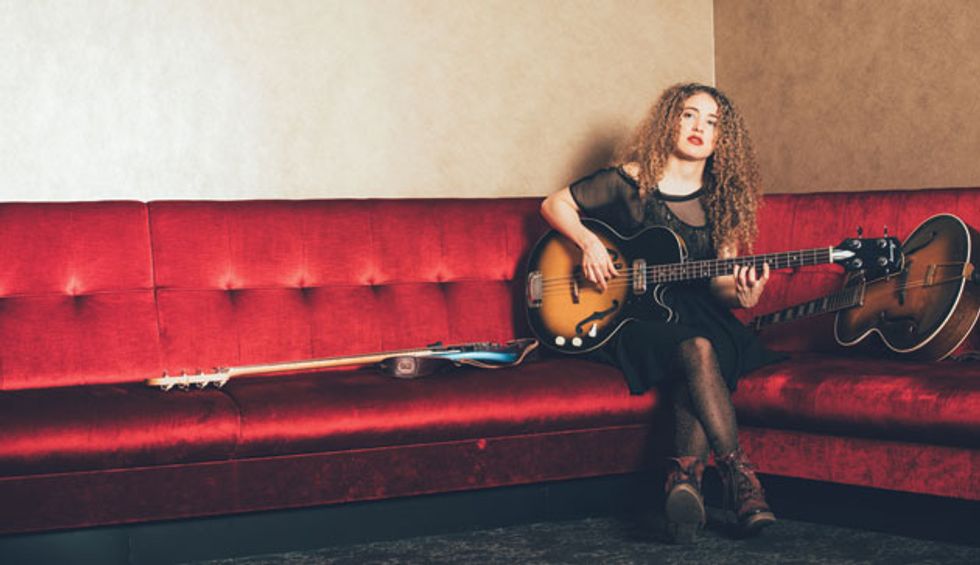 Tal Wilkenfeld's upcoming as-yet-untitled solo album showcases her skills as a songwriter and vocalist. It also shifts the energy away from the bass—she's playing guitar more live, especially baritone acoustic. Photo by Taylor Smith
If you're reading this magazine, you probably know Tal Wilkenfeld as a fierce bassist—a consummate force to be reckoned with. A player so good that she performed with the Allman Brothers at age 20, and in that same year recorded her first album, Transformation, and was recruited to go on tour with Chick Corea. Soon after, she joined the live band of one of the most celebrated guitarists to this day: Jeff Beck. Her success wasn't just a lucky bolt of lightning. Since then, the Australian-born low-ender has gone on to work with a five-star laundry list of who's who in the world of music-making and shaking, from Herbie Hancock to Ryan Adams, Prince, and Pharrell. Her performance at Eric Clapton's 2007 Crossroads Festival has generated millions of views on YouTube.
The proof is in the pudding, as they say.
You might not know that Wilkenfeld, now 29, started out on guitar, but, even more surprisingly, she nearly became a drummer before that. A year before she picked up her first guitar, she sat down at her best friend's drum set at age 13 and went to town. (More on that later, but if you want to see her in action, there's a recent video of her playing Ringo Starr's drum set on her Facebook page.) She could probably play any instrument she wanted to, but the point is, when it comes to music, the woman has no fear.
Not to start a ruckus about the born-talent-versus-hard-work theory, but Wilkenfeld makes a case for the former. She says it wasn't ever challenging for her to play with enlightened musical virtuosos who are at one with their instruments.
"Music for me is not a collection of intellectual data that I gathered over time," Wilkenfeld told us in her Louisville, Kentucky, hotel room while on tour opening up for the Who. "For me, at least, I picked up the instrument and it became a form of creative expression. And then everything I thought or felt then came through music, and so then you get together with Jeff Beck or Herbie Hancock or whoever it is, and you have a conversation. It's just a really seamless conversation when it's with somebody as creatively unlimited as Herbie or Jeff. They're free to express themselves the way they hear it in their head. And so it almost makes my job easier, not harder, to play with such amazing musicians. Because there's no fight, there's no struggle. If you add someone like Vinnie Colaiuta playing drums into the mix on top of that, that makes it even more painless, because he's another musician who can just freely express himself without limitation."
"I can't really associate music with fear, because it sort of works in opposition. Music is freeing; it's a means to express your soul, so if you come at music with any type of fear, you won't be able to fully express your soul."
As for the catalyst that sparked her upcoming solo album, which marks both her vocal debut and her larger exposure to fans as a songwriter, Wilkenfeld says she's written songs since she first picked up an instrument. "Maybe to some people this is kind of a strange or a far-fetched transition for me to come from being bass player with Jeff Beck and Herbie to being this songwriter singing songs," she says. "But it feels very natural to me."
By the same token, the overwhelming positive feedback on her solo performance of Leonard Cohen's "Chelsea Hotel" on bass and vocals at the November 2013 Bass Player magazine awards ceremony in Los Angeles—where Wilkenfeld won the "Young Gun Award"—might've encouraged the haste to get her unheard songs out to the masses. After a video of that performance was posted a year later, it went viral and Wilkenfeld soon went into Hollywood's EastWest Studios to start recording.
The sessions for her new as-yet-untitled album included big talent: Blake Mills, Benmont Tench (Tom Petty and the Heartbreakers), Sonya Kitchell, Jeremy Stacey (King Crimson), Paul Stacey (Black Crowes), Zac Rae (keyboardist on Cheap Trick's new album). A PledgeMusic campaign is underway to finish mixing and mastering the collection of 10 or so recorded tracks, which Wilkenfeld says she wrote over the course of many years while on the road as a sideman for other musicians.
For her recent month-long opening slot with the Who on their late winter/early spring tour, she and her live band—drummer Tamir Barzilay, guitarist Owen Barry, and Chris Price on keys—carved out their own circuit of smaller club shows between big arena dates. After logging about 20 gigs, Wilkenfeld is currently gearing up to launch her new record this summer.
Wilkenfeld plays mostly bass and sings in her current live show, but she also plays acoustic on a few tunes, such as her first single, "Corner Painter." The massive-sounding song has a serious rock edge and is a major departure from her 2007 instrumental debut; the most notable difference is the focus shift from showcasing her bass mastery.
In fact, there is no bass guitar on "Corner Painter"—Wilkenfeld plays the baritone acoustic guitar and recorded the bass parts on organ. The swells of guitar toward the song's end are tastefully executed by Mills, interlocking with Wilkenfeld's rhythm and moody, crystalline cadence. Her unique phrasing, writing ability, and sonic singularity recalls artists like Alanis Morissette and Sinead O'Connor.
The vibe is vulnerable in "Haunted Love" and "Under the Sun," the latter of which begins with a remarkably emotive bass intro before Wilkenfeld's poetic lyrics kick in. The track's outro is a stellar combination of a melancholy bass solo punctuated with a stunning Arabic string melody that gives the tune a Far Eastern or Middle Eastern feel. Wilkenfeld pours herself fully into "Haunted Love"—it's all her on just bass and vocals, a simultaneously soft and angelic yet obviously stormy ode to a lover.
To set the pace for her new batch of solo work, we asked Wilkenfeld if she considers herself serious or chilled out when making music. She kept it mysterious: "I can be all things depending on the situation." All things considered, that seems about right.
The first time you strummed a guitar was at the age of 14. Do you remember where you were and what you were playing?
Yeah, it was at my school. There was a nylon-string acoustic there and I literally picked it up, played a chord, and started crying. I was overwhelmed, and then I started writing a song pretty much straight away.
Why did you switch to bass a few years later?
When I started, the first thing I did was write a song. That's more of a supportive role in terms of the instrument to the voice. And then I started getting more interested in developing my skills as an instrumentalist, although even then I seemed to be more drawn to more rhythmic aspects of music. At any given opportunity I'd be running to the drum kit or the bass. I was always gravitating towards those instruments. After a while, people started telling me, "Hey, if you love the bass or the drums so much, you should just play the bass or the drums." And I knew it, but it took me a minute to make the switch and I finally did when I was 17.
Why did you pick bass over drums?
[Laughs] It's kind of a funny story. Before I ever started the guitar, one of my best female friends played the drums, and one day I decided to get on her drum kit. I suppose I could just play naturally and she got really upset and angry and said, "If you start playing the drums, I'll never speak to you again." And I'm like, "Oh, okay." Our friendship was more important, I guess. Like a year later I ended up picking up the guitar. I don't know why that then informed me as to not switch to the drums when I was 17, but I suppose I did like informing the harmony, and so I thought the bass was a great middle ground between drums and guitar.
Are you still friends with that drummer?
I'm not.