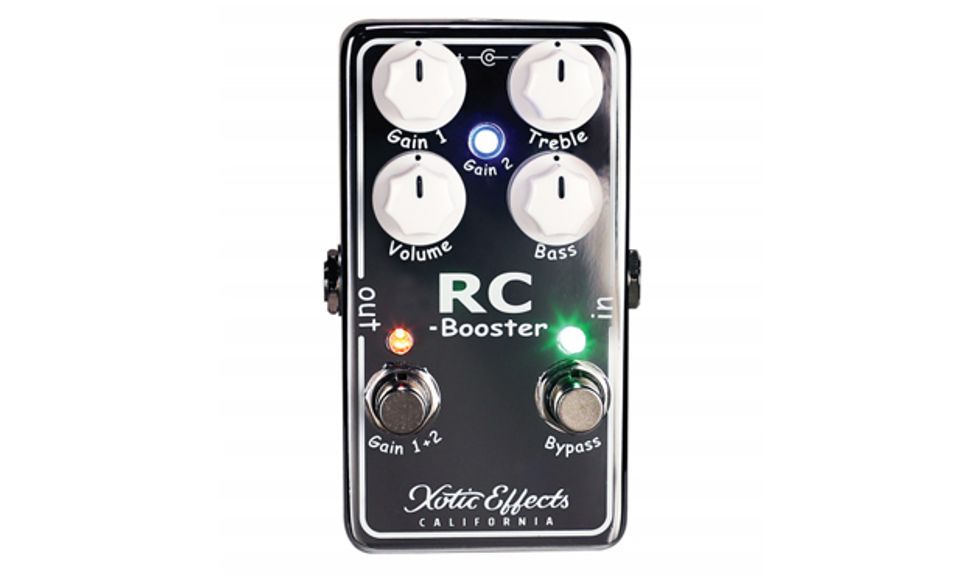 Van Nuys, CA (July 5, 2016) -- The all new RCB-V2, inspired by the Scott Henderson RCB-SH model, now comes with an added gain channel for even fatter tones with a super transparent 20dB+ clean boost. The adjustable +-15dB two-band active EQ allows players to dial in their sound with pinpoint accuracy and adds a huge range of harmonic content to the player's overall sound. Because this pedal is so transparent, many players find that they will leave it on at all times! True Bypass for eliminating any signal interference when switched off.
The Xotic RC Booster was first introduced in 2002 in an effort to offer guitar players a super transparent clean boost while preserving the integrity of their original tone.
Production of the RC Booster (Version 1) will be discontinued as stock of current parts is exhausted which is to be expected by the end of 2016. The RCB-V2 will have the same price point as the old RC Booster.
Features:
Channel 1 gain, channel 2 gain, treble, bass, and volume configuration
True bypass Switching
9V battery powered
Gain 1 or 2 footswitch, Bypass footswitch
Compact chrome or copper case
Built-in blue LED light on gain 2 knob
MSRP: $210
Street price: $168
Watch the company's video demo:

For more information:
Xotic