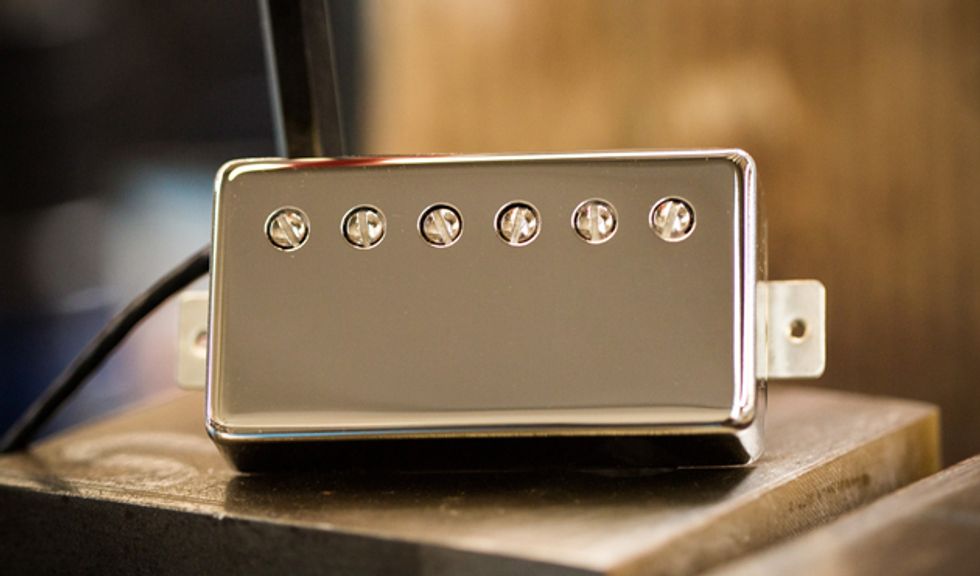 Santa Barbara, CA (July 22, 2016) -- Seymour Duncan, a leading manufacturer of pickups and pedals, announces the Saturday Night Special, a new pickup set with alnico 4 magnets.
Unlike traditional humbuckers, the Saturday Night Special humbuckers are voiced to be a little hotter and fatter in the bridge position, and a little clearer and less "wooly" in the neck. They're more aggressive than 50s-style models, but without the compression of most high-gain pickups. These bridge the output level gap between vintage 50s and modern humbuckers, making this pickup set perfect for replicating those legendary late-70s arena rock tones.
The Saturday Night Special Set is made in Santa Barbara, California. They come standard with four-conductor wiring, maple spacer and short mounting legs. Available with nickel covers, gold covers, black uncovered bobbins and Zebra uncovered bobbins.
Also sold as separate neck and bridge pickups.
"Alnico 4 has a generally flatter, more even frequency response compared to other magnets, with less cut in the high end and a sweeter overall tone compared to Alnico 5. It's great for classic rock when you need a clean or semi-distorted tone with plenty of character." says Max Gutnik, SVP of Products and CRO at Seymour Duncan.
The Saturday Night Special humbuckers come standard with four-conductor wiring for series/split/parallel configurations, has a maple spacer and metal cover, and is made with short mounting legs. Each pickup is wax-potted for squeal-free performance, and is made in Santa Barbara, California.
$249 street price for two pickup set.
Watch the company's video demo:

For more information:
Seymour Duncan