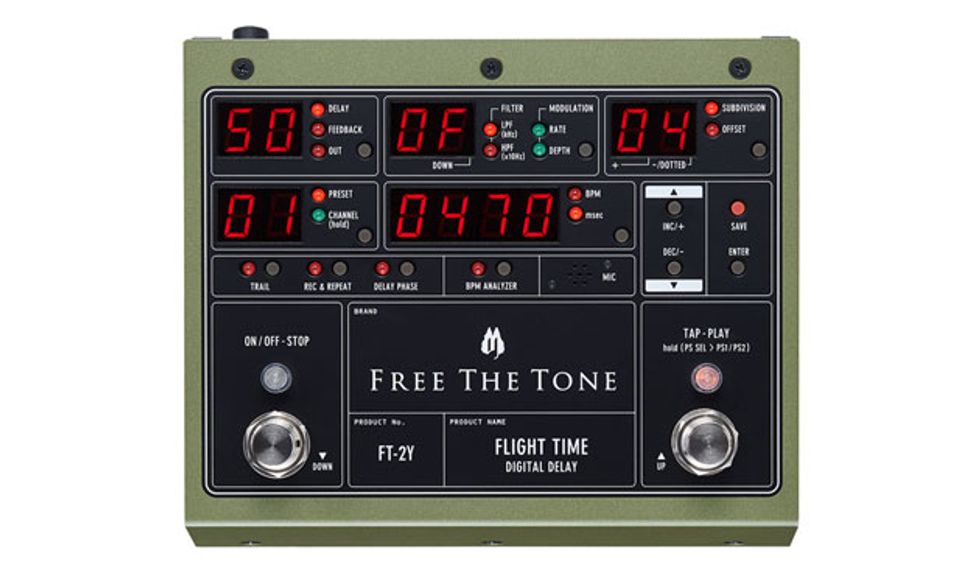 Yokohama, Japan (April 25, 2017) -- Free The Tone's high sound quality digital delay Flight Time with the world's first Realtime BPM Analyzer and Delay Time Offset features, reappears with improvements responding to strong requests from players all over the world. For the Flight Time FT-2Y, we have redesigned not only the analog and power supply circuits but also the digital circuits and firmware to realize dramatic improvements in sound quality. While keeping all of the FT-1Y's ample feature set, the FT-2Y has advanced in both sound quality and functionality with the addition of 3 new functions below.
Features:
Instrument/line level switching which enables the FT-2Y to be used with amp effect loops.
Instant preset switching which allows you to switch Preset 1 and Preset 2 instantly while playing.
MIDI out functions so that you can now save the preset data to external storage.
Flight Time carries a suggested retail price of $420.00, and can be purchased after June 23, 2017 through our North American dealers listed at: http://www.freethetone.com/en/dealer/.
For more information:
Free The Tone