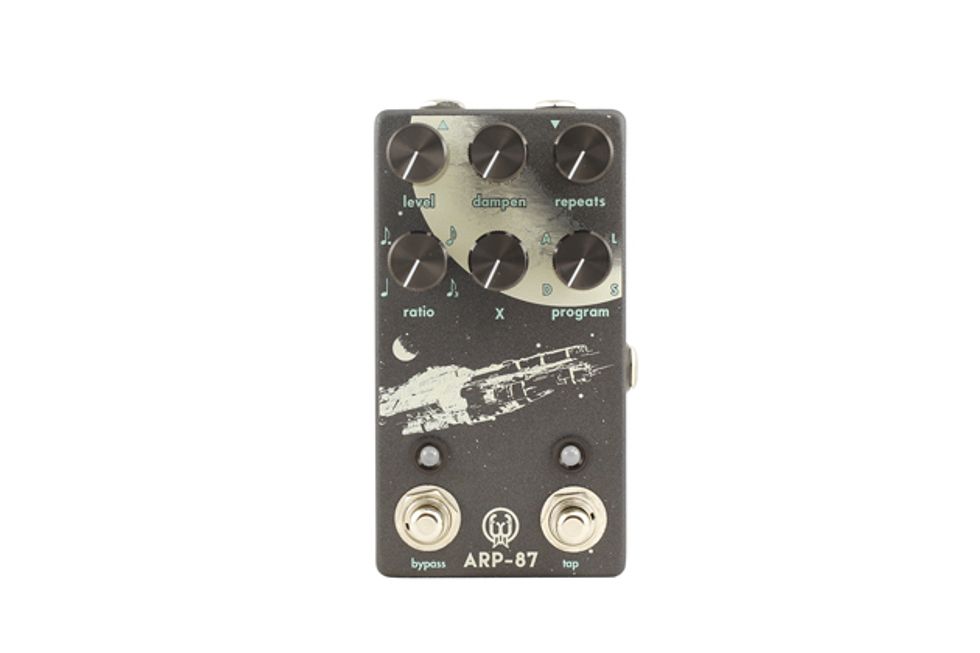 Oklahoma City, OK (July 12, 2016) -- One of the most anticipated and talked about announcements from Walrus Audio since Winter NAMM has been the ARP-87 Multi-Function Delay. Since the announcement, the delay has gone back to the drawing board and almost completely redone to become even more versatile. Continuing the legacy that its bigger brother, the Bellwether set, the new ARP-87 brings a whole new set of features to the Walrus Audio lineup of delay effects. From rhythmic chasing digital delay to long ethereal lo-fi modulated trails, players will find the ARP-87 a very useful tool in a small footprint.
The ARP-87 features four different algorithms: digital, analog, lo-fi and slapback. Each algorithm can be modified with the "X" knob creating lush modulation depth or filer width, depending on which delay is being used.
With four sub-divisions, trails mode, momentary functions on both stomp switches, small footprint and a sub $200 price point, the ARP-87 will appeal to players of all genres. The ARP-87 comes in a Frosted Charcoal finish with cream and sea foam ink. Artwork by illustrator Chris Castro features a lone ship lost in the Arp Galaxy.
The die-cast enclosure's exact size is 4.77" x 2.6" x 1.39". Power requirements are 9VDC (100mA minimum). Walrus Audio is offering The ARP-87 for a retail price of $199 and is available for pre-order now with an expected release date of July 18, 2017 at walrusaudio.com and with our authorized dealers.
For more information:
Walrus Audio