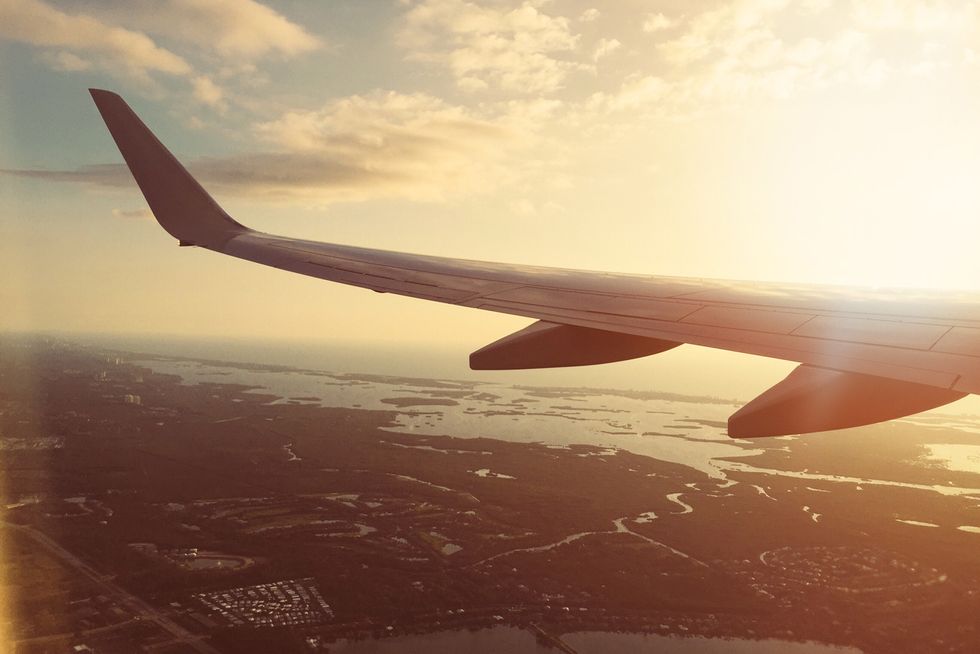 The friendly skies may seem welcoming to human passengers, but a guitar might not find air travel
quite as accommodating. Photo by Josh Sorenson
A few months back, I was booked to perform at a festival in England. I always fly with my guitar in a gig bag and put it in the overhead bin, so I expected that I would do the same on this trip. About two weeks before the festival, I received an email from the organizer letting me know that my airline, British Airways, had created a new policy that no longer allows guitars in the cabin. I've taken my guitar on British Airways a number of times in the past and never had a problem, so this took me by surprise.
Sure enough, there it was on their website: "Guitars are not accepted in the cabin as hand baggage as they are too big for the available stowage space." And, to make it worse: "We cannot accept any guitar in a soft case as we want to ensure your instrument arrives safely." Since I don't own a flight case, it looked like my guitar wasn't making the trip.
I was lucky enough to be notified in advance and was able to make plans to have the festival rent an instrument for me, but I got to wondering what could have happened had I not been so lucky. I didn't have to wonder long, because on December 31, Dave Davies of the Kinks tweeted, "I'm really disappointed that @British_Airways is not allowing me to bring my guitar onboard with me as I always have and has made me check it as luggage for extra 69 quid—I traveled BA all the time back & forth from London to New York—next time might fly a different airline."
It seemed surprising to me that this would happen to someone like Davies. Of course, guitarists have spent years stressing out about what might happen to their guitars on flights. His story was just another one of a seemingly endless supply of stories about the problems guitarists run into traveling with their instruments. I decided to reach out to Davies and a few fellow guitarists who are professional travelers—all of whom were eager to share their thoughts and experiences—to try to get some insight into how they manage to lug their guitars around on flights and keep them safe.
Loss and Damage
Davies explained that being forced to check his guitar was completely unexpected. "I've been flying with British Airways for 15 years. They've always been accommodating. Last year on November 26, I flew back from Newark to London, and they were really accommodating. I managed to put the guitar quite easily in the overhead. [Then, in December] I got a flight to come back to New York. I went to Heathrow [Airport, in London] and they said I have to put the guitar in the hold and I said, 'This has never happened before. You've always been accommodating.' They said since October, they've got a new policy of no guitars onboard."
"It's not just lumber bloody wood. These are crafted guitars and each one is different. They're very personal things. I don't think they understand what's at stake for musicians." —Dave Davies
While his Gibson Nighthawk wasn't damaged, this experience really struck a nerve for the Kinks guitarist. Early in his career, Davies was flying with a cherished Guild, a guitar that formerly belonged to George Harrison, when the guitar was lost forever. Later, in the 1990s, his Ovation acoustic was smashed—an incident that inspired his record, Fragile. At this point, Davies is not interested in letting his guitar out of his sight, and says, simply, "I can't put my guitar in the hold."
Davies is, of course, just one of many guitarists who have had problems with loss and damage. All the guitarists I talked to shared at least one story about having problems checking their instruments. Tortoise's Jeff Parker told the tale of his vanished 1983 Gibson ES-335. "My guitar got lost on an airline called Vueling [a budget carrier, based in Spain]. It was early in the morning and I didn't feel like having the argument. I was like, 'Whatever, man, just check it.' So we got off the plane and the guitar just didn't show up.
"We're doing one-nighters, so we're in a different place every day. We're flying around, and for three or four days I'm playing on borrowed instruments. I started to freak out. I had the feeling that I was standing on a seashore and I could see my guitar getting washed out to sea."
Parker was fortunate enough to be able to harness the power of social media to successfully put pressure on the airline to find his guitar. "In an act of panic, I posted a bunch of pictures I had of this guitar on Facebook and on Twitter, and I was like, 'I don't think my guitar's gone, but if anybody sees it, this is what it looks like and it's mine.' It kind of went viral. The cats from Wilco re-tweeted it, so that's immediately like a million people that know about it. Then, immediately after that, I got it right back. It took a few hours and they found it and I got it, so that worked."
Kaki King has a few lost guitar stories to share, but that's not the worst of her travel tales. Once shortly after boarding the plane, King saw her Ovation acoustic guitar broken in its hardshell case. "I watched the guitar on the belt," she says. "I watched the guitar case fall and I shrieked! I get my guitar and, low and behold, I ended up with a giant hole in the back of the guitar. Fortunately, I filed a complaint and they did pay for the damage."
Even when traveling with a flight case, checking a guitar still does not mean the instrument is 100-percent safe from damage. Gorguts and Dysrhythmia guitarist Kevin Hufnagel had his custom-built SG-style guitar damaged by clumsy handlers inspecting his instrument. "I noticed there was this dent on the back of the guitar neck that wasn't there before," he recounts. "When they were going through my guitar case and they put the strap away, they didn't put the strap locks away properly, and when they put the guitar back in the case, they pressed the strap locks into the wood."
Songwriter Dave Carroll turned the destruction of his Taylor by United Airlines into notoriety with his song "United Breaks Guitars," with more than 17 million YouTube views, and a spin-off book about his resulting social-media odyssey.