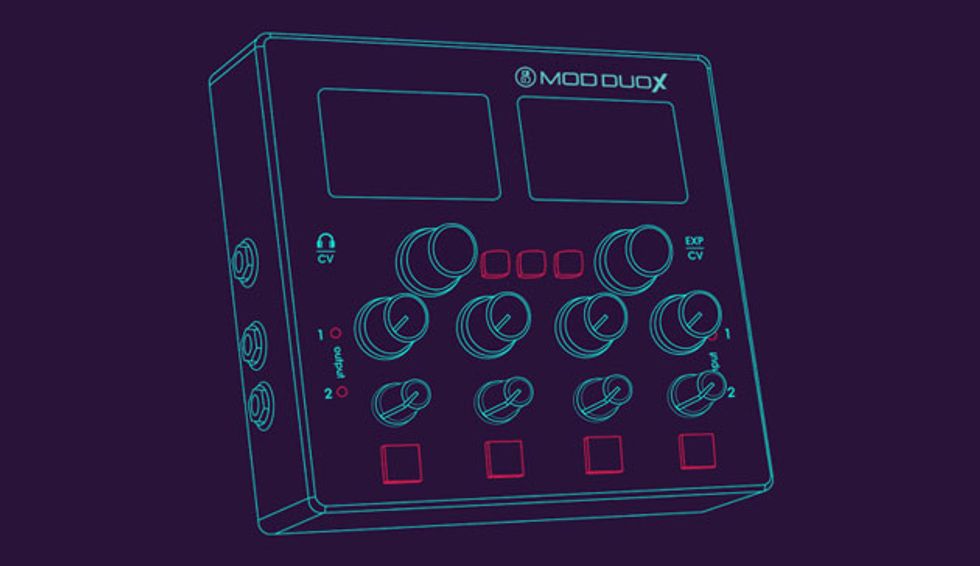 Berlin, Germany (June 14, 2018) -- Marking its fourth consecutive year at Sonar+D in Barcelona, MOD Devices presents a powerful new version of its MOD Duo audio processor. Named MOD Duo X, the standalone device sports more controls on the outside, including 8 new assignable potentiometer knobs, 4 freely-assignable push buttons and 2 instant "snapshot" push buttons. The Duo X also comes with Control Voltage input and output, a buffed up new processor, as well as new software features such as MIDI Slave Sync and Stereo Link.
With its fully-assignable knobs and push buttons, including instant recall capabilities, the MOD Duo X is geared towards hands-on use cases such as studio work, electronic music production & performance and even DJing.
"When I was first introduced to the MOD Duo, I immediately envisioned a product line rather than one singular design. In the same way that the regular Duo is optimized for the guitar player, the Duo X is tailored for studio use and the needs of electronic music production and live acts. It also integrates well with a modular Eurorack setup, courtesy of its CV input and output. The Duo X is a product I would have dreamed of having in my music-making days. I am incredibly excited that we will bring this wonderful multi-effects processor to the world soon" says Ronny Krieger, MOD Devices' CEO.
Users and the press have the opportunity to try a prototype of the MOD Duo X and other products from MOD Devices at the Sónar+D MarketLab, between June 13th and 16th 2018 in Barcelona.
On June 13th, pre-orders will open for a limited edition run of the Duo X, which will be shipped late September. The product will then be made officially available through international distribution and retail partners in late Q4 2018 or early Q1 2019. The feature set of both versions will be identical.
The new features of the MOD Duo X include:
Standalone NXP i.MX8M Quad core ARM Cortex-A53, 1.5GHz audio processor
Commutable analog control inputs - 2 x Control Voltage / Expression Pedal
Commutable outputs - 2 x Control Voltage / Headphone
2 freely-assignable rotary encoders (control a virtually infinite amount of plugin parameters through push-button assignments)
8 freely-assignable potentiometers
4 freely-assignable push-buttons
Controller pagination system for multiple controlling scenarios
2 instant "snapshot" push-buttons for easy setting recall and alternation
MIDI Sync (Ableton Link compatible) in master and slave mode
Max compatible (any gen~ based Max tool will run on the Duo)
Like the regular Duo stompbox, the MOD Duo X audio processor is made in Germany. It measures 180mm x 60mm x 160mm (W x H x D) and weighs 1.3 kg. The limited edition of the Duo X will be available for 699,- Euro and pre-orders can be made at www.moddevices.com.
For more information:
MOD Devices