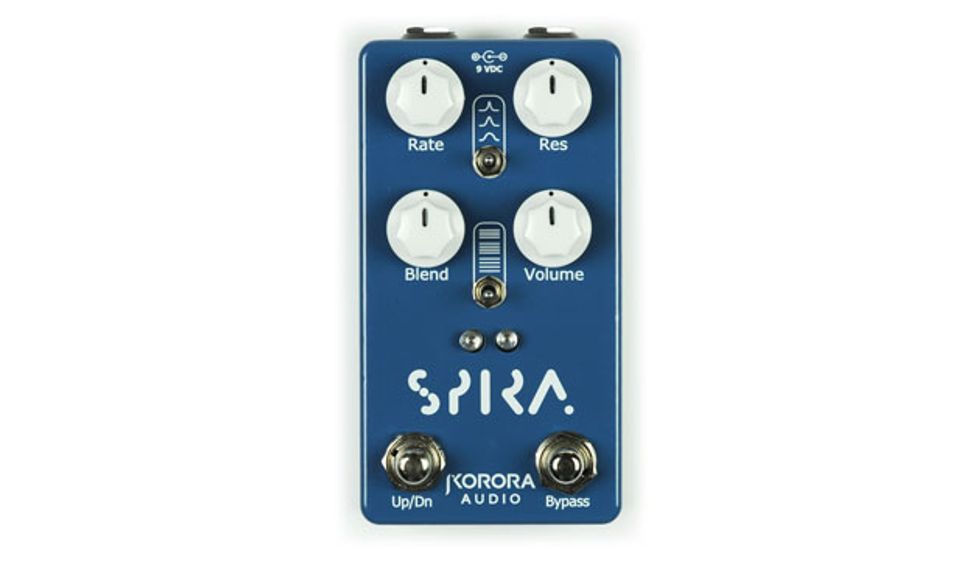 Seattle, WA (July 18, 2018) -- Korora Audio announces the release of its first effect pedal, the Spira filter modulation pedal.
Inspired by the Shepard Tone Glissando (https://en.wikipedia.org/wiki/Shepard_tone), Spira incorporates up to 24 parallel resonant bandpass filters to produce an infinitely ascending or descending filter sweep. With the rate set low, Spira achieves the classic and recognizable Shepard Tone and can also be compared to comb filter and formant filter effects. With the rate set higher, Spira produces a very musical tremolo modulation that has been compared to everything from flange to phaser to vibe/leslie, depending on the other filter settings.
In octave mode, each successive filter sweeps one octave below the previous one until the first filter reaches the end of its sweep and starts again an octave below the last one. In this way, the filters infinitely sweep forward. In tritone mode, Spira uses double the number of filters spaced half an octave apart. Spira includes a bonus mode, with filters spaced alternately at an octave and half octave throughout the audio range.
Spira's filters can be set at 6, 12, or 18 dB slope, and the resonance control is trimmed to max out at near oscillation. Using the Blend, Resonance and Filter Slope, the sonic palette ranges from the the most subtle to the most extreme.
Players who have had the opportunity to try Spira at Summer NAMM have noted the clear attack and note separation, and responsiveness to dynamics. As a filter effect, Spira sounds great both clean and following overdrive, distortion, or fuzz. It also pairs well before or after delay and reverb.
Spira features include:
Up to 24 parallel resonant bandpass filters with rate, resonance, slope and density control - provides an incredible range of textures and moods.
Blend and volume controls - to get the perfect balance between on and off levels.
Soft touch true bypass
Top mounted jacks
Standard 9V DC power (180 mA), power supply included
Spira is available now, priced at $299 direct from kororaaudio.com, reverb.com, and select retailers.
Watch the company's video demo:

For more information:
Korora Audio