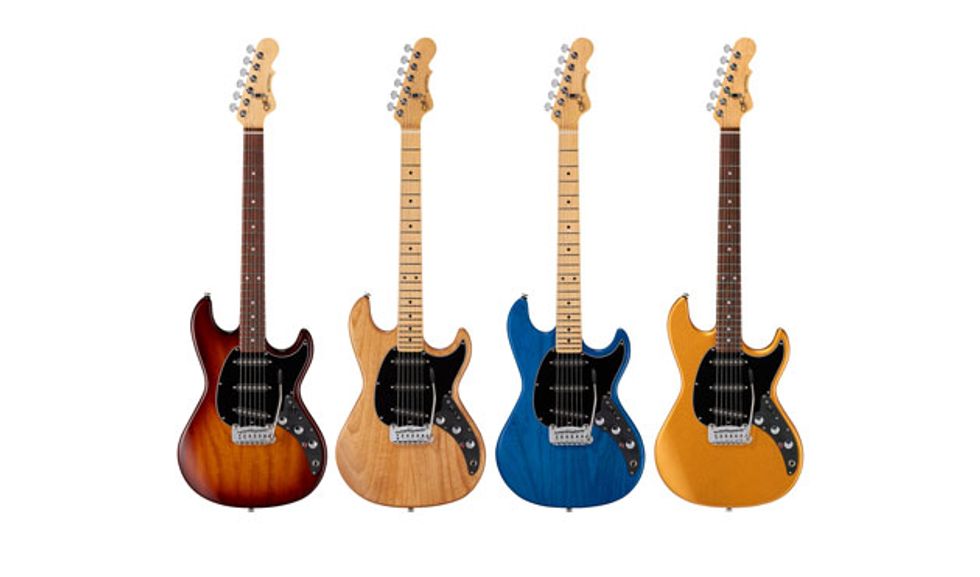 Fullerton, CA (August 9, 2018) -- The new CLF Research Skyhawk™ brings back the best of 1980s CLF style and packs it with today's G&L performance.
Like the original 1984 G&L Skyhawk, it starts with George Fullerton's evolved double cutaway with a hint of offset, a slim waist and generous curves. This comfortable body features his arched pickguard shape, perhaps his most graceful iteration of the form. Elegant machined CLF knobs shimmer from an authentic CLF powder coated control plate, while a 3/16" diameter stainless steel CLF vibrato arm continues the period look and feel. The '80s G&L vibe continues up the neck, thanks to the rounded, fast shape of the G&L Modern Classic profile paired with the slick feel of an old gloss finish. The original CLF/G&L Skyhawk headstock completes the period look with original style logo artwork and CLF string retainer.
And of course, there's the legendary tone of Leo Fender's MFD single coil pickups shared with the modern G&L S-500. Unlike the Skyhawks of the 1980s, the CLF Research Skyhawk leaves no tones behind, thanks to the addition of the Leo's mini-toggle expander with colored cap.
Thin urethane finish choices are:
Clear Blue over swamp ash with maple fingerboard
Natural Ash over swamp ash with maple fingerboard
Old School Tobacco Sunburst over okoume with Caribbean rosewood fingerboard
Pharaoh Gold Firemist over alder with Caribbean rosewood fingerboard
The CLF Research Skyhawk is around $1,600 street for Pharaoh Gold Firemist, and around $1,700 street for Clear Blue, Natural Ash, Old School Tobacco Sunburst.
For more information:
G&L Guitars