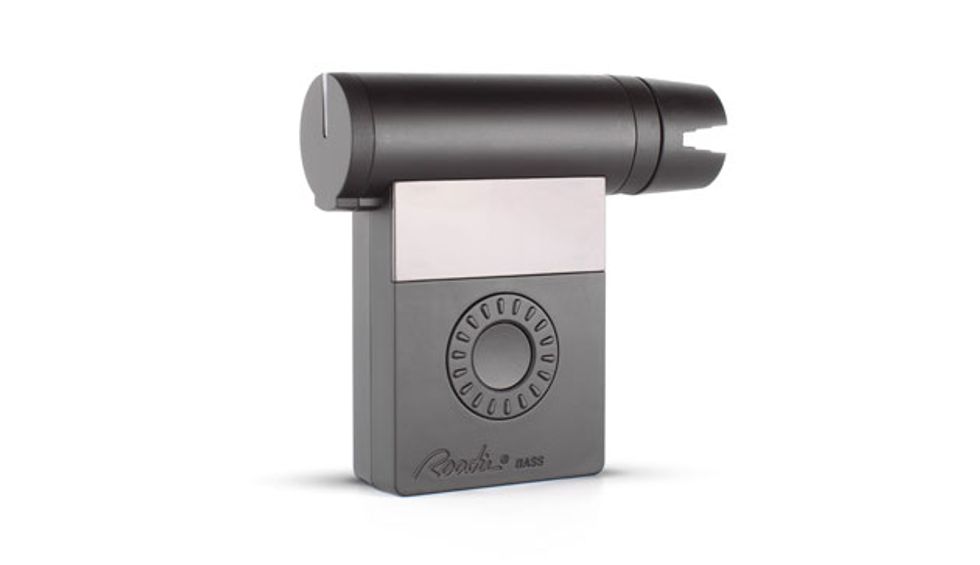 Port Townsend, WA (February 6, 2019) -- Band Industries is proud to announce the release of the Roadie Bass Automatic Guitar Tuner.
Roadie Bass has enough torque to crank the biggest pegs in the business but is as precise as a watchmaker's fingers. Finally, bassists will have a tool designed just for their needs. "We made Roadie Bass to be the strongest, sturdiest and most capable tuner a musician could possibly need. If an instrument has a machine head, Roadie Bass can tune it at a professional level. This is something we always dreamed of and seeing Roadie Bass in the hands of thousands of musicians around the globe will be infinitely rewarding." says CEO & co-founder Hassane Slaibi.
Alternate & custom tunings
Choose from over 40 preset alternate and open tunings. The Roadie Tuner app also gives you the ability to create your own custom tunings and temperaments.
Re-string at 40 RPM
Re-string quickly and easily with the automatic winding feature. The motor rotates at three speeds, the fastest of which is 40 RPM.
Customizable
Control & personalize your tuner using the free Roadie Tuner companion mobile app.
What is the difference between Roadie 2 & Roadie Bass?
Band Industries is confident that they have designed the strongest, sturdiest and most capable tuner yet. It is bigger, heavier & more powerful than Roadie 2. Roadie Bass also has a screen on the side rather than the top to make it easier to see with the longer bass guitar necks.
Roadie 2 can tune any instrument with a string gauge up to 75 while Roadie Bass can tune instruments with string gauge up to 140.
Roadie 2 has a frequency detection range between 43.65 Hz and 698.46 Hz, while Roadie Bass detects frequencies between 27.5 Hz and 880 Hz.
The Roadie Bass tuner carries a $149 MSRP.
Band Industries delivers worldwide. Customers get a 30-day money back guarantee as well as a 1-year warranty for all Roadies.
For more information:
Roadie Tuner