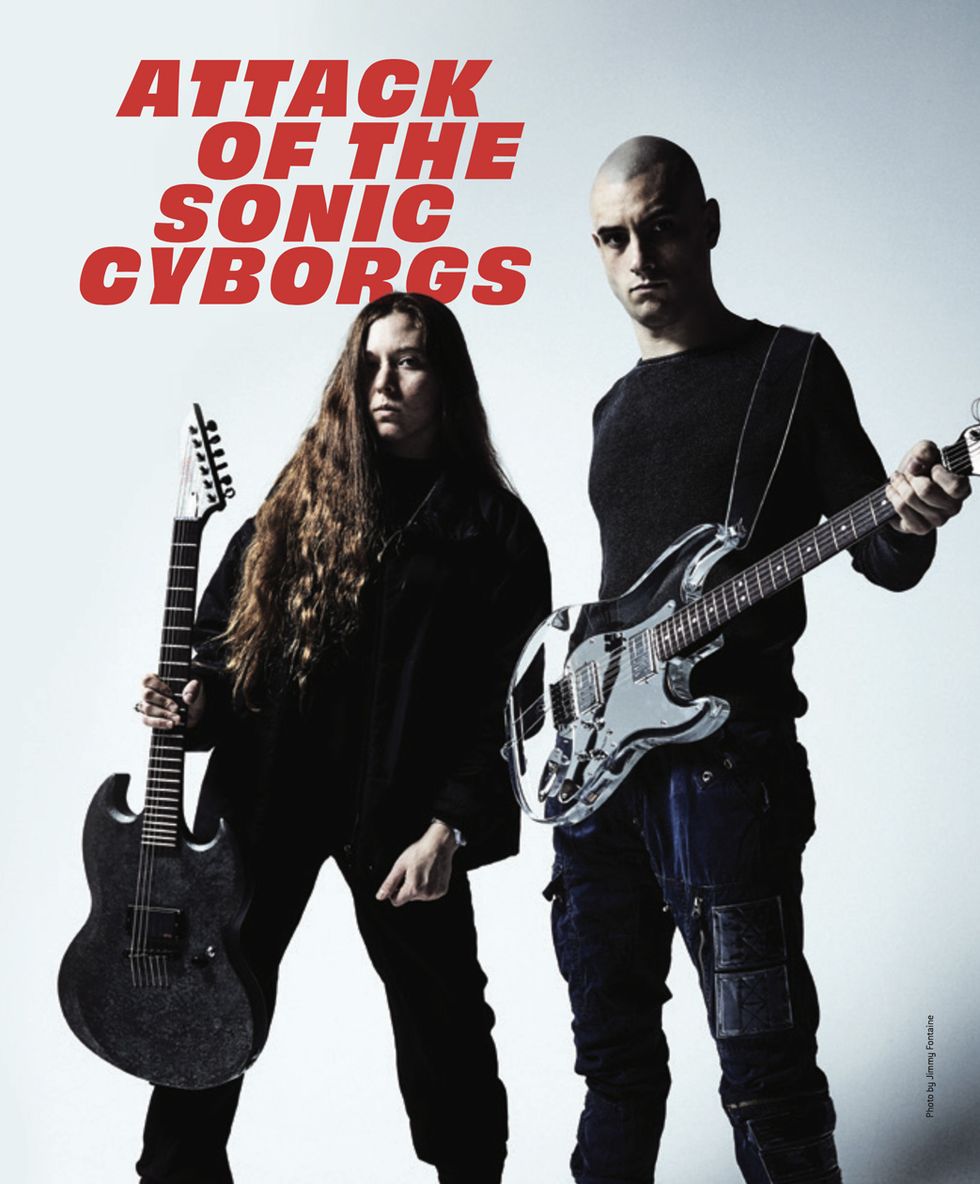 Reba Meyers and Dominic Landolina are Code Orange's guitar team. Meyers describes their mesh: "Dom comes from guitar in a more metal way because that's what he grew up on, and I grew up on punk. So he plays things very rigidly and accurately, and I play things looser." Photo by Jimmy Fontaine
For all of the sonic evolution and cross-pollination hardcore has experienced since splintering from the punk-rock tree in the 1980s, it's also a deeply reverent subculture that values its history immensely—often to the point of the myopic pursuit of its past. Bands crop up with each generation that are equally championed and criticized for how accurately they bite into the sounds of yesteryear, and while that phenomenon is embraced almost as something akin to oral tradition, it rarely births breakout artists.
Code Orange are an exception. With their new album, Underneath, the band has struck a unique balance between honoring its hardcore roots, developing a grand artistic vision, and crafting an unexpected approach to writing and recording that makes for a stunningly unique work that transcends genre and, in many ways, represents a step forward for heavy music. At minimum, Underneath is a tremendous leap for a band that's grown immensely over 12 years, from metalcore-niche darlings to fearless mavericks taken very seriously for their work.
Underneath's predecessor, 2017's Forever, was their third album and earned Code Orange a Grammy nomination and near-universal praise. It was an evolution in every way for the Pittsburgh-bred crew. That album explored the fusion of industrial and electronic elements, along with the band's well-honed, vicious take on metallic hardcore. Underneath takes that formula to its outer limits, also mining the ore of '90s alt-metal and industrial music and twisting it all into new forms through digital manipulation and sampling techniques. It's a sonic cyborg that retains the humanity of a hardcore band while grafting electronic-music techniques to itself in a cutting-edge way.
Remarkably, Underneath shirks the goofiness and gimmicky nature that's plagued so many past marriages of electronics and guitar-based heavy music. Despite the ambitious production, guitar remains the blood pumping through the album's machine heart, and the bandmembers responsible for the absurdly heavy riffs and layered 6-string textures are Reba Meyers and Dominic Landolina. They come from distinctly different places in aggressive music, but provide a perfect complement for each other within Code Orange's cold-metal terrain. Meyers developed her skills in the punk-hardcore world, and Landolina's playing was informed by classic thrash- and death-metal, but these riffsmiths share a knack for writing rhythmically focused haymakers that are bludgeoning, tricky, and somehow catchy.
"We realized that if we really took what we do to the absolute fucking edge, we could make something important and bigger than ourselves." —Reba Meyers
On Underneath, Meyers and Landolina made fully realized demos and passed them to the band's electronics wiz (and occasional guitarist), Eric "Shade" Balderose, who manipulated, tweaked, and added. Riffs were modified, sampled, chopped, and glitched to reimagine each idea before the guitarists were tasked with the unenviable work of reverse-engineering the tracks and finding ways to bring this cybernetic metalcore into the live realm. (The band also includes vocalist and drummer Jami Morgan and bassist Joe Goldman.)
Throughout all of this, the goal was to keep the human element vital and present and erase the lines between digital and organic. This meant employing both fire-breathing tube amps and digital amp sims, and old-school pedals and plug-ins. When the time came to turn their demos into the ultimate Frankenstein's monster, Code Orange worked with mega-producer Nick Raskulinecz (Foo Fighters, Mastodon, Deftones), with additional programming by an original architect of the '90s industrial revolution, Chris Vrenna (Nine Inch Nails, Marilyn Manson). Will Yip also served as co-producer.
As the COVID-19 pandemic stopped the world, cancelling tours and shows everywhere, Code Orange made the call to play its Underneath release gig another way: livestreaming what looked like a full-production concert film from an empty venue in their hometown. The catharsis of the show footage is incredibly moving and makes clear what a monumental effort was involved in creating Underneath.
Premier Guitar spoke with Meyers and Landolina by phoneto get the inside story on building Underneath's turbulent realm, the artists and albums of heavy music's recent past that inspired its songs and their worlds as players, and the tools and techniques required to musically graft man and machine.
Forever got a Grammy nomination and established the band beyond the metal and hardcore world. Did that change how you approached Underneath and add to its grander vision?
Reba Meyers: If it did, it was subconscious. With all the attention and people recognizing what we honestly already knew in our hearts we could achieve, it simply cemented our resolve when writing this record. We took the attention as motivation that we really can reach as far as we'd imagined, and we cracked the fuck down and wouldn't take "no" for an answer on things or compromise.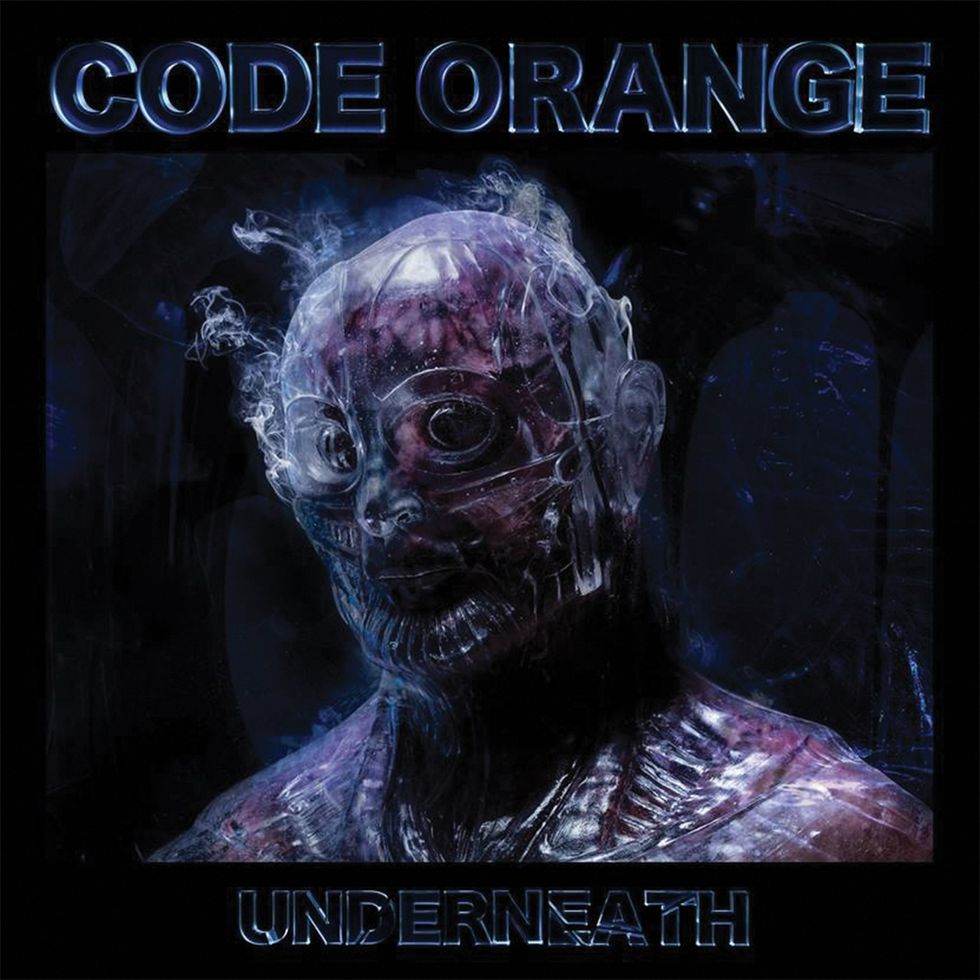 TIDBIT: Meyers and Landolina did much of this album's guitar tracking on their own DAWs, with digital manipulation by Balderose. The results are delirious guitar riffs like those on "Cold.Metal.Place" and "Swallowing the Rabbit Whole."
A lot of times on our past records, we would hit a point where we just couldn't get it any better, and we didn't know how to. We took as much of it into our own hands that we could—writing, recording, mixing, mastering—and it drove us crazy, but we knew if we really did this record how we imagined it, it could become something that we're extremely proud of and is recognized by people beyond the niche world of hardcore that we come from. That was proven to us a little bit on Forever, because of the Grammy nod. We realized that if we really took what we do to the absolute fucking edge, we could make something important and bigger than ourselves. Especially bigger than our individual selves, because it's a full band effort.
Dominic Landolina: All the pressure was internal. We don't really care too much about doing what we do for other people. We just care about making the best possible thing we can for ourselves. In the time from Forever to writing Underneath, we became better musicians and we also figured out a clearer picture of what we wanted to do and what equipment we could use to take our ideas further.