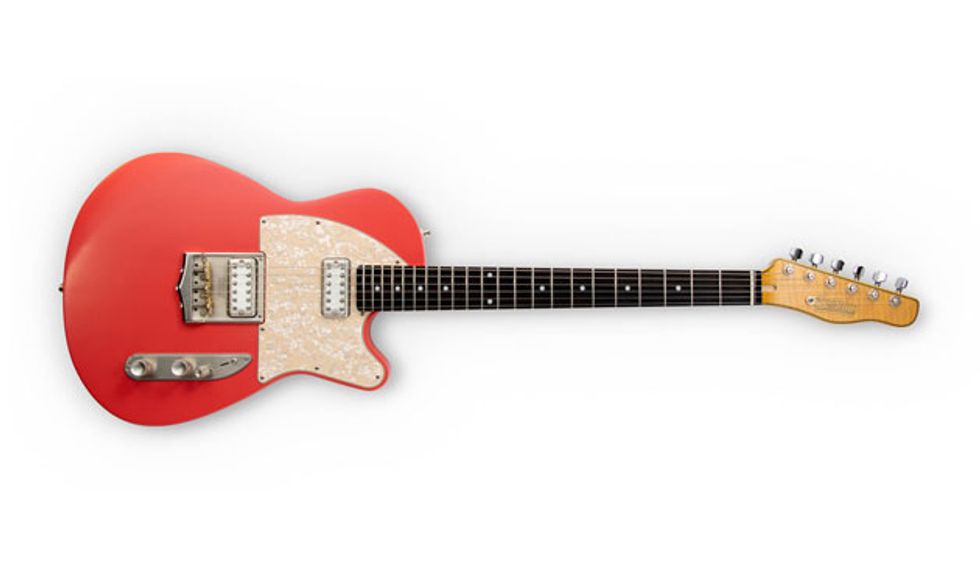 Miami, FL (October 5, 2020) -- The new Belltone Electric Guitar Models 'B-Classic One' and 'B-Classic Two' are the foundation for the new Custom-Select System customization build platform from BelltoneGuitars. These two variations of the same model differ slightly as one has a flat top and top edge binding and the other has body/arm contours and no binding. The overall styling is a hybrid based on design inspiration from the early LP and T-Style guitars combined into one unique body shape. Along with the body shape, the neck profile, headstock, and the custom built hardware all reflect the Belltone design perspective and aesthetic.
The Custom-Select System affords the guitarist to choose from a carefully curated collection of elements such as body color, pickguard color/material, pickups, and neck and tuners to create their own 'signature' on the look and sound of the guitar. They will be available as 'made to order' and are handcrafted here in the USA.
Belltone Signature Components
Custom designed machine milled, lightweight brushed aluminum, angled switch control plate and Devil's Tail bridge with solid brass 'swivel' saddles
Knurled solid brass brushed nickel finish 'Tall-Boy' knobs
Our 'C-Major' profile maple neck with 10 to16 compound radius and signature purfling edge trim on the headstock
Bell-Tron, Bell-90, Bell-Foil and Single Bell pickups
Belltone Lockers 18:1 ratio locking tuners
Custom Belltone Hardshell Case
 
Custom-Select Options
B-Classic One or B-Classic Two model
over 30 body colors to select from
over 25 different pickguards
maple or rosewood fingerboard
Sperzel USA locking tuners
in addition to our Belltone pickups, a wide selection of unique and custom pickups from various boutique builders from the USA and around the globe like TV Jones, Rio Grande, Benson Custom, Mojo/UK and more to come…
Custom Builds start at $1895.00 with custom case and shipping included.
For more information:
Belltone Guitars