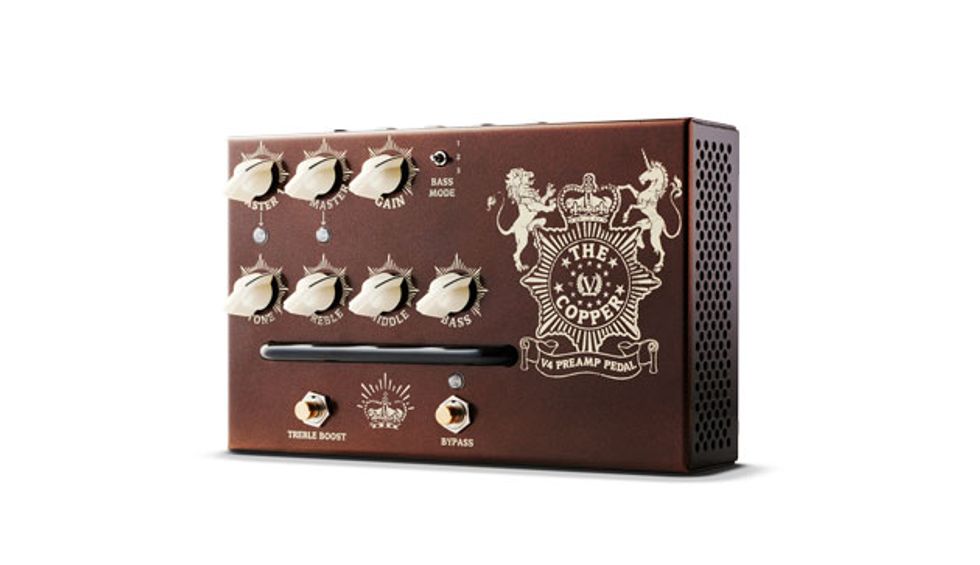 Surrey, United Kingdom (November 26, 2020) -- The V4 Copper preamp pedal becomes the newest addition to Victory's hugely successful all-valve preamp pedal range.
Based on 2019's Copper amplifier, this preamp pedal is designed to sound like the chime and rock of the late-1950's British amplifiers. Chiming EL84 cleans, expressive mid-gain sweetness and rich classic rock roar are packed into this pedal, for exceptional all-valve overdrive.
As with the rest of the V4 Preamp pedal range the V4 Copper can be used straight into the front of your amp or recording interface, or alternatively use it in conjunction with your amp's FX loop to bypass the front end of your existing amp for a whole new sound experience.
The V4 Copper comes with the same powerful three-band EQ that is found across the range but this is where the similarities stop. In a first for the V4 series, the Copper has a treble boost and tone control, perfect for tweaking your sound and the treble boost is footswitchable for greater control. Like the Copper amp range the V4 preamp comes with a gain control and bass cut to dial in tones from Skinny British 60's pop jangle through the thick and fat boutique tones.
V4 The Copper Preamp Pedal: £369 / €449 / $519
For more information:
Victory Amps