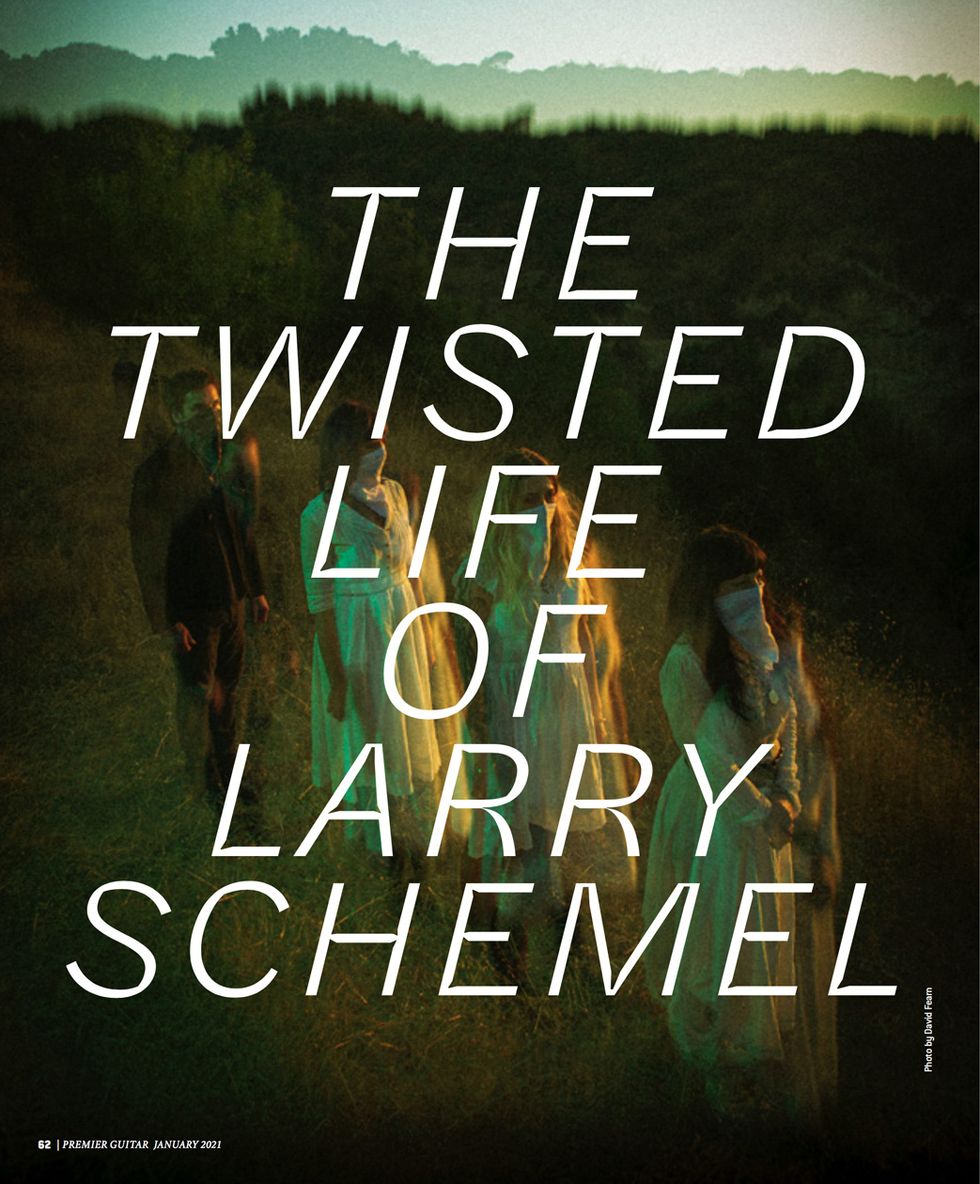 Keeping it weird, Death Valley Girls are, from left to right, guitarist Larry Schemel, bassist Nicole "Pickle" Smith, drummer Rikki Styxx, and singer/guitarist/keyboardist Bonnie Bloomgarden. Photo by David Fearn
Larry Schemel, from the Los Angeles-based psychedelic band Death Valley Girls, has been on the scene and in and out of bands for over 30 years. He's a seasoned, grizzled professional, and quit his day job ages ago. Yet despite that, he doesn't use vintage or high-end gear, his closets aren't packed with expensive boutique devices, and the pedals he does use aren't even mounted on a board. His No. 1, and basically only, guitar is a Mexico-made '90s-era Telecaster Custom reissue, and his amp—where he gets most of his grit—is a $400 Ampeg GVT 1x12 tube combo. That's it. And no, he's not looking to upgrade.
"If I was in a band with a huge budget for amps, I would just want a bunch of these," Schemel says in reference to his Ampeg GVT. "That's the sound. I'd probably have a bunch of Ampegs on different settings. Over the years, I've gone through so many different things—it's that ongoing quest for your perfect sound, and it is still evolving. But as far as getting the simple tone and sound out of a guitar plugged into an amp, this is it."
Death Valley Girls started in 2013 when Schemel's sister Patty, of Hole fame, introduced him to multi-instrumentalist Bonnie Bloomgarden, and they discovered they had instant chemistry. Since then, the band has been on the road, back and forth between the U.S. and Europe. They've released four albums, including the recent Under the Spell of Joy. (The album's rhythm section is Rikki Styxx on drums and bassist Pickle, aka Nicole Smith.) And they somehow convinced Iggy Pop to recreate the short film Andy Warhol Eating a Hamburger as the video for their song "Disaster (Is What We're After)," from 2018's Darkness Rains.
Under the Spell of Joy is hypnotic and brooding, and often sits on one riff or alternating two-chord pattern—á lathe Stooges—throughout an entire song. Schemel's playing is understated and textural, although there are breakout moments, like his melodic, vocal-esque leads on "Hold My Hand," or his very Keith Richard's "Bitch"-style solo on "10 Day Miracle Challenge." And speaking of Richards, that brings us back to Schemel's gear, and particularly his Tele Custom reissue and Ampeg GVT.
"It's crazy, because I am a huge Stones fan, but I wasn't familiar with what setup Keith was using in what eras," Schemel says. "That '72 Tele and that Ampeg—that's the Keith Richards setup, and that's my favorite Stones era. That's so cool. It wasn't intentional. It just happened, and I was like, 'This totally makes sense.'"
Serendipitous low-budget gear choices notwithstanding, we spoke with Schemel from his home in Los Angeles to discuss his idiosyncratic ear for equipment, his stint with garage legend Roky Erickson, coming of age in Seattle when grunge ruled the world, the many projects he's been involved with over the years, his unique songwriting sessions with compatriot and bandmate Bloomgarden, and the beauty of minimalist guitar playing.
Tell me about your Tele.
That's my main guitar. It's a mid-'90s Tele Custom, which is the 1972 Fender Tele Custom reissue. It's a Mexico-made Tele with a maple neck, and I got it new. The Custom is always with a humbucker and a single-coil, unlike the Deluxe, which has two humbuckers. I mainly use the single-coil bridge pickup. I'll use the humbucker occasionally live, like if I do cleaner stuff and I want a warmer sound, but for the most part, it's that bridge pickup, because I love that Tele sound, that trebly grit. I am pretty much playing that live full-on.
I love all the Pink Floyd records, but the first one, especially with Syd's guitar stuff on there, is really out there.
Even when you're playing with a lot of fuzz, your tone still has that single-coil, bolt-on-neck sound.
I landed on the Tele later. I love Fender stuff, and one of the first guitars that I had—that was a real guitar, other than a crappy budget guitar—was a Fender Jaguar. From there, I used a Les Paul in one band, and I had an SG, but I was drawn toward Fender stuff.
I was once at the Chicago Music Exchange, and there was a guitar there that I'd never seen in real life, which was the Fender Esquire. I was really intrigued by it, because Syd Barrett played an Esquire on that first Pink Floyd album. That guitar sound, to me, was so out there. You could cut glass with it. The guitar at the Chicago Music Exchange was $30,000 or something like that. I played it, and it was one of those moments when you pick up a guitar and play it and it's just magic. It's playing itself. You can play a song immediately and it feels so good. If I had the money, I would have got it right then and there. It's one of those things, and it even happens with the cheaper models, where you think, "This has got the mojo."
Is the period of Pink Floyd when Syd Barrett was in the band one of your big influences?
Oh yeah, that was big. As a teenager, as I grew up from hard rock to punk, and then going backwards to the 1950s and '60s, the psychedelic bands were a big influence. I love all the Pink Floyd records, but the first one, especially with Syd's guitar stuff on there, is really out there. It's psychedelic, but it's also heavy and driving, and his guitar playing was wild. It had a similar quality to the Velvet Underground, which was huge: that unhinged playing and the tones they get. And, of course, the 13th Floor Elevators were huge, too.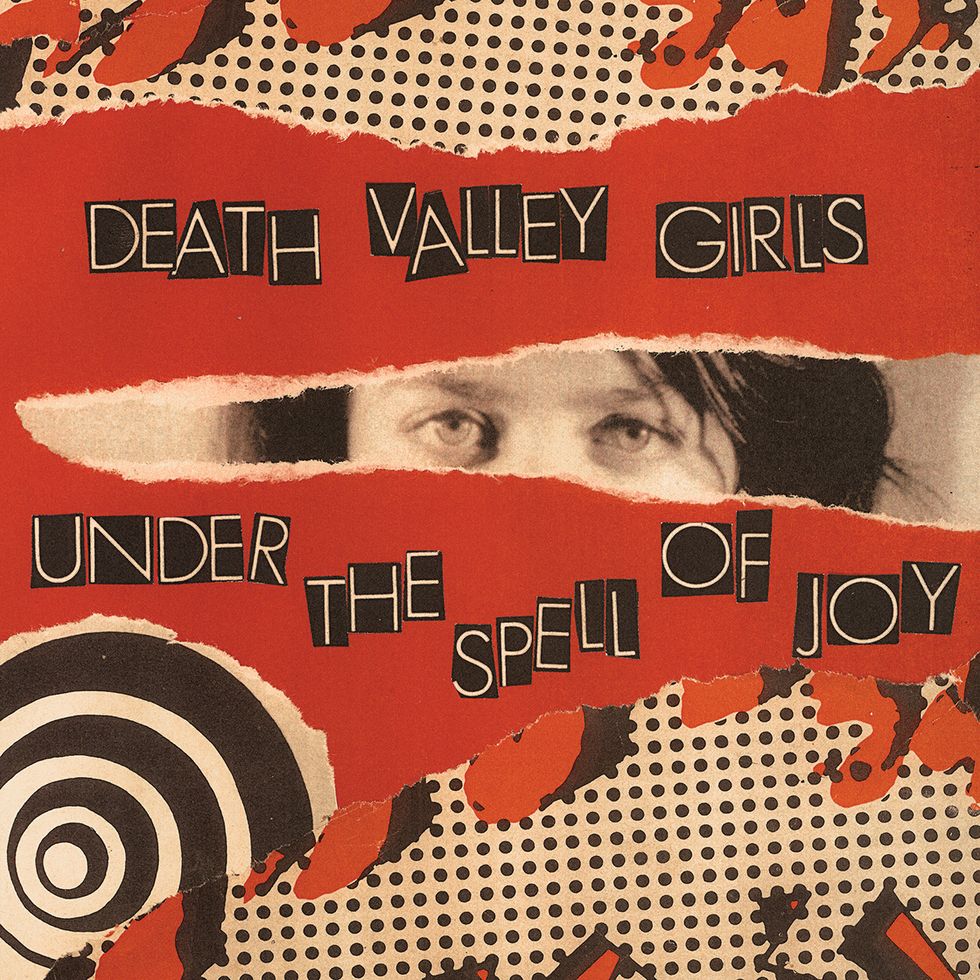 After listening to a passel of Ethiopian funk on tour, the band wed that genre's furious grooves to its own psychedelic instincts for the new Under the Spell of Joy.
There's a picture on your Facebook page with you playing with Roky Erickson and Billy Gibbons. How did that come about?
That's not photoshopped [laughs]. Death Valley Girls played a festival in Southern California with a bunch of other bands, and Roky Erickson's band played. After the show—it was an amazing show—me and Bonnie went up to the guitar player and told him "that was amazing." He asked what band we were in. We told him, and he said, "I have your record." We stayed in touch and—fast-forward a year-and-a-half or so—we get an email saying, "Roky Erickson's band is going to tour and we want you to come out with us." We said, "Yes. Totally. Awesome." A couple weeks later, the guitar player, Eli Southard—he was Roky's main guy—messaged me and said, "We need a second guitar player for the band. If that interests you, it would be cool if you could be a part of it." Without hesitation, I was like—oh my god this is insane—"Yes, I'll do that!" Eli sent me the songs. It was 35, half of which were 13th Floor Elevators' songs and half were Roky Erickson solo stuff. I knew all the songs, but there's a difference between listening and knowing a song versus having to play the song. It messes with your mind, because some of the stuff was either way easier than I thought, or way more difficult. Especially the Elevators' stuff, where it's like, "Is that a bridge? Why does that part go seven-and-a-half times and then that other part goes three times?" They were definitely on psychedelics when they wrote that music.
I learned all the stuff. We drove to Austin, Texas, and met up with the band. I got in a couple practices with them, and we were on the road. It was awesome. Roky was super cool, and we ended up doing a couple of tours with them. At the end of one of the tours, we were playing at the Roxy in L.A. Billy Gibbons lives in L.A., and he and Roky are old friends from when Billy was in the Moving Sidewalks. Billy showed up to the show, and someone asked Billy to come onstage and play a song with us. We did "You're Gonna Miss Me" for the encore, and so it was me, Eli, and Billy on guitar, and it was an out of body experience. I was playing this song, which is a classic psychedelic rock song, with Billy Gibbons right next to me. I thought, "This is what it's all about." That was a mind blower. I am just glad there's pictures of it, because I am like, "Did that really happen?"
---