Remembering Alexander Dumble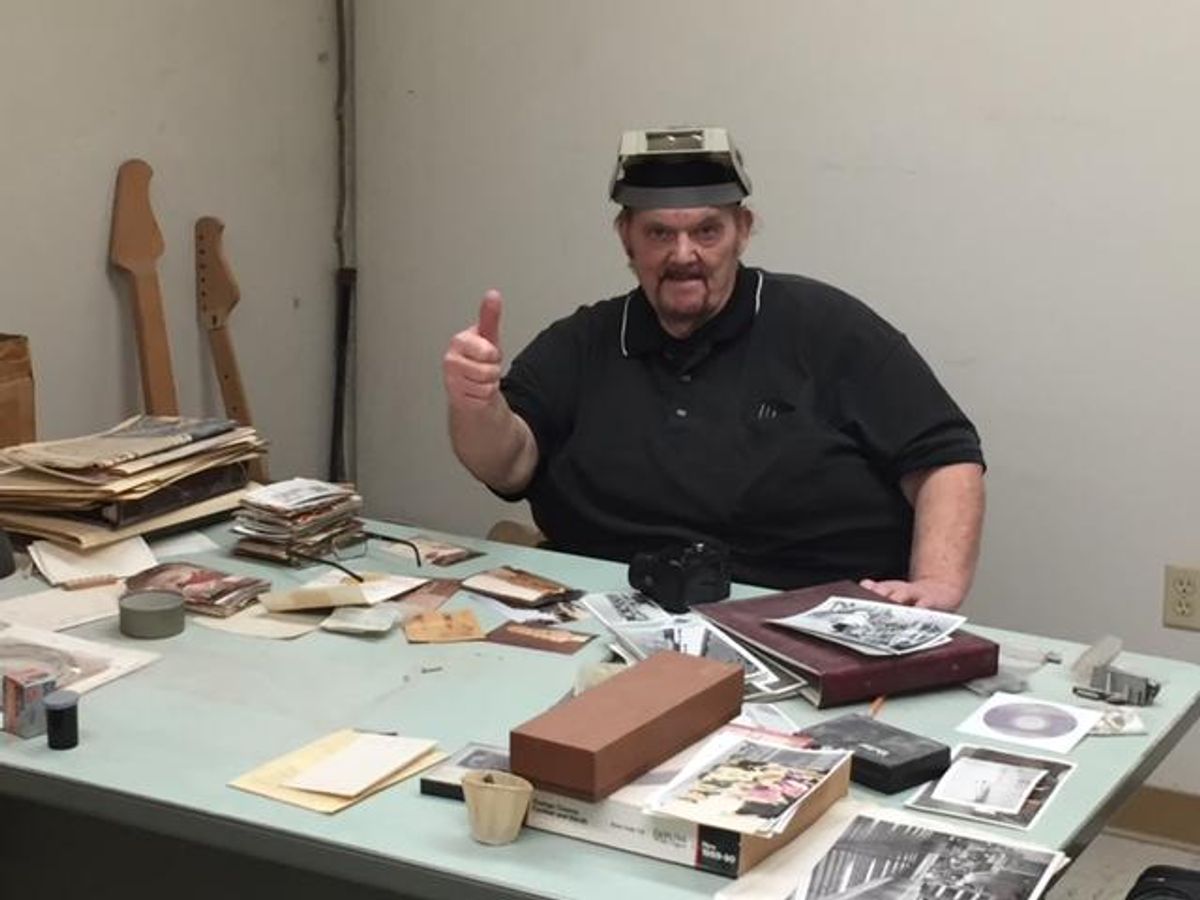 Photo courtesy of Larry Thomas
His amps fetch eye-popping sums, and the stories are legendary. Dumble's friends share their memories of a true musical visionary.
Howard "Alexander" Dumble was about as close to a guitar mystic as you can get. He was an eccentric recluse as well known for the mythology surrounding his creations as for the amplifiers themselves. The list of players who have relied on his amps carves a through line of the history of modern electric guitar styles. Eric Clapton, Carlos Santana, Stevie Ray Vaughan, Jackson Browne, Robben Ford, Eric Johnson, John Mayer, Sonny Landreth, Joe Bonamassa, and dozens of other A-listers found their sound through a Dumble amp. On January 17th, Dumble passed away at his home in Turlock, California.
---
Not many people really knew Dumble on a close personal level. Considering his aversion to interviews and media, he could have probably passed through any Guitar Center relatively unnoticed. But Larry Thomas, former CEO of Fender and Guitar Center,was a close friend. "The definition of a genius is someone who knows more about a subject than anyone else. His genius was being able to turn what he heard in your playing into an amp that made it better." And that skill goes far beyond the schematic.
Kenny Wayne Shepherd remembers when he brought an amp to the workshop for repair: "After popping open the circuit he would jump around with a multimeter and would almost instantly know how to fix it. There are probably other amp techs that would understand those readings, but Dumble was the only one in the world who knew what those readings should be."
"I think his greatest satisfaction came from creating technology that translated into art by the individual artists he specifically tweaked his designs for." ­– Sonny Landreth
In the mid 1960s, while still a teenager, Dumble got a job designing amps for Mosrite. Semie Moseley was impressed by the talented youngster and proposed a partnership. "He offered to go in with me to build 10 amplifiers. He bought the parts and paid me $90 a week—for about four weeks, and then I had to work for free," Dumble told Guitar Player in a 1985 interview. The Ventures were one of Mosrite's biggest endorsees and caught wind of the new amps but declined to use them. Dumble said, "It was a little too much rock for them." These piggyback amps might be the rarest Dumble creations of all and it's believed that only one or two are still in existence. In the late-'60s, a lengthy tour playing bass for Canadian singer/songwriter Buffy Sainte-Marie (who was unaware at the time of his talent for creating amps) helped Dumble open his first workshop.
There was an ad-hoc audition process if a player wanted to commission a Dumble amplifier. In order to even get the opportunity to meet with the builder, a player would need a recommendation from someone in Dumble's trusted circle. Then, if they were invited, the audition could be simply playing for him during a casual hang, or he might ask for a CD. "Alexander really only wanted to make amplifiers for the very best players in the world," says Thomas. It didn't seem like fame was a deciding factor either—Dumble would turn down requests from big-name players. "He treated his amps like they were his children," says Bruce Forman. Back in 2019, Forman brought Dumble a 1966 Fender Vibrolux for his two most popular mods: RockFonicks and Ultra-Phonix. "He wanted them out there making music."
Each amp Dumble created was carefully and painstakingly crafted to accentuate the best parts of the owner's style.
Photos courtesy of Bruce Forman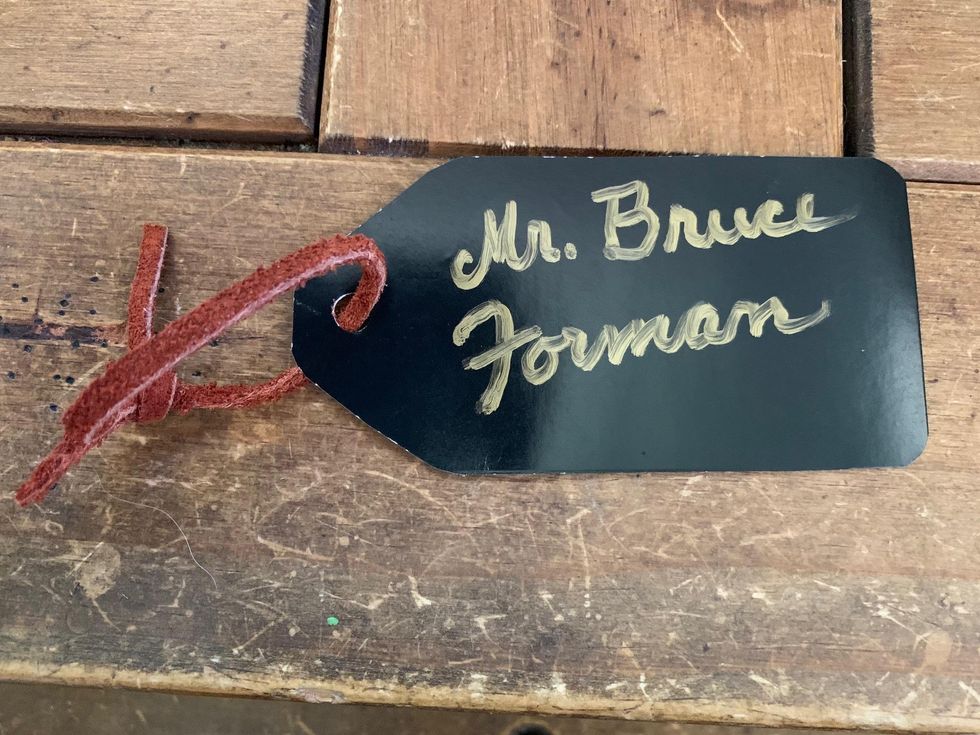 Many times, the only real proof that an amp had been "Dumble-ized" would be a handwritten tag written by the man himself.
Those lucky enough to pass the "audition" and spend time with Dumble would often comment on his amazing touch on the instrument. During one of his visits to Dumble's shop, Shepherd found himself on the receiving end of a subtle guitar lesson. "He would always ask permission to show me stuff," remembers Shepherd. These gentle "lessons" would inevitably lead to impromptu jam sessions—some of which Shepherd recorded for his own benefit. "If I didn't record those licks he showed me, I would have forgotten them 30 minutes later."
The one guitarist who's most synonymous with the sound of a Dumble is Robben Ford. For nearly 40 years, Ford has been the caretaker of an Overdrive Special that, in his hands, has become the benchmark for classic Dumble tones. His latest live album, Live at Yoshi's '96, became an unintentional tribute—not only are the tones visceral and huge, but the cover features a plain image of the most famous Overdrive Special around. Ford purchased the head for $1,200 when Dumble was set up at The Alley in North Hollywood. "Alexander told me that watching me play my early '60s Fender Bassman inspired him to create the Overdrive Special," remembers Ford. With the rise of Ford's career in the '80s and '90s, word began to spread about Dumble's builds—and his eccentricity. "One of the final tests Dumble would do on amps would be to remove the tubes and drop it out of a three-story window. If it worked after that he knew it was finished," mentions Ford.
"He was a mystery, to all of us."­– Robben Ford
About 10 years after obtaining the first Overdrive Special, Ford put in an order for another one to keep in Europe. Originally, this was going to be a 50-watt model because Ford was looking for ways to keep the stage volume down, but that didn't last long. "Turns out I was addicted to 100 watts in a live situation," says Ford. "How do you get headroom and tone? Dumble." Several years ago, Ford was going through a divorce, moving to Nashville, and was looking to sell the second ODS. Knowing Dumble's general dislike of the secondhand market for his amps, Ford reached out and brought up the idea, offering to split the proceeds. "He made this amp. I'm just the salesman," said Ford. After agreeing to a 60/40 split, Dumble connected Ford with a buyer, who would occasionally help Dumble acquire components for his builds. "Dumble told me not to send a check and just have his cut be a 'credit' with the new owner. He was a mystery, to all of us."
His off-the-grid lifestyle forced Dumble to frequently look at alternate payment arrangements with clients. One of the early users of his amps was singer/songwriter Christopher Cross, who was brought in by Bonnie Raitt. Cross and Dumble decided on two KT88-loaded heads (a first for Dumble at the time) with matching 2x12 cabinets in orange suede for a clean sound and an Overdrive Special with a 4x12 cab for a lead sound. Naturally, Cross needed a way to switch between sounds easily. The solution was based around a pair of Japan-made Strats that were modified by Valley Arts. Each guitar only had a middle and bridge pickup and was outfitted with a heavy-duty switch—imagine the massive switches on the back of vintage Fender amps. An oversized cord went to a blue two-space rack unit that housed mechanical relays to control which amp was engaged. "I really couldn't afford to mess around with pedals at that time," says Cross. At the time, Dumble was living in a house owned by Jackson Browne and Cross headed up there to pay for the custom relay box. "When I asked him what I owed him, he handed me a torn-out page from a Sears catalog," recalls Cross. Dumble had circled a washer and dryer unit and told Cross that if he bought those for him, they were square.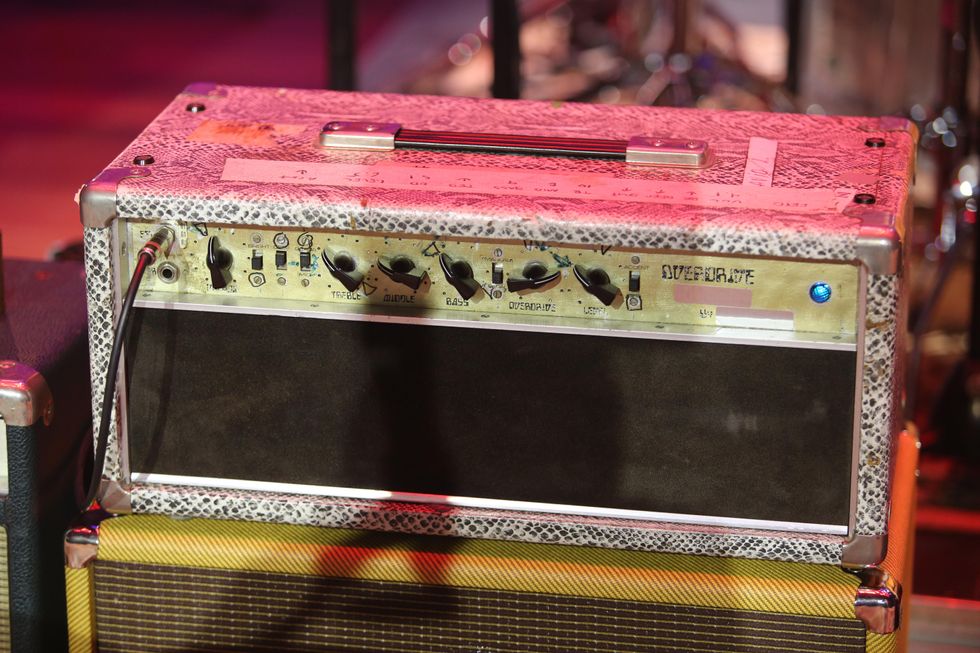 Ben Harper pulls no punches when it comes to his amps. This one was the eighth Dumble ever made! He got it from one of his early mentors, David Lindley. The head runs into two 12" Celestion speakers, one housed in a tweed Glasswerks cab and the other is in the green Dumble combo.
Along with the tweed Twins, Joe Bonamassa runs a pair of Dumble Overdrive Special combos. This silverface model was built in 1980 and has been retrofitted with Bonamassa's signtuare Celestion 85-watt speaker. This one is 50-watts, which Joe Bonamassa prefers over their 100-watt big brothers.
Several companies tried to partner with Dumble to bring his amps to a larger market. "He created an entire industry that he didn't participate in. Alexander never cashed in on that. He steadfastly had a code of conduct he lived by until the very end," says Joe Bonamassa, who currently has a stash of four Overdrive Specials and a Fender Vibrolux with the UltraPhonix mod in his collection. According to Bonamassa, Dumble is "by far the most innovative circuit designer of all time," and he attributes the boutique amp boom to Dumble's work.
Probably the closest Dumble ever got to working with a larger company was when Thomas pitched the idea of Fender licensing one of his designs. The two had a lot in common and shared a deep love for Leo Fender and his designs. Early discussions revolved around doing a Dumble-approved modded Twin or Deluxe Reverb. Thomas also mentions that pedals were also a possibility. "I have a few of the [amp] prototypes," says Thomas. "Simply put, one roadblock was we couldn't really figure out how to pay him." After spending a few years on the project, it ran out of steam. Thomas last saw Dumble in October when they met for dinner the night before he moved to Turlock. "He was in a really good space," says Thomas.
"His amps were superheroes." – Henry Kaiser
"His wish was that once he was gone there would be no more Dumble amplifiers," says Ford. "Most people want to leave behind a legacy, but he didn't want that." Health issues prevented Dumble from doing much work over the last six months of his life, but a few projects really excited him. Slash had recently connected with him for a build, and he was in talks to make an amp for Keith Richards.
During our talk, Larry Thomas held up a framed turret board populated with the components of an old Fender 5E3 Deluxe circuit. It was a Christmas gift from his friend, Alexander Dumble. The solder joints were impeccable. Around back was an inscription describing how the Tru-Ohm resistors and Allen-Bradley capacitors had been carefully harvested from older amplifiers. Dumble's handwriting—even carved in the back of a frame—is unmistakable. It was a work of art that he made for his friend celebrating their shared love of a particular old amp.
Alexander Dumble's contributions—both direct and indirect—will stand alongside names like Leo Fender and Jim Marshall. For years to come his designs will be analyzed, discussed, and copied, much like his heroes. Even though many will never get past the market price for his creations, Dumble might have said it best back in '85, "There are hundreds, perhaps thousands or millions, of valid guitar tones. When the air becomes electric, that's the right sound, no matter what the one is."
Dumble Amps: 10 Guitarists on the Late Legend's Designs