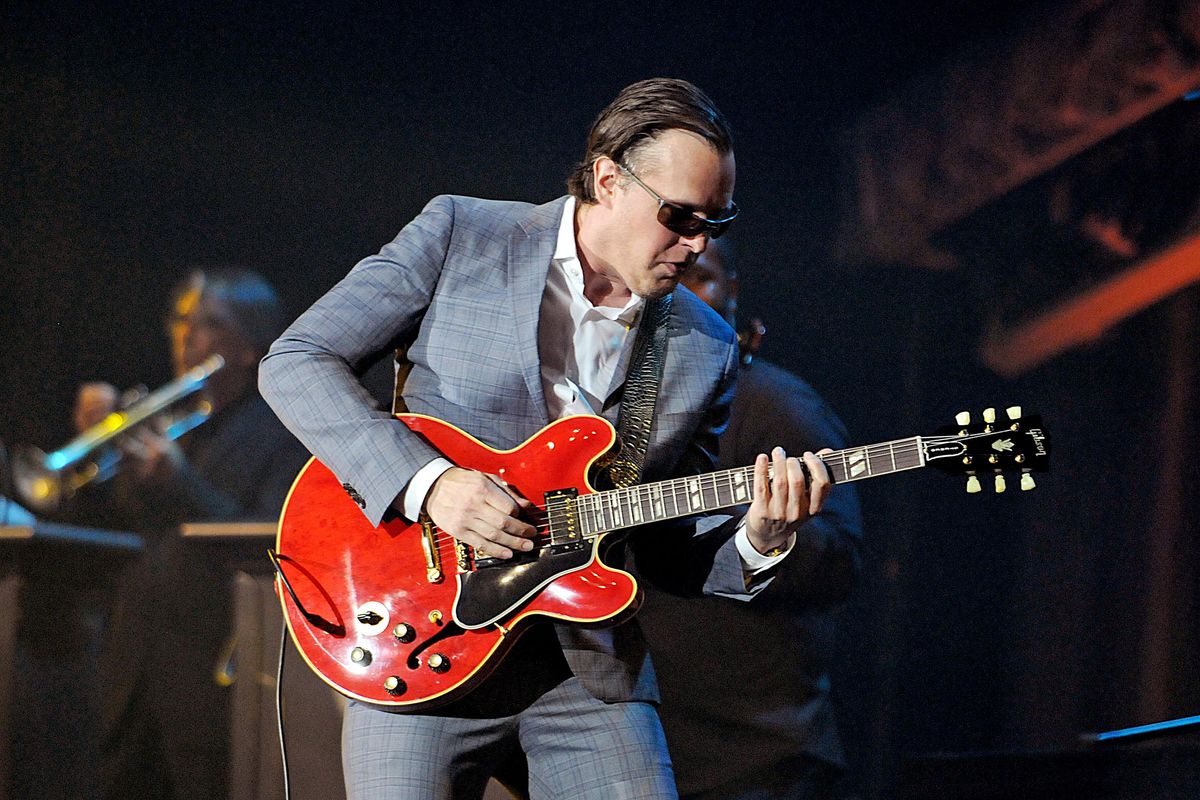 Photo by Steve Trager
For his stylistically diverse new album, the fiery guitar hero steps back from his gear obsession and focuses on a deep pool of influences and styles.
Twenty years ago, Joe Bonamassa was a struggling musician living in New York City. He survived on a diet of peanut butter and jelly sandwiches and ramen noodles that he procured from the corner bodega at Columbus Avenue and 83rd Street. Like many dreamers waiting for their day in the sun, Joe also played "Win for Life" every week. It was, in his words, "literally my ticket out of this hideous business." While the lottery tickets never brought in the millions, Joe's smokin' guitar playing on a quartet of albums from 2002 to 2006—So, It's Like That, Blues Deluxe, Had to Cry Today, and You & Me—did get the win, transforming Joe into a guitar megastar.
---
Since achieving fame and fortune, Joe has spent most of his time in his various residences across the country. He's got Nerdville in sunny California and Nerdville East in Nashville. Both are almost-literal museums that house Joe's arguably unmatched collection of vintage guitars and amps. You will be very hard pressed to come across a finer collection. Yet in 2019, Joe found himself drawn back to New York City.
Joe Bonamassa - "Time Clocks" - Official Music Video
"It's a mid-life crisis. I always wanted to go back to where I lived 20 years ago, but not have to worry about hustling down sessions and gigs to make the rent every month," he says. "For as cool and exciting of a time as it was, it was also a very stressful time. I had this thing in my mind where I just wanted to be able to enjoy New York City and not have the stress of, 'Oh shit, it's either a subway ticket or ramen noodles tonight.'"
In February 2021, Joe went to Germano Studios in Manhattan's NoHo neighborhood to record Time Clocks, aka "The New York Album." Because of the pandemic, this recording session was like no other Joe had been involved with. Kevin "the Caveman" Shirley, Joe's longtime producer, was stuck in Australia due to strict COVID travel restrictions. The two have had a long working relationship and they've been inseparable for most of Joe's career. Shirley produced the guitarist's fifth studio album, You & Me, and has since produced over 30 of Joe's subsequent projects. So, when it came time to record Time Clocks—travel restrictions be damned—they found a way to work together. "We recorded it virtually with Zoom and some other technology where my producer in Australia could get the actual tracks from the session in real time or with about a second latency," says Joe. "It was totally fine. It was an odd record to make because of what we were doing, but it was also an odd time. So, why should anything be normal anymore?"
"I just wanted to be able to enjoy New York City and not have the stress of, 'Oh shit, it's either a subway ticket or ramen noodles tonight.'"
Even with the differences in time zones (Sydney, Australia, is 16 hours ahead of New York City), they found a way to make it work. "We would get there about noon. Kevin's an early riser so he would get to his studio, which is by his house in Sydney, by about 2 a.m. So, we would go from about noon to 6 or 7 at night, and he would go from 2 to 9 a.m., and then take naps."
Time Clocks is full of unexpected twists. It was recorded live as a trio with drummer Anton Fig and bassist Steve Mackey, and then other parts were layered in. The album has a diversity of sounds that belie Joe's blues categorization. "Notches" opens with an Ali Farka Touré-inspired 12-string riff, "Time Clocks" has a country-esque, Americana vibe, and "Curtain Call" is an homage to Led Zeppelin. "My ADD transcends into my musical life. It's a very different record for me. It's not a blues record, for sure. I just try to make records that don't bore me all the way through—we've got this groove covered, we've got that groove covered, let's put a sorbet in, something out of left field," says Joe.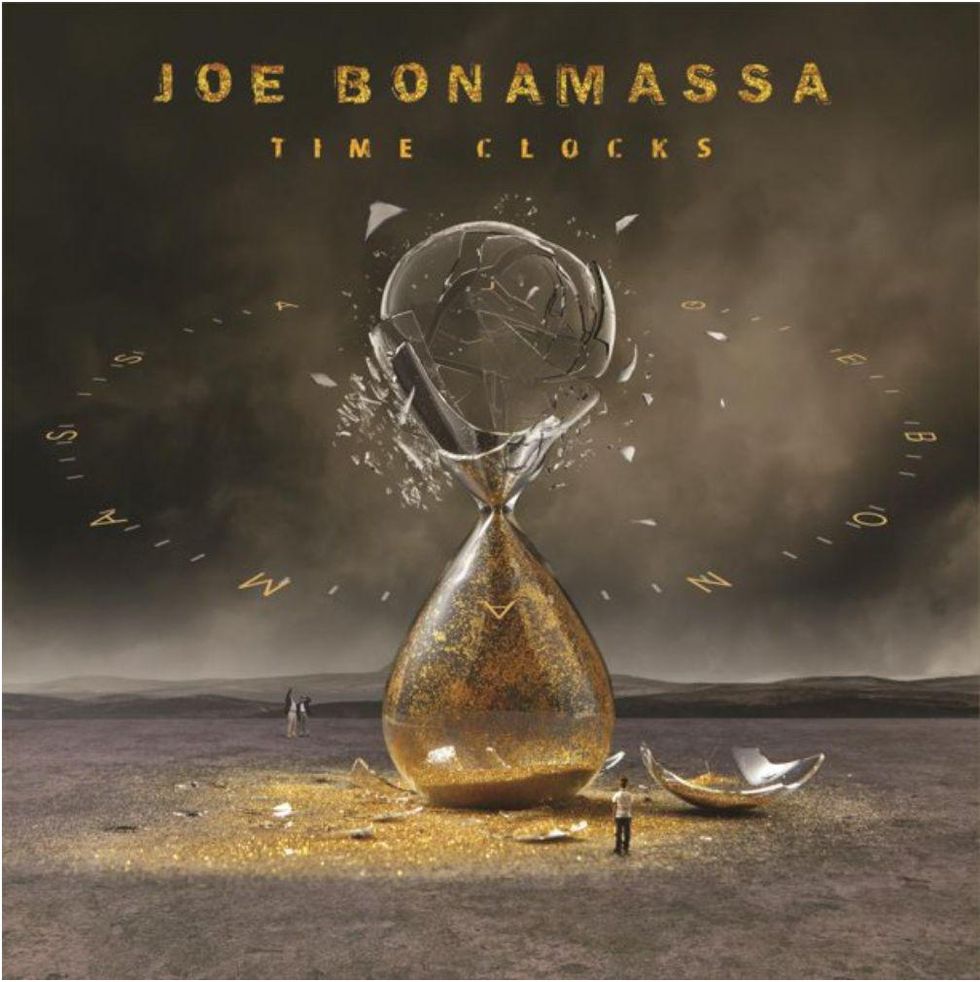 TIDBIT: Bonamassa's longtime producer, Kevin Shirley, had his hands on the wheel again, but remotely. He produced from Sydney, Australia, while the band recorded live on the floor in New York City.
"Some people think that all I do is play blues. I don't just play blues. I play whatever. We've all been in this game for a long time where we can adapt to any musical situation. It's fun. Every once in a while, I'll go sit in with friends. I just sat in with Nir Felder [at NYC's famed 55 Bar]. If I sit in with Nir, I'll be like, 'When these chord changes get too fucking adult for me, I'm bailing.' You just know your strengths and your weaknesses."
For the Time Clocks sessions, Joe used a much leaner gear selection than you might expect, especially given his cavernous collection. "In New York City, you go with what you got. There were only three amps. I had a [JB signature] high-powered Twin sent from our inventory that's still in the spare bedroom in the apartment. I ended up using two Deluxes. I had one Deluxe Reverb and one brown Deluxe," says Joe. We wonder if Joe was referring to a reissue Deluxe Reverb that might have happened to be at the studio, or one of his rare closet classics. He immediately snaps, "Think about that critically and ask yourself again, 'Who are you talking to?'" Point taken, Joe!
Joe Bonamassa's Gear on Time Clocks
"I'm not going to live my life in indentured servitude to the fucking guitar."
Guitars
Gibson Les Paul
Gibson ES-335
Fender Stratocaster
Fender Telecaster
Martin acoustic guitar
Strings

Ernie Ball Burly Slinkys (.011–.052; .011–.056 on down-tuned guitars)
Amps
Fender black-panel Deluxe Reverb
Fender brown-panel Deluxe
'59 Fender Twin-Amp JB Edition
Effects
Klon Centaur
Dunlop Joe Bonamassa Signature Wah
"When I was a kid, I had a black [panel] Deluxe Reverb. I think this is probably one of the ones that I had for 25 years," he clarifies. "The black and brown circuits are totally different, so you get that kind of sweet/salt mix. The brown Deluxe does the real thick midrange stuff and the black does the low and the high. That's kind of always been my M.O. It's never just one amp. You're mid-stacking with amps that don't necessarily do the same thing. The bigger, thicker tones you hear on the solo, that's the high-powered Twin. The more jangly stuff was the Deluxes."
"'When these chord changes get too adult for me, I'm bailing.' You just know your strengths and your weaknesses."
Joe also only used a handful of guitars on Time Clocks. "I don't keep a lot of guitars here," he says. "All I had was a Les Paul, a Strat, a 335, a Rickenbacker 12-string, an old bass from the movie Spinal Tap, the one that Nigel kept telling Rob Reiner not to touch—I actually own that one. But it was less than six guitars. I also used a Martin acoustic. All the acoustic stuff was done with one acoustic.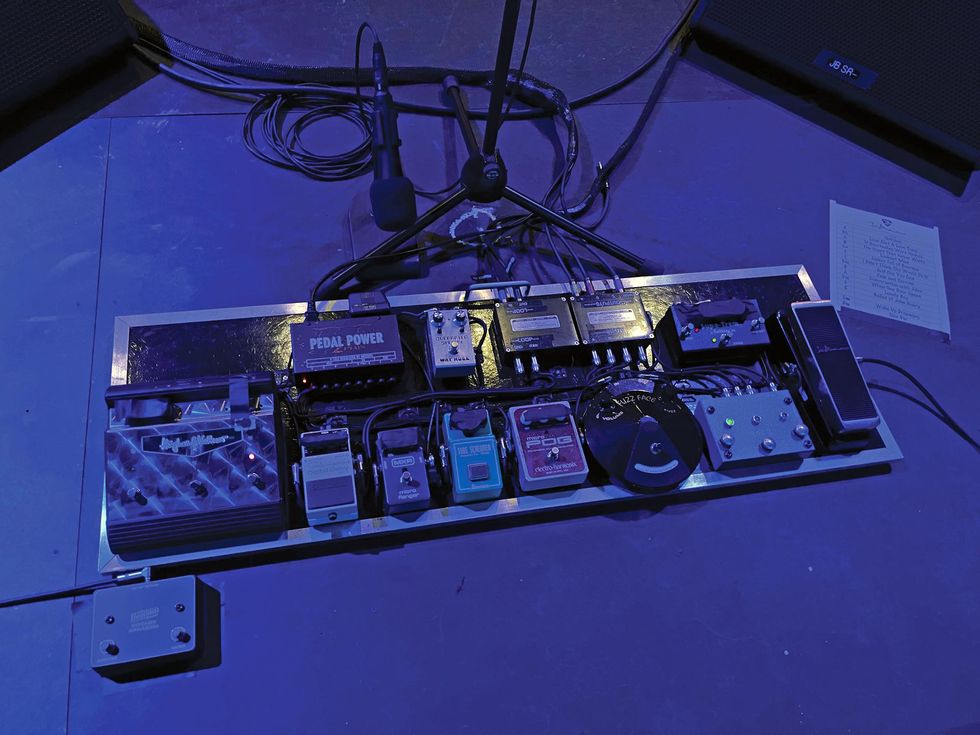 A recent snapshot of Bonamassa's pedalboard.
"In Nashville, I have all my road guitars, but to be honest with you, over the years I've never gotten into this thing where you bring 50 guitars and use five. I did that a long time ago. It's nothing but a photo op. Most of the time I bring a Whitman's Sampler of what I think would work. The days of humping in 50 guitars and setting up six racks of them and going, 'Look what I got'—that's a young man's game. That's for somebody in their 30s."
"I've been playing guitar and cranking amps for 40 years. Do you know the two things that prompt me to run away? Loud music and crowds. It's a paradox, I know."
Joe's newfound minimalism goes hand in hand with living in a New York City apartment, where even playing with an amp on 1 will get you the "broomstick on a ceiling" retaliation. "I've been playing guitar and cranking amps for 40 years. Do you know the two things that prompt me to run away? Loud music and crowds. It's a paradox, I know," he says. "So, when I'm at home and I'm enjoying a very quiet Sunday afternoon, I have zero, absolutely zero, desire to crank an amp. And I have zero-plus-5-percent desire to sometimes even practice on a given day. It gives you a break. It's important to be good at your job on a given day. It's important to also step away and give yourself some perspective, so you're not so consumed by it."
Rig Rundown - Joe Bonamassa [2018]
Every aspiring guitarist—no matter the genre—longs for their day in the spotlight. They too want to be a guitar god and inspire thousands of players and listeners, just like Joe. But what does it feel like on the other side—when you actually win?
The guitarist onstage with his frequent on-tour sparring partner in recent years, bass giant Michael Rhodes.
Photo by Debi Del Grande
"Then a whole 'nother set of circumstances come into play," he says. "It's managing time, managing your energy. It's also trying to keep in perspective what is it that you really do, because sometimes life comes at you twice as fast as it used to. All my energy is dedicated to the fans that keep me in business and come time and time again. That is 100 percent my biggest priority. When distractions and other things come into play that tend to take energy away from what you're supposed to be doing, that's the challenge. I realize I'm a very fortunate person, but I don't make any apologies for it, because, to be honest with you, that's what everybody strives for. Why should I apologize for working hard? I always tell people it's easy to dismiss, hard to replicate. If it was easy, as some claim, then it would be as easy as starting a TikTok. If it was that easy, then anybody could do it. But to be honest with you, anybody can do it. You've got to have the intestinal fortitude and the drive, and the ability to stick it out through thick and thin."
Bonamassa cradles his famed 1959 Les Paul Standard, Lazarus. The guitar was recreated for a limited-edition issue via Epiphone this year.
Older and wiser at 44, Joe, who started performing onstage at age 12, has now found time to explore other things in life besides guitar. He indulges in Law and Order marathons, is on an excruciatingly strict diet with Diet Coke as his only vice, and has found a new passion in cycling. He'll just as likely post details of his Central Park bike excursions on Instagram as he would another guitar-safari vintage find. Even with the potential danger of a career-ending fall, Joe, much like the late Allan Holdsworth—who was also an avid cyclist—is willing to chance it. "If I fall and somehow my career ends on that particular day, then so be it," he says. "I'm not going to live my life in indentured servitude to the fucking guitar. If it's over, it's over. You've got to enjoy your life."
Joe Bonamassa & Tina Guo - "Woke Up Dreaming" - Live At Carnegie Hall