From Bonamassa to Lamb of God, Yeah Yeah Yeahs, and Dweezil Zappa—10 Stomp Stations from PG's Hottest Rig Rundowns
When it comes to finding fresh tones that inspire new song ideas or put the sonic palettes of your heroes at your fingertips, there's simply no substitute for slogging it out and putting tons of time into experimenting with different instruments, techniques, effects, and amps. We're individuals with our own unique touch on the strings, a set of ears that's heard things no one else has, and a guitar or bass rig that—due to our budget limitations, being finicky, or (hopefully) an insatiable longing for new tonal titillation—is never going to be exactly what we want. Let's face it—we're impossible to please. But if it feeds our muse, how can that be a bad thing?
Still, sometimes getting out of your own headspace and considering other players' contexts can get the gears in your brain turning in ways that woodshedding can't, even if that context sometimes comes from guitarists or bassists you don't particularly dig or know much about. Hearing someone play a particular pedal and seeing how they use it—what their settings are, where they put it in their signal chain, and how they adjust their attack or their instrument's onboard controls—can reveal a previously mundane-seeming device to be a corridor into mind-blowing sonic realms.
Every week, premierguitar.com features a new Rig Rundown video with the potential to do this for the tones you hear in your head. Even better, it may wedge a new, never-before-considered sound in your cranium and send you down new creative paths. Here we highlight 10 pro pedalboards from the hottest Rig Rundown videos in recent memory. The up-close and personal views of these artists' stomp stations are bound to get your creative juices flowing, and once you're done here we suggest clicking over to our site (or youtube.com/premierguitar) to take in the whole shebang—not to mention hundreds of other Rig Rundowns with the same mind-expanding potential.
Yeah Yeah Yeahs' Nick Zinner
Nick Zinner, guitarist for New York City-based indie outfit Yeah Yeah Yeahs, uses an incredible array of stompboxes and other effects to weave the band's eclectic mix of raw and ethereal tones. To compensate for the lack of a full-time bassist, Zinner uses several devices that enable him to conjure a broad spectrum of guitar tones, as well as more adventurous samples and loops. His main board is home to a DigiTech JamMan, Line 6 MM4 Modulation Modeler, Pro Co DeuceTone RAT (used for his primary fuzz tones), Boss DD-7 digital delay, HomeBrew Electronics Power Screamer, and Electro-Harmonix Graphic Fuzz. A second board has a DigiTech Whammy, another DigiTech Jam Man, a Line 6 DL4 Delay Modeler, an Electro-Harmonix POG, and a TC Electronic Flashback delay. Zinner's third board contains a second Line 6 DL4 and three Eventide pedals—a TimeFactor, a PitchFactor, and a Space. A fourth board near his amps features two more sample-loaded DigiTech JamMan pedals, and before Zinner's signal hits his amps, it goes through a TC Electronic Classic Booster + Distortion.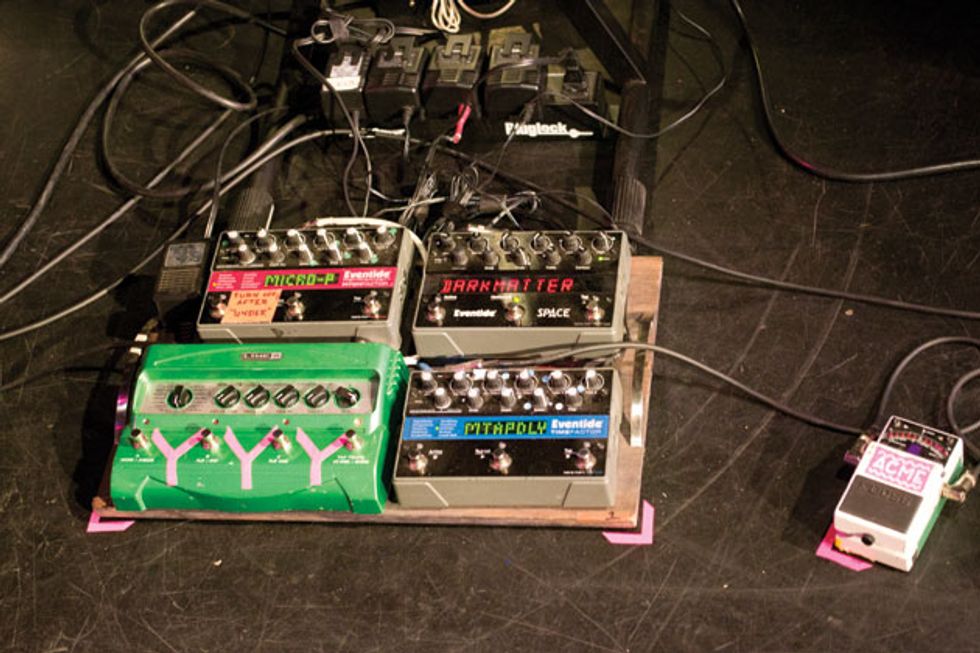 Watch the Rig Rundown:
Queens of the Stone Age's Troy Van Leeuwen
At our Rig Rundown with Queens of the Stone Age, we were askedto refrain from showing bandleader Josh Homme's pedalboard to the masses—despite the fact that there are plenty of pics online (hope you appreciate us keeping our word, Josh!). So here we've got longtime guitarist Troy Van Leeuwen's stomp setup. His main QOTSA pedalboard has a Voodoo Lab Ground Control Pro MIDI controller, a Custom Audio Electronics tap-tempo switch (for the reverbs and delays in his Fractal Audio Axe-Fx II rack unit, not shown), a Morley wah, Way Huge Supa-Puss and Pork Loin stomps, what appears to be a fourth-generation DigiTech Whammy, a Dunlop volume pedal, and a Korg Pitchblack tuner. Van Leeuwen also has a rack with two drawers holding Way Huge Green Rhino and Aqua-Puss pedals, an EarthQuaker Devices Dispatch Master, a Fuzzrocious Demon, and an MXR Q Zone.
A third pedalboard for lap steel features two Jim Dunlop volume pedals, a DVP1 and a DVP3, the latter of which is used as an expression pedal for a Line 6 DL4 Delay Modeler. There's also a Way Huge Green Rhino, an Electro-Harmonix Superego, a Boss RV-5 Digital Reverb, and another Korg tuner, all powered by a Furman SS-6B.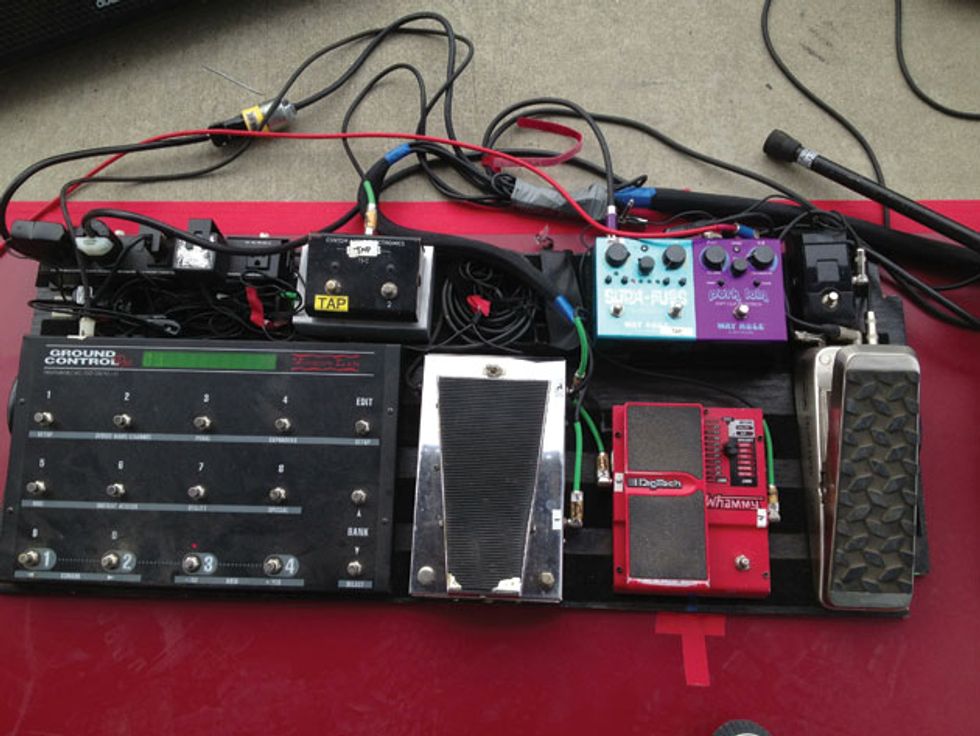 Watch the Rig Rundown:
Joe Bonamassa
The signal from bluesman extraordinaire Joe Bonamassa's guitars finds its way onto his pedalboard via a signature Dunlop Cry Baby wah feeding a Fulltone Supa-Trem and then a Tone Merchants/Rack Systems LLC splitter controlled by a Lehle 1@3 A/B/C box. From there, the signal goes to his Dunlop Bonamassa Fuzz Face, a Way Huge Pork Loin, an original Ibanez TS808 Tube Screamer (his primary effect for gain), an MXR Micro Flanger, and a signature MXR FET Driver. Another Tone Merchants/Rack Systems box hooks a Boss DD-3 digital delay and Hughes & Kettner Rotosphere into the effects loop of Bonamassa's Marshall JCM 2000 heads.
Watch the Rig Rundown:
Living Colour's Doug Wimbish
Considering the diversity of Doug Wimbish's work—he's played with such big-name acts as Mick Jagger, George Clinton, Joe Satriani, and Depeche Mode—it's no surprise he's got one of the largest, most out-there boards we've ever seen, particularly for a bassist. The signal starts in the "noisy" section, which has a Tech 21 SansAmp Bass Driver DI, Pigtronix Disnortion, Source Audio Soundblox 2 OFD Bass microModeler and Hot Hand 3, and Pigtronix Mothership. The "bendy" section has a Dunlop Cry Baby wah and DigiTech Whammy, followed by the "filter" section's Pigtronix Envelope Phaser, Boss BF-3 Flanger, DOD FX25 envelope filter, DigiTech Synth Wah, Source Audio Soundblox Pro Bass Envelope Filter, and Way Huge Ring Worm. Finally, the "delay" section has a quartet of Boss units—a DSD-2 digital sampler, DD-6 and DD-7 digital delays, and an SL-20 Slicer—a TC Electronic Nova delay, an Eventide PitchFactor, and a Pigtronix Infinity Looper. Wimbish also uses a Keith McMillen 12 Step MIDI controller to command a laptop rig.
Watch the Rig Rundown:
Minus the Bear's Dave Knudson
Known for his intricately tapped rhythms and two-footed, Achilles-tendon-abusing looping techniques, indie-rocker Dave Knudson is an avid fan and collector of Line 6 DL4 Delay Modelers—he's always got four of them on his board. In addition to using them for looping, he also uses the DL4s to add modulation to samples saved in two Boss RC-3 Loop Station pedals. Knudson uses a Barber Tone Press to smooth out tapped parts, while a Line 6 M5 Stompbox Modeler approximates tones originally achieved in the studio using an Electro-Harmonix HOG and DigiTech Whammy. Knudson also uses a Boss DD-20 Giga Delay, Boss CS-3 Compression Sustainer, a Z.Vex Box of Rock, an Ibanez TS9 Tube Screamer, and a Dunlop Cry Baby wah.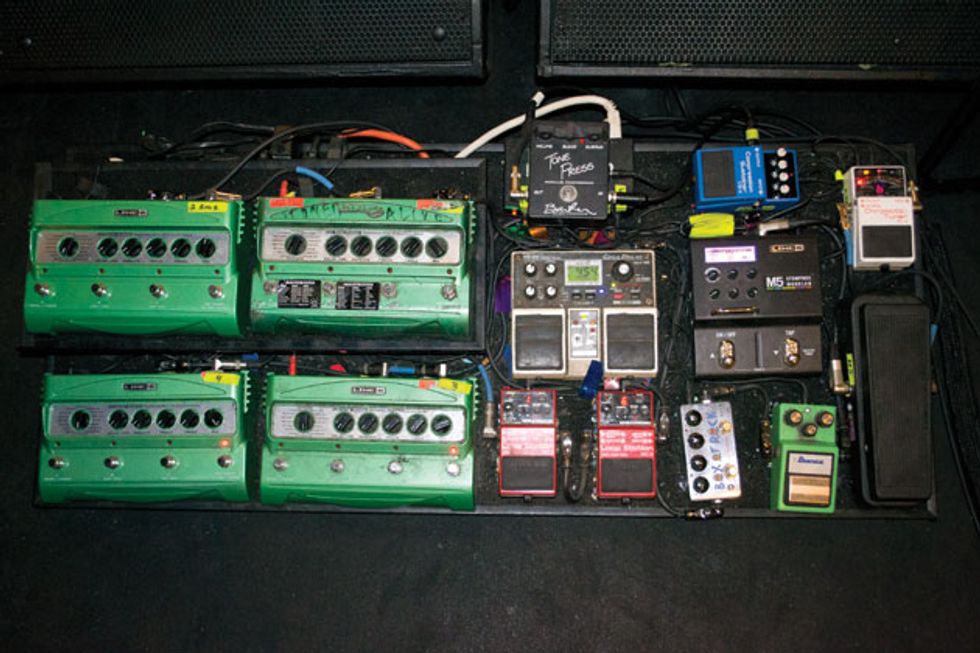 Watch the Rig Rundown:
Dweezil Zappa
On the road playing his late father's tunes on the Zappa Plays Zappa tour, Dweezil uses a pedalboard outfitted with a Bogner Ecstasy Blue, JAM Pedals Fuzz Phrase, SolidGoldFX Formula 76, TC Electronic PolyTune Mini, SolidGoldFX Electroman, and JAM Big Chill and Red Muck stomps. Along the front of Dweezil's board is a Fractal Audio MFC-101 MIDI foot controller for the Axe-Fx II rack unit that he uses for amp sounds (he runs the pedals into its instrument input rather than its effects loop). One of the four expression pedals on his board is for volume control, while the other three are used for real-time control of various Axe-Fx II parameters, including occasional post-distortion-pedal wah. On the far right side of Zappa's board is a custom JAM wah, as well as an expression pedal used to alter the Big Chill's tremolo rate.
Watch the Rig Rundown:
J Mascis
Dinosaur Jr.'s frontman uses a pedalboard with a Bob Bradshaw-built Custom Audio Electronics switcher that gives him a multitude of effect combinations. Among the notable boxes on the board are Mascis' first Electro-Harmonix "ram's head" Big Muff (top right), a dual-function pedal built by Built to Spill's Doug Martsch that features a ToneBender Mk I clone on one side and a Rangemaster-style circuit on the other (bottom right corner), an MC-FX clone of a Univox Super-Fuzz, a CAE Twin Tremolo (upper left), a Z.Vex Double Rock (two Box of Rocks pedals in one, bottom left), and an Electro-Harmonix POG2 that he uses to mimic Mellotron and organ sounds from I Bet on Sky.
Watch the Rig Rundown:
Keller Williams
The heart of this famous looper's pedalboard is a Boss RC-300 Loop Station—everything else on the board feeds into it. Williams is a huge Jerry Garcia fan, so his favorite effect is the Mu-Tron III. His other main effects include a Line 6 DL4 Delay Modeler, an Ibanez TS9 Tube Screamer, a Boss RV-5 Digital Reverb, Boss RT-20 Rotary Ensemble, and a TC Electronic Hall of Fame Reverb. Williams runs all his effects direct to a P.A., and he controls the wet/dry mix with an Ernie Ball VP Jr. volume pedal.
Watch the Rig Rundown:
The Cult's Billy Duffy
Billy Duffy's guitar signal goes through a Line 6 G90 wireless to a switchless Jim Dunlop 95Q wah, a Boss TU-3 tuner and NS-2 Noise Suppressor, a prototype Dunlop Echoplex EP101, Boss BF-2 flanger and DM-2 analog delay pedals, an Ibanez TS9 Tube Screamer, a Lovepedal Kalamazoo, a Whirlwind the Bomb boost, and two Boss DD-3 digital delays. His pedalboard also holds a Morley George Lynch Tripler amp switcher.
Watch the Rig Rundown:
Lamb of God's Mark Morton, Willie Adler, and John Campbell
LoG guitarist Mark Morton keeps his effects offstage in a rack housing his all-important Boss NS-2 Noise Suppressor (for taming hiss from his raging Mesa/Boogie amps), an MXR Carbon Copy delay, an EVH Phase 90, an MXR GT-OD, a Dunlop Cry Baby Custom Shop rack wah, a dbx 266XL Compressor/Gate, and a Boss TU-2 tuner.
Co-guitarist Willie Adler has a similar rig with a dbx 266XL Compressor/Gate, Boss TU-2 tuner and NS-2 Noise Suppressor pedals, an MXR Stereo Chorus (which Adler says he only uses to "thicken up" clean tones), and a custom Mesa/Boogie amp switcher.
Bassist John Campbell's modest pedalboard features a Boss TU-2 tuner, EBS MultiComp, and a Tech 21 SansAmp Bass Driver DI, all powered by a Jim Dunlop DC Brick. Campbell says the MultiComp and SansAmp are on all the time, and the front-of-house sound crew takes a direct XLR signal from the Bass Driver.
Watch the Rig Rundown: