Cordoba Guitars Releases the C9 Dolce and Master Series
Cordoba Guitars have announced their C9 Dolce, a 7/8-sized guitar and the new Master Series.
Santa Monica, CA (May 30, 2013) -- Cordoba Guitars is excited to announce the release of the C9 Dolce, a 7/8 sized version of the C9. With a slightly reduced body size and scale length (630mm), Cordoba has created a new instrument suited for the player looking for the feel and comfort of a smaller instrument offering increased ease of playability. Featuring a solid Canadian cedar top and solid mahogany back and sides, the C9 Dolce is handmade by a small team of builders in a boutique workshop, using traditional Spanish construction techniques such as the Spanish heel, hand carved neck and braces, and a domed soundboard built on a traditional solera. The hallmark of the Luthier series is the mother-of-pearl hand-inlaid rosette inspired by a 1920s Domingo Esteso rosette, adding a striking focal point to the C9 Dolce's already sleek aesthetic. Like all models in the Luthier series, this guitar also includes a two-way adjustable truss rod, Cordoba's premium black and gold tuning machines, and a deluxe Cordoba humidified archtop wood case.
C9 Dolce Specs:
Solid Canadian cedar top, solid mahogany back and sides, mahogany neck, ebony fingerboard, natural high gloss PU finish, 50mm nut width, 630mm scale length, Savarez Cristal Corum strings. Includes deluxe Cordoba humidified archtop wood case.
MSRP: $970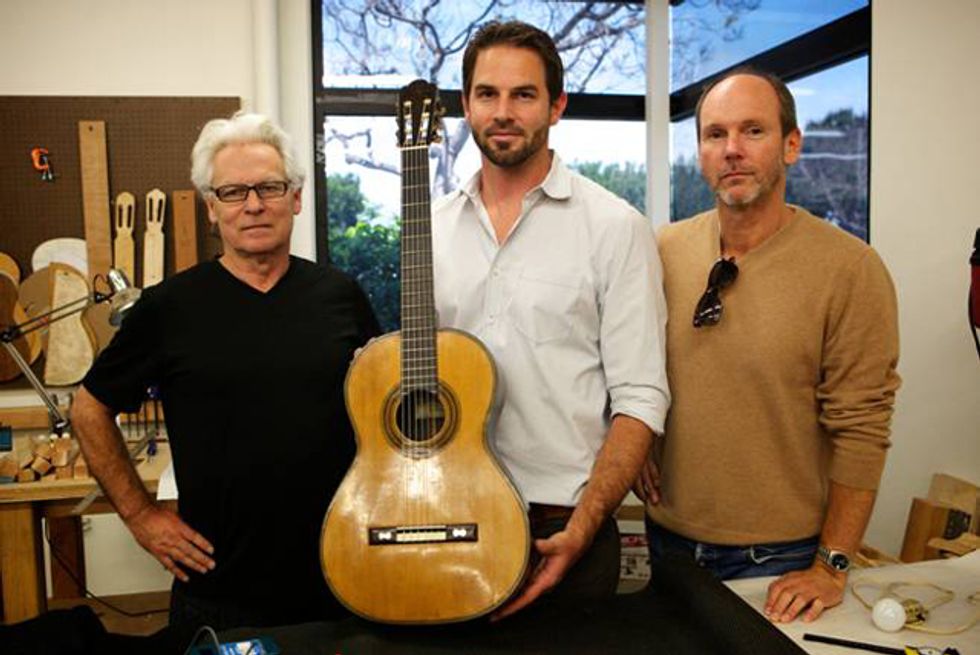 Pictured left to right: Luthier Kenny Hill, Cordoba's President Jonathan Thomas holding an 1864 Torres, Cordoba's CEO Tim Miklaucic
With their new Master Series, Cordoba has chosen to honor four master luthiers whose work has shaped the history of the nylon string guitar over the past 150 years, inspiring generations of guitar builders. Each Master Series model is a replica of an iconic guitar representing significant moments in the careers of Antonio de Torres, Hermann Hauser I, Miguel Rodriguez, and Manuel Reyes. Handmade with premium materials in Cordoba's California Workshop, Cordoba has partnered with Kenny Hill to examine the original guitars, poring over nuances and specifications to get inside the mind of each maker. From Torres' signature 7-fan bracing and unique small body design, to Hauser's famed 1937 model used by Andres Segovia, the Master Series allows today's players to get their hands on a slice of guitar history at a fraction of the cost.
The Master Series Lineup:
Torres – MSRP $4,275
Hauser – MSRP $4,275
Rodriguez – MSRP $4,275
Reyes – MSRP $4,275
For more information:
Cordoba Guitars