Cort Releases the G290 FAT Electric Guitar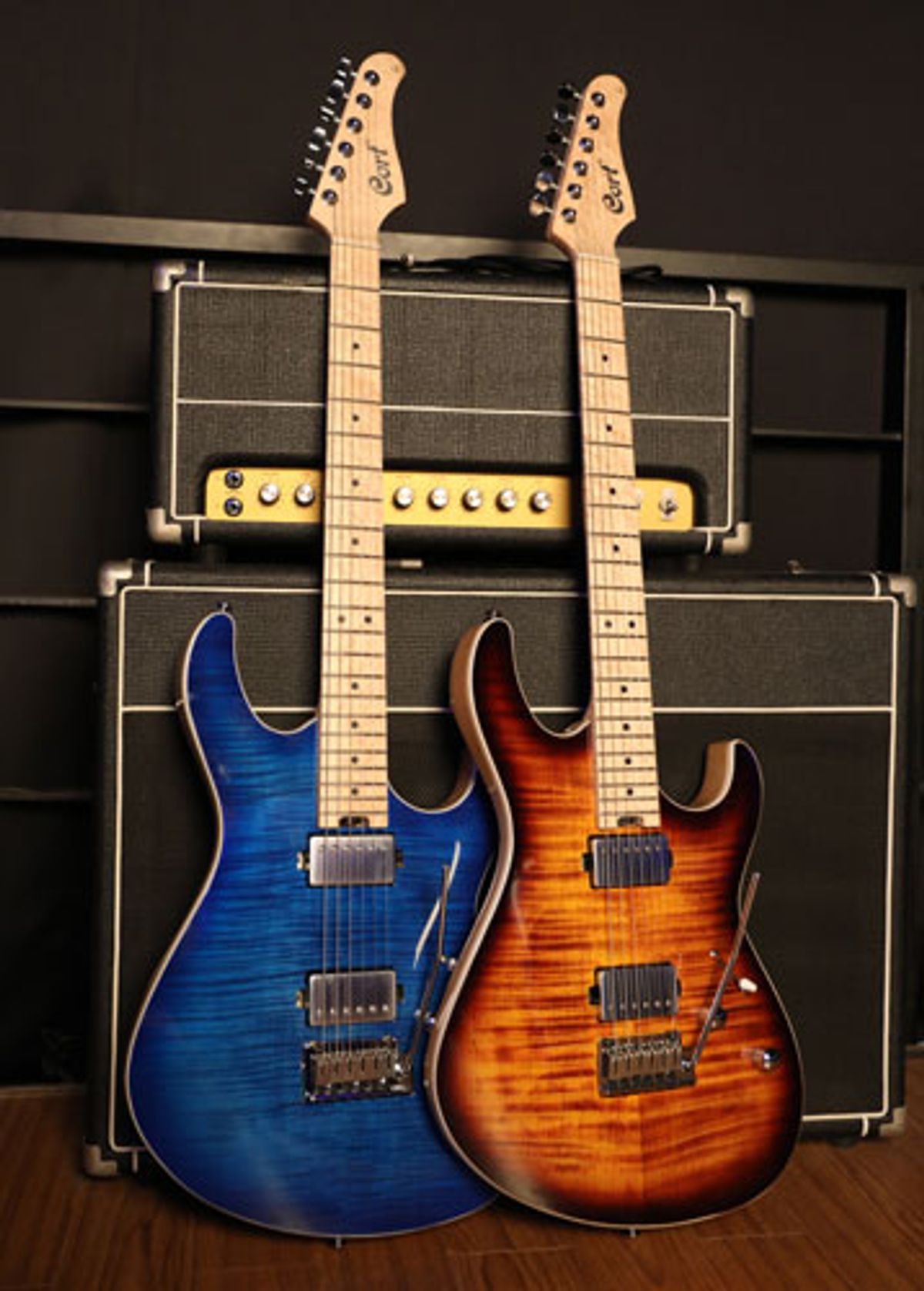 The latest model features a flamed maple top, CFA-III tremolo, and VTH-77 pickups.
Seoul, South Korea (June 21, 2019) -- With the introduction of the G290 FAT, Cort is proving that it's possible to get fat and toned for summer, at least in the world of electric guitar. From its luxurious, boutique design to its 5-way switch with expanded tonal options for session-style guitar, the G290 FAT offers plenty to chew on at a price that's not too hard to swallow.
Achieving sonic versatility begins with material choice, and Cort starts with a swamp ash body, an essential electric guitar tone wood that's lightweight but delivers a serious punch with accented high-mids. The G290 FAT's flamed maple top, available in Antique Violin Burst or Bright Blue Burst, is an eye-catching complement. A hand-selected birds-eye maple neck and fingerboard not only adds to the luxurious look, but also enhances tone, providing a strong high-midrange that helps cut through the mix.
The G290 FAT's prettiness is backed up by plenty of power. While the voiced tone VTH-77 pickups provide modern high output for today's high-energy music, they also clean up nicely for classic rock and bluesy tones to cover a wide variety of musical genres and playing styles. The 5-way switch is custom-wired to provide glassy and sparkling single-coil sounds in the second and fourth positions as well as full-bodied and powerful humbucker sounds in the bridge, middle and neck positions.
Luxury features further enhance the G290 FAT's adaptability. Cort's CFA-III Tremolo features stainless steel saddles, solid machined steel block, and a steel baseplate to provide greatly improved sustain, faster and punchier pick attack, and a more coherent and balanced fundamental tone. As a recessed system, the tremolo bridge allows the player to pull up to raise the pitch or push down to lower it, providing further tremolo versatility.
Deluxe features that make the G290 FAT physically nimble also deserve their due. The compound radius fingerboard, 12'' to 15.75'', is ideal for players who like to transition from easy chording on the low register to high-speed soloing and enhanced string-bending on the upper register. The newly designed Ergo-V neck profile and shape provide more comfort at any position across the entire 22-fret neck (25.5'' scale) for enhanced playability. Staggered locking machine heads offer precise and reliable tuning as well as easier and quicker string changes.
Additionally, the spoke nut hotrod truss rod ensures smooth and precise setting of the neck bow, an often-overlooked feature that's critical for the best possible playability. Cort's new truss rod adjustment feature allows the player to dial in the exact amount of neck bow depending on the technique and style.
So whether a player has a light touch with legato fusion or digs hard into the Texas blues, the G290 FAT has the high-grade materials and hardware components to deliver the goods, all at a reasonable price.
Street price $849.99 USD
For more information:
Cort Guitars