Looking for more great gear for the guitar player in your life (yourself included!)? Check out this year's Holiday Gear Finds!
---
Bartees Strange and his other guitarists engage in complementary "guitar wars" with their piles of pedals and stash of slinky Jazzmasters, Flying Vs, Teles, ES-335s, a space-age oddity, and a '60s Silvertone with an onboard amp.
"You gotta remember, I wasn't really shit until about a year-and-a-half ago," Bartees Strange reminds the crowd at Nashville's Basement East just before performing his song, "Hennessy." "I was just in my basement playing guitar. And my wife was like, 'Do the dishes ... Do something other than play guitar.' Now all I do is play guitar again [laughs]."
Strange (born Bartees Leon Cox, Jr.), is a sponge and synthesis of everywhere he's been and everything he's seen or heard. Born in England and raised in Tulsa, Oklahoma, his experience performing with Brooklyn-based post-hardcore outfit Stay Inside and a later move to Washington D.C. have all contributed to his singular cosmic-slop sound. He notes during the Rundown that, as an adolescent, his guitar heroes were Thomas Erak of the Fall of Troy and Omar Rodríguez-López of At the Drive-In and the Mars Volta. But in the next sentence, he confesses his love for Nelly.
"I always thought people aren't really honest all the time with what they're listening to," asserts Strange. "I think a lot of people like a lot of things. I grew up in a pretty country town, and everyone would say they just like country music. But I was like, 'You like the Nelly record, dog. You like Get Rich or Die Tryin', man, and you also like LeAnn Rimes and Toby Keith songs, and Brad Paisley's guitar playing. But you also jam B2K and pop songs, too.' I've never been afraid or ashamed of what I like, so it all goes into my own music."
What he's been saying through 2020's Live Forever and 2022's Farm to Table has been connecting with fans and critics alike. The magnetism is Strange's smooth synergy. This allows him to touchpoint influences from albums like Nelly's Country Grammar, At the Drive-In's Relationship of Command, the National's Boxer, and Phoebe Bridger's Punisher into one harmonious, original package that has landed him on dozens of year-end lists and earned him an 83/100 rating from Metacritic for both of his full-length releases. [Editor's Note: The Metacritic website uses their proprietary Metascore to distill the opinions of the most respected critics' writing online and in print to a single number.]
Finishing his earlier thought to the Nashville crowd, he summarized: "'Hennessy' is a song I wrote when I was a kid, and growing up I thought there was all these weird stereotypes I had to get over to become who I am … [The hook of the song is meant] to kind of say, I know there's all these expectations of what a black person does … but I just want you to see me for who I am and for what I'm trying to say."
He might not have been "shit" 18 months ago, but he's certainly on his way to becoming the something of the sort in the coming years. We'll be here listening and appreciating.
Ahead of Strange's final 2022 tour date supporting Farm to Table, Bartees and his guitar-playing compatriots welcomed PG's Chris Kies onstage at Nashville's Basement East to talk shop. During the interview, the trio explained how their "guitar wars" create a compatibly melodic arms race and structure their cohesive sound. We get introduced to a collection of oddball axes and go through their collective setups—which Strange fondly refers to as "Tone Capital"—assisted by a store's-worth inventory of pedals. Plus, stick around after the Rundown to check out a heartfelt message from Bartees and the band's wonderful performance of "Hennessy."
Brought to you by D'Addario XPND Pedalboard.
Bartees' Battle Axe
Strange's main axe for much of 2022 was this 1959 Gibson Custom Shop ES-335 Reissue "Chicago Music Exchange Spec" that features the delicate deterioration of the Murphy Lab treatment. It has a maple body (with a maple center block and red-spruce bracing), a 1-piece mahogany neck, an Indian rosewood fretboard, Kluson tuners, and custom CME-spec "S" Gibson humbuckers.
"Honestly, it's pretty sick. It's the dopest 335 I've ever played," contends Strange. "It has a very versatile sound, and with its low-output humbuckers I can get it to chirp a little bit, but I also can go off on it."
It has replaced touring duties for his beloved 1967 Epiphone Casino and a 1963 Gibson ES-125T. This and the rest of his riders take D'Addario EPN115 Pure Nickels (.011–.048). The 335 will stay in either standard or D-A-D-A-A-E tunings.
Strange Baraniks
After Bartees' 2020 debut, Live Forever, came out, luthier Mike Baranik built Strange this Baranik RE-1 that boasts a reflective pickguard with the words "Never Die" emblazed on it. Its standout specs include a Baranik handwound gold-foil-style pickup that slides, a groovy, give-it-a-rip Göldo DG Tremolo in Shorty-Design, an illuminated control pod, and wooden saddles. It comes in at a feathery 6 pounds. Strange busts it out for his song "Heavy Heart" because of the guitar's jangly grind.
"The RE-1s were designed to simplify the manufacturing without losing the most critical parts of a guitar, playability and tone," says Baranik. "Almost every single one of the RE-1's parts are made here in the shop from repurposed materials."
Goldilocks
Another one of Strange's treasures is a 1959 Fender Jazzmaster. That classic stays at home, but he needs the instrument's sonic flair for his nightly set, so he contacted Fender's Jason Klein and sent over a request to recreate his '59 with a few slight cosmetic changes. He wanted an Aztec gold finish with a matching headstock, complete with an anodized pickguard. Strange often starts the set with this golden goose on songs "Escape the Circus" and "In a Cab."
A Low-Price Highball
Like his other touring guitars, this Gretsch G9520E Gin Rickey acoustic/electric fills in for his pricier, vintage flattops. The price was right at under $300, and Strange really loves its darker, boxier sound that meshes well with Graham's brighter Orangewood acoustic. Another plus was that it came stock with a Gretsch Deltoluxe soundhole pickup that enables Bartees to run this into his Vox AC30.
A Voxy Solution
"In Tone Capital, U.S.A., things can change. The weather, all kinds of things … but honestly, the three of us are always kind of looking at each other like, 'What is not right? Is it an amp? Is it a guitar?' There's dysfunction in Tone Capital, so after spending a lot of time with Fender amps, I've returned to AC30s for its crisp highs that match really well with the dark, mellower vibe of the 335," says Strange. He plugs his guitars into the Vox AC30C2X's low-input/top-boost section. This particular 30-watt combo comes with a pair of 8-ohm Celestion Alnico Blue speakers.
Bartees Strange's Pedalboard
As the governor of Tone Capital, Strange has the most advisors on his board. Breaking them down by function, Bartees' dirt and filth comes from a Land Devices HP-2, Fowl Sounds Obsidian Fuzzstortion (the unmarked black box), Bondi Effects Breakers Overdrive, and a ZVEX Box of Rock. Time-based effects include an Alexander Pedals Rewind Programmable Echo, a Boss DM-3 Delay, and a Source Audio Ventris. Bartees' modulation machines are a Farm Pedals Tombstone Tremolo and a Fairfield Circuitry Shallow Water K-Field Modulator. Two other noise manipulators include a Chase Bliss Blooper and a G-Lab BC-1 Boosting Compressor. Other boxes are a Radial SGI guitar interface (upside-down at the top), a Radial HotShot DM-1, and a TC Electronic PolyTune 3 Noir Mini.
A V for G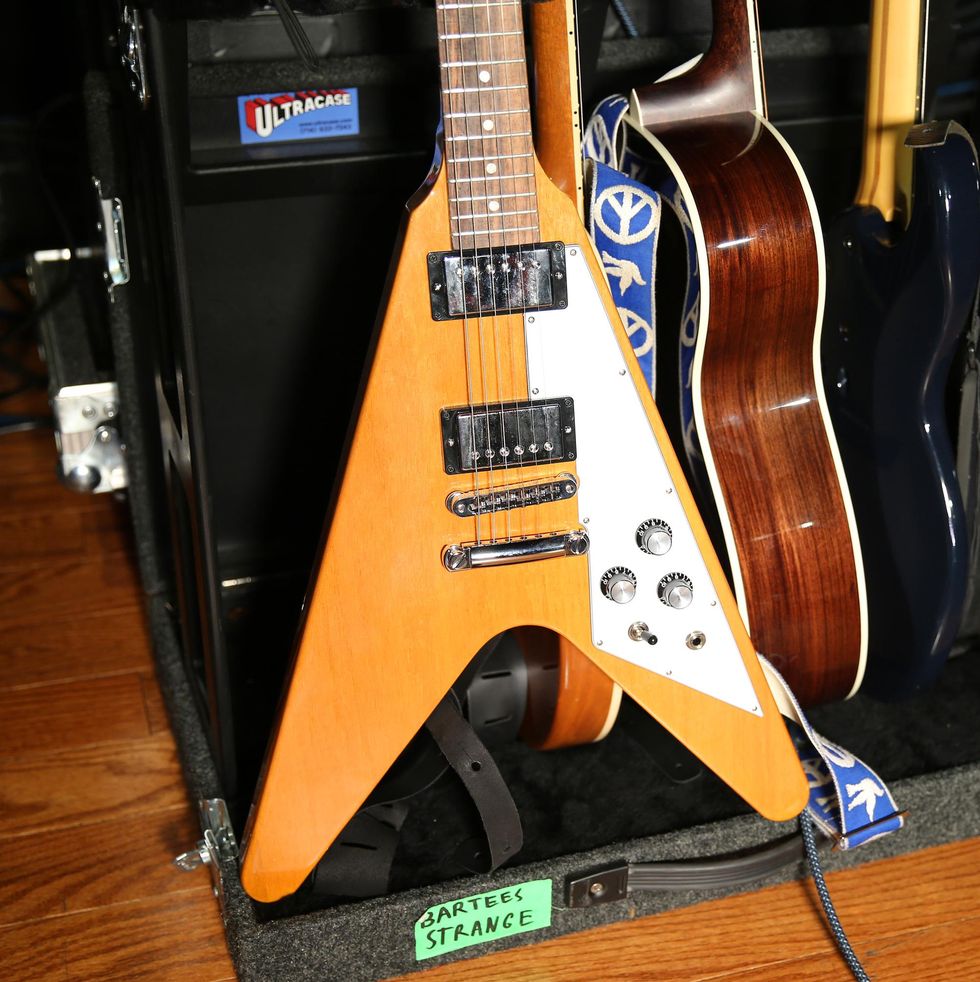 "I just got this for this tour. I kind of bought it because I thought it'd be the most ridiculous guitar that I could bring onstage, but I've slowly discovered it's the most the comfortable instrument I've ever had," admits multi-instrumentalist Graham Richman. The 2022 Gibson Flying V in antique natural has stayed the same since he bought it, except for the fresh set of D'Addario EPN110 Pure Nickel strings (.010–.045).
Les Paul, More Gristle
This one used to be Richman's number one, but only gets action for one or two songs, like "Kelly Rowland." He still enjoys playing the Gibson Les Paul Standard '50s P-90 because it has "more gristle and cuts in an interesting way," compared to his V.
Orange You Glad to Play Me
For "Black Gold," Graham puts on this Orangewood Sierra Live, that's equipped with a L.R. Baggs Anthem pickup.
Deluxe Bassman
Richman runs all of his electrics into the above Fender '68 Custom Deluxe Reverb. He landed on this combo because of the punchier Bassman circuit inside the Custom channel.
Graham Richman's Pedalboard
When you're a touring musician, cartage costs for gear are always a concern, and it's no different for Richman. He downsized his setup to a Pedaltrain Metro 16 thanks in big part to the Boss MS-3 Multi Effects Switcher that not only can control MIDI pedals on his board, but also offers 112 internal effects, too. Graham relies on the MS-3 for all his delays, reverbs, and modulation. His gain stages come from nearby standalone pedals: Black Mass Electronics The First Herald, Black Mass Electronics 1312 Distortion V3, Walrus Audio 385, and a JHS Double Barrel.
Surface-Level SG
"Honestly, it was an aesthetic-first purchase," concedes guitarist Dan Kleederman. "It'd be really cool to play a SG Junior in this band—I hoped I'd like it … and I did!" This sweet surprise is a 2021 Gibson SG Junior that appears to be all stock, but he added a Bigsby B7 vibrato and a push-pull switch on the tone that cuts higher frequencies when pulled out. He said he was sold on its sound once the band made the move to in-ear monitors, because it sits in its own lane within the three-guitar attack. And because of that, this one sees the most action of Kleederman's trio.
Hand-Me-Down Tele
This 1998 Fender USA Thinline Telecaster is from Dan's father, who bought the Tele in the early 2000s and recently loaned it to him. He gave Dan his blessing to customize it as he saw fit—so it now has a 4-way selector unlocking a series circuit that combines the bridge and neck pickup for a beefier, hotter signal. You'll also notice that tone and volume control knobs are pulled from a Gretsch. "I'm in a phase where I like messing with the guitars and their looks," says Dan. He uses this guitar every night for "Heavy Heart."
Speaker of the House
"This is a very special situation here. Part of what makes this guitar unique is the fact that it has a built-in amplifier that you can turn on and off," details Kleederman. The 1960s Silvertone 1487 TG-1's gold-foil pickup is original, and was the initial allure for Kleederman to make the purchase.
And for "Hold the Line," where Dan plays slide—to give the song a rustic, back-porch, AM-radio vibe—he engages the tiny amplifier and sends a signal to FOH via a Shure Beta 98H/C.
Foxy Voxy
Kleederman puts all three of his electrics through a hand-wired Vox AC15HW1X that comes with a single 12" Celestion Alnico Blue Speaker. He borrowed the combo from Bartees' FOH, Kitzy. He uses the low input of the top-boost circuit and says it works well for cutting through and providing some defined power to his sound.
His board starts with an always-on JHS Morning Glory. The next level of grime is the Matthews Effects Architect. He chose this one because it includes a boost, three different clipping modes, and a 3-band EQ, all in a small footprint. A Wampler Mini Ego handles compression, while an Xotic EP Booster gives him another intensifier of volume and gain. The ZVEX Fuzzolo helps Dan double bassist John Daise's parts in a song like "In a Cab," or give him a super-gated attack during "Boomer." Then we enter the section of Dan's crazier colors that get painted on with a Walrus Audio Mako M1, a Source Audio Collider delay/reverb, and a Boss DD-8 Digital Delay. And, stealing a page out of Bartees' playbook, Dan slots a distortion (Animals Pedal I Was a Wolf in the Forest Distortion) at the end of his chain to "make everything messy and fun." Off to the side of his board sits a Dunlop DVP4 Volume Mini Pedal, and a Sonic Research ST-300 Mini Stomp Box Strobe Tuner keeps his instruments steady.
Photo by Ebet Roberts
The fiery, incandescent, and visionary guitarist who died on January 28, 2023, helped spark a punk revolution—and then transcended the form entirely.
Musicians feel and experience influence in many ways. And to be certain, Tom Verlaine's guitar playing—his deconstructed melodies, pointed attack, and capacity for flight—inspired many to attempt imitation. But for a lot of us, Verlaine's guitar and voice, and the music he created with Television and as a solo artist, were much more than another set of musical tricks to nick. They symbolized liberation and freedom from musical constraints, the rush, promise, and exhilaration of bohemian city life, the world of poets, and the notion that outsider musical voices could find audience and reverence. In the end, Verlaine's playing may have been impossible to duplicate. But the electricity in his expression suggested an enormity of potential to those looking for a ray of light in weird times.
Tom Verlaine was born as Thomas Miller in Denville, New Jersey, in 1949 and grew up in Wilmington, Delaware. (He later changed his last name to honor the French Symbolist poet Paul Verlaine.) As a youth he was captivated by Stan Getz, John Coltrane, and Richard Wagner. He took piano lessons, was drawn to the saxophone, and, in his telling, found rock 'n' roll comparatively unexciting—at least until he heard the Stones, Yardbirds, Kinks, and Byrds. In their works he found the same sort of intensity he had found appealing in jazz. The revelation led Verlaine to guitar. And ultimately, the fusion of those influences—British Invasion energy, free jazz fire, and classical melodic instincts and concepts—would shape his approach to the instrument.
Verlaine conjured a visceral, even mystical sense of tension and release from his fingers. His lines could sound tattered and violent or hushed and tender. And in inhabiting the two worlds, he often approached the sublime elevation of his hero John Coltrane.
Verlaine moved to New York City in 1968. In time, he reconnected with fellow prep school delinquent and poet Richard Hell, with whom he formed Television in 1974. By then, Verlaine had also joined forces with another wildly talented guitar foil, Richard Lloyd. In 1975, Hell, whose bass chops and extroversion were better suited for punk's more brutish side, was fired and replaced with Blondie bassist Fred Smith. Along with drummer Billy Ficca, they formed a potent rhythm section uncannily suited to Verlaine's musical vision.
In this performance at Chicago's Riot Fest in 2014, Tom Verlaine plays his Frankenstein S-style with a super-strat body, Danelectro lipstick pickups, and a mid-'60s Jazzmaster neck.
Photo by Debi Del Grande
Even with the benefit of hindsight, it's still a wonder that Verlaine and Television managed to make their 1977 masterpiece Marquee Moon amid the ossified record industry environs of the mid '70s. Though Television was instrumental in jump starting New York City's punk revolution (Verlaine talked CBGB owner Hilly Kristal into taking a chance on the band, effectively launching punk's most celebrated venue), Television was an odd fit in a scene of misfits. Between Blondie's high-energy pop moves, the Ramones' bonehead-genius riff machine, and Patti Smith's live-wire, larger-than-life poet-goddess presence, Television's combination of wiry, twitchy garage-rock threads and searching, extended jams must have seemed alien at times. Had punk's ethos of "shorter, faster, louder" been more strictly codified at the time, they might have even been cast out for letting their jams sprawl in the fashion of the Grateful Dead or Quicksilver Messenger Service (Verlaine's quivering string vibrato often bore a more-than-passing likeness to that of Quicksilver lead guitarist John Cipollina).
Television's modest first single, 1975's "Little Johnny Jewel," recorded for NYC scenester Terry Ork's small label, offers a taste of how odd they must have sounded in contrast to their peers and the slick-and-super-mega chart toppers of the time. In some ways, "Little Johnny Jewel" sounds unbelievably small. Verlaine's guitar, sent direct to the console, sounds thin, plinky, even miniscule. Yet Verlaine's solo on "Little Johnny Jewel" is filled with deep yearning and ache. The bass riff, built on a few descending three-note figures, suggests back-alley mystery and creeping menace. It may sound small, odd, and misshapen next to the brutal linearity of the Ramones, but it perfectly captured the romance and sensuality of the city in which it was created, and the spirit of the art outcasts that inhabited its quieter, darker corners.
As Television found their footing and formalized their roles, they morphed from tentative and sloppy into a band capable of crooked clockwork precision and power. Verlaine and Lloyd, meanwhile, evolved into one of the most fascinating guitar duos ever. Lloyd leads were often marked by fluid exactitude. Verlaine, however, conjured a visceral, even mystical sense of tension and release from his fingers. His lines could sound tattered and violent or hushed and tender. And in inhabiting the two worlds, he often approached the sublime elevation of his hero John Coltrane.
Little Johnny Jewel
Television's wave crested and crashed early on. Marquee Moon was a masterpiece on arrival. And its centerpiece, the song which shares the LP's name, was anchored around an extended Verlaine solo that ascended from cool and spare to frantic and white hot. Live, the song was often explosively ecstatic. (If you want to know what musical freedom sounds like, check out the versions of "Marquee Moon" and "Little Johnny Jewel" from the official live bootleg, The Blow Up.)But Television's highly evolutionary approach to guitar music did not sit easily alongside the more accessible fare of CBGB compatriots Blondie or the Ramones. Their second LP, Adventure, was less visionary than its predecessor, yet it's a showcase for some of Verlaine's most melodic and lovely tunes, as well as some of his choicest solos ("The Fire" for one). In theory, Adventure was a more accessible work than Marquee Moon, yet it floundered commercially, effectively ending the band's first chapter.
In subsequent years, Verlaine, who had little interest in the more grotesque trappings of the rock business, remained quietly busy and prolific. His early solo LPs were rich with bright spots and great songs, but sometimes compromised by contemporary production or short on the extended incendiary guitar flurries that had become his trademark. However, 1992 marked a vernal, transformative year for Verlaine. It saw his reunion with Television, the release of the band's underrated third, eponymous LP, and his own instrumental LP Warm and Cool. The latter, in particular, a collage of beautiful, drifting, and fractured mood pieces and lost spy movie themes, hinted at the directions Verlaine would often take in the future—filmic, intimate statements that reflected his love of cinema, Morton Feldman, and painting, as well as a winking sense of humor. That thread found realization again in 2006's Around, another collection of enthralling instrumentals that found Verlaine at ease, and still capable of communicating palpable intensity and anxiety in a minor-key drift and a flurry of a few notes.
Tom Verlaine performs with Television at the Bottom Line in New York City on June 11, 1978.
Photo by Ebet Roberts
If you followed Verlaine in the press—and it would be fair to call him a bit press averse—it was easy to assume he was irascible and unapproachable. And when you felt his most intense musical moments penetrate your heart and gut like darts, it wasn't too hard to imagine that a spirit of confrontation, even anger, inhabited them. Yet when my partner Meg and I opened for Television and met Verlaine, I found him kind, open, quiet, even shy. We drank wine, smoked cigarettes, talked about '60s soul, painting, food, the stupid rents in our respective cities, and thoughts of getting away from it all. He asked that Erik Satie play before Television took the stage. And when he left to go to dinner, he left his guitar behind for me to play. He was a sweet guy, full of humility. In those moments we shared, it was very easy to understand where the tender melancholy in his songs and melodies came from. Verlaine possessed a blinding fire inside. But he was also impossibly cool, and positively overflowing with heart and soul.
Television - Foxhole (live)
Our First in a month of pedal giveaways! Enter below for your chance to win one of SIX pedals from Aclam Guitars, Chase Bliss, Ernie Ball, JangleBox, Renzo Sound, and Revv Amplification!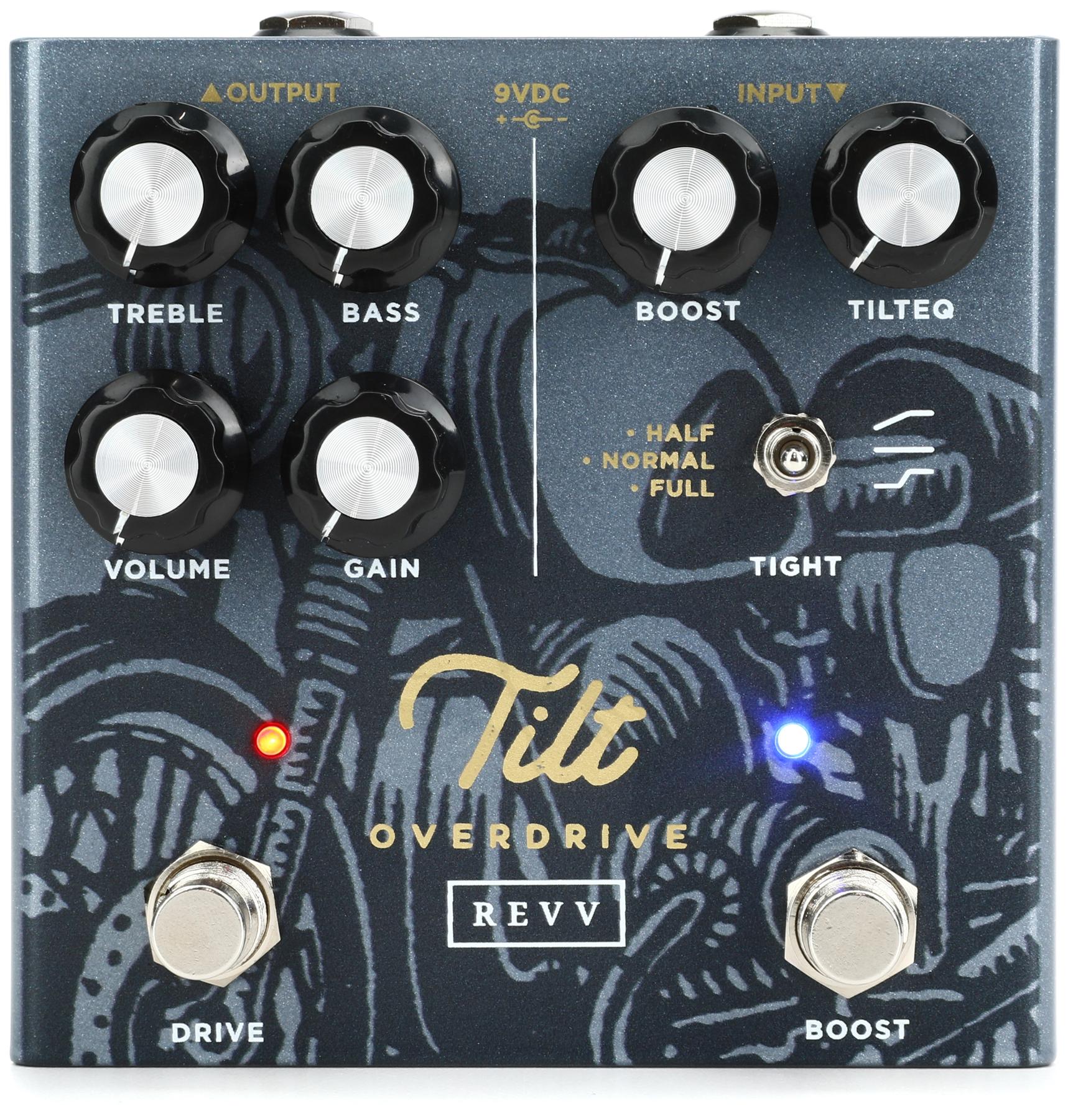 The Shawn Tubbs Tilt Overdrive is the tonal culmination of a lifetime in music. Shawn not only needed a practical tone tool to give him the right sound quickly in any musical context - he aimed to combine the greatest vintage amp tones & recorded guitar sounds of all time into one ideal sound. Now that tone is available to you in an award-winning compact 9v double pedal with a unique Tilt Boost.
Designed to be both the core of your entire guitar sound you can take anywhere & a useful tool to upgrade your existing setup, Tilt Overdrive adds an all-new record-ready tone to your palette that expands your recording & performance capabilities while channeling Shawn's 30+ years of professional guitar experience into a combination of the best recorded guitar sounds in history. Not only was it developed by a AAA session musician who always has to have perfect tone - it's designed to bring out the best of each player who plugs in. It drops right into your rig to produce Shawn's trademark clear, balanced overdriven sounds.
Revv
Renzo Sound is showing up to this party with our newest (and only!) overdrive pedal, the Autumn Drive.
The vibes are chill and deceptively simple for all you modern rock and pop gals and guys. Twist our knobs and you'll be treated with the satisfying crunch and fuss-free controls of our 250-style drive. We're keepin' it fresh with a totally redesigned circuit for greater clarity and expressiveness - which we all know you could use
Nerd out on the details:
* Drive ranges from beefy boost to creamy overdrive that touches fuzz territory
* Flat EQ retains bass, tames treble, and lets your tone shine through.
* Top-mounted jacks, soft-click true bypass, and standard 9v power, so it's right at home on your pedalboard.
Renzo Sound
JangleBox Byrds 50th LE
Compression pedal with preset EQ toggle, including a treble boost feature
Janglebox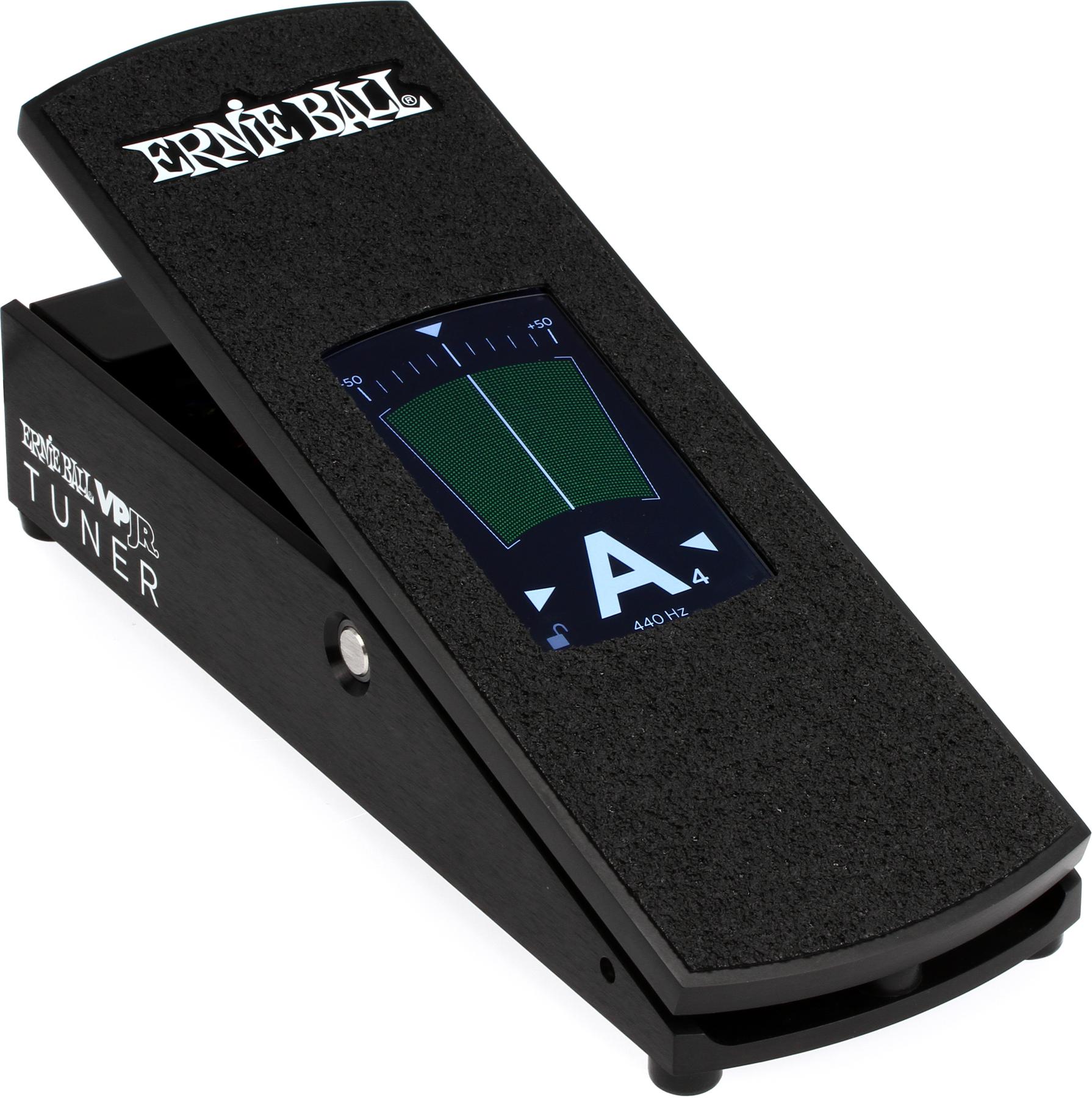 The VPJR Tuner pedal combines Ernie Ball's world-renowned volume pedal with an enhanced definition digital guitar tuner. In the heel-down position, the pedal's vibrant touchscreen automatically enters tuner mode, allowing for silent tuning. As the foot sweeps forward, the screen switches to volume mode, providing a graphic display of your volume level. Alternatively, the screen can remain in volume mode or tuner mode, regardless of the pedal's position in the sweep. Simply double-tap on the touchscreen to toggle between modes. The VPJR Tuner provides the same rugged construction and time-tested performance as Ernie Ball's traditional volume pedal, resulting in the most useful guitar tuner pedal on the market.
Ernie Ball
Generation Loss MKII is a study of tape in all its forms.
We decided to start from scratch this time and really explore what tape is all about. Get into those crinkles that make it so magical. We took apart VCRs, we analyzed anything we could find with a tape in it, from camcorders to cassette decks.

All available for you to saturate, fail and flutter, until everything sits just right. And if you prefer the way it was before, you can do that too. In stereo.

Chase Bliss
The most accurate replica of the iconic VOX UL730 amp. Made famous by 'The Beatles' as they used it on Revolver & Sgt. Pepper's albums. It was also used by The Rolling Stones, Jimmy Page or Joy Division.
Klaus Voormann (Revolver's cover album designer) has created the artwork for the Dr. Robert pedal and this is an exclusive unit signed by himself.
With its circuit tailored for both guitar and bass, and a meticulous process of tracing the original tag board circuits and measuring each component's value, the result is an approach of this sound never reached before.
Aclam Guitars
$USD 320 + Klaus Voormann signature