Looking for more great gear for the guitar player in your life (yourself included!)? Check out this year's Holiday Gear Finds!
---
A guitarist enlists his friend to build a teardrop guitar like the one he saw Brian Jones playing with the Rolling Stones in the early 1960s.
Since I was an 11-year-old in 1963, I've been drawn to the teardrop-shaped guitar I saw Brian Jones playing in pictures of the Rolling Stones. It had such an artistic and classical shape compared to the Strats, Jaguars, and traditional ES guitars that were so popular among my preteen friends. I never lost the attraction to the Vox Mark VI guitars.
In December 2021, I was talking to my good friend Jeff, a builder and guitar tech extraordinaire, and mentioned that I always liked the teardrop. On a whim, I asked him if he'd consider building one for me. I seriously doubted he would have the time, and if he did, I would be waiting a long time. "Well," he said, "I really would need a plan…." I thought, Hm, he's a little interested.
I searched the internet and found a great drawing from the TDPRI forum and brought it to him. Jeff said he had a piece of mahogany that might fit, and that he'd also been looking at vintage Vox necks on eBay. He showed me the listing for a neck from a 1964 Vox Spitfire or Hurricane (the seller wasn't sure which). We sealed the deal when he pointed out that the headstock didn't have the same paddle design as the classic teardrop, and I told him that that was my least favorite part of the teardrop design. I preferred the headstock on the Spitfire/Hurricane.
The project went quickly from there. The plan was not to replicate an exact 1963 Mark VI, but to create a modern, roadworthy guitar with all the visual appeal of the Mark VI. Jeff went to work and four weeks later, I demoed the guitar before finishing. It felt and sounded incredible.
The pickups are a pair of Seymour Duncan P-100s wired through a 4-way modded (series/parallel) switch. The bridge and tuners are from a hardtail Fender Strat that Jeff happened to have hanging around. The maple headstock complements the warm white lacquer finish perfectly, and the guitar is appointed nicely with the obligatory Vox-style chicken-head knobs.
When I took delivery of the guitar, it looked absolutely beautiful, and I was onstage with it that weekend. I had a feeling that it would raise a lot of interest at shows and sure enough, on most nights, a guitar player in the audience finds their way to me and wants to talk about the guitar that they too remember from the '60s. Every time I put the teardrop on and plug it in, I feel like I've come full circle with that kid from 1963 who dreamed about playing electric guitar in a rock 'n' roll band. It's pretty cool when dreams come true.
You could WIN a Walrus Audio Melee in this all-new giveaway! Enter before Feb. 24, 2023 for your chance to win.
Walrus Audio Pedal Play: Melee: Wall of Noise Distortion + Reverb
The Walrus crew took over the FlashBack RetroPub in Oklahoma City for a few hours to play some games, work on our high scores and even film a video for the M...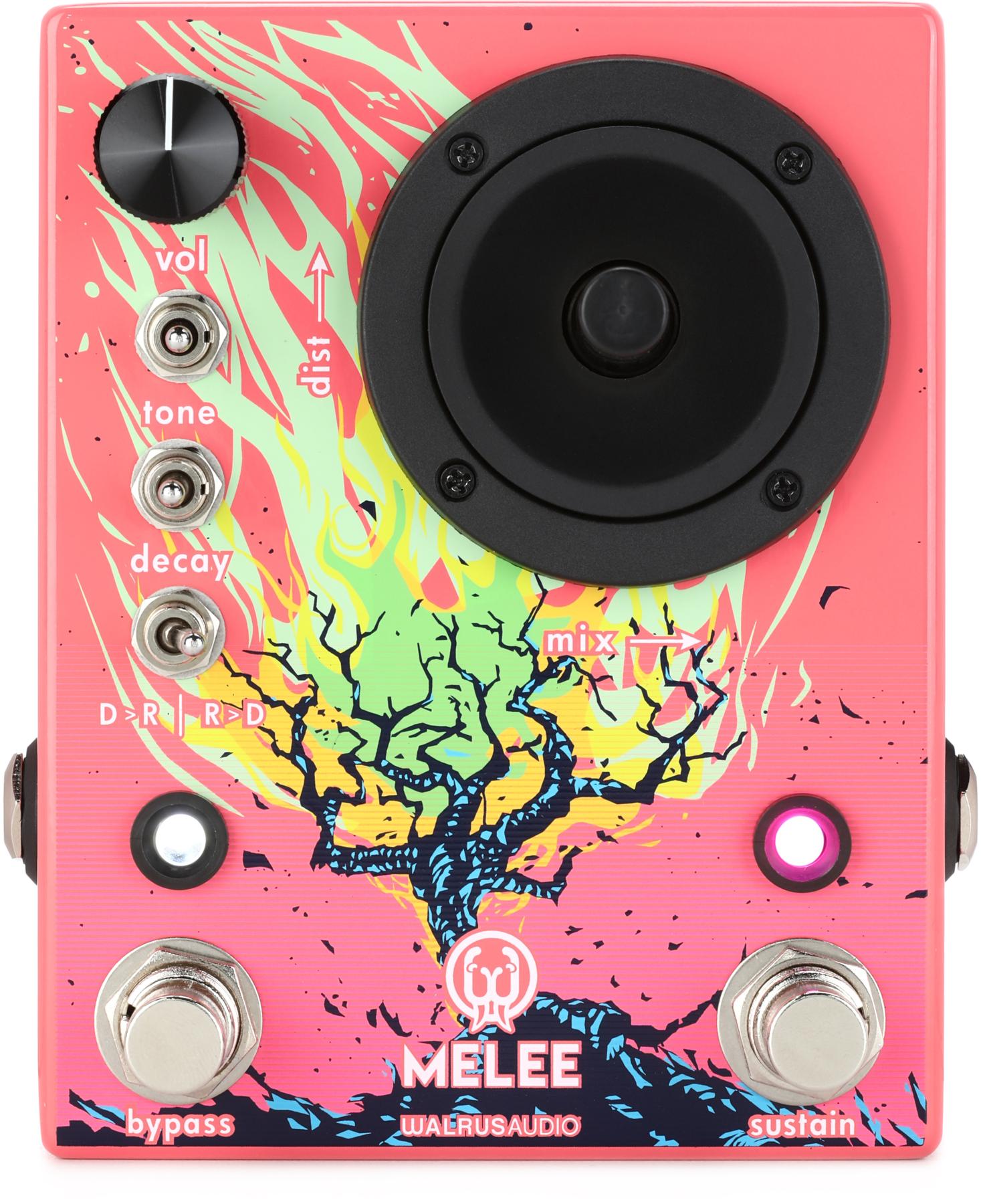 We give you the two most quintessential effects that yield unruly amounts of power and influence to an instrumentalist: reverb and distortion. They have been harnessed and woven together for an eternity of ethereal power with The Melee: Wall of Noise. The Melee unapologetically uses a joystick to meld reverb and distortion into one massive blaze of sound. With the flip of the order switch, run the distortion into the reverb or reverb into distortion; signal chain is your call now. For the explorer, the Melee can run one of three different reverb programs Ambient, Octave, and Reverse. In a less is more approach, we've intentionally decided on controls that are fun to use and will inspire a wealth of creative output. Use the joystick to control the amount of distortion by moving it up and down. Moving the joystick left and right will adjust your reverb mix. The tone and decay toggles have low, medium, and high settings. Modulation can be added to the wet signal by holding down the bypass switch and moving the decay toggle. The left position is no modulation, the middle is a slight modulation, and the right is a high modulation.
Walrus Audio
The silky smooth slide man may raise a few eyebrows with his gear—a hollow, steel-bodied baritone and .017s on a Jazzmaster—but every note and tone he plays sounds just right.
KingTone's The Duellist is currently Ariel Posen's most-used pedal. One side of the dual drive (the Bluesbreaker voicing) is always on. But there's another duality at play when Posen plugs in—the balance between songwriter and guitarist.
"These days, I like listening to songs and the story and the total package," Posen told PG back in 2019, when talking about his solo debut, How Long, after departing from his sideman slot for the Bros. Landreth. "Obviously, I'm known as a guitar player, but my music and the music I write is not guitar music. It's songs, and it goes back to the Beatles. I love songs, and I love story and melody and singing, and there was a lot of detail and attention put into the guitar sound and the playing and the parts—almost more than I've ever done."
And in 2021, he found himself equally expressing his yin-and-yang artistry by releasing two albums that represented both sides of his musicality. First, Headway continued the sultry sizzle of songwriting featured on How Long. Then he surprised everyone, especially guitarists, by dropping Mile End, which is a 6-string buffet of solo dishes with nothing but Ariel and his instrument of choice.
But what should fans expect when they see him perform live? "I just trust my gut. I can reach more people by playing songs, and I get moved more by a story and lyrics and harmony, so that's where I naturally go. The live show is a lot more guitar centric. If you want to hear me stretch out on some solos, come see a show. I want the record and the live show to be two separate things."
The afternoon ahead of Posen's headlining performance at Nashville's Basement East, the guitar-playing musical force invited PG's Chris Kies on stage for a robust chat about gear. The 30-minute conversation covers Posen's potent pair of moody blue bombshells—a hollow, metal-bodied Mule Resophonic and a Fender Custom Shop Jazzmaster—and why any Two-Rock is his go-to amp. He also shares his reasoning behind avoiding effects loops and volume pedals.
Brought to you by D'Addario XPND Pedalboard.
Blue the Mule III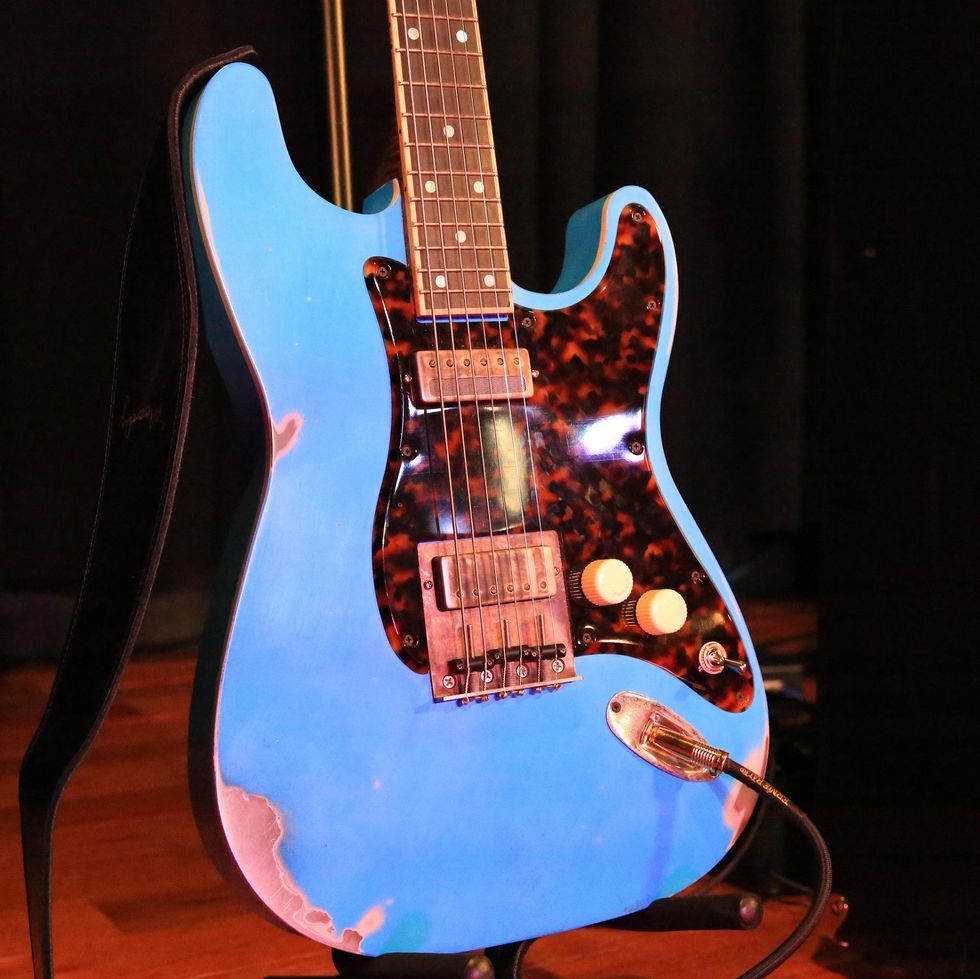 If you've spent any time with Ariel Posen's first solo record, How Long, you know that the ripping, raunchy slide solo packed within "Get You Back" is an aural high mark. As explained in a 2019 PG interview, Posen's pairing for that song were two cheapos: a $50 Teisco Del Rey into a Kay combo. However, when he took the pawnshop prize onstage, the magic was gone. "It wouldn't stay in tune and wouldn't stop feeding back—it was unbearable [laughs]."
Posen was familiar with Matt Eich of Mule Resophonic—who specializes in building metal-body resonators—so he approached the luthier to construct him a steel-bodied, Strat-style baritone. Eich was reluctant at first (he typically builds roundneck resos and T-style baritones), but after seeing a clip of Posen playing live, the partnership was started.
The above steel-bodied Strat-style guitar is Posen's third custom 25"-scale baritone. (On Mule Resophonic's website, it's affectionately named the "Posencaster.") The gold-foil-looking pickups are handwound by Eich, and are actually mini humbuckers. He employs a custom Stringjoy set (.017–.064 with a wound G) and typically tunes to B standard. The massive strings allow the shorter-scale baritone to maintain a regular-tension feel. And when he gigs, he tours light (usually with two guitars), so he'll use a capo to morph into D or E standard.
Moody Blue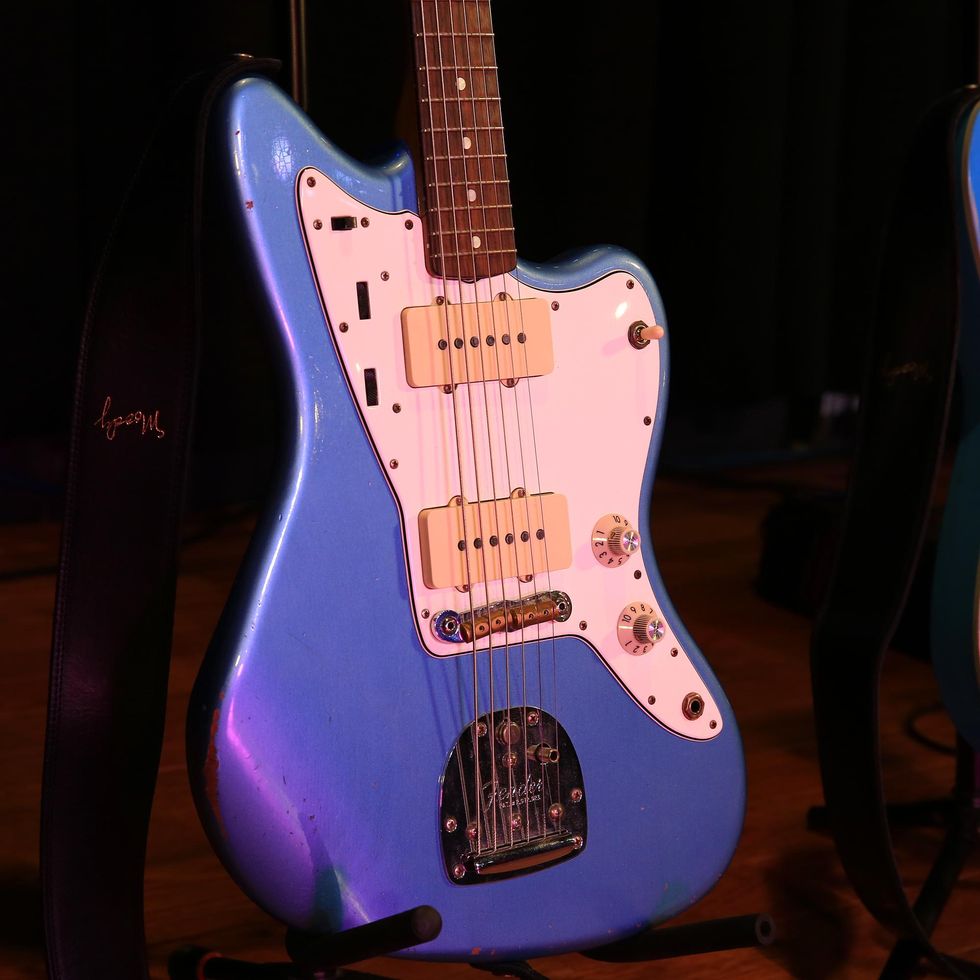 Another one that saw recording time for Headway and Mile End was the above Fender Custom Shop Masterbuilt '60s Jazzmaster, made by Carlos Lopez. To make it work better for him, he had the treble-bleed circuit removed, so that when the guitar's volume is lowered it actually gets warmer.
"Clean and Loud"
Last time we spoke with Posen, he plugged into a Two-Rock Classic Reverb Signature. It's typically his live amp. However, since this winter's U.S. run was a batch of fly dates, he packed light and rented backlines. Being in Music City, he didn't need to go too deep into his phone's contacts to find a guitar-playing friend that owned a Two-Rock. This Bloomfield Drive was loaned to Ariel by occasional PG contributor Corey Congilio. On the brand's consistent tone monsters, Posen said, "To be honest, put a blindfold on me and make one of Two-Rock's amps clean and loud—I don't care what one it is."
Stacked Speakers
The loaner vertical 2x12 cab was stocked with a pair of Two-Rock 12-65B speakers made by Warehouse Guitar Speakers.
Ariel Posen's Pedalboard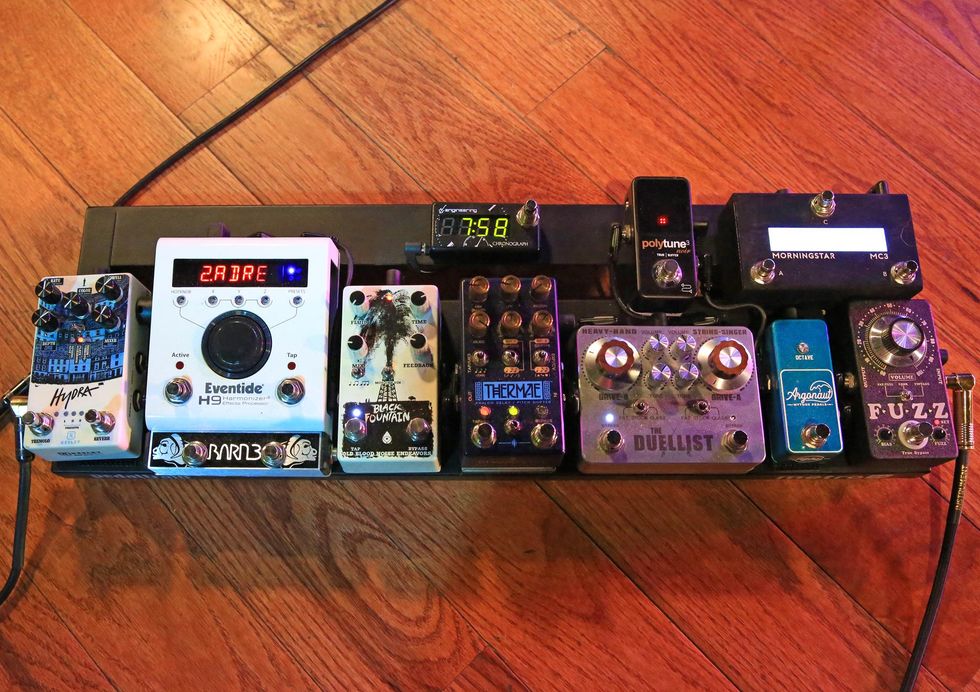 There are a handful of carryovers from Ariel's previous pedalboard that was featured in our 2021 tone talk: a TC Electronic PolyTune 3 Noir, a Morningstar MC3 MIDI Controller, an Eventide H9, a Mythos Pedals Argonaut Mini Octave Up, and a KingTone miniFUZZ Ge. His additions include a custom edition Keeley Hydra Stereo Reverb & Tremolo (featuring Headway artwork), an Old Blood Noise Endeavors Black Fountain oil can delay, Chase Bliss Audio Thermae Analog Delay and Pitch Shifter, and a KingTone The Duellist overdrive.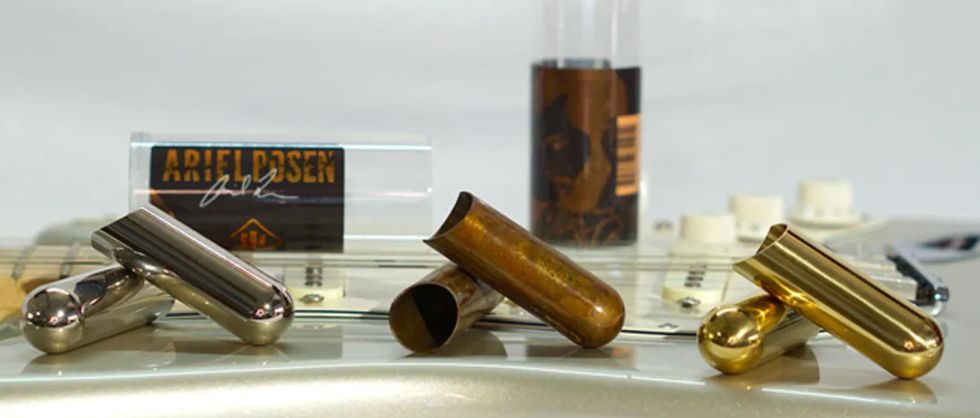 Another big piece of the tonal pie for Posen is his signature brass Rock Slide. He worked alongside Rock Slide's Danny Songhurst to develop his namesake slide that features a round-tip end that helps Posen avoid dead spots or unwanted scratching. While he prefers polished brass, you can see above that it's also available in a nickel-plated finish and an aged brass.