Looking for more great gear for the guitar player in your life (yourself included!)? Check out this year's Holiday Gear Finds!
---
For archtop lovers, there are few subjects more fascinating than the legacy of Orville Gibson.
One of my greatest inspirations as a guitar maker comes from my hope that the guitars I build will roam the planet long after I'm gone. Sometimes, when I'm on my some-hundredth hour of working on a guitar—sanding lacquer and chasing a flawless mirror finish—a vision of the instrument one hundred years from now will flash before my eyes. It's a powerful reminder that along with a century of battle scars and music comes a certain beauty that only time will bring. With all the hustle and bustle of building brand-new guitars, sometimes I forget: I want to build guitars now, so that someday they will be old.
You see, old archtops are my favorite. Even if they're not that great, I still find them beautiful. Every time I hold one in my hands, I think about how, once upon a time, it too was incomplete and being obsessed over by someone. Maybe by a factory worker whose name we'll never know, or perhaps by one of the greatest luthiers of the early 20th century. Each of those luthiers plays a role in the history of archtops, which just so happens to hold some of my favorite stories. It's a surprisingly not-super-long timeline that begins with a tale of innovation, tradition, mental illness, and mandolins. We only have to go back to the late 1800s to find the man responsible for planting the archtop seed, and I bet it's a name you already know: Mr. Orville Gibson.
In the 1890s, Gibson was building guitars and mandolins with arched tops and backs, and as far as we know, he was the first to do so. Violins and cellos had been made that way for hundreds of years, but Gibson's builds were where that construction style began for guitars and mandolins. In 1898, he achieved a patent for a number of his ideas on the construction of those instruments, including the concept of carving the top and back out of solid wood. He sold the patent (and his name), and in 1902, founded the Gibson Mandolin-Guitar Manufacturing Co. in Kalamazoo, Michigan. His relationship with the company from thereon is unclear. Then, in 1907, he was admitted to a hospital for psychiatric treatment, an occurrence that would take place a number of times before his death in 1918.
Violins and cellos had been made that way for hundreds of years, but Gibson's builds were where that construction style began for guitars and mandolins.
Yes, believe it or not—the world of music was forever changed by the work this man did inside of one decade, and it may or may not have cost him his sanity. With Gibson's innovative creations as a blueprint, the company went on to produce archtops that unified the mandolin and guitar family as one. It was 1919 when the company hired a physics-obsessed musician who unlocked the acoustic potential of these instruments: Lloyd Loar. Through applying concepts used in violin building, such as f-holes and tap tuning, Loar elevated the world of archtops to a new level in 1922 with his design and creation of the L-5 guitar and F-5 mandolin. Loar left Gibson two years later to "pursue other interests."
So, here's the crazy part: During these first painfully short chapters, Gibson and Loar were responsible for the making of some of the most beautiful and magical-sounding instruments on the planet. I came upon a cluster of Gibson mandolins from the early 1900s at a music store, and I felt the magic before I knew what they were; I just looked at them and they started singing like angels. Trying to describe the experience would be like trying to cover the impact of Gibson and Loar in one column, but let's just say I left that music store a different person than I arrived, along with a higher understanding of the word "otherworldly." These are the kinds of instruments that make you a better builder or player just by being around them. They have souls.
The story of Gibson's role in the archtop evolution certainly goes on from there, but it's these first chapters and the unprecedented instruments that come with it that laid the wood-shaving-covered foundation today's archtops are made on. From there, the daisy chain of inspiration continued as the archtop guitar developed in the hands and shops of more brilliant luthiers to come, such as John D'Angelico, Charles and Elmer Stromberg, Jimmy D'Aquisto, and Linda Manzer; but those are stories for another day. These are the heroes of the archtop world, and one of my many reasons for loving old archtops is because it reminds me of them. I want nothing more than to leave behind guitars that inspire others, the way many beautiful guitars left behind by my heroes have inspired me—battle scars and all.
Riffs are the building blocks of classic rock. They are the earworms that stick with you and make the songs memorable. In this video, you will learn how to play five of the most popular riffs from bands such as Deep Purple, AC/DC, Black Sabbath, The Rolling Stones, and Led Zeppelin.
5 Classic Rock Riffs for Beginners
Premier Guitar
The envoy of evil honors Tony Iommi's ominous opening odyssey that is a foreboding fight between light and dark that ultimately sparked several subgenres of metal.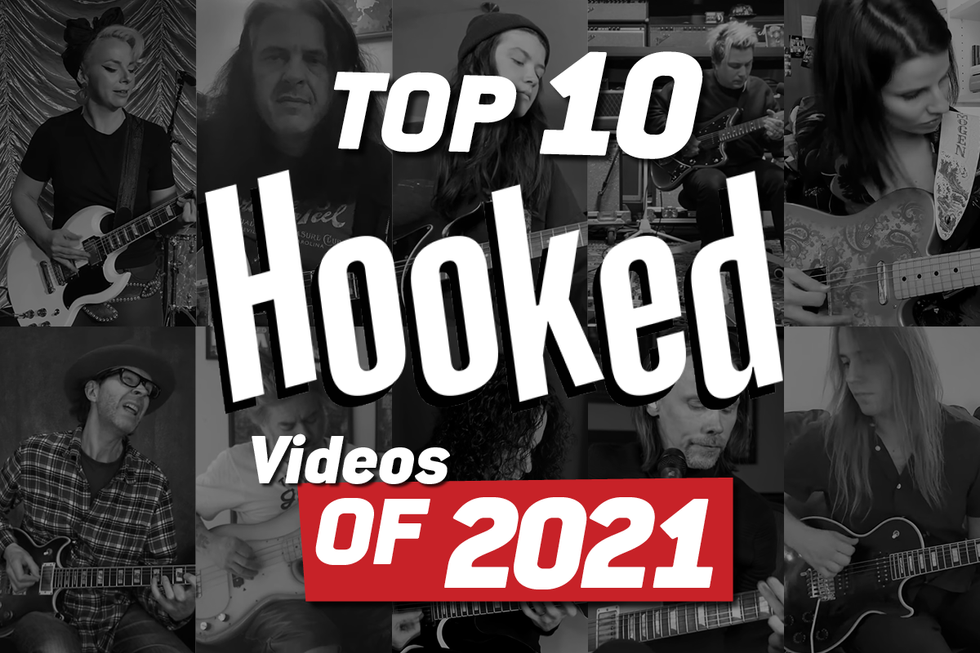 Premier Guitar
Paul Gilbert on Zep, Samantha Fish on Tom Petty, Marty Friedman on Sabbath, and more players share stories of how and when the guitar rocked their worlds.
---
The silky smooth slide man may raise a few eyebrows with his gear—a hollow, steel-bodied baritone and .017s on a Jazzmaster—but every note and tone he plays sounds just right.
KingTone's The Duellist is currently Ariel Posen's most-used pedal. One side of the dual drive (the Bluesbreaker voicing) is always on. But there's another duality at play when Posen plugs in—the balance between songwriter and guitarist.
"These days, I like listening to songs and the story and the total package," Posen told PG back in 2019, when talking about his solo debut, How Long, after departing from his sideman slot for the Bros. Landreth. "Obviously, I'm known as a guitar player, but my music and the music I write is not guitar music. It's songs, and it goes back to the Beatles. I love songs, and I love story and melody and singing, and there was a lot of detail and attention put into the guitar sound and the playing and the parts—almost more than I've ever done."
And in 2021, he found himself equally expressing his yin-and-yang artistry by releasing two albums that represented both sides of his musicality. First, Headway continued the sultry sizzle of songwriting featured on How Long. Then he surprised everyone, especially guitarists, by dropping Mile End, which is a 6-string buffet of solo dishes with nothing but Ariel and his instrument of choice.
But what should fans expect when they see him perform live? "I just trust my gut. I can reach more people by playing songs, and I get moved more by a story and lyrics and harmony, so that's where I naturally go. The live show is a lot more guitar centric. If you want to hear me stretch out on some solos, come see a show. I want the record and the live show to be two separate things."
The afternoon ahead of Posen's headlining performance at Nashville's Basement East, the guitar-playing musical force invited PG's Chris Kies on stage for a robust chat about gear. The 30-minute conversation covers Posen's potent pair of moody blue bombshells—a hollow, metal-bodied Mule Resophonic and a Fender Custom Shop Jazzmaster—and why any Two-Rock is his go-to amp. He also shares his reasoning behind avoiding effects loops and volume pedals.
Brought to you by D'Addario XPND Pedalboard.
Blue the Mule III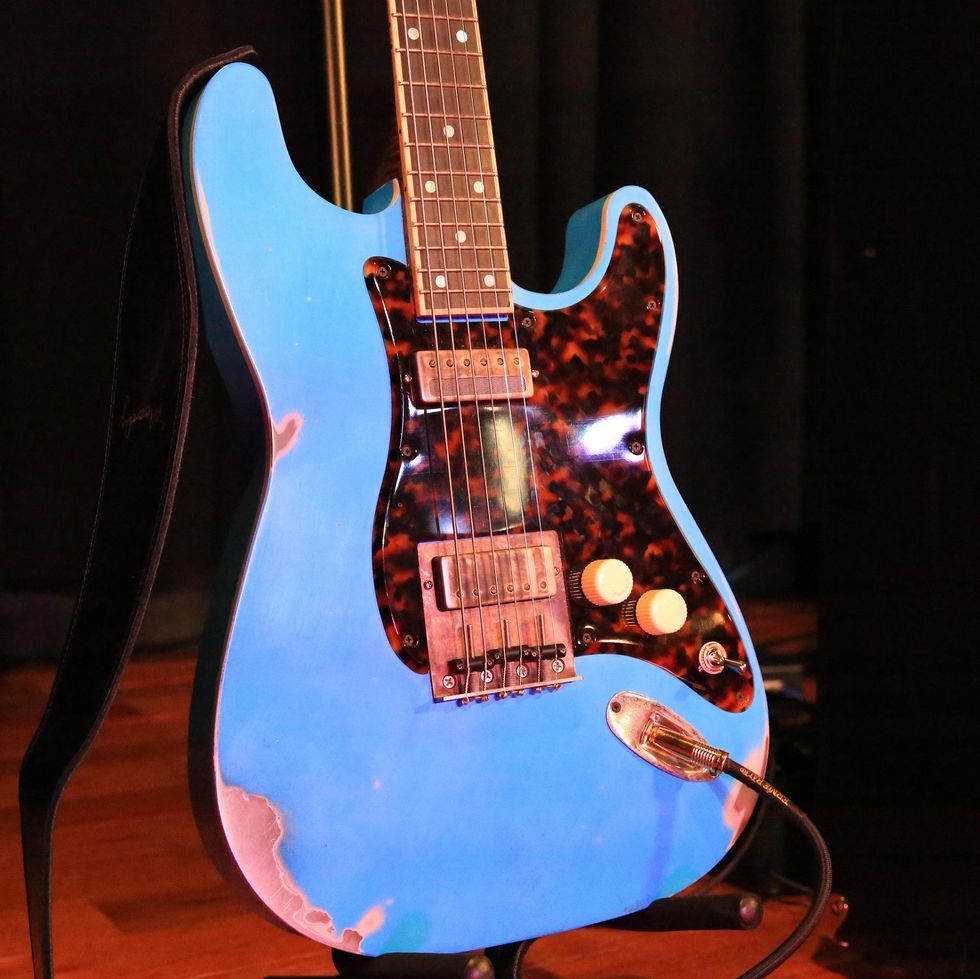 If you've spent any time with Ariel Posen's first solo record, How Long, you know that the ripping, raunchy slide solo packed within "Get You Back" is an aural high mark. As explained in a 2019 PG interview, Posen's pairing for that song were two cheapos: a $50 Teisco Del Rey into a Kay combo. However, when he took the pawnshop prize onstage, the magic was gone. "It wouldn't stay in tune and wouldn't stop feeding back—it was unbearable [laughs]."
Posen was familiar with Matt Eich of Mule Resophonic—who specializes in building metal-body resonators—so he approached the luthier to construct him a steel-bodied, Strat-style baritone. Eich was reluctant at first (he typically builds roundneck resos and T-style baritones), but after seeing a clip of Posen playing live, the partnership was started.
The above steel-bodied Strat-style guitar is Posen's third custom 25"-scale baritone. (On Mule Resophonic's website, it's affectionately named the "Posencaster.") The gold-foil-looking pickups are handwound by Eich, and are actually mini humbuckers. He employs a custom Stringjoy set (.017–.064 with a wound G) and typically tunes to B standard. The massive strings allow the shorter-scale baritone to maintain a regular-tension feel. And when he gigs, he tours light (usually with two guitars), so he'll use a capo to morph into D or E standard.
Moody Blue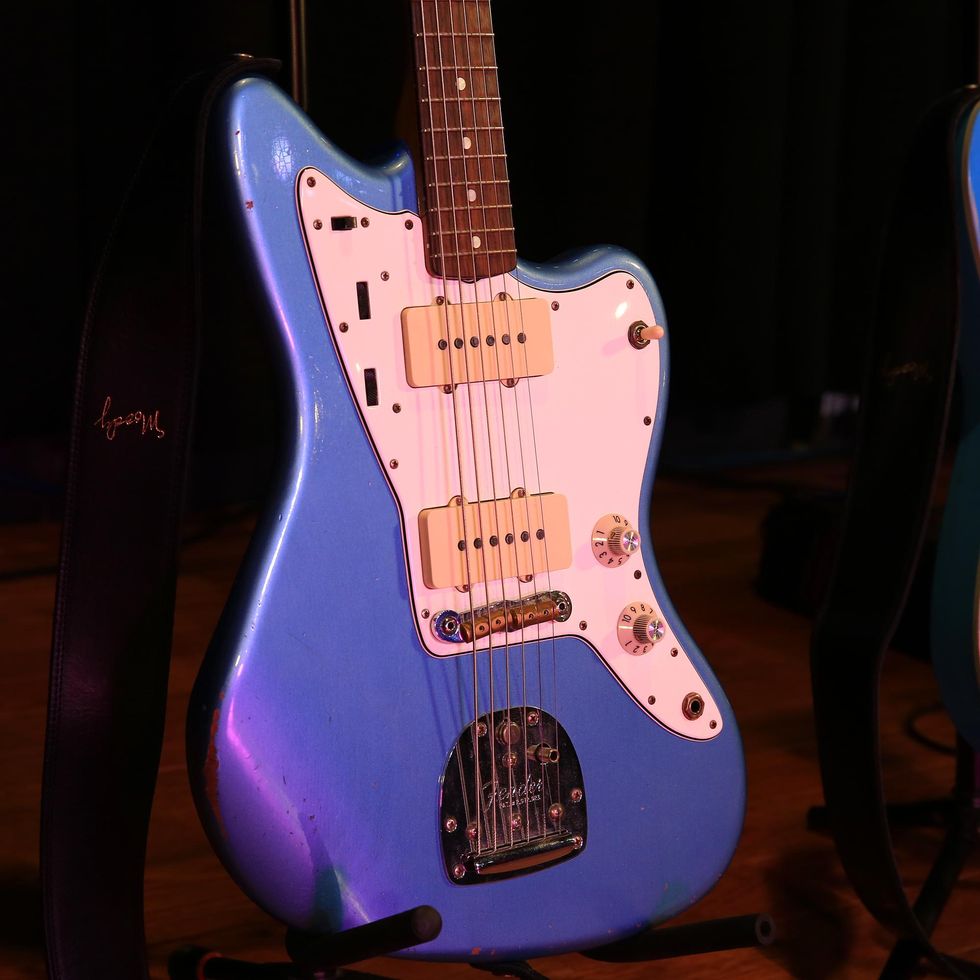 Another one that saw recording time for Headway and Mile End was the above Fender Custom Shop Masterbuilt '60s Jazzmaster, made by Carlos Lopez. To make it work better for him, he had the treble-bleed circuit removed, so that when the guitar's volume is lowered it actually gets warmer.
"Clean and Loud"
Last time we spoke with Posen, he plugged into a Two-Rock Classic Reverb Signature. It's typically his live amp. However, since this winter's U.S. run was a batch of fly dates, he packed light and rented backlines. Being in Music City, he didn't need to go too deep into his phone's contacts to find a guitar-playing friend that owned a Two-Rock. This Bloomfield Drive was loaned to Ariel by occasional PG contributor Corey Congilio. On the brand's consistent tone monsters, Posen said, "To be honest, put a blindfold on me and make one of Two-Rock's amps clean and loud—I don't care what one it is."
Stacked Speakers
The loaner vertical 2x12 cab was stocked with a pair of Two-Rock 12-65B speakers made by Warehouse Guitar Speakers.
Ariel Posen's Pedalboard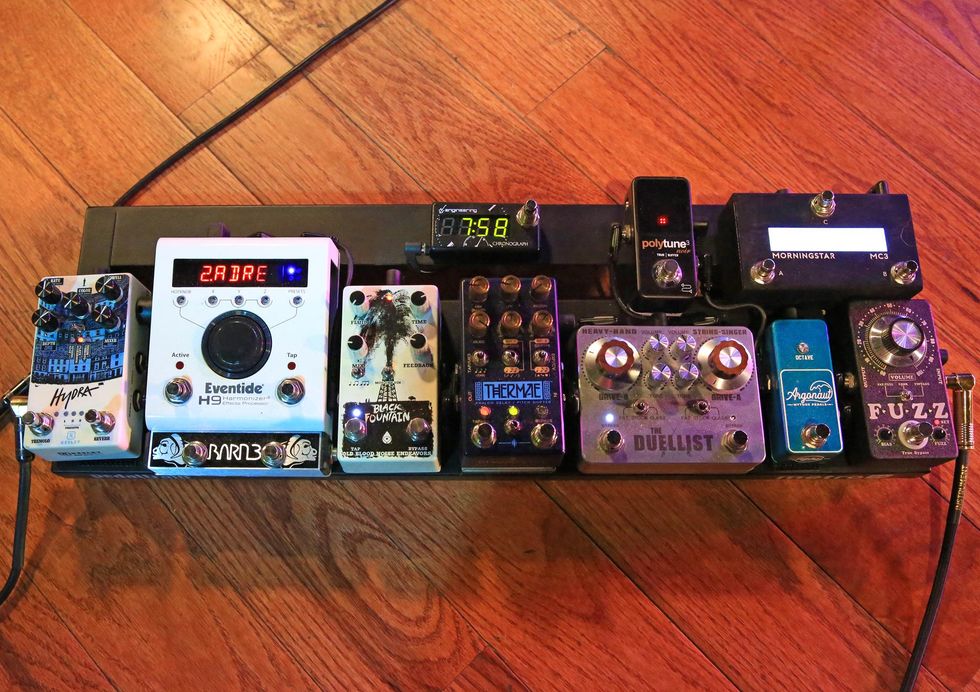 There are a handful of carryovers from Ariel's previous pedalboard that was featured in our 2021 tone talk: a TC Electronic PolyTune 3 Noir, a Morningstar MC3 MIDI Controller, an Eventide H9, a Mythos Pedals Argonaut Mini Octave Up, and a KingTone miniFUZZ Ge. His additions include a custom edition Keeley Hydra Stereo Reverb & Tremolo (featuring Headway artwork), an Old Blood Noise Endeavors Black Fountain oil can delay, Chase Bliss Audio Thermae Analog Delay and Pitch Shifter, and a KingTone The Duellist overdrive.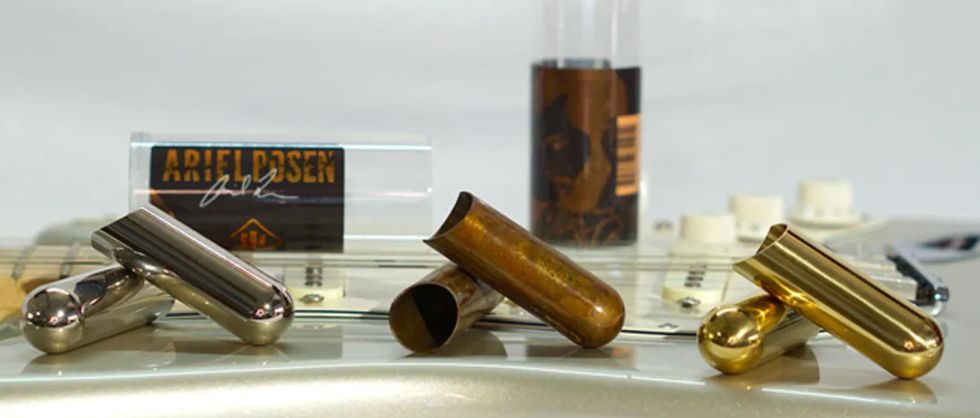 Another big piece of the tonal pie for Posen is his signature brass Rock Slide. He worked alongside Rock Slide's Danny Songhurst to develop his namesake slide that features a round-tip end that helps Posen avoid dead spots or unwanted scratching. While he prefers polished brass, you can see above that it's also available in a nickel-plated finish and an aged brass.