A '61 Supro That's Super for Slide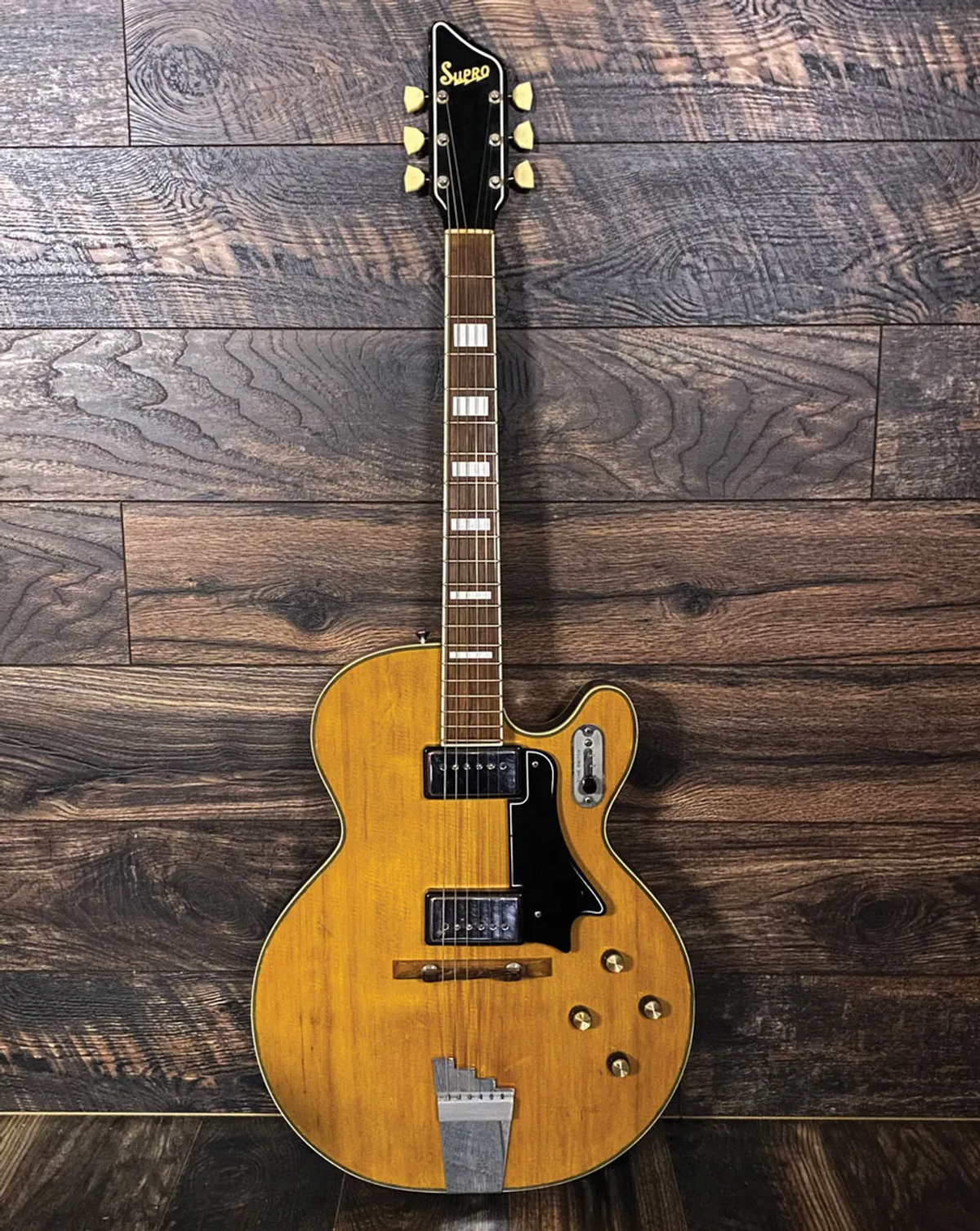 This original archtop Coronado's Vistatone pickups speak the language of Ry Cooder and other tone hounds.
Many of my favorite tales from instrument manufacturing history are connected to the Dopyera brothers. So many brands are linked to their family name that it's almost unimaginable. And that includes Supro, a classic brand that has experienced a modern renaissance.
Recently, this 1961 Supro Coronado electric guitar came through the doors at our shop. I mention that it's a guitar, because Supro also used the Coronado name for an amplifier—and, in fact, still does. But the Coronado electric 6-string was a staple of the company's catalog for years, and went through a variety of permutations, including the archtop design of this month's guitar and, by 1963, a Res-O-Glass version. There's even a current model inspired by the latter, called the Coronado II, that sports what the new Supro calls an "Acoustic-glass" top.
"At about $1,300, this 1961 Coronado is a great, cool-sounding, and affordable vintage American electric."
This class of '61 Coronado is a very cool guitar. But before I get too nuts-and-bolts deep, let's revisit the Dopyeras. By 1933, the family had lost and regained one of their most famous companies: the National String Instrument Corporation. And once they got National back, they merged it with Dobro, which brother John Dopyera had co-founded with two partners from outside the family in 1929. After the merger, the brothers moved the bulk of their operations from southern California to Chicago, where Louis Dopyera also relocated to head up operations.
By 1936, Louis noted the trend toward electric, amplified instruments and wanted to diversify to meet that growing demand. He partnered with Victor Smith and Al Frost to create Valco—an acronym for Victor, Al, and Louis. Valco quickly began producing instruments, amps, and accessories for a variety of other brands, including Harmony, Regal, and Montgomery Ward's Airline, but their own core brand was Supro.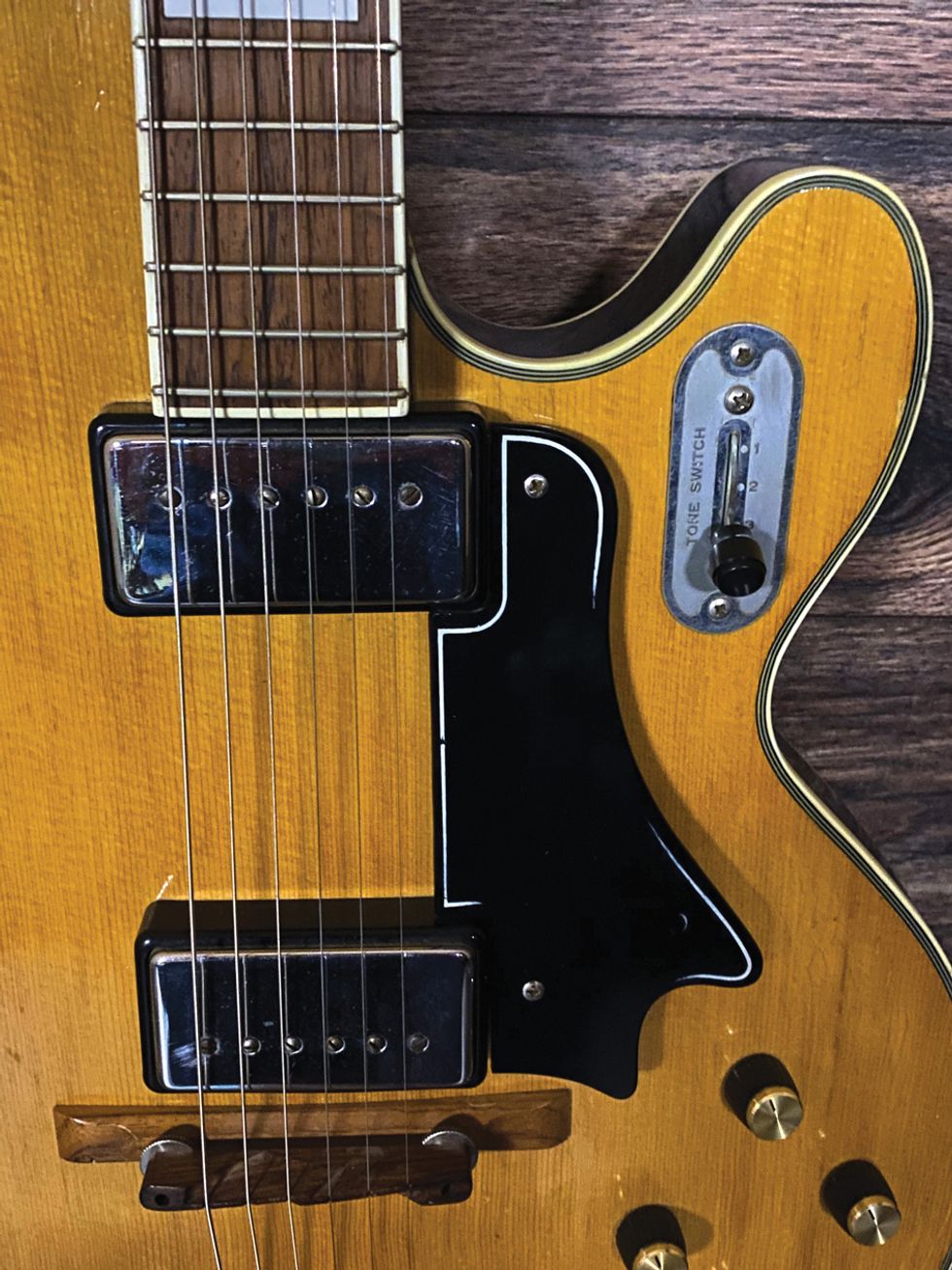 Supro labeled this model's 3-way pickup selector as the "tone switch," but tone is actually controlled by the two bottom speed dials. While the pickguard once bore the Coronado name, the Vistatone pickups are arguably the guitar's crowning feature.
I'm a huge fan of all Valco products, but Supro guitars are my favorite! So, let's get back to that '61 Coronado, which also happens to probably be my very favorite Supro 6-string. In 1960 and '61, the Coronado sported an arched spruce top, two volume dials, two tone knobs, and a 3-way switch labeled "tone switch" that was, obviously, a pickup selector. Our guitar has all of that, and two original Vistatone pickups, which look like humbuckers but are actually single-coils dressed in a humbucker-size cover. These were developed and patented in 1952 for Valco by Ralph Keller, to provide a big, fat sound not unlike Gibson's P-90s, which debuted in 1946. Vistatones are one of the things I really like about the old Supros I own. They provide a big, raw tone that's a slide player's dream. The lap-steel version of these pickups was made famous by Ry Cooder, whose modded "Coodercaster" guitars feature them in the bridge slot.
This month's Coronado has a few nicks here and there, but overall is in great shape. The model name has worn off the pickguard and the original tone knobs have been replaced, but Valco's OEM butterfly keys and the smaller "Gumby"-style headstock with a D-shaped neck gives the guitar a nice, slinky look.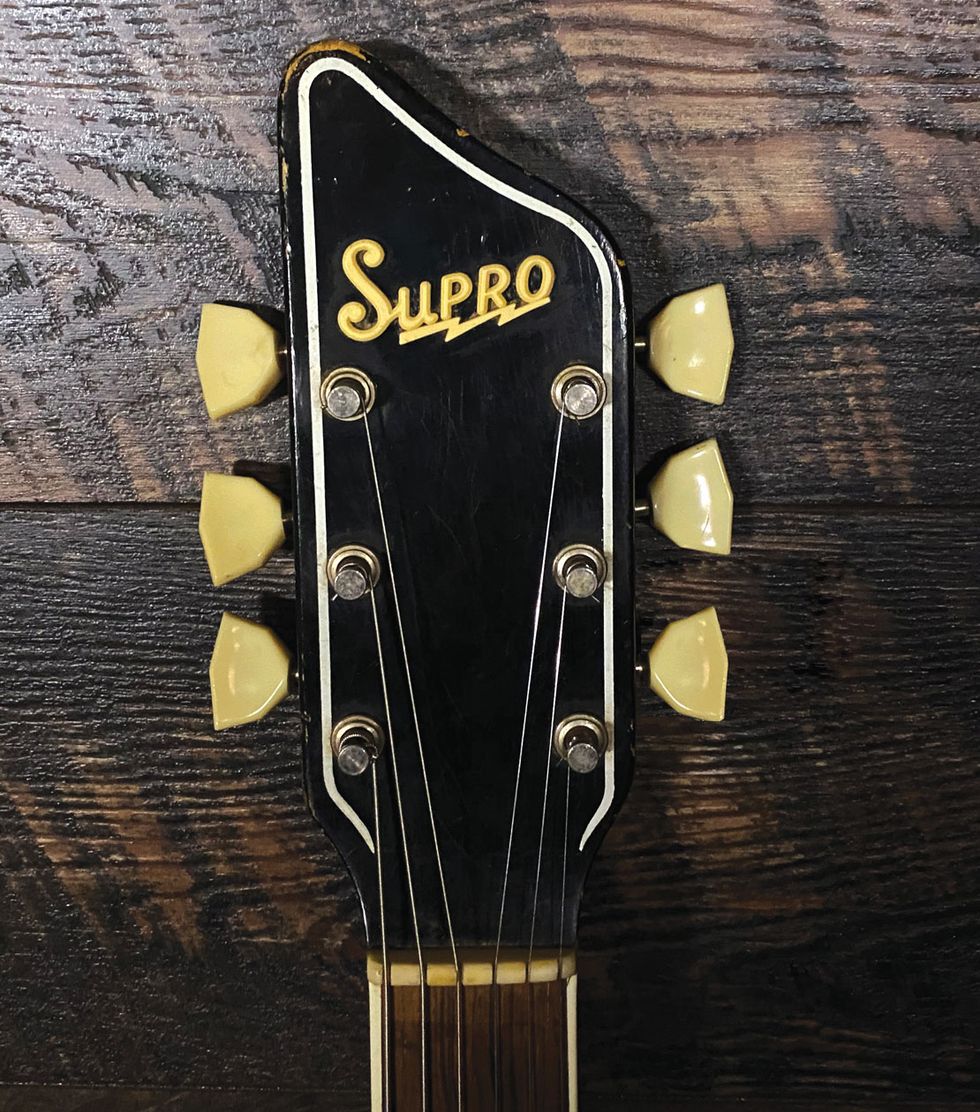 This headstock is classic vintage Supro: the "Gumby" shape with white trim, the lightning bolt logo, and butterfly tuners.
Sadly, like a lot of instrument companies in the late '60s (check out my narrative on Grammer's union with Ampeg in the September issue's Vintage Vault), a merger spelled the end of Valco. After Valco joined the Kay Musical Instrument Company in 1967, financial stress busted both companies. Here's an interesting sidebar: Famed Nashville musician Tut Taylor—who, along with his son Mark, was a builder of resonator guitars, banjos, and mandolins—bought a lot of Valco's machinery and materials at auction and moved into the old Grammer guitar factory in Music City to create Tut Taylor Music, which produced the Tennessee brand of instruments and would become Rich and Taylor in the '90s.
At about $1,300, this 1961 Coronado is a great, cool-sounding, and affordable vintage American electric. Over the decades, Jimmy Page, Jimi Hendrix, Dan Auerbach, Jimmy Reed, Howlin' Wolf, J.B. Hutto, and many other notable players have wrapped their hands around Supro models like this one. If you haven't tried this historic guitar or one of its siblings, you've got a treat just waiting for you.