Practice Pals: A 5-Amp Review Roundup
PG examines a handful of very different but very portable and flexible amplifiers from Vox, Ibanez, Orange, Marshall, and Roland.
---
In a time when the sonic merits of small amps are well known—both onstage and in the studio—how exactly do you define "practice amp"? Well, two obvious criteria are small size and the potential for performance at low volume. But given the way digital technology makes oodles of effects and recording functionality available on the cheap, a practice amp can now be a canvas for exploring hundreds of guitar textures and committing them to demos, digital sketchpads, and even studio recordings instantaneously. And now that many manufacturers have seen the worth in making small tube amps overseas, classic low-wattage tube sounds are available for very little cash.
Yes, the divisions between a practice amp and an amp that's simply small have blurred. But that hasn't eliminated the need to practice. And more and more, players have to fit that practice in around the constraints of limited time and small places where getting loud isn't a real possibility. With those limitations in mind, we picked five amps that make practice within those constraints not just possible, but a creative and satisfying experience.
Click next or pick the amp below you'd like to hear first:
Vox AV30
Roland Blues Cube Hot
Ibanez TSA5TVR Tube Screamer Amplifier
Orange Crush 35RT
Marshall CODE 25
Vox AV30
Recorded with a Gibson Les Paul.
Vox has made inexpensive, stylish amps a cornerstone of its business since the '60s, and the AV series is the latest affordable set of combos to wear the Vox logo. Though the "analog modeling" description might make some skeptical, there really are eight separate, all-analog preamp circuits in the AV30. In fact, the preamp and power amp are all-analog—each one has its own dedicated 12AX7—and the only digital part of the amp is the effects section.
What's on the Plate
With 30 watts of power (the AV series also includes 15- and 60-watt versions), the AV30 has muscle enough for a stage with a decent PA. The single 10" speaker is mounted off-center, and while the cabinet is a closed-back design, there's an additional hole cut in the front baffle that Vox says improves bass response. There is a single master volume (power level), but each of the two foot-switchable channels has its own gain, 3-band EQ, and volume controls. Each channel can access any of the eight preamp circuits, which effectively imitate some of the performance characteristics of amps ranging from a tweed Bassman to an AC15, a JCM800, or an EVH 5150. The effects knob increases the intensity of the digital chorus, delay, and reverb, although control of each effect is limited. Four switches in the "valve stage" section of the control panel activate a fat boost, a brightness function, "bias" (modern versus vintage), and Vox's Reactor technology, which adds either tightness or sag to the amp's dynamic responsiveness.
Whole Lotta Tones
The AV30's eight preamps span a huge range of sounds. Whether you're practicing at home or gigging with a covers band that blankets varied territory, they let you go from roots to metal with the twist of a dial. Clean 1 shows teeth with gain around noon. And setting up both channels with this circuit and shaping them individually with the dedicated EQ, gain, mid, and volume controls reveals how versatile this amp can be—even within the confines of a single preamp voicing. You can also dial up wildly different gain structures and switch from warm, classic rock overdrive to searing, Van Halen-esque lead tones with the H.Gain2 setting.
Unfortunately, the effects are a little difficult to employ in a live setting. They stay on when you switch between channels (which is fine, as long as the effect level is low), and you have to hold down the buttons to turn a given effect on or off. The effects themselves are pretty decent, although effect parameters like chorus rate, reverb length, delay time, and feedback are fixed.
The Verdict
The Vox AV30 is a lot of amp for $329. And at that price the limitations of the effects are really the only major drawback. With a headphone out, aux input, effects loop, and power to spare, it can move easily from practice to performance—delivering loads of sounds along the way. —Matt Holliman
Roland Blues Cube Hot
All clips recorded with a Fender Tele Deluxe.
Few companies have done more to serve the cause of solid-state amps than Roland. The company's Jazz Chorus, for instance, is a misunderstood legend. And while the new Blues Cube Hot lacks the light years of headroom and liquid chorus that made the JC series famous, you don't have to listen hard to hear that pedigree. At its best, the 30-watt Blues Cube Hot is chimey, sparkling, and present—often exhibiting qualities that make a clean Fender Princeton or Deluxe satisfying.
More Boom for Your Room
Unlike a lot of amps that could fall into our loosely defined practice-amp category, the Blues Cube Hot comes with a 12" speaker. It's a big part of communicating the amp's best attributes, and it's good at projecting bassy, round, clean, and not-too-spiky sounds. It can feel a little antiseptic and touchy on the high-mid and treble side of the spectrum, but it's excellent for clean Stratocaster rhythms, atmospheric sounds with lots of delay, modulation, and reverb, or just capturing an accurate, not-too-colored image of your guitar's basic voice.
Despite the "Hot" portion of its moniker—derived from the onboard boost (footswitch not included)—this Cube's high-gain tones aren't the most flattering. Cranking the volume and master summons a sometimes-harsh midrange that's especially pronounced with single-coils. Humbuckers fare better, though both single-coils and humbuckers will likely need aggressive mid attenuation at higher volume and gain settings.
One of the Blues Cube Hot's best features is its variable wattage, which goes from 30 to 25, 5, or .5 watts. Lower-wattage settings provide some of the best sonic surprises. The .5-watt setting is probably designed with practice in mind, but I conjured several ultra-low-wattage tones that I wouldn't hesitate to use in the studio. My favorite was a boosted, reverb-on-10, scooped-mids, Stratocaster-neck-pickup tone that was silky, with a little bite.
At maximum wattage, clean rhythm tones sound great. In a pinch, the Cube could probably stand in pretty well for a Princeton or Deluxe (or a Jazz Chorus, for that matter). Clean-ish lead tones can impress, too. They're snappy and capture a lot of single-coil character, though you won't hear or feel the picking or volume-control dynamics you'd get from a good tube amp. Running the amp hot and at maximum wattage is where you encounter limitations. These settings reveal a little solid-state harshness and the speaker's more clinical side.
The Verdict
The Roland Blues Cube Hot's clean tones sound sweet at full power, and the .5 watt setting is a blast for practice—enabling expressive tones without dominating a room. This is the kind of amp that makes recording fairly robust demos in a city apartment possible, and in the right context the Blues Cube Hot can sound much bigger than it is. —Charles Saufley
Ibanez TSA5TVR Tube Screamer Amplifier
Recorded with a Fender Tele Deluxe.
After what seemed like a never-ending barrage of micro amps, lunchbox amps, and tweed- Champ revisitations, these days the little-amp deluge is feeling more like a gentle spring drizzle. But while the 6V6-driven Ibanez TSA5TVR Tube Screamer amp—which, as you might've guessed, has an onboard Tube Screamer circuit—is a little late to the party, it's an exceptionally strong and very stylish arrival.
Saturday Night Boulevard Style
Ibanez is typically a pretty forward-looking guitar company. And while they've dabbled effectively in retro styling before in the form of the Jet King, various archtop lines, and elsewhere, the TSA5TVR toys much more overtly and playfully with '50s product eye-appeal via a fusion of that era's amplifier, radio, and television designs (check out those mahogany-toned hardwood legs!) and two-tone vinyl that looks lifted from a '57 DeSoto Fireflite. If it doesn't clash too severely with your interior design motif, it's a pretty cool little piece of furniture.
It probably would be easy to dress any old pile of parts-bin amp components up in clothes this sassy, charge 150 bucks, and make a minor killing. But Ibanez put a lot of thought into making the TSA5TVR sound great. The 8" Jensen C8R and Ruby 6V6 and 12AX7 tubes (both common upgrades for vintage Fender Champ and newer Champion 600 modders) pay considerable sonic dividends in the form of headroom and detail. They also help communicate the flavor of the subtle but lush Accutronics spring reverb. Man, it's nice to hear an amp this small with real spring reverb!
Better still, you can take advantage of the extra air and capacity for tonal complexity with the preamp's very effective bass-and-treble EQ section, which is super-effective for moving between disparate guitar voices and pickup sets. It was as easy to dial in body for a thin-sounding Stratocaster as it was to slim and focus a humbucker-equipped Telecaster Deluxe. The extra headroom also means there's lots of leeway for working with fuzz. This amp would be a go-to if I needed to record reedy '60s garage fuzz or Led Zeppelin-style leads.
It's hard to say exactly what iteration of the storied Tube Screamer circuit is under the TSA5TVR's hood, but it's complete with overdrive, tone, and level knobs, and it feels and sounds like a perfect match for the amp. Light-gain applications sounded great for blues-rock leads and were an especially nice match for humbuckers. Higher gain settings were killer for grinding power chords and generating a compact, slightly compressed distortion that felt bigger than 5 watts and seemed perfect for double-tracked rhythms.
The Verdict
With a great-sounding, well-matched overdrive and a lovely spring reverb, this two-toned Ibanez makes a great case for "less is more." It'll work on a stage with a good PA, provided your band isn't too loud, and it's the perfect amp for a singer-songwriter or a guitarist who accompanies one. It's also a potentially killer studio asset for all the same reasons. But even if it never leaves your living room, this is a superb little amp for practice, demos, and around-the-house jams. —Charles Saufley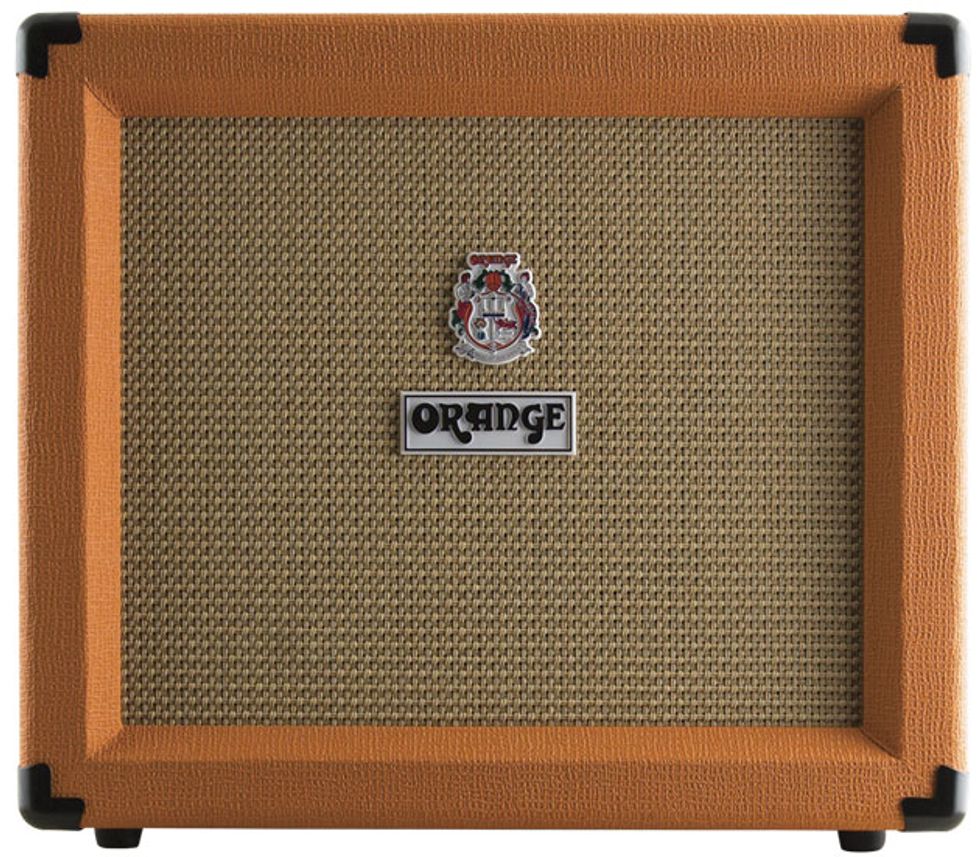 Orange Crush 35RT
Recorded with a Gibson Les Paul.
In the 15 years since they debuted, Orange's Crush series of solid-state amps have become fairly ubiquitous. The success of the Crush line, which united killer Orange design aesthetics and cool sounds on the cheap, led to amplifiers that were anything but practice amps (the potent CR120 head, for one). The new Orange 35RT, however, marks something of a return to the Crush's simpler roots. And with 35 watts of solid-state power, a 10" speaker, an effects loop, and a surprising amount of headroom, it's got the stuff to be a bedroom practice amp one day and a stage or studio tool the next.
Jolt of Juice
The Orange Crush 35RT has clean and dirty channels that can be switched from the top-plate-mounted toggle or with a footswitch (not included). Both channels use the same 3-band EQ and reverb. The clean volume increases the output on the clean channel, which remains very clean up to the highest reaches. Higher gain settings are best obtained using the dirty channel's wide-ranging gain and dirty volume controls. Additional features like an aux input, headphone jack, and built-in tuner make the 35RT a pretty perfect practice unit. Use the aux input to jam along to your favorite tracks, throw on the headphones late at night, and ditch the tuner pedal. All you need is a power outlet, an instrument cable, and your axe to keep up your exercise nearly anywhere, anytime.
A Tasty Citrus Variety
I've played several Crush amps over the years, and they always deliver an impressive range of tones. The 35RT is no exception. The clean channel is spanky and shines at low to mid volumes, and it's nearly impossible to get it to break up at bedroom levels. It's also great for overdubbing jangly guitar parts and as a platform for pedals—my Wampler Velvet Fuzz enjoyed the sprawling headroom for extra sustain. If you're using the dirty channel, it's a good idea to run your effects through the FX loop for more clarity. But given how good the dirty channel can sound, you may find less use for your filth pedals. My Les Paul started generating grit with the gain a little above 9 o'clock and the light overdrive settings allowed a lot of room for dynamics—generating extra dirt when I really dug into the strings, and cleaning up when I used less attack and volume. Cranking the gain will sate your taste for metal, and despite the solid-state circuitry you can still hear Orange's classic wooly, fuzzy saturation. The 10" speaker suits these tones well, yielding a tight, punchy response that complements chunky chords and sailing leads.
The Verdict
At $259, the Orange Crush 35RT is a great value. Considering the amp's range and available power, it's also much more than your average practice box and could very easily cover a lot of ground onstage in the hands of a resourceful player. —Matt Holliman
Marshall CODE 25
All clips recorded using a Gibson Les Paul.
Marshall's new CODE digital modeling amps cover a wide power range, from a 100-watt head to the 25-watt combo reviewed here. As with a lot of modeling amps, the aim is ambitious: cram decades of signature Marshall tones into a single small combo. That's no easy feat when you're working with 25 watts and a 10" speaker. But even if the CODE 25 won't prompt you to sell your vintage plexi, it's an intuitive and satisfying means to explore classic Marshall textures in practice.
Spoken in Code
A small LCD screen is the key to navigating CODE's amp models and effects (you can operate five of the 25 onboard effects simultaneously). You can also use it to alter the power-amp profile, change cab models, and save up to 100 presets. You don't really need the instruction manual to get cruising on the CODE 25, though. Just flip on the power switch and start cycling through the preset knob to find something tasty.
The 3-band EQ, gain, and volume controls are all very straightforward and responsive, and each can be altered within presets. Effects, amp and cab simulations, and modulation can also be mixed and matched by holding down the respective switches and twisting the preset knob. If you want to save your changes and create your own presets, you simply hold down the exit/store switch.
The CODE 25 interfaces with a digital audio workstation via USB, which enables use of the amp as a digital recording interface. Marshall also encourages use of the smartphone Gateway app to provide additional control, sharing, and saving options for the CODE's presets. I found that tweaking parameters was much easier on the Gateway app, which provides much better visual navigation than the diminutive LCD screen.
What's in the Wheelhouse
With 100 presets at your fingertips, the CODE has a sound for everyone. The majority of stock patches are geared towards rock and metal, and all proved usable with single-coils and humbuckers. Some of the most basic presets are the most satisfying. Number 13, for example, "JCM 800 Heaven," is punchy and crunchy, and had me gleefully tossing Britpop power chords about with a Les Paul. Others are a little limited, such as "Virus," which is based on a strange pitch-shifting sound. But overall the Marshall-Softube (MST) technology does a pretty decent job of nailing the ballpark tone of each amplifier modeled in the CODE. And though it can sound a touch digital at times—particularly when effects are in the mix—it's easy to coax good-sounding and reasonable facsimiles of many classic Marshall sounds that more than suffice for practice, demos, and recordings where you don't need a picture-perfect replication (nor the heft) of your classic Super Bass.
The Verdict
For $199, the Marshall CODE 25 is a pretty good plug-and-play amplifier that becomes exponentially more tweakable when paired with the Gateway app. And while you'll never extract the air-displacing mass of many amps modeled within the CODE 25, it's a rewarding way to explore the spirit of those amps without bringing down walls. —Matt Holliman