Epiphone Alex Lifeson Les Paul Axcess Review
The Rush maestro's mega-versatile signature Les Paul at fraction of the price of the original.
Killer axe that offers tons of tones. Amazing value.
Pickups can be susceptible to radio frequency noise.
5
4
5
4.5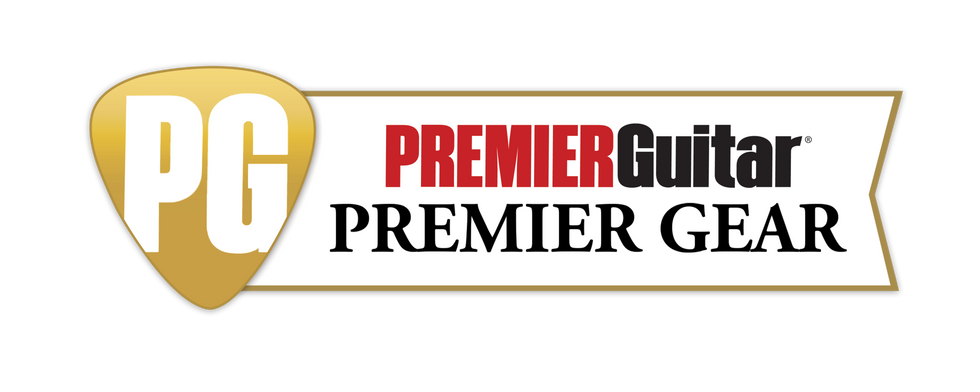 Gibson's Alex Lifeson Les Paul Axcess was released in 2011. It's a drool-worthy instrument that, with a price tag of $5,500, is unfortunately out of reach for most. But Epiphone's new Alex Lifeson Les Paul Axcess Standard distills the essential elements of Lifeson's signature model into an axe that streets at just $899.
---
Grand Designs
A sonic visionary of the highest order, Alex Lifeson's imaginative guitar work was critical to Rush's ascent to immortal status. He has always been an adventurous player, so it's not surprising that his signature Epiphone has features you don't see too often on a Les Paul. For starters, it has a Floyd Rose–licensed double-locking tremolo. The vibrato system also has Graph Tech Ghost piezo pickups under the bridge saddles, and there are two output jacks that let you run the standard pickups and piezo either simultaneously or mixed via a single output. I've seen both double-locking tremolos and piezo pickups offered separately on special edition Les Paul models but have never seen both on the same instrument.
In addition to the piezo system, the Lifeson Axcess is outfitted with a pair of humbuckers—an Epiphone Ceramic Pro in the neck and a ProBucker 3 in the bridge. Each pickup can be split via the neck and bridge volume knobs. Interestingly, the other two knobs on the guitar aren't the usual neck and bridge tone knobs. Instead, there's one master tone knob for both pickups and a piezo pickup volume knob. This knob is also a push-pull switch that turns the piezo on or off.
Feels So Good
The viceroy brown Lifeson Axcess looks fantastic in its included hybrid EpiLite gig bag/hard case, which, by the way, features a very robust neck support. The mahogany body is capped with a AAA flame maple veneer carved top. And while the guitar isn't particularly light, it's extremely comfortable. It's obvious that ergonomics were prioritized in the guitar's design. A belly carve facilitates a snug fit with the body, and its sculpted neck joint permits excellent upper fret accessibility. The guitar's Indian laurel fretboard with its medium jumbo frets and 12" radius will feel familiar to anyone who's played a Les Paul.
The humbuckers sound great. I compared them to my early '80s Les Paul Standard and, to my ears, they were nearly identical.
The Spirit of Piezo
I tested the Lifeson Axcess through Mesa/Boogie Mark IV and Blue Angel amps with a Line 6 M9 used for modulation effects. I also used a Samson powered PA at various points for the guitar's piezo output. I started my test by turning the volume off for each of the magnetic pickups and listening to the piezo only. Piezos often sound metallic and harsh, but the pickup in the Lifeson is noticeably warmer than other piezos I've known—particularly when using a soft touch and a fingerstyle approach. It was perfect for arpeggio parts like Alex's intro in Rush's "Something for Nothing." Things got magical, though, when I blended in some of the magnetic neck pickup. With the piezo volume around 4 and the neck pickup's volume around 7, I got unique, open-but-substantial tones that maintained articulation—even with a softer, acoustic-like edge around transient notes.
I also used the two outputs to route the guitar to both of my test amps, with the piezo output going to the Blue Angel and the magnetic pickups going to the Mark IV's clean channel. This configuration generated a massive 3-D experience that was beautiful to hear and feel. Using the two outputs/two amps approach with an amp switcher is one way to approximate the gentle-to-powerful dynamic shifts in Rush songs like "The Fountains of Lamneth."
The two outputs/two amps approach is also cool for leads. I engaged the Mark IV's lead channel for the magnetic pickups and turned down the piezo volume slightly for the Blue Angel. This configuration yielded super-interesting lead textures: I could play ultra-long legato lines and still hear almost percussive detail from the piezo side.
Without the piezo, the Lifeson's humbuckers still sound great. I compared them to my early '80s Les Paul Standard, and to my ears, they were nearly identical. They're beefy and powerful with plenty of clarity for low-register riffs like "Tom Sawyer" and "YYZ," as well as "Limelight" power chords. The split-coil tones have bite. They stay loud relative to humbucking mode, and the volume difference isn't nearly as obvious as it is on other coil-splitting instruments I've played.
The Verdict
The Epiphone Alex Lifeson Axcess Standard offers features that you won't find on other Les Pauls. If you're a Rush fan, it's a no-brainer. But even if you're not, you'd be challenged to find a guitar that offers this much versatility for $899. Rumor has it that a lot of Nashville session players scooped up the original Gibson Lifeson model for its utility. If you can find an Epiphone Alex Lifeson Axcess Standard, I'd suggest you grab one while you can.
Epiphone Alex Lifeson Les Paul Axcess Standard Demo - First Look