"Single-function" in name only, this inspiring multi-tap delay excels at everything form tough rock to spacy, experimental sounds.
A plethora of inspiring multi-tap echo sounds for just about any style. Wonderfully streamlined and easy to use. Pristine, lovely fidelity.
Takes more effort than traditional stompboxes to get the real goods.
5
5
4
5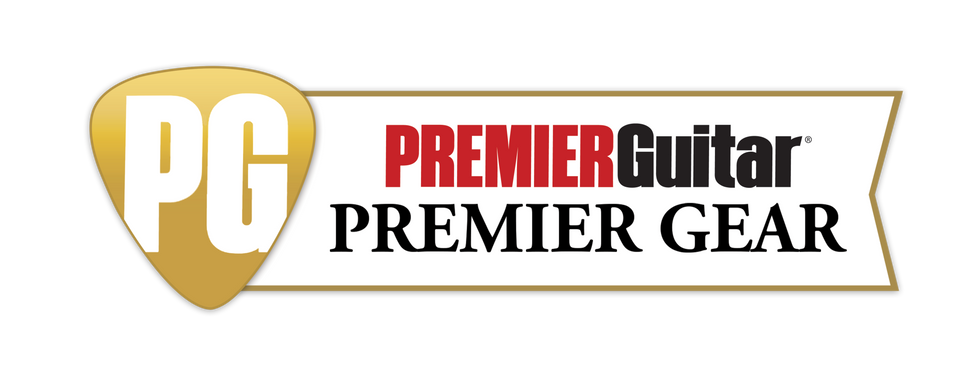 The Eventide UltraTap puts the multi-tap delay power of the company's famous late-'80s H3000 rack unit (which attracted players like Eddie Van Halen and Steve Vai) into a streamlined, single-effect pedal format. Of course, that same algorithm is also in Eventide's ultra-deep H9 multi-effect pedal. But UltraTap nixes the H9's multi-function knob, LCD display, and multitudes of menus and other effects in favor of a more conventional stompbox design capable of controlling up to 64 delay "taps" (kinda like 64 playback heads on an Echoplex tape delay with pristine digital fidelity), up to four seconds of delay time, and a whole slew of otherworldly modulation sounds. All that is available via just six knobs (mix, taps, length, feedback, spread, and taper), a pair of footswitches, and a couple of buttons—or by interfacing with your computer.
---
Minimal Tapping, Maximum Ping-Pongin'
While the UltraTap is dedicated to delay, there is still a lot going on. It comes with five onboard factory presets (indicated by the LED "ladder" at left and cycled via the right-side footswitch) and the ability to swap them out for any of 41 others included with the downloadable Eventide Device Manager software (for Mac or Windows). Additionally, the manager offers 81 user slots (for a total of 127) for building and saving your own sounds.
If the thought of having to plug a pedal into your computer makes you queasy, rest assured the software is very self-explanatory and blessedly spartan: Presets are listed along the right margin and placing one into an UltraTap preset location is as easy as dragging it to one of the top five slots and letting go of the mouse button. The manager also avails control of UltraTap's myriad auxiliary functions—from MIDI-control channels to expression-pedal parameter assignment, bypass mode, and more. There are also graphical representations of the UltraTap's six top-panel knobs and another six representing their secondary functions, which you access by holding the triangle button at upper right on the pedal.
Never Tapped Out
For many players, it's easy to read technical stuff like this and think, "What the hell would I do with all that?" But just because a pedal can do many things doesn't mean that's how you have to use it. Indeed, many artists have told us in Rig Rundowns that they only use the more powerful H9 for one or two out-of-this-world sounds. (On the flip side, don't underestimate how many useful, inspiring sounds you can get out of a pedal that's "just a delay.")
"What's perhaps neatest of all is how rhythms created by the various "playback heads" … can push you in creative directions you may never have gone before."

Though I'm typically a one-delay-pedal guy, I was drawn to the UltraTap's ability to dial up hauntingly smudged (or slurmed, as Eventide calls it) delays of the sort Andy Summers would use for his trademark wide, clean-toned arpeggios. It's equally great for chopped, stuttering LFO textures, cathedral-esque valleys that seem to extend for miles, disorienting trippiness that Jonny Greenwood might have used for OK Computer, and even great small-room sounds that inspire tough Brit-rock riffing. What's perhaps neatest of all is how rhythms created by the various "playback heads"—whether they're multi-taps you dream up, or ones Eventide put into the manager—can push you in directions you may never have gone before.
The Verdict
While more complicated than your average delay unit, the Eventide UltraTap strikes a pretty killer balance between straightforward operation and nearly boundless possibilities. What's more, succinct documentation, clear labeling, helpful videos, and nearly foolproof editor software should take the jitters out of all but the most tech-averse players. Especially because once you get the pedal set, it's a piece of cake to use it just like your other "plug-and-play" stomps.